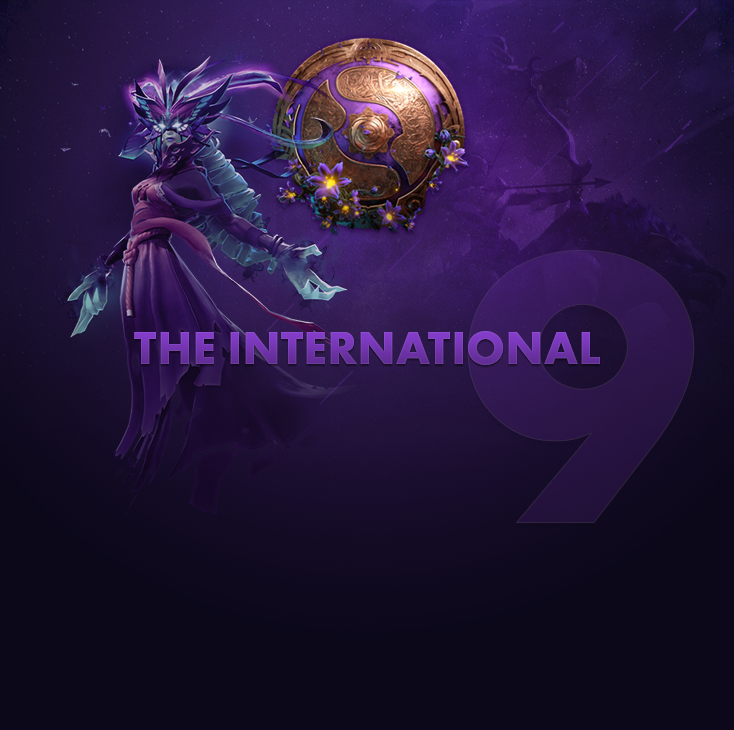 The fourth day of TI9 was all about the lower bracket. Today featured four teams with a variety of storylines. RNG came in as the Chinese underdogs, fighting to make a name for themselves in competition with PSG.LGD and Vici Gaming. Liquid contiued their redemption arc after a surprisingly weak groupstage, Secret continued trying to repair their ego after their first round loss to EG, and Infamous was just happy to be there!
Series 1: Royal Never Give Up vs. Team Liquid
On paper, or just a month ago, this matchup would not have been seen as an exciting one. RNG struggled during the DPC season. Even during the group stage of TI. But after a statement win against Virtus.Pro, earlier this week, RNG was suddenly playing with the big boys. And now they were up against Liquid. Liquid also had a terrible group stage but hadn't yet had that huge win. So beforehand, the game was a fairly close ordeal. Then the matches started.
In game one, Liquid surprised RNG with a last pick Night Stalker for Mind_Control. A genius move used to counter not only RNG's Abaddon but also their Lifestealer. With the AoE silence that's available, neither of them could get off critical skills. And that's not all, RNG seemingly forgot about Liquid's Io/Gyro and with Miracle getting basically free farm, while not dying once, there wasn't much RNG could do once Liquid felt like the game was ready to end.
Game two was an incredibly exciting game that went on for 78 minutes but Liquid was in the driver's seat for most of the time. Liquid picked up Arc Warden, for Miracle, and Tiny, for w33ha. These two heroes would prove to be invaluable in their win. As the game clock ticked up and up, RNG became so strong that Liquid didn't want to fight them head-on. Instead, they had to rely on Tiny's Tree Throw and Arc Warden's Spark Wraiths to get a pickoff before going on. RNG put up a valiant fight but Liquid was the better team, as they moved on to face EG.
Series 2: Team Secret vs. Infamous
The big question coming into this series was how Secret would be able to handle the full out, almost reckless, aggression of Infamous. The South Americans ran over both Keen and Newbee using this strat, so if Secret wasn't fully prepared, that could spell disaster.
In game one, Infamous showed that they did belong on the big stage, that their previous wins were not flukes in any way. They came out with a surprise Riki + Phantom Lancer draft. And for a while it seemed like it would work. The two teams were neck-at-neck up until the 30-minute mark when a team fight went horrifically wrong for Infamous. During this time MidOne did work on the Earthshaker, hitting a near-perfect echo-slam and then continued to chase down all of Infamous heroes. The resulting networth lead was big enough for Secret to build off as they completely took over the map and the game.
This seemingly broke Infamous' spell. They tried a surprise draft and when that didn't work, they seemed to fall. Game two was a much less exciting affair, as Secret took an early lead and never let go. When the GG fell, 34 minutes in, Secret was up 28 kills and 20k in net worth. Infamous put up a valiant fight and placed higher than any South American team ever has, at The International, and should walk off the stage with their heads held high.
Series 3: Evil Geniuses vs. Team Liquid
This matchup should be one that makes every Dota, and esport, fan salivate a little bit. EG vs. Liquid is one of the oldest rivalries in esports and go back to before the start of Dota 2. Its roots stem from late Brood War, early StarCraft 2. Also, the teams are incredibly evenly matched. While EG might have a slight edge in the mid lane, Liquid definitely have the better support pair and it's fair to say the other positions are even. And that was all put on display in game one.
Liquid chose to go with a Tinker focused draft, for w33, while EG went for tankier cores with a squisher backline. At first, things were definitely looking up for EG as SumaiL had an impressive performance in the midline as he forced w33 out of lane more than once. Meanwhile, Arteezy had pretty much a tied safe lane. His Lifestealer was up against MC's Tidehunter, not a lane with solo-kill potential from any side, which meant that Arteezy was free to farm freely for the early game. These two critical lane wins showed up as EG's net worth lead grew minute by minute. But thanks to some great Tinker play from w33, they could not transition that lead into critical Tier 3 towers, as they never seemed to have creep wave around. And with that Liquid started catching up, ever so slowly, before we reached an end that can only be described as "Well that escalated quickly!". We can't do the last few minutes justice in text, just watch the VOD when it's out.
The big question was now how EG would react to this, rather disappointing loss. And unfortunately, for EG fans, they didn't react well. In game two, Liquid got pretty much everything they wanted while EG seemingly focused on countering them. That resulted in a strange draft from the North Americans, one that Liquid could, quite easily, abuse in a short game that never really looked close. w33, once again, showed off that he is a top tier player as he went insane on the Alchemist. And so, Liquid lives on. Because you know... upper bracket's for bitches!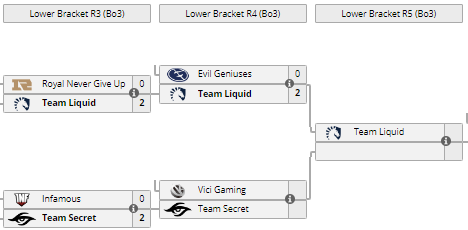 Lower Bracket Day 4 results
Recommended Games
Team Liquid vs. RNG Game 2
VOD not yet available