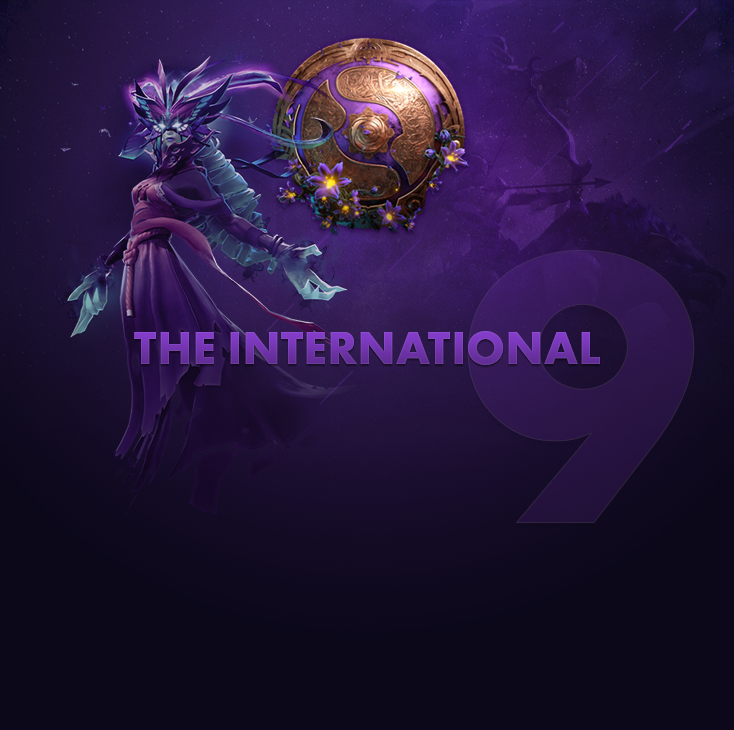 We are now just three days away from the final, and we know who the top 8 teams of TI8 will be. Today also had some extremely good series, so make sure you don't miss our recommended games at the end.
Upper Bracket
Series 1: PSG.LGD vs. Vici Gaming
As the first game of the series started, it quickly became clear that the two teams had an immense amount of respect for one another. No one wanted to over-extend it showed with the game slowly drifting off into a farm fest. The game went on and they slowly started trading blows, if you can call 16 kills at the 30-minute mark "trading blows, but the fights usually ended in a tie. No matter what happened, the gold difference between the two seemingly refused to go over 1k. Even when PSG.LGD felt confident enough to push for the first set of barracks of the game, their gold lead only peaked at 2k. However, that was enough for them to slowly starting to take over the game. The map control they got meant that the gold graph slowly but surely started building up for them and 42 minutes in they finally forced a GG from Vici.
If you were hoping for a higher paced game two of the series, disappointment is in your future. While there was more action it was still far from the Secret vs. Mineski series earlier on in the day. And the story was, again, fairly similar. Vici and PSG.LGD took turns holding the lead in the game before Ame's Spectre became big enough that VG could do nothing to stop her. PSG.LGD walks away with a 2-0 victory and the title of "Chinese hope".
Series 2: OG vs. Evil Geniuses
Without a doubt the most anticipated game of the day was the final upper bracket match between OG and EG. Not only have both teams shown off amazing play so far at TI but the drama is still very much alive. However, let's put the drama to the side for a while and focus on the Dota. Because there was quite a bit of good Dota being played this series.
The series started off slowly for OG while it was EG stepping on the gas. In the first match of the series it looked like EG was a tiger playing with it's food. Arteezy and SumaiL had standout performances as they outclassed OG in the lanes and managed to snowball out of that. OG only managed to snag 8 kills in the game to EG's 26. GG go next.
In the second game, OG clearly shifted gears in order to match EG's speed from game one and oh boy did it work. 13 kills in the first 10 minutes should tell you what kind of speed they were setting. And not only that, six out of those kills were on EG's two big cores. A crippled Arteezy had to limp into the jungle to catch up on his Terrorblade as Jerax and Topson ran around, almost freely, picking off whoever they could find. While the game looked even in the networth chart, anyone watching the game could tell that wasn't the true story. It was OG's turn to outclass EG as they forced a game three.
And so we found ourself in the same situation as last year. The second round of the upper bracket. OG vs. EG. Same rosters. Game three. Would EG finally get their revenge or would OG, again, relegate them to the underbelly of the brackets? Well for about 15 minutes it looks like the boys in blue would get to walk out on the stage with their heads held high this time around. The laning-phase was a nightmare for two out of three of OG's cores. Both ana and Topson suffered heavily from EG's aggressive play and it looked like EG would be able to run away with the game. However, the last of OG's cores, Ceb's Enchantress, was having a hell of a time in the top lane. This drew attention from EG who desperately tried to rotate in heroes, weakening the other lanes and effectively re-inviting OG back into the game. And you can't give OG that opening. As ana and Topson caught up, and passed, most of EG in farm they again stepped on the gas pedal. With an under farmed Anti-Mage there was nothing EG could do to stop them other than GGing out and shaking their hands.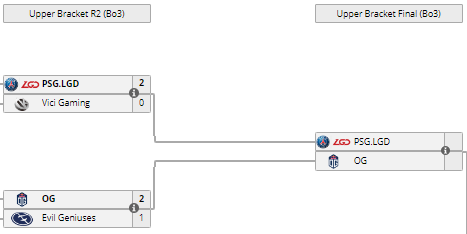 Upper Bracket Day 3 results
Lower Bracket
Series 1: Newbee vs. Infamous
Newbee and Infamous both went above and beyond expectations this tournament, and it's unfortunate that they would be forced to play an elimination match so early. Infamous would come in with much greater momentum, though, having survived their Bo1 against Keen Gaming. On the other hand, Newbee had just gotten back from a 2-0 thwomping by OG. Despite both teams' excellent performances in the group stage, this would be a defining moment for each team going forward. Yawar and Hector were two of the most successful carry players in the group stage, setting up an interesting face-off between the two core players.
Unfortunately for Newbee fans, it wasn't quite as competitive as we expected it to be. Newbee chose not to ban Hector's infamous Wraith King and were soundly crushed in game 1. It was incredibly one-sided with Infamous closing the game out in only 25 minutes. Newbee didn't learn their lesson though and chose not to ban the Wraith King. Infamous spared them another embarrassing loss and chose to take a practice game, picking Juggernaut for Hector. Newbee won this game, though not as easily as they may have liked. Well, the game 3 draft began and Newbee chose, once again, to let the Wraith King through. You can probably guess where this is going. Infamous picked the Wraith King in the first phase and despite Newbee's attempts to counter Hector's favorite hero, they fell all the same. Infamous would move on by a 2-1 scorelines, once again on the back of their favorite strategy.
Series 2: Team Secret vs. Mineski
Coming into day three of the brackets, Secret vs. Mineski wasn't the most hyped series of the day but looking back it should have been. Because this series had EVERYTHING. Meepo pick, huge swings, mega creep comebacks, Cap throwing water all over the place. If you couldn't watch this series live, make sure you go through the VODs. Game two was, probably, the best but all three are worth the watch.
So what about the individual games? Well in game one, Secret came out swinging with a last pick Meepo for MidOne mid. Unfortunately for them, that pick had close to no impact. Moon played great on the Alchemist and managed to just delete Meepo in every team fight. Never really giving him a game. But that wasn't all. Mineski showed some great patience with their draft and realized their win-condition was to lure out a suboptimal ravage from Zai's Tidehunter. And they stuck to the plan... for 34 minutes. Then the excitement took over and Mineski decided that they wanted to end the game right then and there. They started pushing the throne and for a moment it looked like they would be able to force the GG but Secret fought back, wiped them, and with no buyback on the Alchemist, they couldn't defend their base. Secret won the game being down 15k gold.
Game two started out in a similar fashion. Mineski, once again, dominated the laning phase, much thanks to a last pick Lina for Moon. But that wasn't all. Secret let Mineski draft Enchantress for Kpii, something that you can't have happen to you. Enchantress is quickly becoming one of the most contested heroes of the tournament and with an offlaner of Kpii's caliber plays her, your safe lane is not going to feel very safe. But just like in game one, Secret mounted a comeback thanks to some amazing play. In one critical fight, Nisha managed to Abyssal Blade Nikobaby's Faceless Void just frames before the animation for Chronosphere was to finish. But this time it was Secret's turn to overextend. After that fight, they crashed down middle again hoping to steal another game from Mineski. But this time Mineski said "NO!". They defended their throne and turned the tables on Secret, forcing a game three.
A lot of focus was put on the lanes in the first and second game, with Mineski coming out ahead. And while the lanes continued being the focus, game three was Secret's game to win as they entered the midgame. And for a long time it looked like Secret was just running Mineski over. But this wouldn't be a Secret vs. Mineski match if it didn't feature a comeback. Mineski rallied and fought incredibly well as they swung the gold lead back in their favor and, as a result, the game fell into a game of "who has buyback?". Buybacks were so important that at the end of the game Nisha solo-Chorono'd Raging Potato's Rhasta, as he was the only one on Mineski that did not have buyback. And these small edges turned the game back in Secret's favor. After a team wipe, they marched down mid, ignored the barracks and took the throne. And with that, one of the best series ever seen at TI came to an end.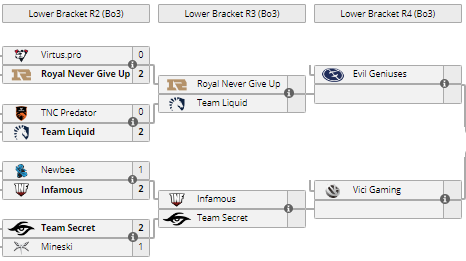 Lower Bracket Day 3 results
Recommended Games
NO VODS AVAILABLE YET! Enjoy the extra content while we wait!
Newbee vs. Infamous Game 3
Starts at 2:21:30
Secret vs. Mineski Game 2
Starts at 1:19:30
OG vs. EG Game 2
Starts at 1:15:00
Extra Content
Cap goes NUTSDust of Appearance - Evil Geniuses