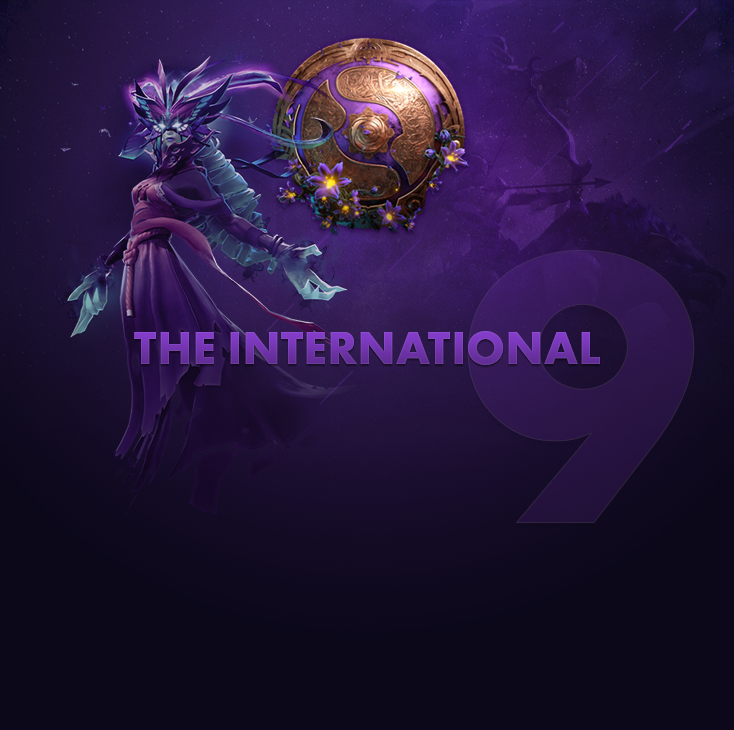 The first day of the bracket stage of The International is always the hardest. With four teams being eliminated, after just a Bo1, so many storylines come to an end. So many dreams are crushed. But, at the same time, it also means that plenty of dreams are renewed for the teams making it out of this brutal format.
This first day didn't have the smoothest start, as the opening ceremony started reminding us of the Shanghai Major but once the games started that was all forgotten. Today was a day filled to the brim with great Dota. We can't wait to see what tomorrow has in store for us!
Upper Bracket
Series 1: PSG.LGD vs. Virtus.Pro
The first series to take place on the main stage of TI9 has to be seen as tradition now. PSG.LGD and Virtus.Pro have faced off in the first round of the TI Upper Bracket for the last three years. In 2017 it was VP who walked away with a 2-0 win but PSG.LGD got their revenge last year when they replied in fashion. So coming into this series the two were neck-at-neck. Both teams are also on a mission of redemption. PSG.LGD had a disappointing DPC season, not reaching a single final while VP had to rebound after a fairly weak group stage.
Both matches in this series played out in a fairly similar manner. Virtus.Pro would take a small lead in the beginning of the game, much thanks to some great early kills, but in the end PSG.LGD would quite easily roll over VP. In both games, PSG.LGD relied a lot on Ame's ability to carry them in the late-game and that plan worked out for them. VP tried to counter by putting a lot of pressure on Ramzes but that experiment wasn't as successful. For VP it's back to the drawing board when it comes to their late game. Execution past 20 minutes was one of VP's biggest problems as they got picked off again and again. For PSG.LGD it's all about keeping the momentum going. The Chinese squad is incredibly popular in the arena, as displayed by the deafening chants coming from the crowd not just when they walked in but during the match itself.
Series 2: TNC Predator vs. Vici Gaming
During the opening ceremony, the Chinese crowd made sure to let TNC know that they hadn't forgotten about the incident that got him banned from the Chongqing Major earlier on in the year. As TNC took the stage for the game, the crowd continued their booing. It seemed like that would be the focal point of this matchup. Luckily, that wasn't the case thanks to some amazing Dota being played.
Games one and two of the series turned out to be amazing games. Both games ended up being over an hour long with the team changing gold leads and advantage every few minutes. While the kill score wasn't amazingly high, we saw some huge plays from both sides. During these two games, the gold lead hardly seemed to matter and both teams seemed to fight better being a man down. Both games were insane but if you only have time for a single one hour+ game, game 1 is the game for you. Unfortuntaly for the series, and us fans, game three was a dissapointing game compared to the two games leading into it. Vici had seemingly found their stride as they rolled over TNC without even really flexing their muscles.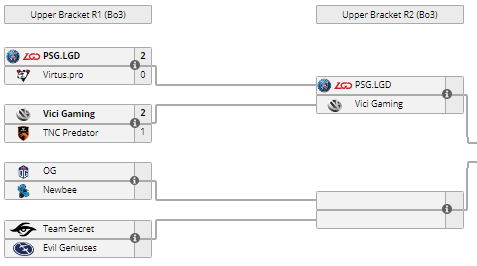 Upper Bracket Day 1 results
Lower Bracket
Series 1: Alliance vs. RNG
In the words of Mike Skinner from "The Streets":
"In one single moment your whole life can turn around, I stand there for a minute staring straight into the ground.
Looking to the left slightly then looking back down the world feels like its caved in proper sorry frown."
Unfortunately for Alliance fans, this is exactly what happened to their team today. During the draft, Alliance last-picked Gyrocopter. Not a totally outlandish pick but still slightly surprising. It wasn't until the post-game interview with captain Insania that he revealed that they were supposed to ban Gyro, not pick him. Even more unfortunate for Alliance, Insania had to say that during the losers interview.
While Alliance looked decent at points, even with the unplanned draft, it was clear that they didn't really have a fully-fledged gameplan. The game swung back and forth, with neither team being able to really take a hold of the game, for roughly 40 minutes until a disastrous team fight took place. During this, Alliance lost all four heroes and, even worse, they were lacking buybacks on most of them. It's unclear if RNG knew this or if they pushed the base to force buybacks but they pushed, realized that no buybacks were coming and straight-up finished the game. Early exit for Alliance, a team who looked really good at points during the tournament.
Series 2: Fnatic vs. Liquid
Two teams that were both seen as destined for the upper bracket found themselves facing off in the first round of the lower bracket instead. Both severely underperformed during the group stage and had no one but themselves to blame for getting into this mess. And you could tell the teams knew that. This match didn't display two confident teams battling it out. Instead the viewers we treated to a slow farm-fest, with both teams unwilling to engage other than to get pickoffs or if they knew they had a clear path to victory. For very early on it was very clear that the winner would be decided by who could make the fewest mistakes. In this case that was Team Liquid.
For 30 minutes, the game balanced on a razor-thin edge. Liquid occupied the three top spots on the networth chart but Fnatic held the overall gold lead thanks to their greedy 4th position Engima pick. A pick that seemed genius for most of the game. Several times DJ managed to swing team fights into the favor of Fnatic thanks to some well placed black holes. But everyone that has ever played Enigma also knows how quickly the tides can turn if you whiff just one black hole. And that's exactly what DJ did. Fnatic had taken control of Liquid's top shrine area, a critical position that you do not want to lose. Liquid rushed in but separated well enough that DJ didn't have a clear black hole opportunity. And when he thought he saw one, disaster struck. The Black Hole missed everyone. And that spelled the beginning to the end. Liquid won the fight, forced Fnatic back, and was able to finish the game not long after.
Series 3: Infamous vs. Keen Gaming
Over the past week we've been more and more pleased with watching Infamous watch Dota. Their relentless aggression, when offered just a little bit of space, makes watching one of their games an experience. And it's not just entertaining. It's effective as well. Infamous was one point(!) away from making the upper bracket but unexpected game losses against NiP and RNG, on the very last day of groups, cost them their sport. Instead, they were forced into a scary lower bracket match. And it wasn't scary just because it was a Bo1, it was scary because it was against Keen Gaming. A team with renowned players such as Old Chicken and Kaka. But like so many times before, Infamous didn't blink.
We're not saying that Infamous completely rolled over Keen but once they hit their timing it was very clear that it was go-time. Infamous just ran at Keen again and again and again. And they executed. In all honesty, anyone having to go up against Infamous from now on better have done their homework because this team looks straight-up scary. Not to mention that we ranked them last in our Power Rank, and we all know what that means. And this year we're asking for a 2% "motivation fee" if they win.
Series 4: Mineski vs. Natus Vincere
After a rather slow start to the game, shit hit the fan. 35 minutes in it looked like NaVi would walk away with the game, as they knocked on the door to Mineski's base, after an extremely drawn-out team fight with a lot of buybacks. They took down the bottom T3 tower and barracks before continuing to push towards the throne. But they weren't quick enough. Mineski started respawning and managed to grab a few kills for themselves. Which resulted in NaVi losing their T3 tower and barracks in the midlane. And this was the story for most of the game. One team pulled ahead a little bit but then invited the other team back into the game. Buybacks everywhere. We're still not sure if this was a super hype game or a clown fest.
However, as the minutes went on Mineski slowly, but surely, started building up an advantage. The timer came closer and closer to the hour mark and NaVi started losing more and more. A teamfight in their base resulted in four buybacks with a trade. A few mintues later Mineski walked up the stairs to their base again and never left. As the in-game timer passed 60 minutes, NaVi had to tap out.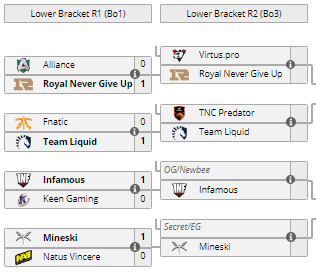 Lower Bracket Day 1 results
Recommended Games
Vici Gaming vs. TNC - Game 1
NaVi vs. Mineski
VOD not yet available
Extra Content
Dust of Appearance - Vici Gaming