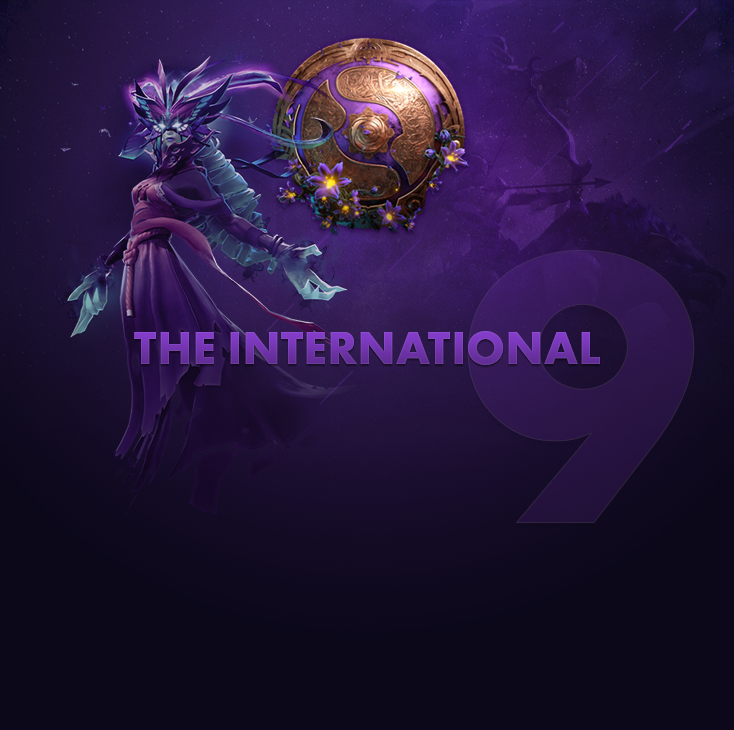 What a week it has been. We've seen crazy stuff, both in terms of results and drafts, had our hopes and dreams crushed and built up again, depending on the team you support. In the end, we think everyone can agree that we've seen Dota worthy of The International.
Today was the day where the standings for both groups would be finalized. We saw some favorites make a late comeback while others crumbled. Tomorrow is an off day for the teams and then, on Tuesday Chinese time, we will move into the bracket stage of the competition.
Group A
Coming into day four of Group A, five teams were competing against each other for a slot in the upper bracket; Newbee, Mineski, Alliance, TNC Predator, and Team Liquid. All of them, except for Liquid, had their fate in their own hands. They didn't have to have other series go their way for them to at least for a tiebreaker for the Upper Bracket. That's why it's so surprising that only the planned round of games was needed to finalize the standings.
Liquid vs. TNC Predator:
As previously mentioned, Liquid wasn't fully in control of their own fate. They needed to win their series against TNC and have PSG.LGD win at least one map versus Alliance for them to secure tiebreakers. For TNC the situation was far easier: win and the worst case scenario is tiebreakers. And that's just what TNC did. Liquid continued looking toothless as they threw away the first match in the series and allowed TNC to secure their spot in the upper bracket.
PSG.LGD vs. Alliance:
On paper, Alliance had the easiest match-up of the non-qualified teams. PSG.LGD had already locked down the #1 spot in the group, ahead of Team Secret, so Alliance probably expected a team that didn't want to show too much of their hand. And that idea was only strengthen after the first match where PSG.LGD tried out some new stuff and it didn't go too well. However, game two was a different story. While the heroes picked by PSG.LGD were, mostly, not top tier, their play sure was as they dismantled Alliance in 27 minutes. This effectively knocked Alliance out of Upper Bracket contention.
Newbee vs. Mineski
Newbee came in to day four in the strongest position of all teams in Group A, having a one point lead over everyone. So just picking up one game would guarantee them tiebreakers worst case. And it looked doable as the North Americans had tied four of their last five series. So why stop there? Newbee tied Mineski and thanks to the other matches in the group, this secured them the #3 position in the group and a spot in the upper bracket. For Mineski this means they had to bow to their SEA companions in TNC as they fell to the Lower Bracket.
Group A Final Standings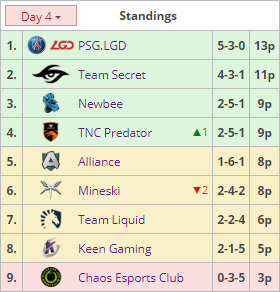 Group B
While Group A had five teams competing for the upper bracket, Group B had no less than seven doing the same thing. While some, like Vici Gaming, had to severely under perform to drop out most teams were on the cusp. Yet, just like in Group A, not a single tiebreaker was needed to finalize the standings.
A team stuck on the wrong side of those seven was Ninjas in Pyjamas. They have not impressed during the week and were stuck dead last in the group but still had a glimmer of hope to sneak into the lower bracket. And after the first round of games it seemed like NiP could possibly do it. They tied Infamous while the teams closest to them performed as they had to for NiP to have a shot. But in their last match of the day, NiP had to go up against EG, who were fighting for an upper bracket spot. And that match went as you'd expect. While we've seen a lot of long matches during this group stage, NiP didn't manage to get past the 40 minute mark once against EG and were sent packing.
While Group B was a wild ride, for the most part, the end result is actually a very expected one. The ordering of the teams might have had to be moved around a little bit but OG, VG, EG, and VP making the upper bracket wasn't outlandish. The biggest surprise was Infamous who came deceivingly close to the upper bracket, ending in fifth. Just one map win away from forcing a tiebreaker. But inexperience shone through a little bit during the last day as they first forgot about Ace's Meepo in game 2 against NiP and then were handed down a huge smack-down in their first match against RNG.
It was instead the big boys on the block, Evil Geniuses and Virtus.Pro, who showed that they aren't to be messed with. Both have looked very weak at points during the group stage but that was all gone during the last day. The two played each other to start the day and tied that series, a result neither party was happy with as it put their upper bracket spot in contention. But they rallied, as they have so many times in the past, and won their final matches of the day. VP struggled a little bit more than EG (have a look at our recommended games to see an example) but made it there in the end.
Group B Final Standings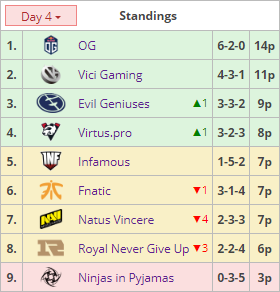 Recommended Games
EG vs. VP - Game 2
(Starts at 59:00)
Fnatic vs. VP - Game 2
(Starts at 1:12:00)
OG vs. VG - Game 2
VOD not yet available