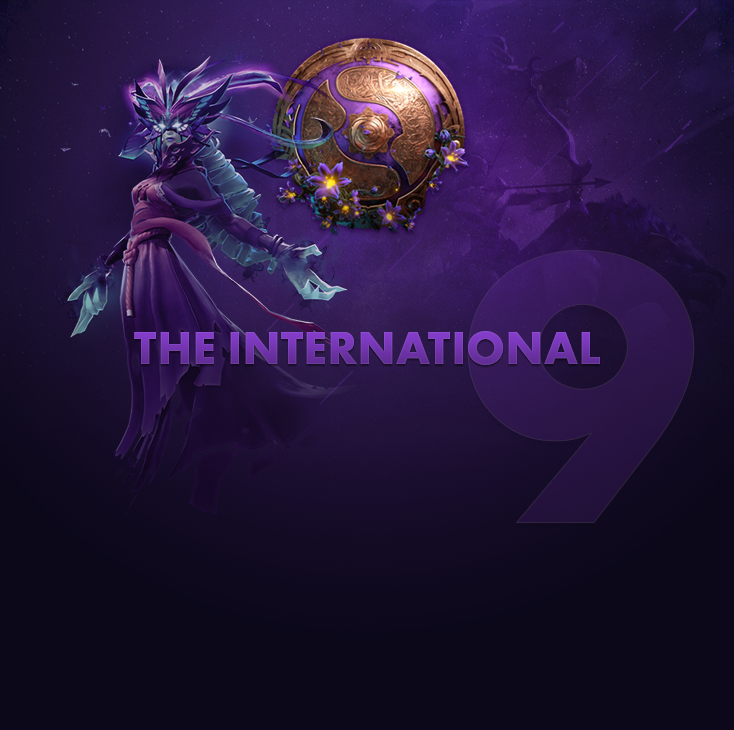 Intro
You'd think that three days packed with games would be enough to deicde most of the group rankings. Well you'd be wrong. With just one series left in Group A and two series left in Group B, most teams are still battling for a spot in the upper bracket. Which is quite amazing. If your team plays tomorrow, don't expect to need coffee to stay awake, the adrenaline should be enough!
Group A
Even though today was "Group A's day", with three rounds of matches, not much changed in the standings. Teams performed according to their current positions in the group which resulted in quite a few draws. All these draws set us up for a hell of a last day of groups. While four teams in Group A already know their fate, the remaining five are very close.
After today's matchup between the two top-ranked teams in the group, it's not clear that PSG.LGD and Team Secret won't have anything to play for during the last day. Both teams have locked in first and second place in the group, there's nothing that can change that according to the tiebreaker rules. and we'll probably see them try out some unorthodox drafts during day four. And this has big implications as PSG.LGD will play Alliance. An Alliance that's still battling for a spot in the upper bracket. More about that further down. Tomorrow also doesn't matter for Keen and Chaos E.C. Both have solidified their places at the very bottom of the standings and can't do anything to change that.
For the remaining five teams, a lot of mental anguish is on the menu as there's just one round of games being played and almost all of them have playoff implications. Before we get to a quick rundown of what can happen, let's quickly review their day three. Liquid started off slow, yet again, as they tied Alliance to begin their day. This meant that they HAD to 2-0 Keen if they wanted a shot at the upper bracket. Luckily they did, thanks to some sneaky drafting, and are still in the running! Their first opponents, Alliance, had a very middle of the road day as they tied in every single series they played. Kind of an amazing feat, actually. Alliance has actually had a good tournament so far, believe it or not. But losing two games, where they had mega-creeps, has severely crippled them.
Today could have been the day where Newbee secured a spot in the upper bracket. But instead of, just like with most teams in the group, ties plagued them. They're still in a good spot, though, as they have full control of their faith coming into their game against Mineski tomorrow.
Speaking of tomorrow's matchups, here's a quick rundown of what each match means to the teams involved:
Mineski vs. Newbee
Both teams desperately want to 2-0 this. For Newbee, a win here would mean that they've qualified for the upper bracket, no one can touch them. For Mineski the only way to guarantee that they at least get to tiebreakers is a 2-0 victor. In the case of a tie, Newbee has secured tiebreakers while Mineski might be relegated to the lower bracket.
PSG.LGD vs. Alliance
Alliance has been low key impressive throughout the tournament but throwing twice with mega creeps means that they now find themselves in this situation. The only way Alliance can be sure that they'll get a chance in tiebreakers is a 2-0 win. Anything else, and they have to rely on the scores from the other games.
Team Liquid vs. TNC Predator
TNC's is the same spot as Alliance: they need to win to guarantee that tiebreakers is the worst-case scenario for them. Meanwhile, Team Liquid has no way of guaranteeing that for themselves. Even if they take a 2-0 victory, they need help from Newbee/Mineski or PSG.LGD if they want to make it tiebreakers. There is, however, one scenario where Liquid completely avoids tiebreakers:
If Liquid beats TNC, Newbee beats Mineski, and Alliance lose to PSG.LGD, Liquid, despite their poor performance so far, would find themselves in the upper bracket.
Tomorrow sure is set up to be a heart-attack-inducing day.
Group A standings after day three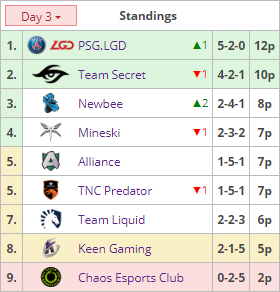 Group B
Yesterday was a crazy day in Group B. We saw carry Io, Infamous winning, a 1v5 rampage... it had everything. So maybe it shouldn't come as a surprise that today was a return to normalcy. There were, however, a few teams that suprised us.
NiP came into day 3 looking... defeated. They've been trying and trying but haven't been able to solve their drafting and general in-game issues. So after a clear loss to RNG, another team at the bottom half of Group B, to start the day, it looked like NiP were done and dusted for. Luckily the players on NiP didn't agree. We're not sure if it was a death rattle or them finally figuring out their issues but they managed to snag one game off Vici Gaming in their last series of the day. And that was just what they needed. This means that NiP can still make it into the main tournament but it will require a bit of luck.
Part of the reason why NiP finds themselves in this precarious situation is RNG, the former last place holders in Group B. RNG really woke up during day 3 and managed to climb three spots after convincing wins against NiP and NaVi. This performance also means that they are just one point away from reaching the upper bracket!
Group B is, mostly, incredibly close. At the moment only three points, so three map wins, differentiate Vici Gaming in 2nd place and Virtus.Pro who's tied for second to last. With all of the teams, except for OG and NaVi, playing two series tomorrow, the upper bracket lies wide open for those who are confident enough to claim a spot. As there are too many permutations, with two series left to play, we won't do the same type of rundown as we did for Group B. But know that even if your team is far down in the rankings, they still have a shot!
We, of course, have to talk a little bit about OG as well. Unlike the other teams in the group, OG has just looked better and better as the group stage has gone on and today they secured their spot in the upper bracket. The TI8 winners treated us to two more carry Io games, winning both of course, but the most positive thing about their day today was Topson. Topson plays second fiddle in OG, no one can deny that ana is the focus of their play. However, during their first game versus Virtus.Pro we saw Topson single-handily dominate the CIS squad with his Tiny. His relentless aggression in the early-mid game secured the game for OG.
Group B standings after day three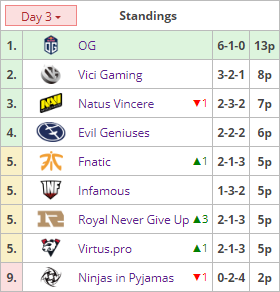 Recommended Games
Newbee vs. Alliance - Game 1
TNC vs. Chaos - Game 2
(Starts at 1:25:26)
OG vs. Fnatic - Game 1