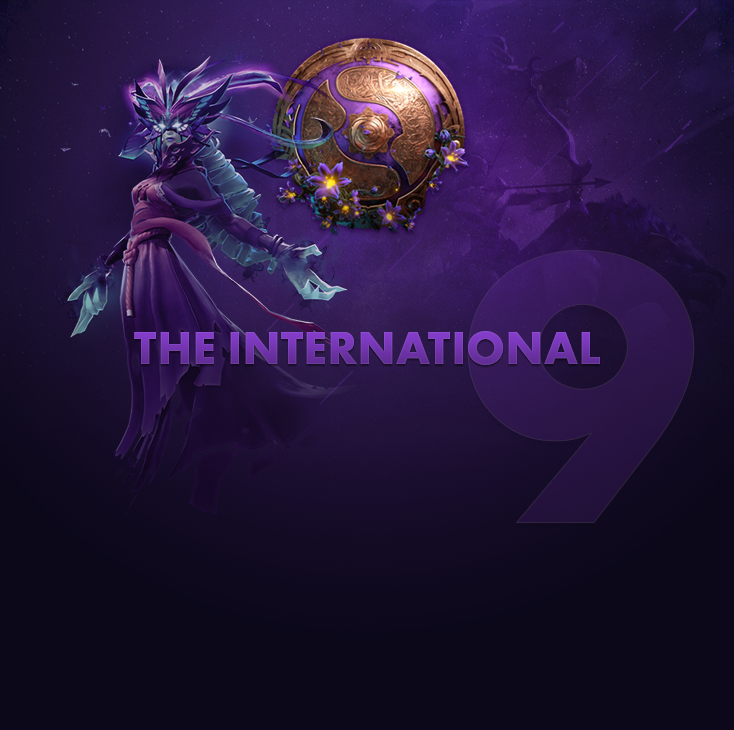 Intro
Day two of groups for The International 2019 was... a day. If the support Invokers that we saw during day one wasn't weird enough for you, how about core Io played twice? In the same series? Completely smashing the opposition both time? If that does not count as "weird" in your book, then we'll never be able to surprise you.
Group A
A shorter day for the teams in Group A today, as it was Group B's turn to play three series. This does not mean there weren't some interesting games played, though. While some saw Group A as the easier of the two groups, it has turned into quite a hornets' nest with teams like Mineski seemingly overperforming while others, like Liquid, are underperforming. To top this off, Secret continues their dominating streak in the group, taking away plenty of points from the other teams. With just two days left of the group stage, all teams still have a realistic chance of making it through to the upper bracket.
Outside of Team Secret, PSG.LGD had a great day two. There were questions regarding the Chinese squads form coming into the tournament but those have now been answered. They still drop single games here and there but today they looked as sharp as ever as they took down Liquid and tied Newbee. Speaking of NAwbee, they are a hard squad to pin down. The tie against PSG.LGD is, of course, a stellar result against the second-best team in the group but also dropping a game against TNC Predator was unexpected. However, this tells the story of Group A in a good way. It seems like everyone can beat everyone. Except for Secret. No one can touch them.
The biggest climbers of the day were Alliance who managed to climb from 8th to 5th. That in itself is cause for celebration but looking forward to day three, Alliance will struggle. Their schedule is, together with Mineski, the hardest one as they'll go up against Newbee, Liquid, and Mineski. They'll have to upset at least one of those teams to stay relevant in the final day. And that team may very well be Liquid. The TI7 champions continued to struggle during the second day. While they have seemingly solved the drafting issues that plagued them during the first day that has just exposed their lack of chemistry even more. In every game they play there is a moment where one, or several, of the players make unexplainable decisions that can cost them dearly. For an example of this, have a look at their first game vs PSG.LGD, where they were ahead but threw the game away in just a few minutes.
Group A standings after day two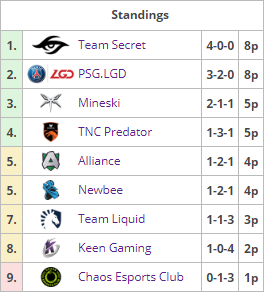 Group B
What... the hell... is going on? During day two Group B was perplexing, to say the least. There's just so much happening. Virtus.Pro went from an angry bear to cuddly cub overnight going 0-4 on the day as they lost to Vici Gaming and NaVi. The first loss was maybe an acceptable one but the second one definitely wasn't. Especially not since NaVi dropped a game to Infamous earlier on in the day.
Not only did OG dominate EG, NiP, and RNG, they did so with some brand new picks (check out their recommended game versus NiP. Core Io is a thing now). Honestly, at this point you have to start asking yourself if OG shouldn't be more included in the discussion on who has the biggest chance of breaking the "no repeat winners"-curse. And that's just the first oddity. The second, even bigger surprise, was the performance of Infamous. The SA team that we ranked dead last in our Power Rank took a game off NaVi and VG. Two of the teams that looked the best in Group B. And then, since they were on a roll, they 2-0'd Fnatic. That's the kind of day it was.
Some things started returning to normalcy in the group though. After a horrendous showing on day one, EG started off slow as they lost in two straight games against OG. And that was seemingly the wake up call the NA team needed. After the loss against OG, they earned their first series win against RNG and followed that up by an impressive win versus VG. The win against VG wasn't just a series win, though. It was a statement from the NA squad. "Yes, we sucked day one. But we're back and you better look out". These wins resulted in EG climbed into the upper bracket, for now.
At the bottom of the table we find RNG and NiP locked into a battle to avoid elimination. They're currently tied and it's very possible that tomorrow's matchup between the two will seal their faiths. At this point hard to predict who will come out on top in a match between the two. Both have shown flashes of brilliance but the consistenly fail to close out games where they have a lead. Both teams were dispatched with ease by OG on day two so there's very little to find there. The only solace for NiP fans is that OG unveiled their core Io strat against NiP. Playing against a pocket pick like that can be incredibly challenging. So even if the games were one-sided, they can't be seen as an accurate representation of NiP's skill.
Group B standings after day two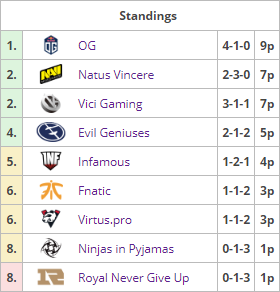 Recommended Games
Plenty of good games today! We'd especially like to recommend OG vs. NiP game 1!
VG vs. VP - Game 1
NaVi vs. Infamous - Game 1
NiP vs. Fnatic - Game 1
OG vs. NiP - Game 1
Alliance vs. Keen - Game 2
Starts at 1:02:30
EG vs. VG - Game 1
(will be edited in at a later time)
Clip of the day
This might not return but we needed to include this somewhere! Hooly moly.