One of the best things about The International is all the stuff happening around the tournament. You have a number of contests both inside and outside of the client, fun ways to compete with your friends. And we're all about helping you beat your friends. So in this guide we'll give you a primer for the fantasy contest. We'll start with the very basics but will also give our recommendations for what bonuses you're looking for. Hopefully there's a little something in here for everyone!
And that's not all. During the tournament itself we will release daily fantasy recommendations based off this article. So make sure you check back in!
The basics
Scoring
The scoring might seem complicated to start off with but, as you'll see later on, only a few are really relevant for each role.
Scoring stats
+0.3 points per kill
+3 points minus 0.3 points per death
+0.003 points per last hit/deny
+0.002 points per GPM
+1 point per killing blow on Tower
+1 point per killing blow on Roshan
+3 points times teamfight participation percentage
+0.5 points per Observer Ward placed
+0.5 points per Camp Stacked
+0.25 points per Rune taken or bottled
+4 points for the killing blow on First Blood
+0.05 points per second of stun

The only score system that really stands out here is the death scoring. As you can see, above, every player will receive 3 points from this at the start of a game, and then have 0.3 points subtracted for every death. So if a player ends up with 10 deaths, the death score will be 0. So keep this in mind when picking your lineup, especially when picking supports.
General recommendations
If a Bo3 goes to all three games, only the two best (individual) games will count towards the score. So there's no need to look for series that might go all the way.

You'll want to make some predictions on strong teams, as you may know that winning players often get more fantasy points than losing players due to having more kills, objective kills, GPM, etc.

While it is true that more fantasy points can be gained from longer games than shorter games, it can be hard to predict when it happens.
Bonus Stats
General Notes
While you were opening your packs, you probably noticed that there's common purple cards, uncommon silver cards, and rare gold cards for each player.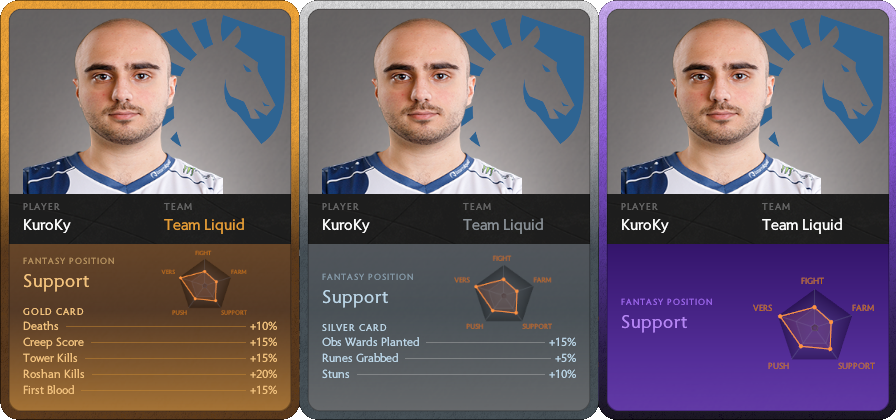 Silver cards
give a random bonus to
3 random statsGold cards
give random bonuses to
5 random stats
Bonuses range from 5% to 25%.
While gold cards may be attractive, silver cards can be just as good or better based on the bonuses. If you're luckily enough to have certain bonuses you can get massive gains.
Role Specific Recommendations
Supports
Deciding what supports you want to field will probably be the hardest decision you make each day. Supports miss out on a lot of the scoring stats — such as points per kill, last hit/denies, and GPM — that cores rely on to get a high score, meanwhile they also tend to die more than average. So for supports you really want to find good bonuses.
Best bonuses for supports:
Wards Placed: Always prioritize position 5 players with this bonus. No exceptions. Still great on position 4 players.

Stuns: Quite a good bonus, but consider the player's hero pool before picking this. It's very a feast or famine bonus since some heroes don't have stuns and some teams don't love to fight.

Teamfight: Good on all supports as they usually show up to teamfights.

Runes / Stacks: Decent.
Cores
Before we get in to actual recommendations, not the biggest change with the fantasy system this year: offlaners are now grouped together with carries in the "Cores" group, while midlaners have been moved to their own category. Unfortunately, that means that it's often better to select a carry player for fantasy due to their affinity for having better kills to deaths ratio, higher tower kills, and solid GPM. Cores have a much more evenly spread stats distribution compared to supports, so you'll notice that there's a lot of bonus stats to pick from.
Best bonuses for cores:
Kills / Tower Kills: Hugely important for winning position 1 players -- these stats often give carries the fantasy edge over offlaners.

Stuns: Usually awesome yet situational on hero, game length, and what happens in the game. A big bonus % for this stat can reward massive fantasy points.
Decent bonuses for cores:
Teamfight / Deaths: Great, since carries try to minimize feeding and teamfight is always a consistent score.

Last Hits / GPM / Runes: Not shabby to have.

Note that Arc Warden players that get Aghanim's Scepter can boost the Runes stat absurdly in long games.
Midlaners
Mids are very similar to cores but, unsurprisingly, they tend to get more points from kills and runes.
Best bonuses for midlaners:
Kills: Similar to cores, a big stat for winning mids.

Tower Kills / Teamfight Participation / Runes: Super good. Mids often solidly contribute to all of these stats.

Stuns: Usually solid, and yet again, situational.

Last Hits / GPM / Deaths: Like cores, more solid filler stats that don't give you the big numbers but still can make a difference.
ConclusionIn a probably too brief summary, you want to:

Filter teams that play the most games for that day. This might involved making some qualified guesses on which teams will win 2-1 rather than 2-0, once the playoffs starts.

Select players that can reasonably be predicted to win their games, and at worst, perform while losing. (Hopefully the games are long).

Prioritize players with good bonuses.

Best of luck, and remember to check back in for daily fantasy recommendations!