Ok, let's see… This year's International will feature Alliance (oh, nice) and Na'Vi…. Wait, am I on the wrong Liquipedia page? No, it seems like we've all, in fact, teleported back to the early-to-mid 2010's. But no matter how much joy an aging Dota fan will get from seeing those two teams take the stage at TI, once again, no one is delirious enough to believe that things will be the same. This is not the return of Dota's El Clásico. The glory days for Na'Vi are long gone. And while the organization will always have a place in my Dota heart, they will need a miracle if they want to take the stage on the final day again.
Natus Vincere
On the hunt for an identity
Ever since their glory days ended with the departure of Puppey in 2014, NaVi has struggled to reach previous highs. Looking back at it now, it's clear that the fight to stay relevant was a desperate one. In the 5 years since they lost their all-star captain NaVi has fielded 26(!) players on their Dota 2 roster. And that's not counting temporary stand-ins. Only one player stuck around through most of this: Dendi. Danil is, undoubtedly, the most popular Dota 2 player in the world. His antics during the early days of Dota has secured himself a spot in the history books and his play during the first couple of iterations of TI had him occupy the spot as the best midlaner in Dota.
However, Dendi and NaVi was a relationship turned sour without either party admitting it. Dendi wasn't able to keep with the ever changing mid-meta and, as a result, NaVi were trapped in a precarious situation. Their most valuable player, the face of their brand, was one of their biggest problems if they ever wanted to compete again. In the end the problematic question ended up being: "Do you want to sell jerseys or win tournaments". A question you shouldn't just brush off. So when Dendi, finally, departed from the main roster of NaVi it came as a surprise but not as a shock. It was time for him to hand over the team to a new generation of NaVi players.
The only player left on NaVi after Dendi's departure was Crystallize, a young Ukrainian carry-player who was the one bright spot in NaVi's 3rd consecutive year of not qualifying for TI. All the chips were put on his number and a roster was assembled around him. And while the roster did, eventually, make it to TI, the road there was not straight. In fact, for most of the season it looked like they'd veered off the road and, once again, found themselves lost.
NaVi only made one major and one minor this season, interestingly enough those DPC events were both hosted by DreamHack. And while that might give fans a sliver of hope, not much can be said about their performances in both events. In the DreamLeague S11 finals, the Major, NaVi were swiftly eliminated in last place and in the S10 Finals, the Minor, they made 2nd place but the field was probably the weakest of any Minor. There were a few points during the season where it looked like the team would have to go through open qualifiers to even have a shot at TI. Luckily for them, they managed to snag an invite to the regional qualifiers but that wasn't the end of their perils.
While other regions saw the winners look convincing after a small misstep, the same cannot be said for NaVi. They barely managed to secure themselves and upper bracket spot only to be instantly knocked into the lower bracket. And once there they didn't exactly soar past their opponents. Until the finals. NaVi made it there off the back of 2-1 results but then something happened. Suddenly everything seemingly clicked and they dispatched a brutal knockdown onto Lil's Winstrike. NaVi secured their spot at TI9 by winning three games straight and with a surprising depth in their draft.
So where does that leave the Ukrainian org? That's incredibly hard to say. The fact that they crushed Winstrike in the finals of the CIS qualifiers hints at a team that could go on a deep run. However, their play was far from perfect for most of the qualifiers and sometimes screamed "first round exit". Just like when the organization finally decided to part ways with Dendi, this lineup has to find their identity.
DPC Major Performance
Player Highlight - Crystallize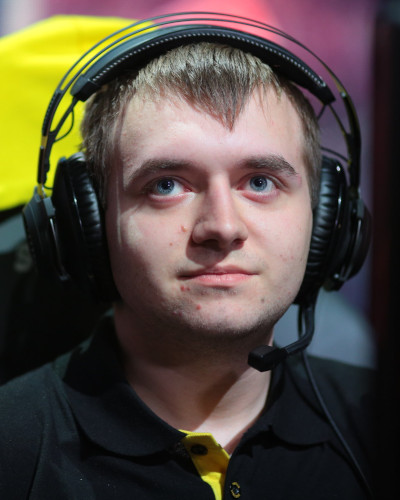 Image courtesy of DreamHack
Back in 2017, when NaVi was in the middle of playing musical chairs with every player in the CIS region, Vladislav "Crystallize" Krystanek was brough on to the NaVi roster. It wasn't big news at the time. NaVi was in a seemingly unbreakable stall and didn't have many options left. But this? Another no-name carry that had yet to even make a major LAN event? They really were out of options. Turns out the move was actually genius and they'd found a diamond in the rough. Ever since he joined Crystallize has, consistently, been the best player on NaVi. Unfortunately it took the team, and the organization, over a year to realize that. But when they finally did, and managed to get him the supporting cast he needed, we've seen improvement.
When watching NaVi play now, compared to a year and a half ago, one thing quickly becomes crystal clear: they're putting a lot of emphasis on enabling their young carry player. Their laning stage play is very passive and they're hesitant to make a move without Crystallize having his key items. While other teams might rotate as four before that stage, NaVi instead plays cautiously. They're even willing to, almost completely, give up map control while waiting for Crystallize to hit his item timings. But when that moment arrives NaVi transforms into a completely different beast. Instead, Crystallize leads the charge and shows off why it's worth putting all your chips in his square. And when that works, Crystallize has a case to make for most underrated carry player in the world.
During The International, teams have to be very careful around Crystallize and Wraith King. WK has been the flavour of the month recently and it seems like NaVi has found the right recipe to propel him even further ahead. Crystallize is 10-2 on the hero so if WK successfully gets into the TI-meta, NaVi will have a big up on other teams.
Players
(Click the icons to read more about the players)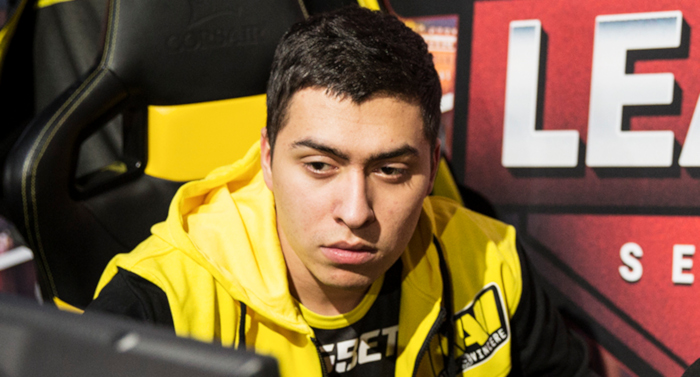 Image courtesy of DreamHack
With so much focus put on the success of Crystallize, Idan "MagicaL" Vardanian is sometimes forgotten in the public eye. MagicaL is a player who is, thanks to NaVi's philosophy, is often put on heroes that can enable their carry. Heroes like Templar Assassin, to control the pace of the game, or Razor, to put more focus on him than Crystallize. And he has great success when put on these heroes. His winrate on TA is 74% and on Razor it's 62%. But the shining star in his arsenal is, without a doubt, Ember Spirit. In the last year, MagicaL has average more than 8 kills and less than 2 deaths per match when playing Ember Spirit, which has resulted in an average KDA of 8, 4th highest recorded KDA of any pro player.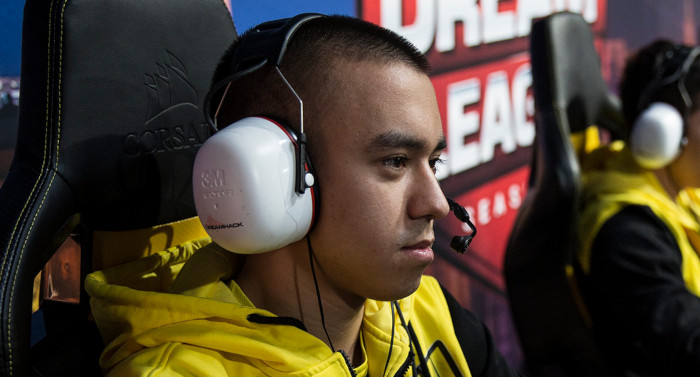 Image courtesy of DreamHack
When watching Evgeniy "Blizzy" Ree play Dota, the word that comes to mind is "inconsistent". On the right hero, and the right day, Blizzy can absolutely demolish a lane. However, if he has a slightly worse day, the same hero can look like a dud under his control. If you go back and watch NaVi's first game in the qualifier finals against Winstrike, you'll see half of this coin. Blizzy played Pangolier, a hero that's incredibly powerful, but made some baffling mistakes. At points he'd not communicate properly, so his Rolling Thunder would stack with Song of the Siren, rendering it useless. At points he also seemed to be completely unaware of his surroundings, as when he saw two Winstrike supports rotate in to his lane, and chose to Shield Crash the creepwave (without actually getting a last hit) instead of running away, something he could've easily done.

Then you watch game two of the finals, and you get a completely different image of Blizzy. His play of Axe was so threatening to Winstrike that they blew both Ravage and Omnislash, in an early gank, to kill him. And he still almost got away. If NaVi wants to have even a glimmer of hope, Blizzy needs to play like he did in game 2 of the finals. If for no other reason than to take the heat off of Crystallize.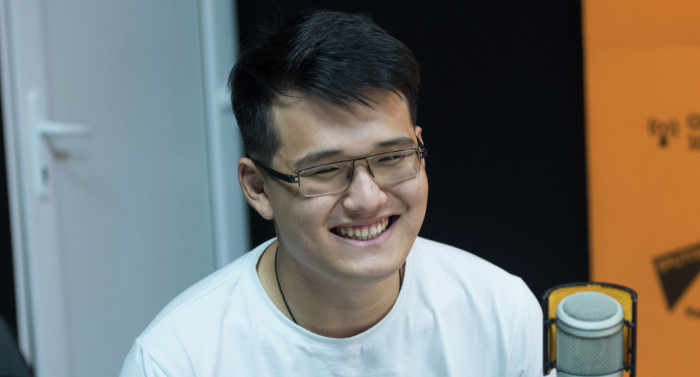 Image courtesy of DreamHack
"Passion" is a word often thrown around when you're talking about Dota players. And while all of them certainly have a passion and love for the game, there are still different levels of passion. And Bakyt "Zayac" Emilzhanov probably ranks close to the top when it comes to passion. In a recent interview with NaVi, Zayac admitted to having stayed in a PC cafe for 27(!) days straight and the only reason he left was that his father figured out what was going on and dragged him out the door. Which seems in line with something an irresponsible kid would do. But Zayac still has a sense of maturity to him, as he says that he's ashamed for the story and says: "It's great when you are the champion, those stories are best told when you're on top!".

During this period Zayac also started meeting, and competing against, other Kyrgyz players such as Blizzy. After what has been described as an impressive performance in a local LAN tournament, Zayac and Blizzy decided to merge their two teams in to NoLifer5, the squad that later became their first professional endeavour after they were picked up by MVP Phoenix. After a failed 8 months under the MVP banner, most of the squad went separate ways but Zayac and Blizzy stuck together. They continued working together in Vega Squadron and just briefly parted ways before they were reunited in NaVi. If NaVi works out, we might just be looking at the next Fly and Notail bromance in the making. Hopefully with a happier ending.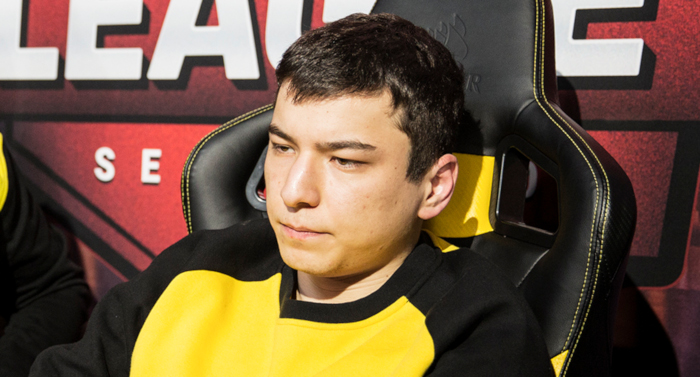 Image courtesy of DreamHack
While names like Dendi and Xboct are closely related to the NaVi brand, maybe it's time to start a discussion about including Akbar "SoNNeikO" Butaev on that list. Sure, he may not have brought the organization as much success as those two but his contribution is, arguably, in the same weight-class as theirs. He is the man NaVi turned to when they finally got serious about rebuilding their Dota team. And while, as previously stated, the rebuild hasn't been easy or immediately incredibly successful, no one can take away the fact that SoNNeikO got NaVi to their first TI in four years.

While SoNNeikO is a great captain and leader for the team, in the game, he is a very quiet and humble figure outside of the game, much like Team Liquid's Kuroky. He does not like to talk about things that aren't Dota and has no time for distractions like social media. And that shows the drive he has. For SoNNeikO, it's not just about rebuilding a Dota roster, it's about securing a second Aegis for his win-hungry region.