Keen Gaming
Ragtag Challengers
A cursory glance at Keen Gaming's DPC results this year might not look like much. Indeed, an appearance in one Minor and two appearances at Majors puts Keen in a tie for the lowest amount of events attended for any of the twelve teams who qualified for The International via their DPC tournament performances (the other team being TNC Predator). Knowing this, it becomes no surprise that Keen has the lowest amount of DPC points of these twelve teams. Keen was narrowly edged out of the eleventh place spot by Alliance's big push during the final Major of the season, Epicenter.
While the sum of these parts amounts to a regional qualifier bypass directly to the International, Keen may look like a lucky hanger-on compared to those outperforming them on the leaderboard. However, what is not shown is the grind just beyond the spotlight that has forged Keen Gaming into the TI9 caliber team that we know today.
At the start of this journey are some faces familiar to the upper echelons of Chinese Dota, and others that are not. Most recognizable are the two players on loan from EHOME, the long time teammates old chicken and eLeVeN. While old chicken has been bouncing between stints at EHOME and Keen since 2015, eLeVeN has been loaned out to other big name teams in the region like LGD and Vici Gaming. Fate would have the two back together again with another EHOME alumni from the 2015 days, Kaka, who had just wrapped up a long and successful period on Newbee. The final two members of the team, their mid player 一 (or Yi) and the team captain, dark, have been inside the EHOME/Keen ecosystem for their entire careers, stretching back to early 2017.
Ok, well maybe not at the very start of the journey. Another carry player going by the tag sss was on Keen Gaming in early September in the team's initial configuration, and old chicken was still on EHOME, though as an inactive player. These early few months for Keen were, in a word, disappointing. They were passed over for direct invitation to the Chinese regional qualifiers for the Kuala Lumpur Major and then even failed to earn a spot through open qualifier. With little over a week between the open qualifier for Kuala Lumpur and the next open qualifiers for the DreamLeague Minor, Yi announced that he would be taking time off to address health problems, prompting the loan of old chicken from EHOME to fill his shoes. Sadly, results were only marginally better, and still not enough to break into the main qualifiers for the DPC event.
Between this set back and the next event in Chongqing, sss would be moved off the squad and eventually Yi would return to play in the Asian Dota 2 League in the team's first event with the line up that they have today. They would not win that event, nor the following season of H-Cup, but potential was beginning to show in the deep runs they had in both tournament's playoffs, beating out other regional talent like Vici Gaming and Team Aster. Momentum began to build as Keen finally landed their spot in the Chongqing regional qualifiers, edging out CDEC for the last spot via open qualifiers. They were eliminated from that event, but that would not deter their upward trajectory. The following week they would not only take another open qualifier, this time for the Bucharest Minor, but would emerge from the regional qualifiers as the top dog and punch their ticket to the team's first DPC event of the season.
Placing third at Bucharest may not have qualified Keen for Chongqing, but the team finally had points on the board. A month later, they would get their big break by surviving the always-stacked regional qualifiers to claim the third and final slot for the DreamLeague Major. It would be at this Major where any doubt about the Chinese scene's ability to contend would be cast out, as three of the top six finishes would be held by these very same three teams out of China. Keen's performance would be perhaps the most unexpected, as they took set wins against global powerhouses Team Liquid and Evil Geniuses. While not as deep a placement as their Bucharest run, this 5th-6th place finish would net them the majority of the DPC points for the season and, unbeknownst to them at the time, reserve their place at TI9.
This DreamLeague placing would go on to provide the lion's share of DPC points for Keen's season. Their only other significant event was the Paris Major where Team Liquid sent them to the lower bracket from the group stage, setting them up for an early exit from the tournament at the hands of Vici Gaming. Outside of Valve events, though, Keen was able to find appearances in the grand finals inside and outside of their region. Having qualified for ESL Mumbai prior to their success at DreamLeague, Keen was able to not only take home a first place finish over fellow TI attendees like Natus Vincere and Mineski, but along the way found their own payback against TNC Predator. The same TNC who, just a month prior, had bested them on home turf at the grand finals of WESG. Failing to qualify for the final Major-Minor set of the year, Keen would also find a group stage exit at ESL Birmingham.
Although Keen Gaming's 2018-19 DPC season ended on a low note in the tier one scene, TI9 provides them an outlet to show their peers that their deep run at DreamLeague was no fluke, and a way to show that their home team advantage extends far beyond H-Cup and regional online tournaments.
DPC Major Performance
Player Highlight - Kaka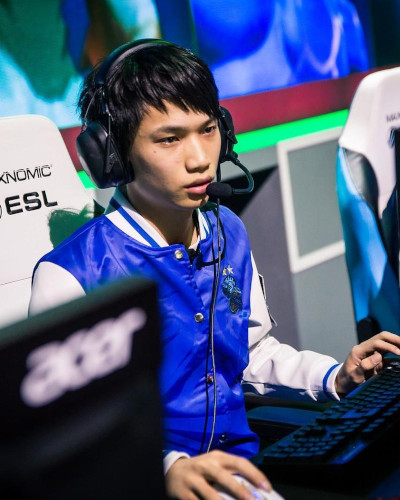 Image courtesy of Adela Sznajder, ESL
Coming to Keen Gaming after a prosperous few years supporting with Newbee, which peaked with a grand finals appearance against team Liquid at TI7, Kaka has found himself returning to a team from ages ago. Back in 2015, an EHOME squad was formed shortly after TI5 that featured old chicken, eLeVeN, and Kaka, but midway through the season Kaka and their mid lane player, Cty, were replaced by iceiceice and Fenrir. Kaka would go on to qualify for TI6 new team, Newbee, and would square off against his old EHOME squad during the group stage. An upper bracket face off would be spoiled by EG knocking Newbee into the lower bracket, where they would be eliminated by Team Liquid.
But the past is the past, and Kaka's new home in Keen Gaming. Surrounded by faces new and old, Kaka has found himself attending his fourth straight International. Unlike the shuffling around of his core players, between roster swaps and injuries and stand ins, Kaka has held down the support role all year alongside the team's captain, dark. Through thick and thin, Kaka supplies Keen with the kind of expertise that made Newbee into the international powerhouse.
The standout hero for Kaka this year is undoubtedly Nyx Assassin. While he has not been posting up huge kill scores on the hero known for his scouting and ganking, Kaka has been on a respectable twelve game win streak stemming all the way back to the regional qualifiers for the Paris Major in March and played the hero in nearly a third of the games during their championship run at ESL Mumbai. This season has also seen a revisit of Kaka's second most played hero, Sand King. Despite putting the hero on the shelf even since the China Super Major last year, Kaka picked him up during the Paris Major to help take down Fnatic. Since then, his low-networth-high-impact builds for Sand King have helped Keen defeat Sirius and Team Aster at home, as well as put on a show against Alliance at ESL Birmingham. Other high win rate supports Kaka has found himself playing in recent months include Lion, who was on display during Keen's runs at ESL Birmingham and Mumbai, and his most played hero, Rubick, who was drafted to great success in Keen's plow through the Asian Masters League playoffs.
Players
(Click the icons to read more about the players)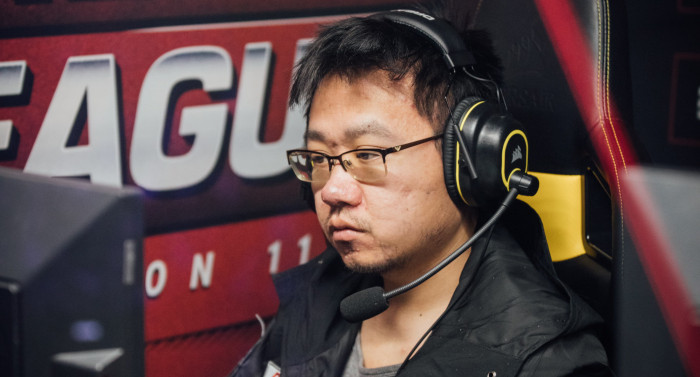 Image courtesy of Adela Sznajder, DreamHack
With bar-none one of the best names anywhere in the pro scene, old chicken is a long time favorite to cast and an off-again, on-again member of Keen Gaming. Having come in early in the DPC season to stand in for their mid player, Yi, he would end up becoming a fixture in the squad when their carry player, sss, was sent off to KG.Luminous. Now playing carry full time for Keen, he brings the carry potential of a top eight finisher at The International, even if he spent the past two TIs as a spectator.

Having missed out on the past few DPC events, we have only seen old chicken play a pair of tournaments on the radically new 7.22 patch and its minor patch variants. Recently, in the team's dominant performance at Jiabet, he has been playing durable, hard to kill carries such as Sven, Bristleback, and Troll Warlord. These stand in contrast with some of the more brittle, high DPS heroes like Leshrac and Drow Ranger that he had been playing earlier in the year.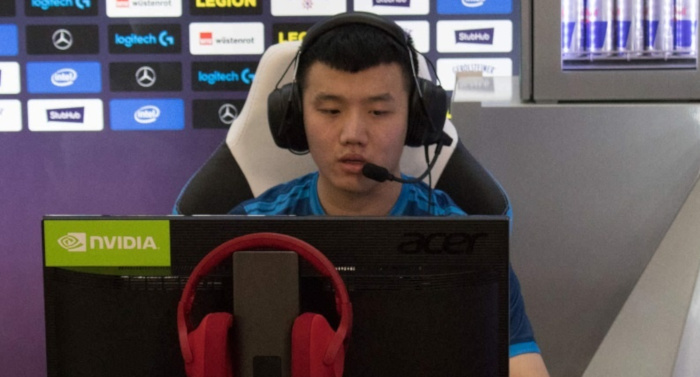 Zhai Jingkai is clearly a player that values simplicity in his tags. Formerly going by the single character 荧, which means glittery or fluorescent, he now goes by 一, the character for the number one, pronounced Yi. Together with fellow class of 2017 EHOME / Keen alumni dark, Yi's service in the middle lane with Keen has finally produced the TI invite that has eluded him for years. After all, a Keen Gaming featuring the Yi and dark duo has previously stunned the scene by knocking out Team Secret and Evil Geniuses at the GESC Thailand Minor just last year, so their TI berth should come as no shock.

Earlier this year, prior to this major patch version, Yi's picks consisted of mostly Ember Spirit, Puck, and Templar Assassin. Lately, he has been shifting towards mids like Troll Warlord and Viper, with an honorable mention for his Razor. Across this patch and previous incarnations, his Razor has put up big double digit performances against big names like Secret, EG, Natus Vincere, and Mineski.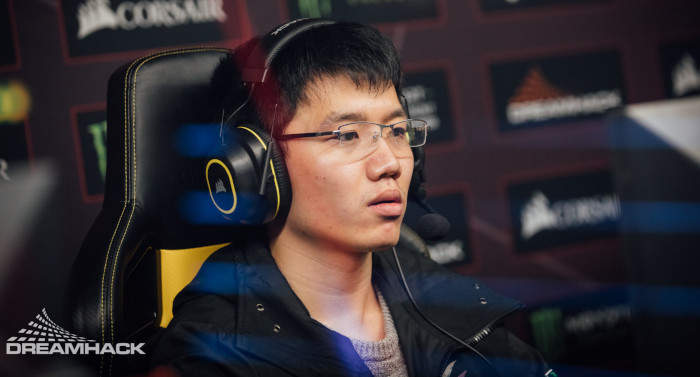 Image courtesy of Adela Sznajder, DreamHack
eLeVeN, or old eleven, has become a ringer like no other in China. Since joining the EHOME organization in the months following TI5, he has attended every International, be it with EHOME proper for TI6, on loan to LGD for TI7, on loan to Vici Gaming for TI8, and now TI9 on loan with his old EHOME teammate, old chicken. This much experience in the scene and his history of high placements should show that eLeVeN's "old" moniker has become an indication of his wisdom and not with degrading play.

In recent months, eLeVeN has put on an absolute clinic on his Nature's Prophet. Eleven used his global presence to put the squeeze on International caliber teams like Natus Vincere, Vici Gaming, and Team Liquid, combining Orchids, BKBs, Shadow Blades and Drums into a utility build that can gank, push, escape, and teamfight. He played like he could do anything anywhere and any time. Another big pick recently has been his Dark Seer, who he has used to bulldoze regional rivals like iG, Royal, and RNG, particularly during ESL Mumbai where he ran the hero four times and without dropping a single map. Honorable mentions go to his Doom, who in recent months has not been so hot but played a key role in the team's victory in Mumbai, scoring at least a dozen kills in the three games he was featured in. Also worth mentioning is his most played hero, Batrider, whose commanding performance at JJB cup earlier eviscerated Geek Fam and more recently helped defeat Team Secret at ESL Birmingham.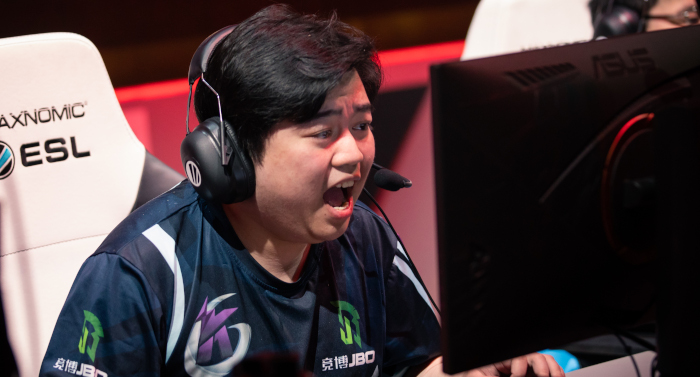 Image courtesy of Bart Oerbekke, ESL
Keen Gaming's team captain, dark, really likes playing Disruptor. I mean, really likes playing Disruptor. Starting with a win over Royal in the qualifiers for the Paris Major, dark proceeded to draft himself Disruptor twelve more times over the next five events to a commanding 11-2 record, running the same Tranquil Boots, Wand, Wind Lace, and Bracer(s) build every time. Sometimes, in a particularly well performing game, dark would splurge and grab himself a Glimmer Cape. While the number of wins featuring the hero has waned in recent months (he has not won on the hero since the big 7.22, having only drafted him twice), much of this year's success has featured dark's Disruptor. When not playing Disruptor, dark found success with Lich, Jakiro ( with an 80% win rate since the ESL Mumbai qualifiers), and Witch Doctor.

But who is the captain behind the mounted Oglodi spell caster? After joining EHOME.Keen with his current teammate, Yi, back in January 2017, dark has spent his entire professional career captaining under the Keen branding. Having started out playing a core in the offlane, dark shifted to a support role following the departure of Keen's supports, yoona and 天命, following TI8. With an experience and proven team of veterans by his side, dark's first trip to The International is looking bright.