Three teams remained but only one could be crowned victorious by the end of the day. LGD were looking to uphold the pattern of east-west as well as ensure no player would win the Aegis twice. EG were looking to crown Suma1L and s4 as the first two-time champions and OG would break the cycle of east-west but would not break every curse as they could not crown a two-time winner.
PSG.LGD vs. Evil Geniuses
The Losers Finals of TI8 saw SumaiL on Yet Another Alchemist Game and PSG.LGD trying to stop it without Ursa or Bloodseeker. LGD was successful in winning mid lane with SumaiL's Alchemist taking the early cs loss against Somnus's Tiny. LGD continued to harass him at every turn, but EG did have strong performances on the side lanes. This was certainly not a passive game as both teams jabbed and punched each other, but neither could land a knockout teamfight to take the lead. So, LGD's Spectre and EG's Alchemist both went for Radiance in this game. EG is able to get Blink Dagger on Alchemist and decide to make a play in the opposing jungle, but the overextension was quickly punished and routed by LGD. Finally, the Chinese team was able to take the lead in the game, spearheaded by Ame's Spectre's Radiance. Feeling desperate, EG played around the Roshan pit in order to try to kill it or bait it, but LGD caught it out and eventually outplayed EG for the Roshan kill. LGD moved to EG's top rax and take 2 T3 towers but were repulsed by EG's buybacks. EG were able to push the lanes out and miraculously took a winning teamfight against LGD using Cr1t's Wisp to keep the important heroes alive. LGD are forced to buyback and tired of EG's antics, stomped down the EG's remnants. Surging forward, LGD cooked EG in their own base, whittling down objectives and EG, feeling that their backs were against the wall, took one final lost teamfight before tapping out of Game 1.
LGD switched up their strategies for Game 2, drafting Warlock and Luna against EG's Spectre and surprisingly, SumaiL on Necrophos. EG got a slight lead in laning, but rotations by LGD stopped the bleeding. Lots of kills were exchanged, but EG maintained their slight lead throughout the mid-game, banking on Arteezy's Spectre to carry them in the late game. LGD, though, took several strong teamfights that put them in the lead and made Chalice's Wraith King and Somnus's Kunkka very difficult to deal with. A perfectly positioned flank from LGD completely caught EG pants down to wipe them out completely and took 2 barracks to put the North American team on the verge of getting eliminated. An easy Roshan for LGD soon follows, and they began marching down bottom lane. The offensive was too much for EG, and they soon crumple to LGD, who dominantly roll onward to the Grand Finals.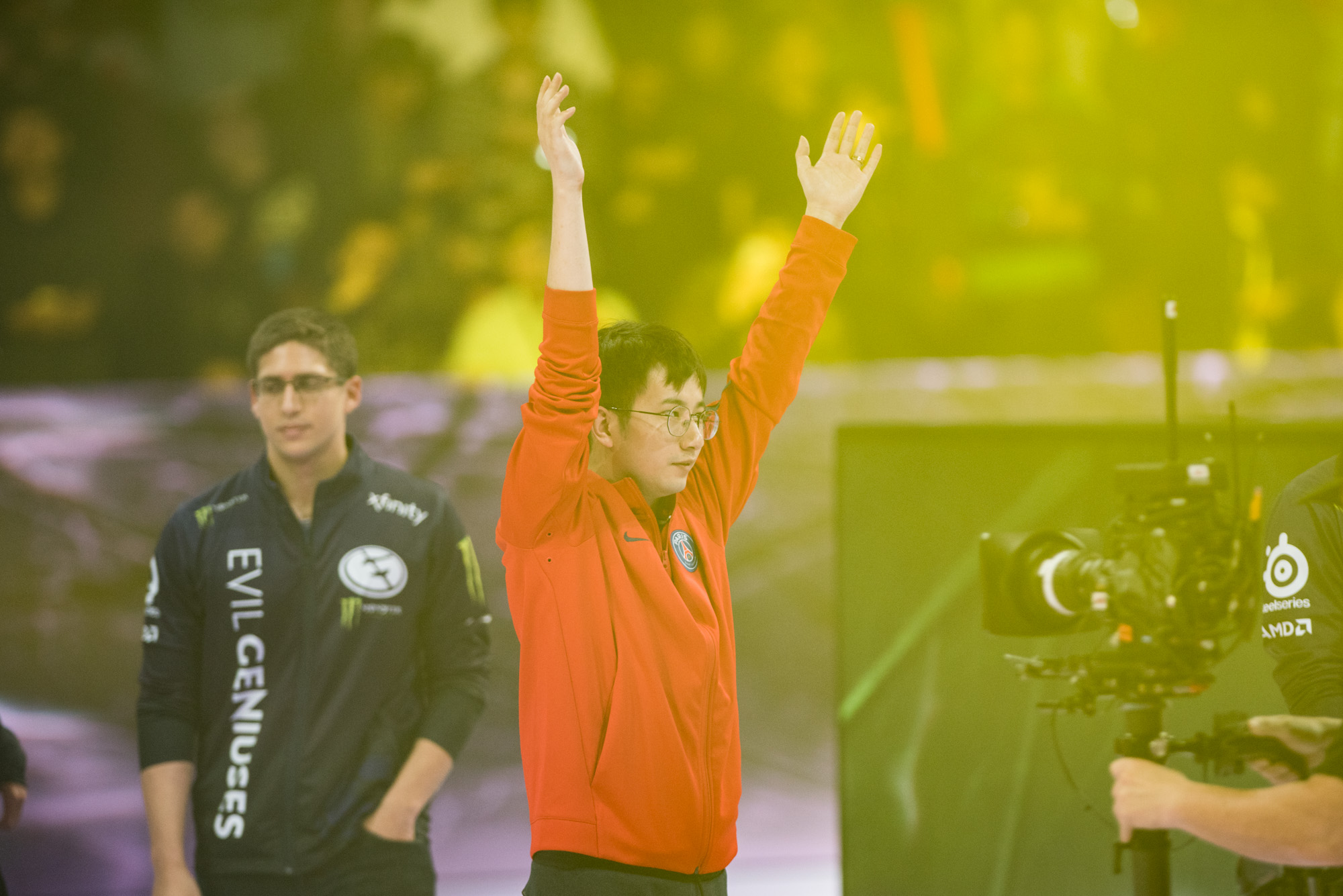 Photo by TheHexHaven
OG vs PSG.LGD Game 1
The finals would be a rematch of the Upper Bracket finals where PSG.LGD arguably should have won, but OG mounted a massive 18k networth comeback where they held their ancient 2v5, forced diebacks and then went down mid to end the series. With that memory still fresh in the minds of the PSG.LGD players, they went in to the finals to uphold the tradition of TI8 being an eastern year. The first draft had both OG and PSG.LGD firing on all cylinders from the get go with OG grabbing their Earthshaker and Spectre and LGD picking up Enchantress and Somnus' Storm Spirit. The draft continued with OG picking Winter Wyvern, Monkey King, and Treant Protector while LGD grabbed CM, Elder Titan, and Bloodseeker for themselves. As we cut to the casting desk of OD and Fogged, the surprise Merlini sat between them; it was apparent the finals would be cast by all three, and so the first game of the TI8 Grand Finals began.
The lanes were a little different than normal with LGD putting the Enchantress mid to lane against the Monkey King, but aside from that all three cores in both lanes seemed able to farm to start the game off. PSG.LGD claimed first blood in the opening game but moments later OG answered with a kill of their own. As the laning stage broke down it was apparent that PSG.LGD had the advantage with Chalice picking up kills in multiple lanes on his Bloodseeker, and towers being pressured heavily by Enchantress. PSG.LGD's cores continued to farm well but with OG's Spectre not far behind them their early lead could vanish at any moment.
Every time it looked like OG was on the verge of taking a really good fight, PSG.LGD would answer back and score kills on Spectre, Monkey King, or both to keep their advantage. OG finally took a fight in front of PSG.LGD's T1 tower mid where Spectre was able to survive and the game equalized with it becoming apparent that PSG.LGD struggled to push into the wave clear that OG had on top of the Treant's healing. A poor rosh fight for LGD led to four dead, an Aegis for OG, and eventually a lane of rax. After one more won team fight, OG took a 1-0 lead in the grand finals of TI8 and PSG.LGD was sent back to the drawing board.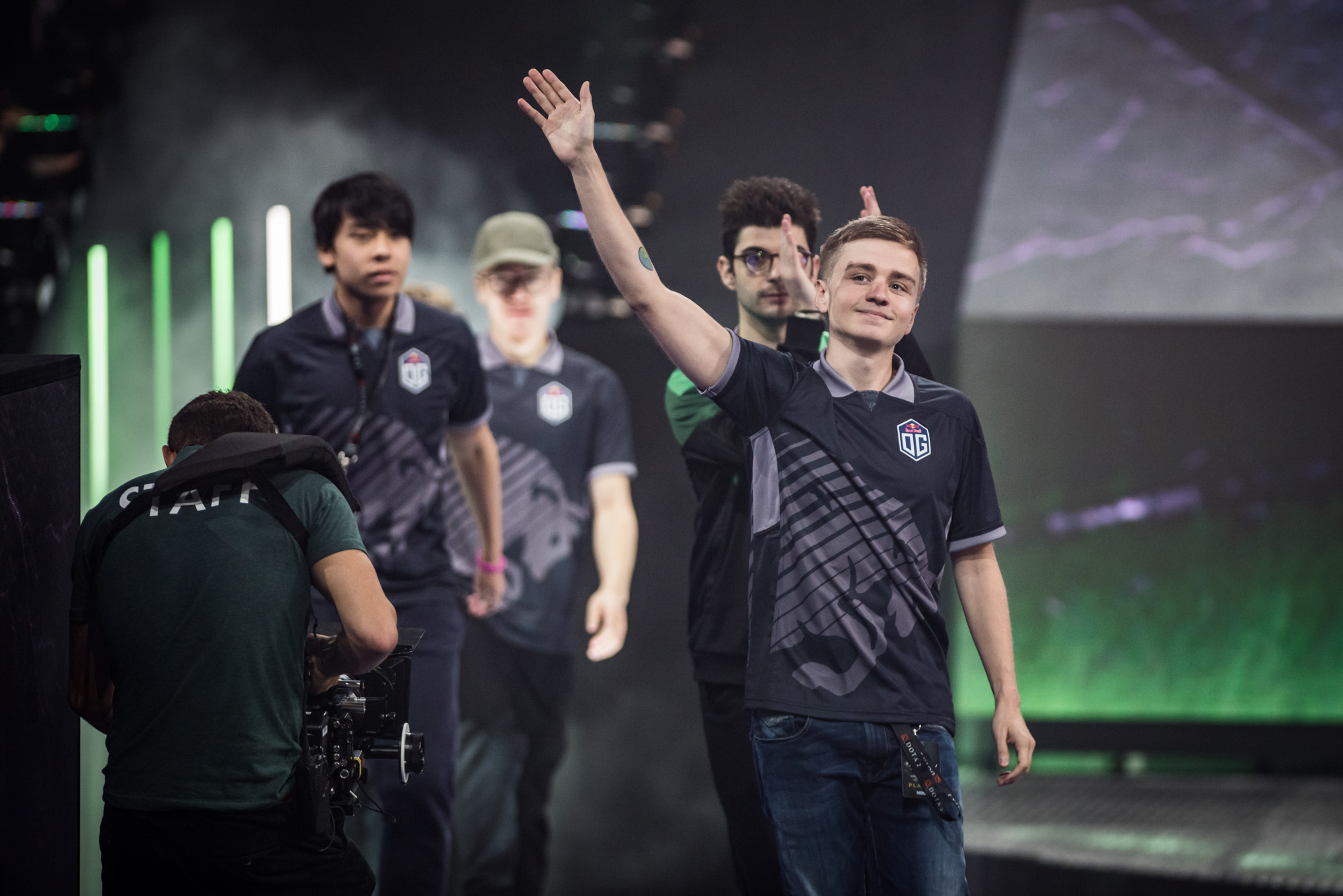 Photo by TheHexHaven
OG vs PSG.LGD Game 2
The panel favored PSG.LGD after the second draft but we had heard that before, we'd have to see how the game played out and if OG could widen their lead to two games, or if LGD could tie the series up at one a piece. Once again, PSG.LGD struck first and got First Blood, but only a few seconds later OG answered back, almost identically to the first game. For the first time in what feels like forever we had a trilane vs trilane as LGD tried to apply pressure to OG's safelane Io + Gyro. While OG's trilane was stronger, a mistimed dive ended up costing them as they lost two heroes and allowed PSG.LGD to freely take over the lane. Chalice hit his earliest peak timing as level 6 Enchantress and began to kill OG heroes around the map including a particularly long tower dive which brought him up to OG's T2 bottom tower where he continued to find kills and then escaped freely. The lead for PSG.LGD was even larger than in game 1 yet because of what we had seen OG do in the recent past no one believed the game was anywhere near over.
The mid game was much less action packed than normal as OG tried to recover and find pick offs with relocate but each full fight they were forced into went poorly for the European squad. PSG.LGD's cores continued to farm but once again OG was close behind, any lapse in judgement or major mistake could be punished and bring the game back into OG's reach. A won Roshan fight pushed LGD ever closer to closing out the game and tieing the series up 1-1. After getting a few more pick offs and winning a few more fights, PSG.LGD was able to close out the second game, removing the possibility of one team getting sweeped in the finals.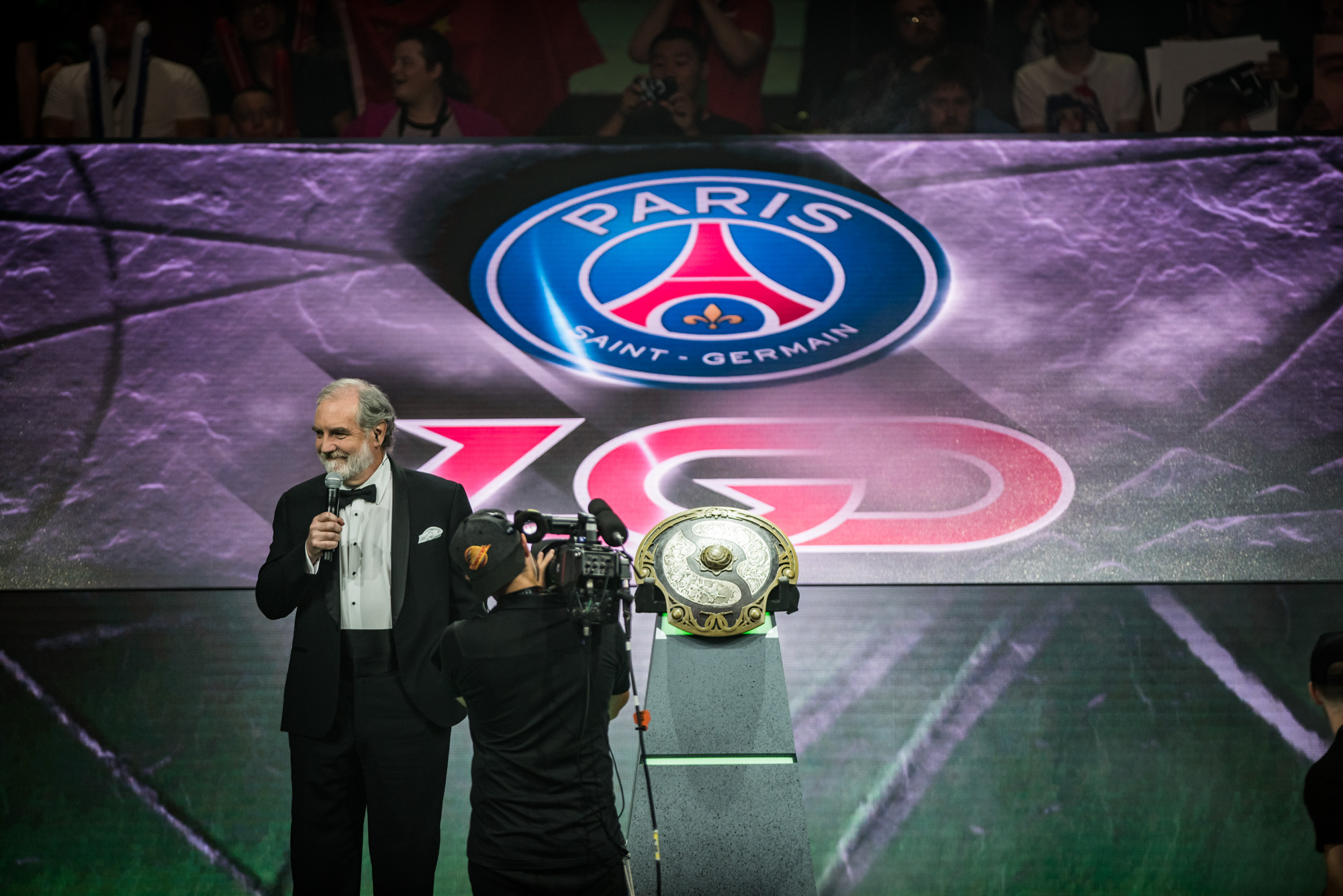 Photo by TheHexHaven
OG vs PSG.LGD Game 3
As the teams began to feel each other out during the games we saw the bans change slightly for both teams, OG banning the Io and Earthshaker, while PSG.LGD let the Chen through the draft in favor of banning Spectre. For the third game in a row LGD got first blood, this time followed by a quick second kill with no retaliation from OG. The mid lane was going tremendously well for Topson though as his Morphling completely out cs'd Somnus' Alchemist, nearly doubling his last hits and earning 20 denies by 5 minutes. He transitioned his lead into two kills on PSG.LGD's safelaners when they strayed to close to his lane while looking for kills of their own and Somnus abandoned his lane to go jungle. OG's deep wards gave them all the information they needed to track the Alchemist in his own woods however as they slowly took more and more map control before he was strong enough to come to fights.
LGD was fully prepared to buy space for their Alchemist and after trading evenly a few fights in a row, Somnus on Alchemist was top net worth, followed by Topson. OG was able to secure the first Roshan kill after a pick-off on Ame's Weaver which allowed them to keep their strong map pressure up on LGD, who struggled to find enough space for all their cores to farm. After another 10 minutes of back and forth fights, PSG.LGD started to come out ahead in fights as OG became unable to deal with the pressure coming out from the Alchemist and Weaver combined with Phoenix's Egg and Brewmaster Ult. OG resorted to split pushing but against the vision that Venge and Weaver can offer, it only proved to get Ana and JerAx picked off and eventually LGD found themselves inside the OG base with an unkillable Alchemist as their vanguard. PSG.LGD took a 2-1 lead and were one game away from being crowned champions.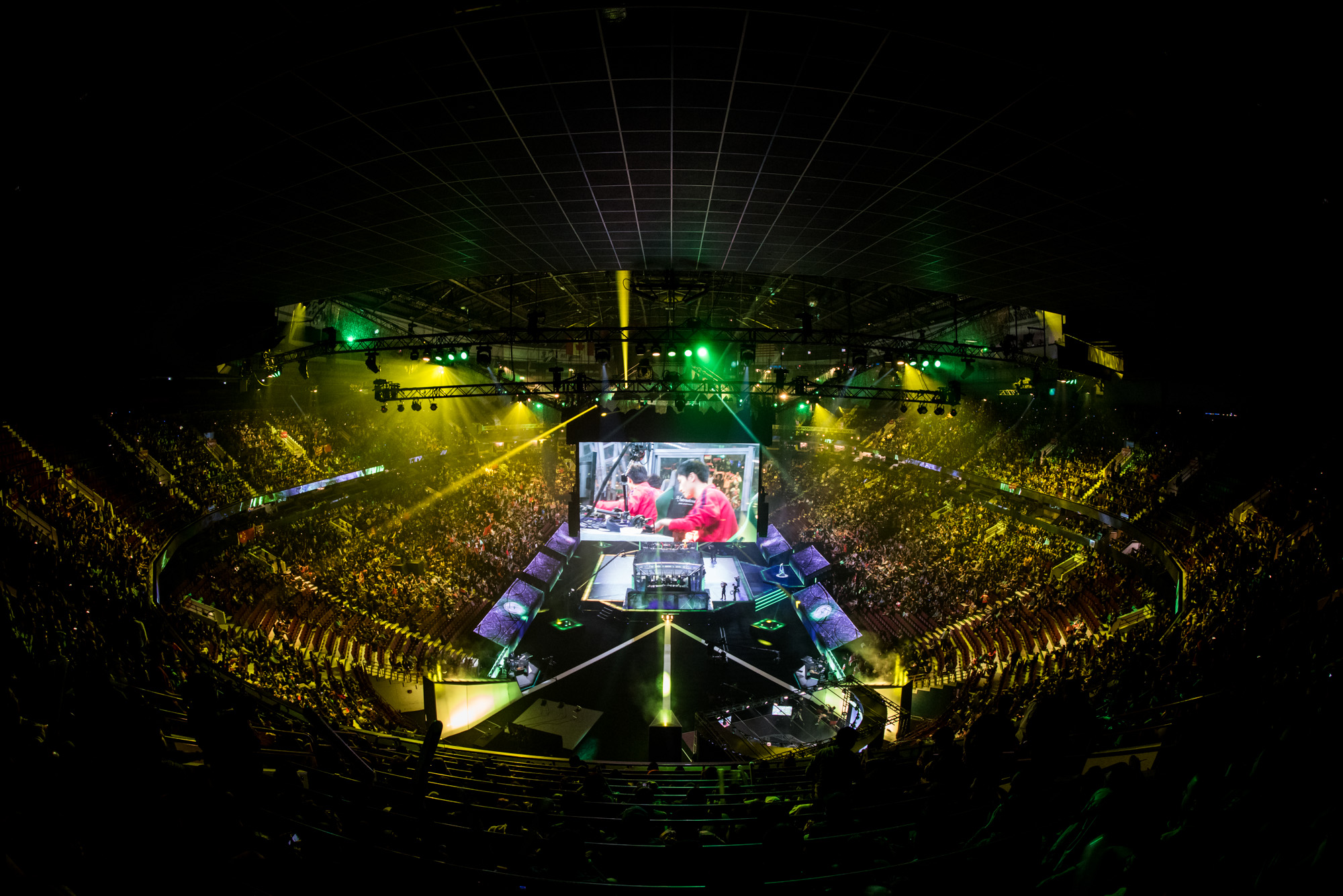 Photo by TheHexHaven
OG vs PSG.LGD Game 4
We started what may be the last game of TI8 unless OG had anything to say about it. OG went with Chen, Axe, Io, Invoker, and Phantom Lancer to keep their hopes alive while PSG.LGD had Morphling, Bloodseeker, Tusk, Brewmaster, and Enchantress to try to put the final nail in OG's coffin. OG picked up First Blood for the first time in the grand finals and continued to pressure the aggressive trilane of LGD heavily but it came at a cost. Topson's Invoker was having a lot of trouble dealing with Somnus' Bloodseeker who was gaining more and more damage and movement speed as the two teams fought to the point where he had died four times in 5 minutes. Somnus was winning the lane so hard that he ended up being level 7 while Topson was only level 4, it would take a team effort to bring him back into the game.
Seb tried to do just that with his 9 minute Blink + Vanguard on Axe as he began to make rotations and helped his team break even in some small skirmishes. His calls lead to kills around the map and gave Topson the space to get back within a comfortable distance of the rest of the cores in the game. Just as it was beginning to look like the game was getting out of reach for PSG.LGD, they managed to take a great fight and team wipe OG along with getting a buyback out of the wisp. Seb's Axe was once again put on full display as he lured the enemy team into a bad Roshan fight and OG took a massive lead shortly after PSG.LGD had just clawed their way back in. OG took Roshan and map control after a won team fight and Seb continued to deliver crucial call after call to pick LGD apart. Fy's Tusk delivered two stellar team fight performances back to back, saving his allies with snowball after they had been called and trapping enemy heroes with his shards so that his cores could lay into them with damage. While the fights remained close, all three cores of LGD continued to farm while Seb stopped almost entirely to try to find pickoffs to keep creating space for Ana and Topson. At nearly 40~ minutes the game was almost completely even, with both teams capable of winning a decisive fight and forcing the other into their base.
There were two chants that could be heard in the arena as the two teams clashed, one being "Let's Go OG" by supporters of OG, the other being "Go Home OG" by the PSG.LGD fans. As PSG.LGD went high ground and took the first lane of rax the latter made a deafening roar, sensing that PSG.LGD were about to write their names on the Aegis of Champions to be permanently remembered for what they had accomplished. Two lanes of barracks down OG gathered themselves to defend their last lane as their tournament lives depended on it. They held once and with two members of PSG.LGD down without buyback OG saw an opportunity to strike and went to the Roshan pit, unfortunately their chase of Ame through their woods only to have him escape allowed the dead members of PSG.LGD to respawn and so the game continued with OG gaining another Roshan kill. OG managed to take down Morphling without buyback and began to work on getting Mega Creeps for themselves while PSG.LGD waiting for Ame to respawn, losing every rax in their base aside from one in their top lane. In yet another miraculous recovery OG pushed down mid with their next Aegis, Cheese, and Refresher Shard and tied the series at 2 a piece, we were going to the deciding Game 5.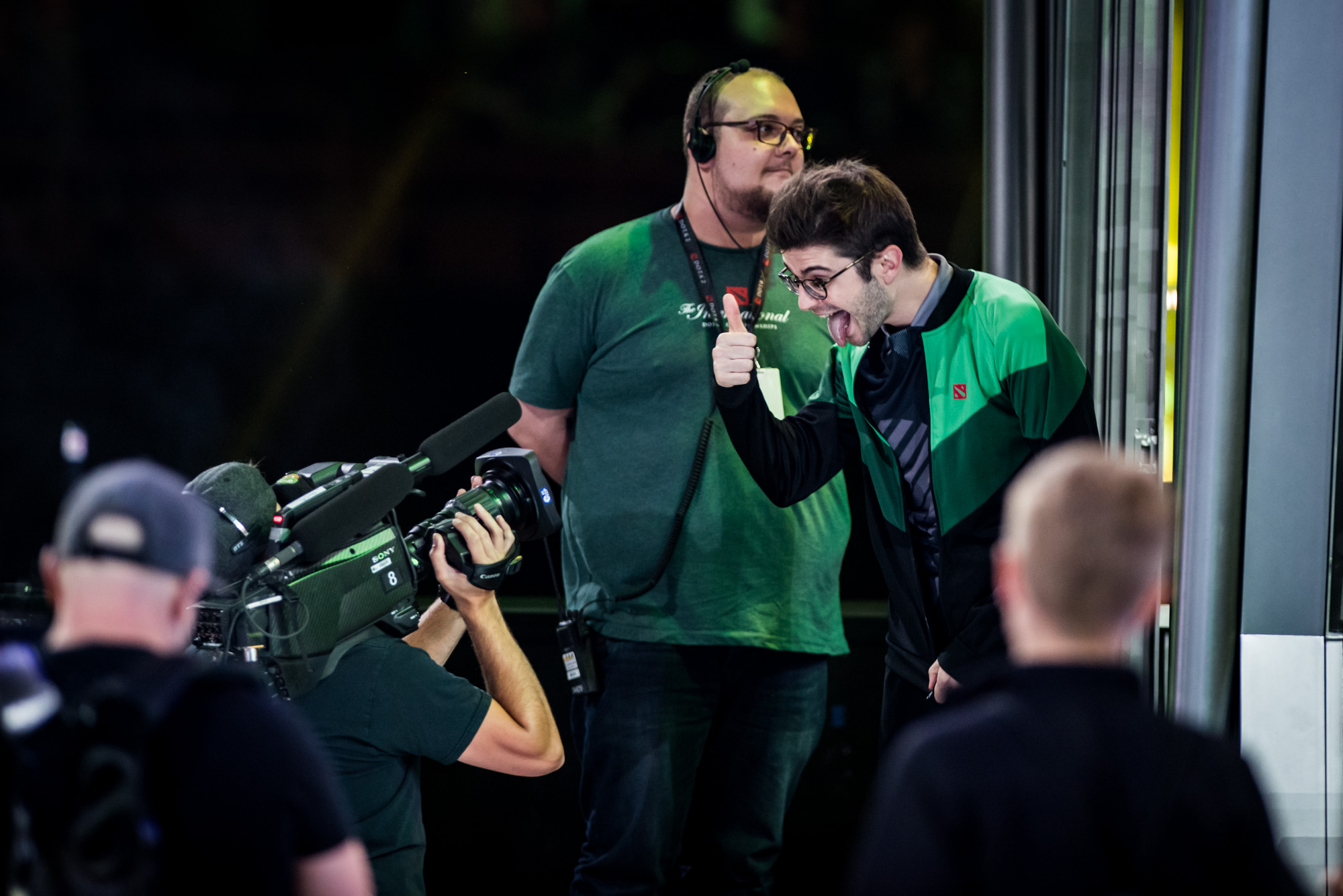 Photo by TheHexHaven
OG vs PSG.LGD Game 5
One game with everything on the line. PSG.LGD vs OG went into its final act. The final rosters for both sides were Nature's Prophet, Rubick, Magnus, Ember Spirit, and Zeus for OG and Earth Shaker, Terrorblade, Silencer, Kunkka, and Batrider for PSG.LGD. With OG's confidence level over 9000 they began the final game of TI8. PSG.LGD claimed First Blood for the fourth time during the series, this time on their batrider, propelling him towards his boots. Those boots helped him secure another kill later in his lane and Somnus' Kunkka once again secured two kills on Topson mid early on as well. On the only other lane things weren't going much better for OG as Fy's Earthshaker also secured multiple kills while xNova's Silencer was in range to steal Intelligence. Once again, PSG.LGD was off to a great start but we had seen these kinds of starts go horribly wrong for them before.
The first massive fight went PSG.LGD's way as the full team showed up mid to dive OG to their T2 tower, as reinforcements slowly trickled in for OG they lost hero after hero and eventually had to allow PSG.LGD to walk away unscathed or risk taking further damage. PSG.LGD swept around the map, removing outer towers quickly and efficiently while also gaining map control inside OG's woods. They used this control to find a few more pick-offs and the game was already looking to be incredibly difficult for OG. Three more unanswered kills in the mid lane strengthened PSG.LGD's position even further while OG began to attempt desperate pick offs around the map. While it did net OG a kill on Terrorblade and Batrider, they paid for it with 4 deaths on their side, each one giving Silencer more and more intelligence. Just as all was looking lost, JerAx with a stolen Boat crashed into PSG.LGD and won them a critical team fight while also keeping multiple people on his team alive. It wasn't enough to bring them back to parity but it was a good start made possible by JerAx. A follow up fight around the Roshan pit had PSG.LGD throw away their entire lead and give an Aegis over to OG along with two diebacks. Once again OG began to make their recovery. One more well taken fight from OG including Ana dodging Kunkka Boat and Echo Slam with his euls allowed OG to take a lane of rax. This was followed up by another incredible fight where OG wiped PSG.LGD off the map once again and left little doubt that OG was now in the driver's seat.
OG's tournament which had been filled with comebacks all the way along the group stage and upper bracket would come to an end with yet another comeback, this one more important than any other. OG would not only break PSG.LGD and claim the Aegis of Champions for themselves, they would break the east-west cycle that had existed since the year iG defeated Na`Vi and began the cycle back at TI2. With one final push OG cemented their names on the Aegis of Champions, and will always be remembered for what they were able to accomplish in Vancouver. Ana, Topson, Ceb, JerAx, and N0tail will certainly be remembered forever as some of the greatest Dota 2 players who ever played the game.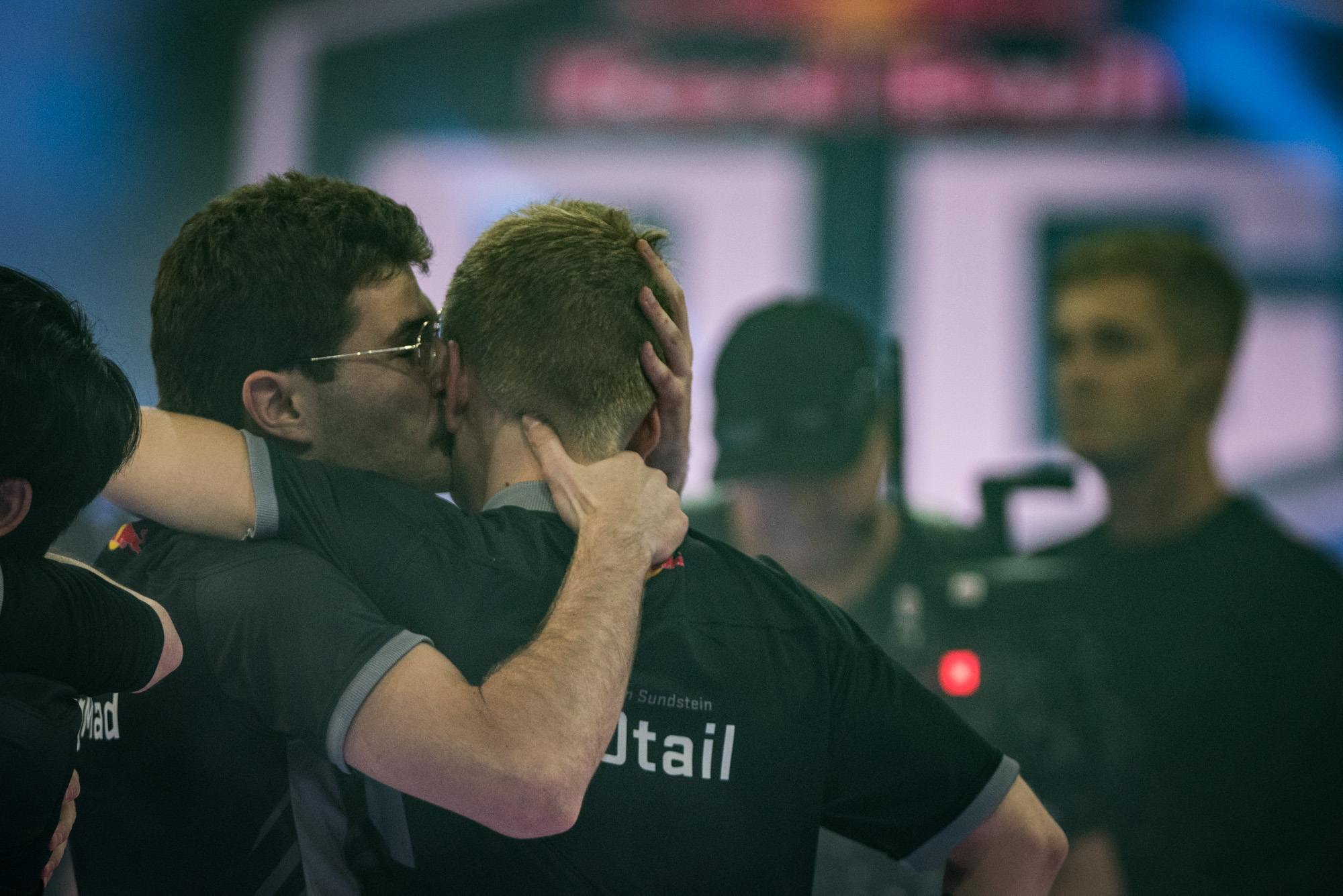 Photo by TheHexHaven
Recommended Games:
+ Show Spoiler [Recommended Game 1] +
+ Show Spoiler [Recommended Game 2] +
+ Show Spoiler [Recommended Game 3] +
+ Show Spoiler [Recommended Game 4] +
CREDITS
Writers: OmniEulogy, rabidch
Front Page Image: TheHexHaven
Editor: rabidch
Graphics: Valve, Julmust, Exitiums