By Day 5 we were down to just 5 teams. PSG.LGD, OG, EG, Team Liquid, and Team Secret still had their hopes alive to lift the Aegis of Champions but two more would have that flame of hope flicker out and be extinguished by the end of the day. Two of Team Secret, Team Liquid, and EG would be going home when the matches concluded; first up would be Team Secret vs Team Liquid, Puppey vs Kuro. Team Secret was coming through the lower bracket, having already pushed aside Vici Gaming and VGJ.Storm. Liquid, on the other hand, had just dropped into the Lower Bracket after losing to PSG.LGD in the Upper Bracket.
Liquid vs. Secret
Bloodseeker loves bloodbaths and that was exactly Game 1 of Liquid versus Secret. Everytime Secret made a rotation, kills were left and right, but Liquid were the ones able to get the early gold advantage. Secret may have wondered if their last pick Alchemist for Ace was the wrong decision as Liquid had solid wins on all lanes, led by Matumbaman's Broodmother, and a solid gold lead going into the mid-game. It was down to Secret making the plays when they needed to do to stop Liquid's tidal wave, and those huge plays were present in spades. This was certainly YapzOr's Earthshaker game to make huge slam dunks. Not so behind anymore, Secret secured some breathing space in the mid-game and dodged Liquid's punches, enough for Liquid to relent and take Roshan instead. Timely saves punished over-aggression on either sides with crowd going wild on every save, but the pressure was too great on Secret, and a pickoff on Earthshaker allows Liquid to net more easy kills. But two massive counter dunks in from Secret followed by jaw-dropping chain stuns knock Liquid into submission and Puppey's team is able to secure the next Roshan.
The tides of battle weren't yet favorable enough for Secret, and they shortly lost their Aegis and the next teamfight as Liquid ran loops and loops around Alchemist and Necrophos. Liquid turned the pressure cooker back on to easily take the next Roshan while MidOne's Storm was desperately poor and without buyback, and swarmed onward to take Secret's Shrines. Hilarity ensued as Storm + Chen's send-back became Secret's best creep wave clear, but Liquid soon ended the fun and knocked down two lanes of Secret's barracks against the defending team's less than best efforts. But for Secret, the third rax was the charm with a emphatic teamfight combo, wiping Liquid's cores. Tired of Secret's antics, finished the game after a casual kill on MidOne and BKB purchase on gh. Liquid emphatically secure the Game 1 against Secret.
The Game 2 draft was studded with signature Liquid heroes Invoker and Broodmother (I'm sure you can guess the players), setting up for another exciting and crowd pleasing game. Interestingly enough, both teams opened with atypical trilanes-Secret offensively- against each other, a rarity at this event. This setup was fortuitous for Secret, who used their big damage nukes and Chen creeps to synergize damage and to bully Liquid in the trilane. Brood, coming online then, forced Secret to lane swap and as a result Invoker and Broodmother were able to farm well for the rest of the laning phase. Both teams felt that the game needed to go slower so the game reverted back to a pressure and farm game. A smoke gank from Secret appeared good initially, but Liquid punished the overextension and took a solid teamfight win, and the game went back to farming rhythms. Team Secret made another mistake at the end of mid-game, killing the roaming gh, but dying to the trap that Liquid had laid out, and giving up Roshan. Liquid secured the rest of the map after destroying the rest of Secret's towers off the back of strong teamfights. They took the next Roshan without struggle but as easily as they took Roshan, it was as hard to take Secret's barracks. Secret continued to repel Liquid, however, at the expense of more towers and more buybacks. But the defence could not hold on, and Midone was caught outside the base and was swiftly roasted by Miracle's Sunstrike. Secret's first lane of barracks fell, and shortly later Secret themselves as they fell again to another one of Liquid's traps. Liquid advanced on 2-0 to the next round against EG.
The Cosplay Contest was up next. The incredible detail and effort put into each of the costumes impressed everyone in the crowd but only one could win. Ember Spirit won Best Technique, Warlock won Most Innovative, Ogre Magi won Biggest Transformation, Best in Show won by Sven. Those four were all rewarded for their hard work.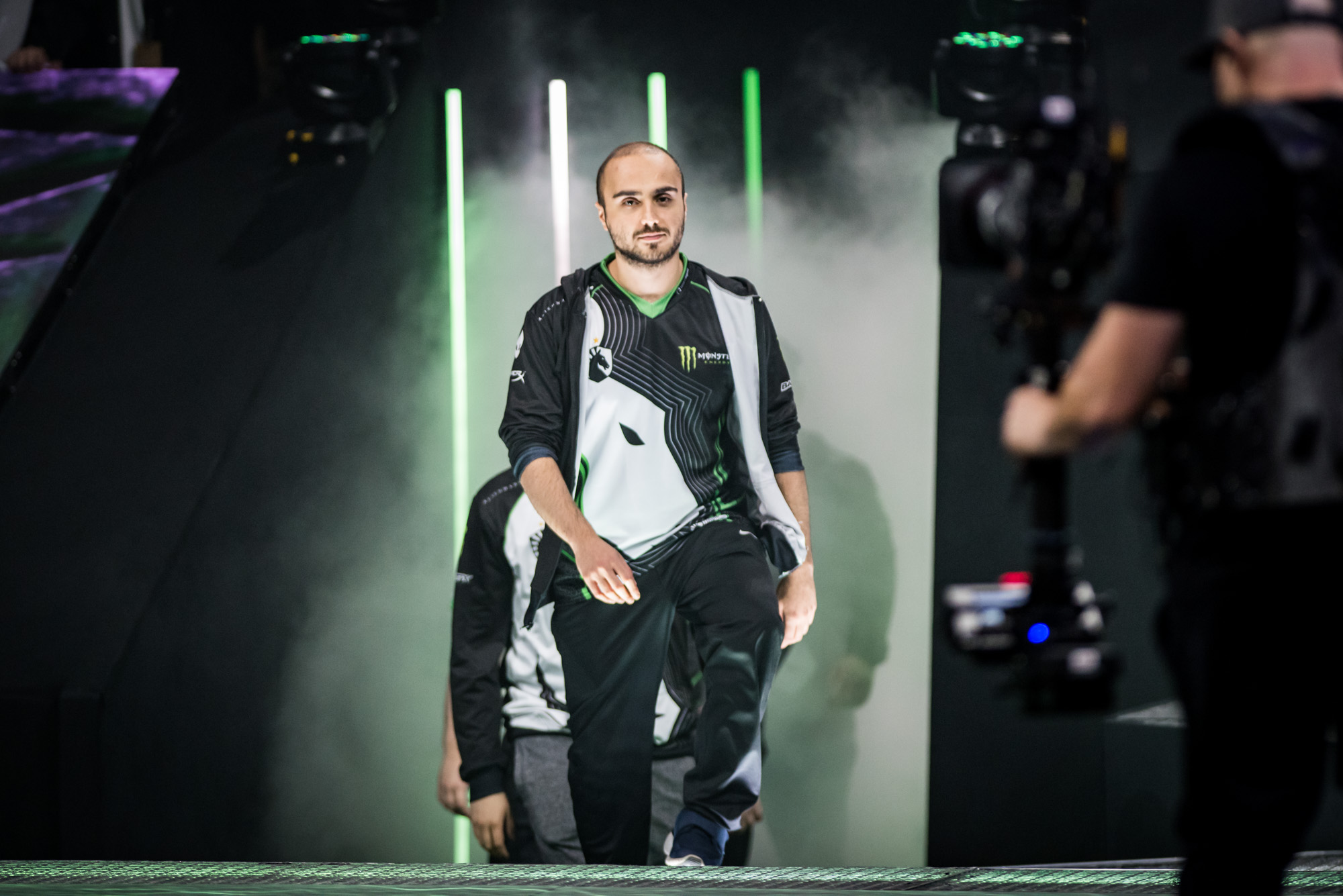 Photo by TheHexHaven
PSG.LGD vs. OG
The series that would determine one of the Grand Finalists began as OG and PSG.LGD walked out on stage and into their booths as soon as the Cosplay Contest was over.
During the draft OG, first phased Io + Gyro along with an Enchantress while PSG.LGD responded with Weaver, Drow, and Winter Wyvern to try to counter. The drafts rounded out with OG picking Wraith King and PSG.LGD going for a Huskar to dominate their lanes. OG picked up First Blood with their Enchantress / Wraith King offlane and Topson picked up a kill against Huskar in mid which drew a cheer from their supporters in the arena.
Quickly PSG.LGD responded with a return kill mid, and two kills in the offlane as Wisp went down to Weaver/Wyvern twice in a row. PSG.LGD started to crumble as OG ran them down in their lanes and took a fight inside PSG.LGD's jungle. OG learned they were still in danger despite their strong start however as PSG.LGD took a great fight and Weaver got the Aegis after killing Roshan because of it.
xNova's Death Ward delivered PSG.LGD a won fight in exchange for the Aegis and that in turn lead to another decent fight for the last remaining team from China. A pick off on Weaver allowed OG to get the second rosh for themselves and after a few more back and forth fights OG picked off two heroes without buyback and immediately sieged the base. Once again OG took a great fight, but they were pushed away at PSG.LGD's base. OG was eventually able to take two lanes of rax, the 4th Roshan, and finally the game, after taking a decent fight and picking off Ame's Drow, moving them one game closer to the TI8 Grand Finals.
Game 2 featured two very different drafts which could be considered as more of a comfort zone for both teams. Ceb got his Magnus and Topson his Invoker while Somnus was on Storm Spirit. OG was out cs'ing PSG.LGD across the board but the kills PSG.LGD were getting in their lanes still put them ahead in gold. A gank attempt on Ame turned into a triple kill which caught him up but Topson responded by getting kills of his own. Both teams continued to trade blows with OG coming out slightly ahead. Topson's Meteor Hammer Invoker delivered kill after kill to OG and helped secure them the first Roshan. OG were on the doorstep of the TI8 Grand Finals. PSG.LGD dug deep and won fight after fight after fight to claw their way back into the game, eventually even taking mid rax at 28 minutes, an incredible reversal in just 10 minutes. PSG.LGD eventually took the bottom lane of rax as well but over-extended, taking a short trip into the enemy fountain courtesy of Magnus. The second Fountain dive worked in their favor and PSG.LGD tied up the series 1-1.
With their Grand Finals lives potentially on the line, OG turned to Topson's Arc Warden and Ame picked up his Terrorblade and once again put Chalice on Enchantress. Two lanes started out fairly even, but OG's safelane was a disaster with Fy's Clockwerk and Chalice's Enchantress bullying OG's Spectre and Silencer. Fy proceeded to wander around the map picking up kills everywhere he went with Battery Assault, he was quickly 3-0-3 only 6 minutes in. PSG.LGD continued to take control of the map and pick up more kills on OG's heroes as they slowly tried to limit to area Spectre and Arc Warden had to farm. PSG.LGD tried to take Roshan but due to a well timed Haunt from Spectre OG ended up cleanly taking a fight and finishing Roshan for themselves. The two teams continued with some back and forth fights but PSG.LGD kept on coming out slightly ahead, securing the next two Roshan kills for themselves. The high ground defense of OG proved to be too much for PSG.LGD to handle as they struggled to find a way to get into their base. The entire game felt like it could come down to one decisive fight and that's exactly what OG was able to do as PSG.LGD overextended attempting to finish OG's throne, but diebacked on all of their cores which allowed OG to push down mid and end the game.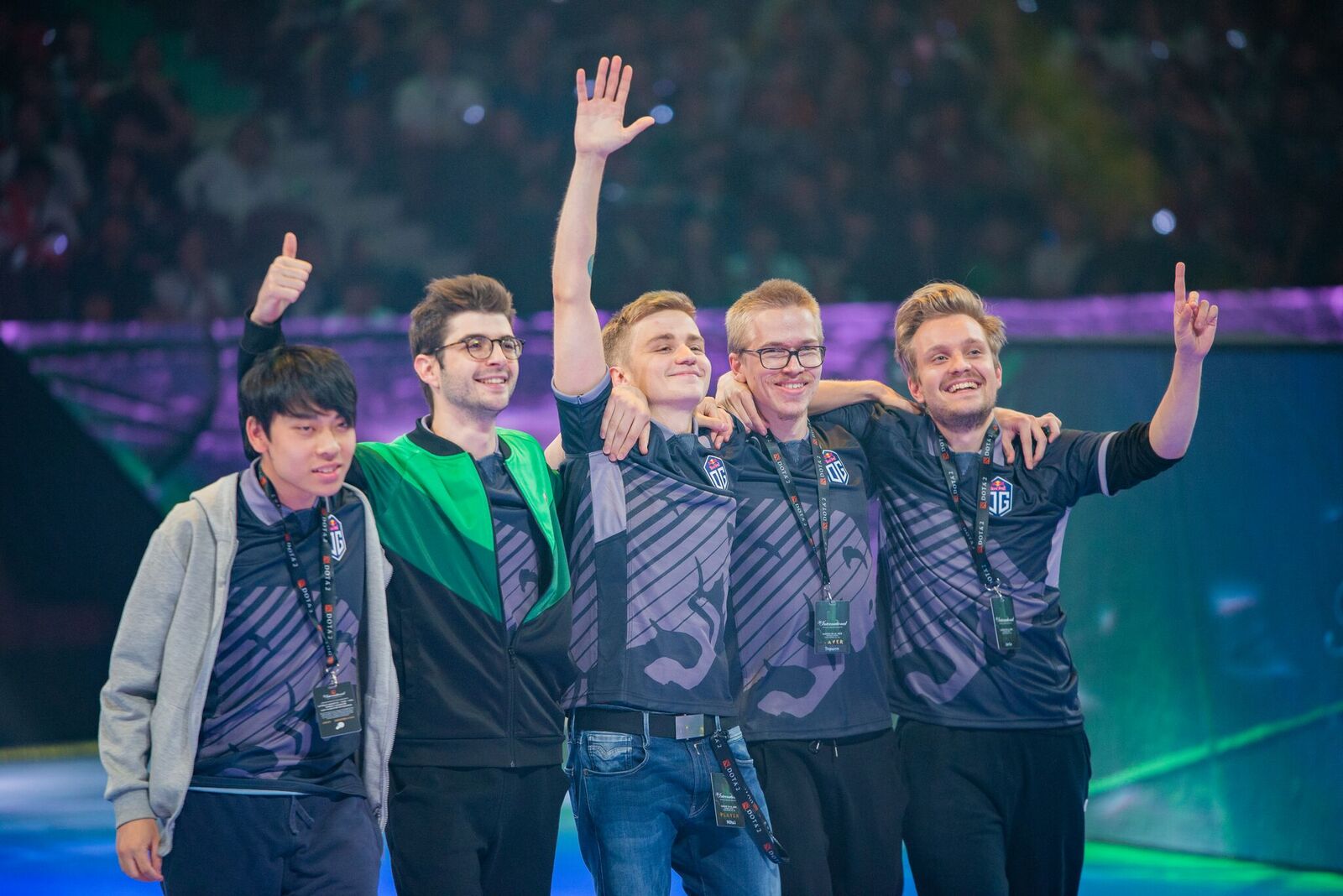 Photo by Yamato
Liquid vs. EG
An eye-brow raiser opened Game 1 of Liquid vs EG, which is that Liquid drafted Io and Chaos Knight versus SumaiL's Storm. First Blood went the way of the Io and Chaos Knight but EG mostly got what they want out of the lanes, until Liquid shook their lanes around feeling that EG was too comfortable and ganked all around the map. So leaving the early laning phase, the game was about even with EG having more creep kills and Liquid having more hero kills. Liquid smartly Relocated to give EG a hard time, using their heroes to take down towers and gain map control. Many team fights break out but the teams were unable to gain a significant farm lead over the other, but Liquid were able to take the first Roshan fairly uncontested. Still, the game remained even throughout all of the team fights and later Liquid take the second Roshan uncontested. EG knew how well their team could kite and initiate many teamfights on Liquid, winning them and killing the rest of Liquid's outer towers. Yet Liquid countered and take a big teamfight before Roshan, but the battle between the teams resulted in an EG win. Buyback after buybacks were used and EG was able to force Liquid back so that they could take the important third Roshan and the strong lead in the game. Liquid smoked, took a teamfight, were able to strip Aegis from SumaiL, and killed Arteezy. Not bad for the TI7 champions. However, the teams went back to farming, waiting for each other to make a mistake since Liquid's lineup would struggle to win a teamfight. Shockingly, Miracle's Chaos Knight purchased Divine Rapier to raise the stakes in the game. Waiting for the fourth Roshan, Liquid Relocated to bottom lane to push it out but get ambushed and EG were able to take the Rapier for themselves and take the fourth Roshan. Marching on Liquid's barracks, EG got caught out retreating and Arteezy was picked off, allowing Miracle to retrieve his Rapier and Liquid to continue defending their base. But a pickoff on Matumbaman without buyback put Liquid in a situation they could not come back from, and EG finally ended the insanity that Game 1 was.
Liquid's back against the wall, Game 2 saw some more of the uncommon heroes of TI8 like Timbersaw by SumaiL, Viper by Matumbaman, and Brewmaster by MinD_ContRoL. KuroKy played his first Nature's Prophet game of the tournament. Laning went the way of EG, but only because EG was so effective at killing the top and middle Dire towers of Liquid. Even though there was constantly action throughout the mid-game, either team gained a strong lead over each other. Cr1t was notably making plays everywhere on the map and kept Liquid on the defensive. Unfortunately for Liquid, Miracle was picked off several times, allowing EG to take Roshan. Catching the TI7 champions out of position, EG took a huge teamfight but barely hanging on, Liquid were able to at the very least stop the bleeding by repelling EG from their high ground. Attempting Roshan amidst a technical error at Rogers Arena, Liquid failed to take Roshan and got wiped once again. Death after death, Liquid slowly crumbled and they tapped out to put EG 2-0 into the Loser's Finals.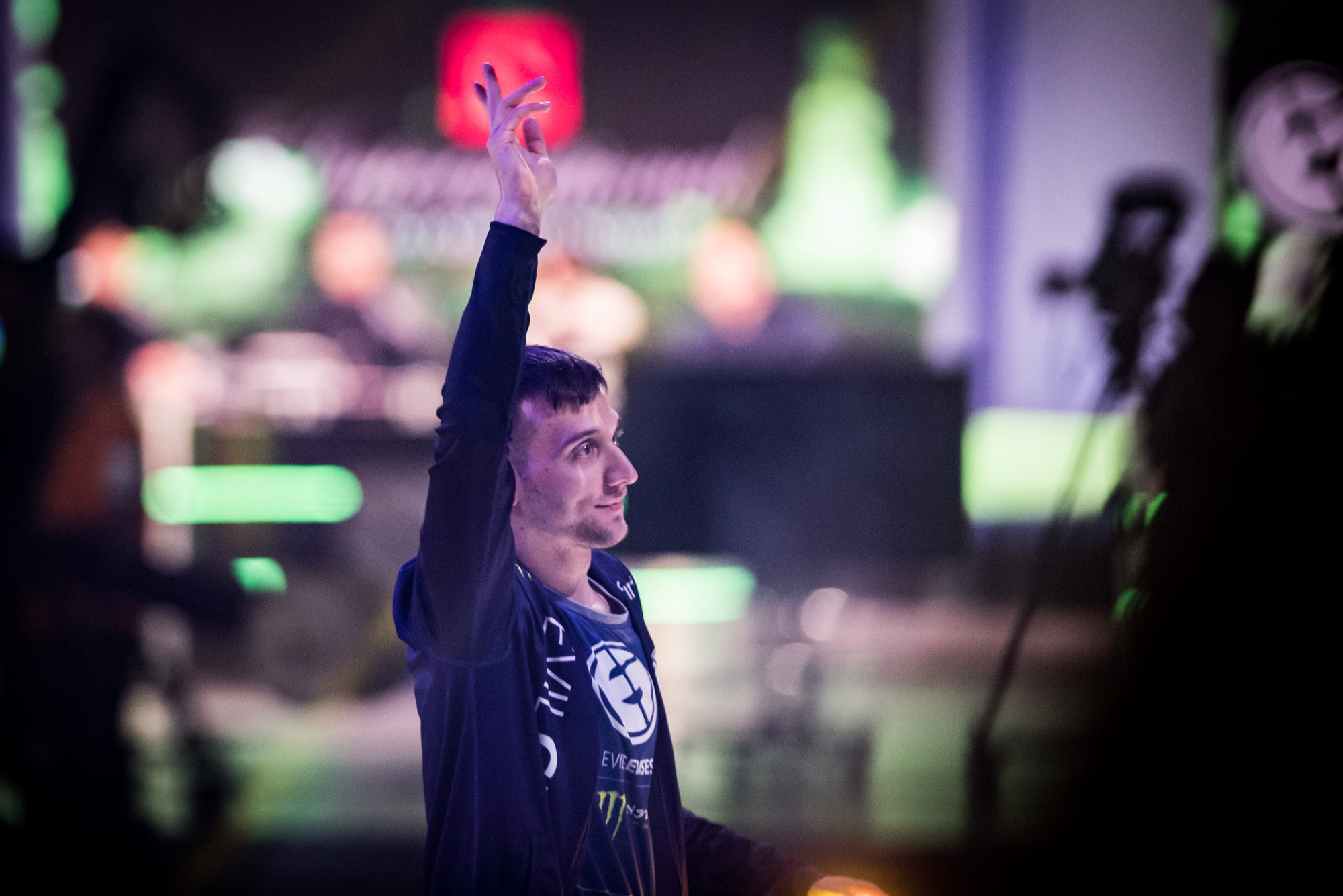 Photo by TheHexHaven
The day ended with a "special presentation." Valve announced two new heroes: Mars, who will be released this winter, and Grimstroke, who is out now!
Recommended Games
Liquid vs Secret Game 1
LGD vs OG Game 3
Liquid vs EG Game 1
CREDITS
Writers: OmniEulogy, rabidch
Front Page Image: TheHexHaven
Editor: rabidch
Graphics: Valve, Julmust, Exitiums