It was a new day as Day 4 of The International 2018 began, with incredible memories of yesterday fresh in the mind. The action went back to the Lower Bracket and the teams fighting for top 6 position.
OpTic vs VP
The Green Wall kicked off the first game with a strong draft against Virtus.Pro that showed they were not going to get plowed. CCnC had an amazing time on middle, playing the advantaged Huskar against No[o]ne's Dragon Knight. But on the side lanes, VP and their Io + Gyro and Enchantress had their own good time, giving 33's Necrophos a hard time and keeping up with Huskar's farm. It was a fiercely competitive game, skirmishes happening every minute, in which neither team could get a significant lead going into the mid-game. But taking advantage of VP's defensive position, CCnC was able to take the first Roshan at 17 minutes and begin turning the game into the CCnC show after a strong teamfight. VP troubles continued after losing ground to OpTic's ambush on their Dire top lane. Try as they might, VP could not deal with the Huskar when backed up by Pajkatt's Clinkz. OpTic soon took the second Roshan and knocked down VP's door to take down VP's bottom rax. All it took was one more desperate teamfight for VP to tap out of Game 1.
Both teams broke out their cheese spray for a Game 2 that featured Alchemist and Drow Ranger on OpTic versus Broodmother and Bloodseeker on Virtus.Pro; but this game, VP didn't ignore picking a strong initiator and picked Tiny for 9pasha. A flurry of tips for ppd from VP served as a prelude to the Dota horn. Unfazed, OpTic had already wisely predicted VP's laning choices and positioned accordingly, pitting Alchemist against Broodmother, Batrider against Bloodseeker, and Drow Ranger against Tiny. The laning choices allowed OpTic to set a strong foundation for their mid-game, but VP remained very competitive by countering with swift TP reactions and keeping CCnC's Alchemist from farming. Smartly using their gank oriented lineup, VP kept applying strong pressure on OpTic and were able to get pickoff after pickoff on OpTic, but OpTic refused to break and were able to get Alchemist his Radiance before 16 minutes. But that Radiance wasn't enough after VP solidified their lead on OpTic that was highlighted by 9pasha's Beyond Godlike streak. OpTic successfully prolonged the game with smart map movement but failed to climb out of the trench. But the game wasn't over; VP made an aggressive move on OpTic on bottom yet were successfully countered and killed by OpTic. Moving against VP's Roshan attempt, OpTic got another successful teamfight but VP were undeterred and tried again knowing OpTIc would come. This time, VP were prepared and got the better initiation on OpTic, beginning a teamfight that exchanged the Roshan for all of OpTic's buybacks. Smelling the blood in the air, VP swooped into ppd's team after the Roshan and routed the green team to take two lanes of OpTic's barracks. One last valiant effort from OpTic was unsuccessful and VP took megas and took back Game 2 for good.
Unlike Game 2, the final game of the series was very much cheese-less with both teams going for standard and common picks. VP certainly had a commanding feel for the draft, picking solid heroes to run away with the game. The early game was defined by fierce evenness in traded damage and heals. However, the Necrophos top lane went well for VP where the CIS team claimed the first tier 1 tower and a solid early game win. OpTic, though, successfully fought back and stemmed VP's tide in a few teamfights and some calmness descended onto the game. Suddenly, a massive teamfight with nearly everybody dying and a couple buybacks was narrowly taken by the CIS team and they soon took Roshan. VP then hooked up their plow and tore the floor beneath OpTic, who were helpless to defend against No[o]ne's Tiny. VP continued to break through the Green Wall, trading their Tiny for all the barracks in two of OpTic's lanes. A futile try to stop VP's relentless push was absolutely crushed and the NA team shortly gg'd. VP won the series 2-1 to advance to the next round to play against EG.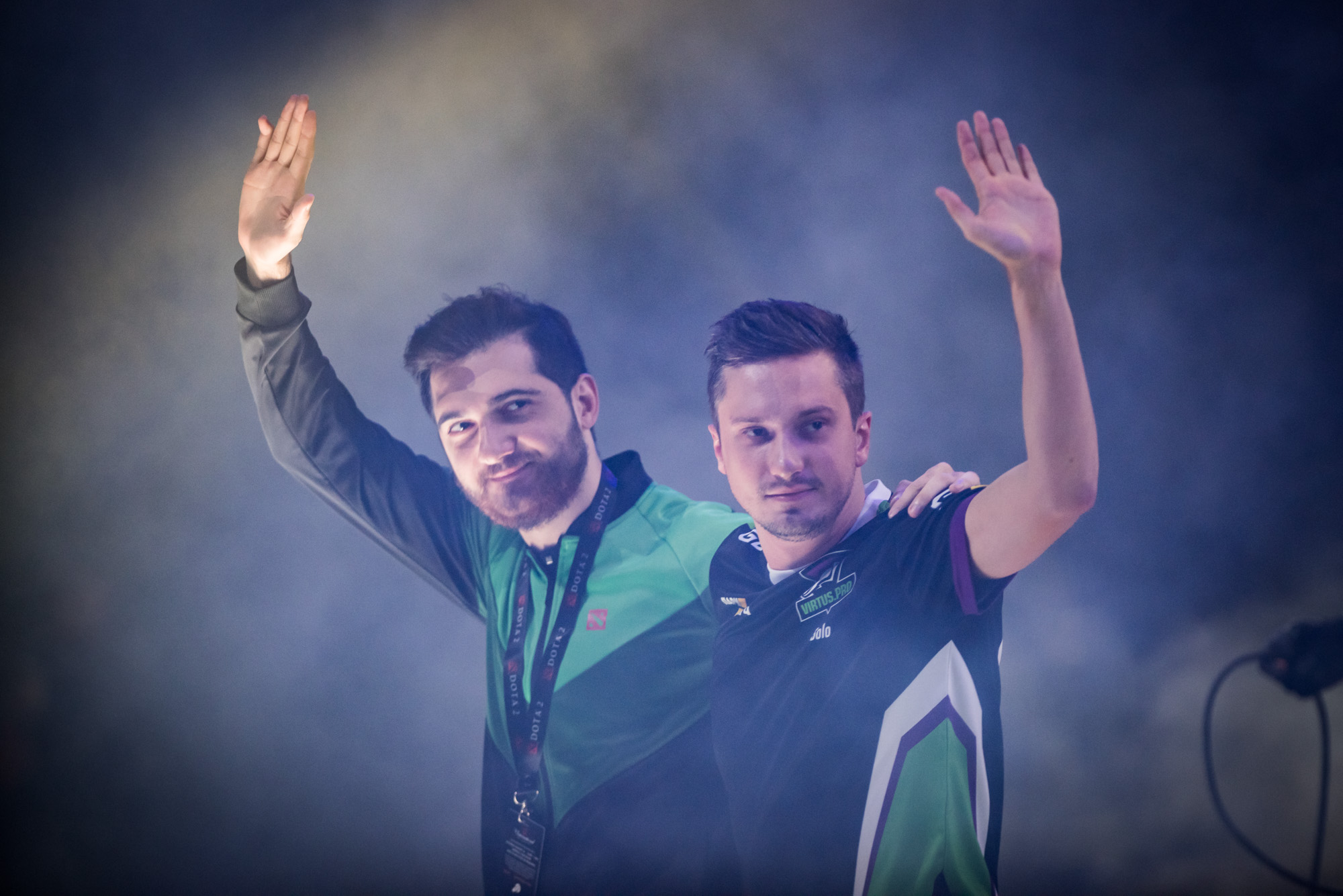 Photo by TheHexHaven
VGJ.Storm vs Secret
MEEPO! was the highlight of Game 1 between VGJ.Storm and Team Secret. Puppey last picked it for Ace in an excellent draft and presented the hero's first appearance on the TI8 Main Stage. Not a lot of kills happened in the early game despite plenty of action, although MidOne on Clinkz demolished VGJ.Storm in the middle lane and his advantage spilled out as he roamed around the map. Secret slowly, but surely, used their advantage to destroy VGJ.S's towers to force a slow tempo game and to take away the attention from Meepo. But in a snap, Puppey's team turned cold to hot. Using an easy Roshan kill with Meepo, Secret got pickoff after pickoff led by their cores and confined VGJ.S to their base. Unable to stop Secret, VGJ.S soon lost a melee barracks. Secret took a moment before taking another good teamfight and the second lane of rax, and even though VGJ.S got some consolation kills, the outlook was still bleak for the American team. Another easy Roshan fell to Secret's Meepo and though Puppey's team looked to take their third lane of barracks, they ended up taking their time to end the game just to secure the win. There were no surprises to the end of this immensely one-sided game and eventually Secret took the 1-0 series lead.
After the painful loss of Game 1, VGJ.S put all their trust into Resolut1on for Game 2 by picking him Medusa while Secret opted for a multi core lineup. Laning went evenly with both teams having an equal amount of kills and both teams settling into a passive tempo. Noticing mistakes in the VGJ.S formation, Secret were able to catch Resolut1on for an easy kill and easier Roshan and proceeded to march forward. But VGJ.S struck back quickly, evening the game after an excellent distraction on Ace's Terrorblade, and so, once again, the game was forced into a passive tempo. VGJ.S wanted their 6 slot Medusa while Secret were not strong enough to contain VGJ.S's space creation, and it was at this time that Medusa was becoming Medusa and becoming too big to deal with. A teamfight broke out when VGJ.S approached Secret's tier 2 tower that ended with several buybacks into combos, giving VGJ.S the lead, the second Roshan in the game, and the buyback advantage. Constant skirmishes break out, but neither team committed to a full on fight and both returned back to pushing out waves. Breaking the rhythm, VGJ.S walked into Secret, catching them out of position to solidly take the fight, but were unable to get anything big due to MidOne's Clinkz. Secret, then feeling their ability to pickoff, switched into aggressive mode and were able to outplay VGJ.S, and capitalized to force the third Roshan after a great teamfight to kill Resolut1on. Secret broke VGJ.S's highground and several of the barracks to take back the lead in the game. Another teamfight looked great for VGJ.S, but Secret easily turned it around after realizing VGJ.S had no cooldowns and shut out the series 2-0.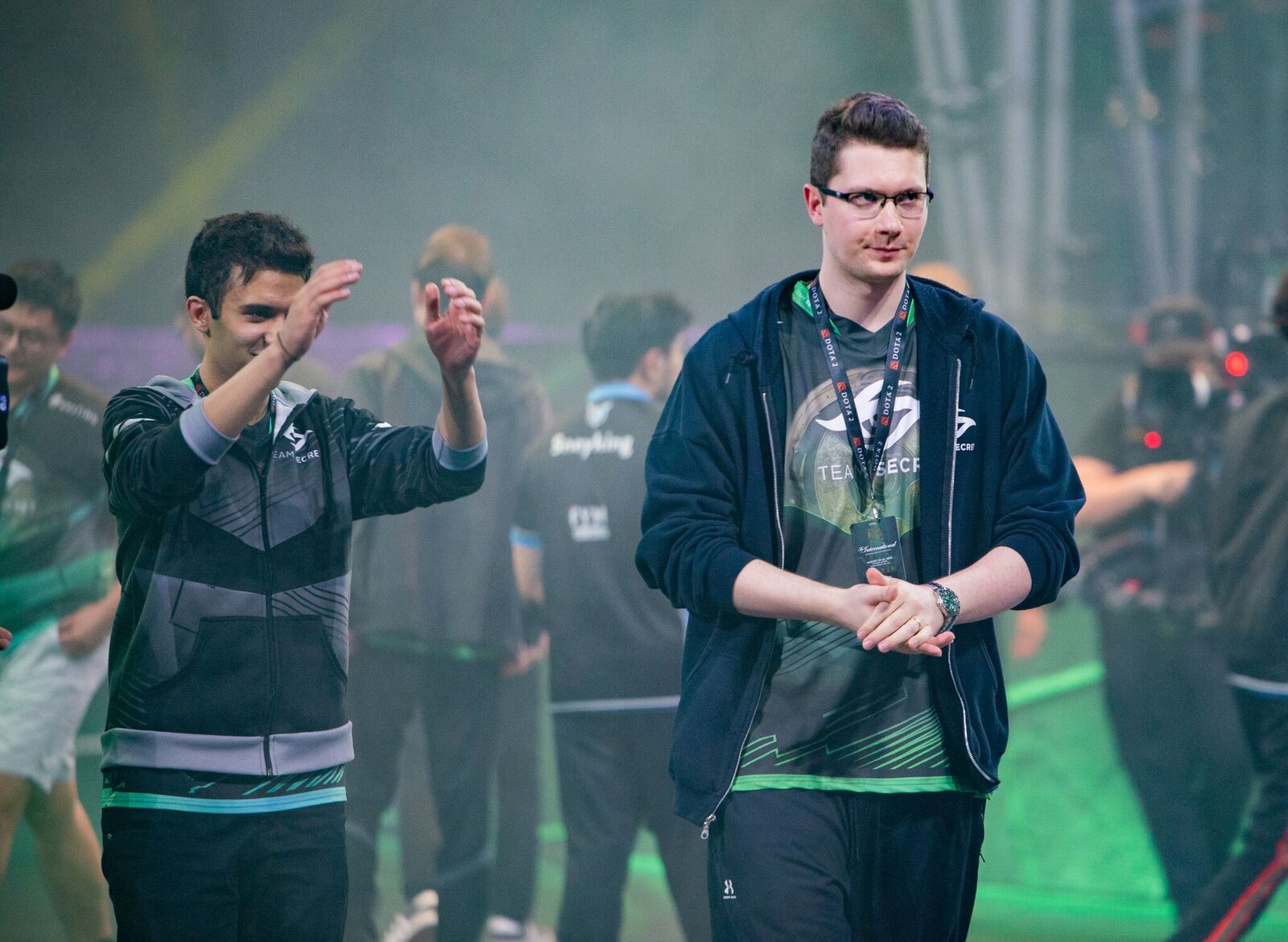 Photo by Yamato
The OpenAI match of the day featured the Chinese Dota legends BurNIng, rOtK, xiao8, 430, and SanSheng with a cameo Bruno and GLaDOs cast. The humans won again.
VP vs. EG
The last series of the day was of course, Virtus.Pro vs Evil Geniuses. The draft was quite unsurprising with VP going for the mid-game lineups they know and love and EG picking Drow for rtz and the signature Storm for SumaiL. EG jumped out to an early lead during laning due to s4's Pugna having a great lane against RAMZES's Necrophos and this boded poorly on VP's chances. Knowing their strength, EG proceeded to play aggressive against VP, setting foot into VP's top Radiant side, and VP countered by playing equally as aggressive, trading kills in the process. However, VP did not have as much success as they hoped to have. EG were unable to take Roshan after a pickoff once VP showed up to standoff around the pit, but were able to go back to a farming rhythm to slowly gain a farm lead. While EG wanted to farm for the late game, VP looked for pickoffs and were successful at getting a few, but still unable to prevent EG's muscle and EG's Roshan kill. The advantage was just too great for VP and their last teamfight fell flat against SumaiL's massive Storm. EG secured Game 1 in dominant fashion.
Game 2 was "Yet Another Alchemist Game" for EG except against VP's Ursa. VP, with their superior lane matchups, started very strongly and EG's Alchemist is forced to go jungle. But EG still found success in getting Alchemist farmed despite VP's hyper aggressive plays by moving heroes to midlane when SumaiL did get ganked. Thanks to EG's efforts, SumaiL was able to get a Radiance by 15 minutes and a misstep by VP resulted with a massive EG teamfight win. Before VP could even realize that SumaiL had Blink Dagger, they lose another teamfight off of that Blink Dagger. EG then used their fat mobile bank tank to extend their lead even more as VP were only able to kill EG when Alchemist was not around. Through all their misery, VP finally won a teamfight against EG, using new BKBs and 2 buybacks. Yet this respite was not much as EG took the next Roshan kill and cement their control on the rest of the map, confining VP to their base. A couple crucial pickoffs on rtz allowed VP to hold onto the game for longer, but only for a little longer. A crucial Ursa, lost at his Secret Shop, got picked off without buyback and this massive opportunity gave EG rax and eventually, the series with a 2-0 win.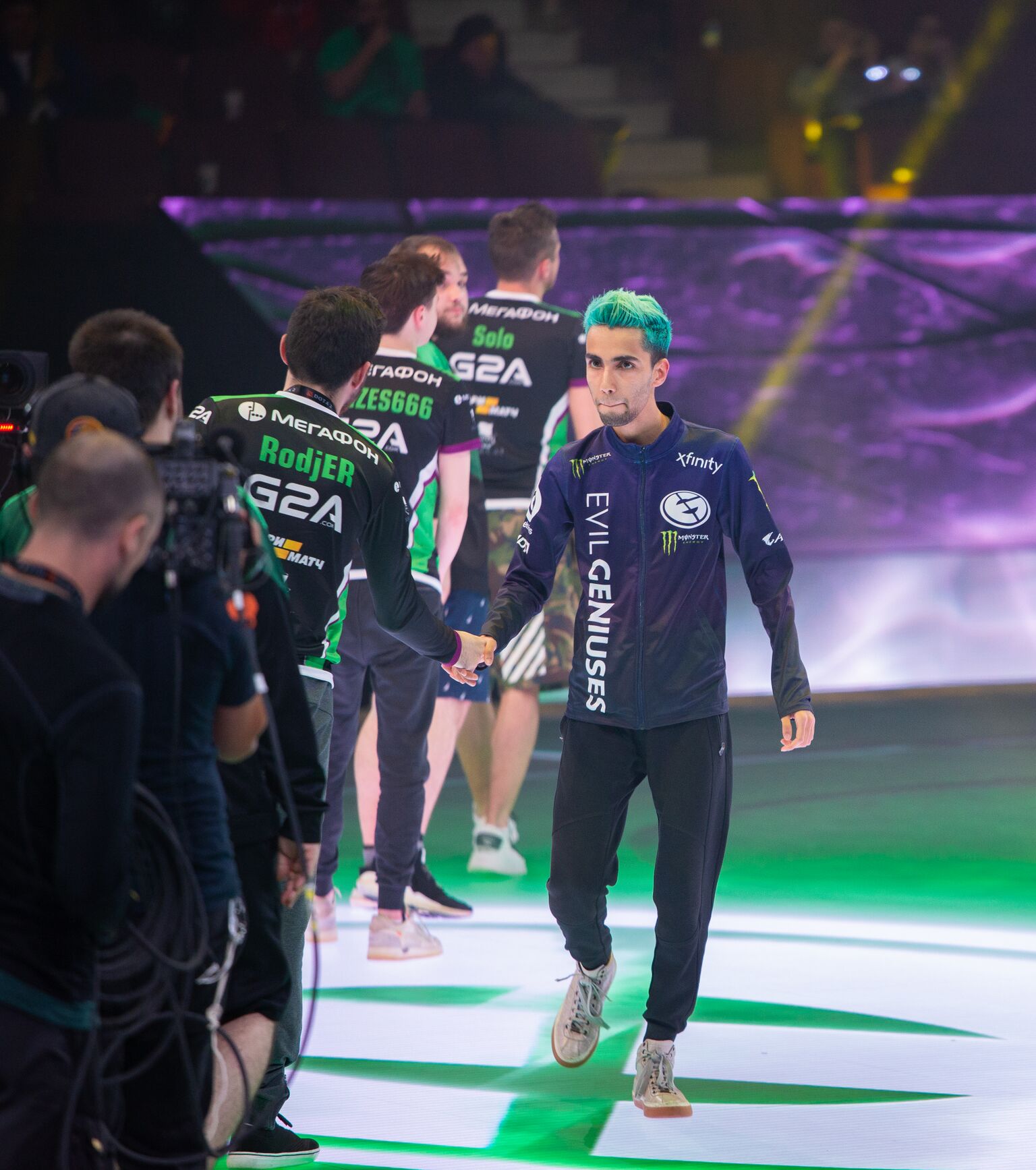 Photo by Yamato
All-Star Match
Ending the day, the All-Star Match between Team rOtK and Team BurNIng was a Mutation Mode game. Team rOtk consisted of EE, Kingrd, RTZ, LaNm, and Solo, Team Burning had Miracle, Sccc, Pajkatt, Kpii, and Jerax. The casters for the All-Star Match were none other than the old duo of LD and Winter. A few special rules were in place for this mutation mode match as tips dealt pure damage to opponents and healed teammates. Team Burning had Super Blink Daggers that were not put on CD by taking damage, corpse explosions, and glyphs that also affected heroes. Team rOtk had pocket towers, teamwide runes and pocket Roshan. The stage was set for a rather ridiculous All-Star game.
With aggressive tips dealing damage and friendly tips healing we saw a new level of tipping as players tried to kill-secure with their tipping, along with pocket towers around the map and a very early Rosh attempt. Team Burning had a slight advantage (read: a large advantage) due to their mutations and forced team rOtk to tap out when they reached a kill score of 3-22 and realized their pocket towers wouldn't attack the ancient neutral creeps..
Recommended Games
Team Secret vs. VGJ.Storm Game 2
CREDITS
Writers: OmniEulogy, rabidch
Front Page Image: TheHexHaven
Editor: rabidch
Graphics: Valve, Julmust, Exitiums