VGJ.S vs Winstrike
The first game began with SVG sniping the courier soon after the horn sounded, setting the pace for the game, followed up by VGJ.S claiming First Blood. A failed dive in the midlane by Winstrike gave Resolut1on's Drow two assists and strengthening their lead. Winstrike were coming into the match as the underdogs, but despite stumbling early they kept up in networth and began to take down the outer towers with their Lycan. A full 5 versus 5 team fight broke out in the middle lane as VGJ.Storm tried to defend their T1 tower, and while it looked like Winstrike had the upper hand at first, VGJ.Storm ended up crushing them, killing four heroes and defending their tower while taking minimal losses. Winstrike dug in and tried to withstand the onslaught VGJ.Storm was bringing to them but eventually they crumbled and VGJ.Storm pushed them one game closer to elimination.
Winstrike would need to pull out something special if they wanted to overcome the challenge ahead of them and in game 2 they found themselves facing another Drow strat. Winstrike's response this time was to take Troll and Tiny to try to deal with VGJ.Storm's Phoenix and Drow. We had seen Troll work brilliantly against Phoenix in one of the games VGJ.Storm lost to OG in the upper bracket and Winstrike had clearly been watching. All three lanes went well for Winstrike but the Drow and Weaver had not come online yet so VGJ.Storm's true strength was yet to be revealed. A poorly executed fight in their own woods cost Winstrike their lead, and also gave Drow and Weaver the gold and exp they needed to be serious threats. VGJ.Storm eventually became too much to handle and Winstrike was knocked out.
After the series we were shown the story of Sheever's ongoing battle with cancer. We saw the support structure she has around her and how it has affected those closest to her. It was a touching look at a serious subject and if you missed it we highly recommend watching the video.
Secret vs VG
Secret started the second series of the day running with a magic heavy lineup against VG's more conventional lineup anchored by Terrorblade. Laning stage turned out even for both sides and flexing the strengths of their early game lineup, Secret catch several of VG's heroes and towers, gaining control of the map. Realizing that they have no contest with Secret's teamfight, VG play spread across the map looking for smaller opportunities while giving Secret first Roshan. Yet that decision proved problematic for VG, as Secret completed their control on the map and used it to secure key pickoffs on VG's cores. But VG didn't give up, and made a huge play on Secret at Radiant middle tower, slamming to the next Roshan and making a timely escape. VG's better scaling draft kicked in and they solidly won the next few teamfights, allowing them to take towers from Secret. LaNm picked up his Aghanim's Scepter and made clutch Totem jump after jump to lock down Secret's heroes which allowed his cores to deal the damage needed to kill them. Slowly with every teamfight, Secret's bank became less and less with every buyback to counter every swift initiation from VG. Unable to keep their objectives and lives, Secret were finally put away in Game 1 after a desperate defense on their last rax.
The second game began as the Puppey show, with his rotations on Chen destroying any lane and hero he set his sights on. Secret pushed their advantage quickly and began pressuring T2 towers 7 minutes into the game and hitting T3s only 9 minutes in. Team Secret took the first lane of barracks 13 minutes into the game with their Wraith King and Chen army before moving on to the remaining outer towers. Secret slowly built their lead, eventually marching against VG's top tower. A miraculous Echo Slam from LaNm was almost momentous for VG, but they were not able to repel Secret from taking the rax. Even though VG was able stay alive with good Lassos into teamfights, Secret's advantage was too massive to overcome.
For the first time in the main stage we were moving on to game more than 2 but less than 4. Vici Gaming's laning stage started off much better than either of the previous games as their Huskar, Clinkz, and Necrophos were all finding farm and out csing their opponents. Team Secret started recovering by winning many small skirmishes across the map, getting their cores back up in networth similar to VG's heroes. From this point forward there were many fights but none ended conclusively for either team; Team Secret would look like they would have an advantage but then in the next fight VG would get the upper hand. Eventually VG walked into one of Team Secret's traps and lost 4 heroes for nothing. One more won team fight and Secret knocked Vici Gaming out of TI8 2-1.
The OpenAI match was played next and paiN Gaming successfully defended humanity in the first of the three show matches, with one game being played each day for the rest of the event.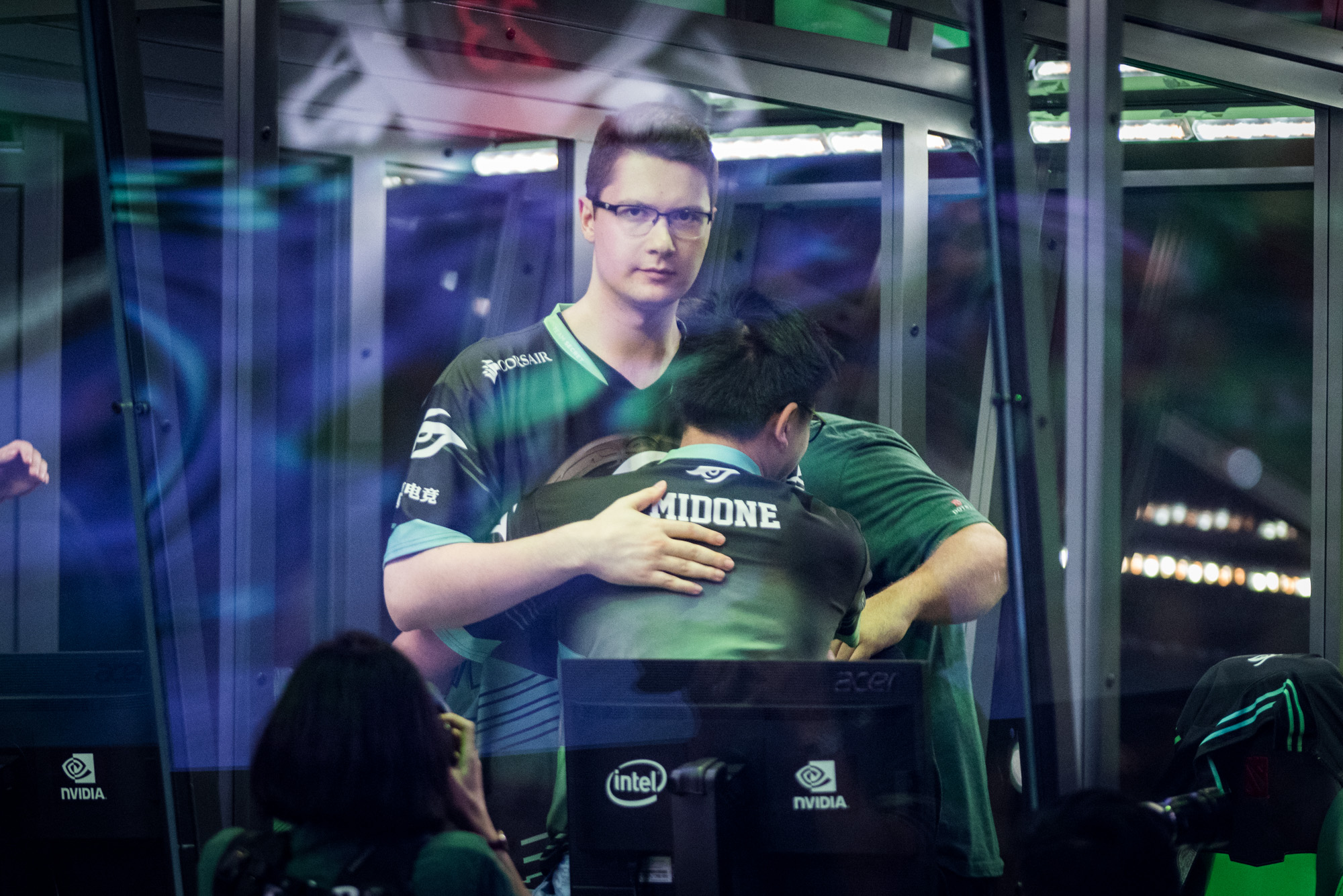 Photo by TheHexHaven
Liquid vs LGD
Going back to the Upper Bracket and back to human versus human matches, we find the TI7 champions matched up against the last remaining Chinese team. Tension and hype were certainly raised from the previous matches from the roaring crowd chants. The draft finished with Liquid having several of their signature heroes: Earthshaker, Necromancer, Enchantress. On the other side, LGD had the Wisp and its best friend of the Group Stage, Gyrocopter, alongside the eyebrow-raising Leshrac. Not only that, laning was interesting in that the teams settled with 2-2-1, albeit with gh's Earthshaker later roaming. Kills were traded but no team gained a clear advantage until LGD found an advantage with several high skill engagements using Wisp's Relocate. But it wasn't quite over for Liquid, who were able to secure several important kills on Leshrac and Tiny, preventing LGD from running away with the game. Pretty moves from Miracle's Phantom Lancer awesomely initiated a teamfight in LGD's jungle, but Ame's new BKB and Relocation exploded onto Liquid and the following Rosh. Again, a couple moves from Liquid stall LGD's roll, but a trap laid on Miracle starts a massive teamfight win and finishes off Liquid's towers. A team smoke from LGD enables a perfect initiation on Liquid and destroyed the first rax. Soon realizing they had exhausted their gas left in the map, Liquid tapped out of Game 1.
In Game 2, Team Liquid got the Io & Gyro combo in the draft to see if they could take down PSG.LGD with their own strategy. PSG.LGD, not to be outdone, picked up the Earthshaker and PL that Liquid had played in Game 1. The last picks come down to Alchemist for Liquid and Bloodseeker for LGD. Immediately, LGD put pressure on Gyrocopter bottom lane while leaving Bloodseeker to deal with Alchemist mid. Bloodseeker does Bloodseeker things and bullies Alchemist out of the lane, and LGD give Miracle the poorest Alchemist he's had all tournament. Continuing their bloodthirst, LGD roll all over Liquid with their racecar Bloodseeker. Liquid are unable to find a grip on the game as LGD easily counter Liquid's Roshan attempt and take it for themselves. Miracle is able to acquire his Radiance at 20 minutes, but is still picked off continually as hope for Liquid rapidly fades. A close dive into Liquid's base looks close, but Bloodseeker's heal destroys Liquid's chances for the next Roshan and their bottom barracks. Still, Liquid don't give up. They're able to take a small win with a kill on Chalice and repel LGD away from their middle high ground. But LGD stay in control, and are able to shut Liquid out of Game 2 and advance to the Winner's Finals 2-0.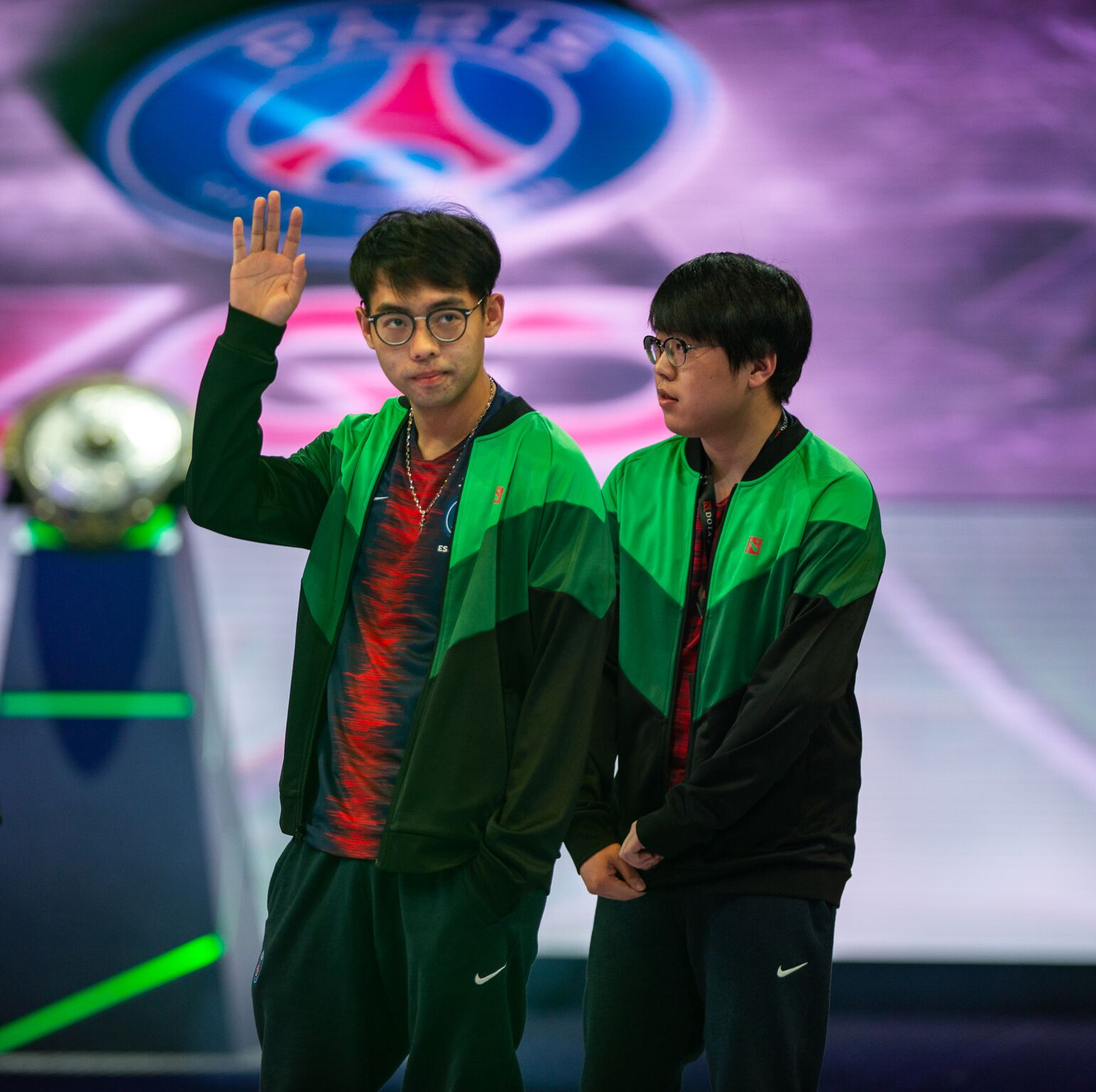 Photo by yamato
OG vs EG
The last game of the day was said to have no true winners, only losers, as OG faced EG and old friends would be faced to cross swords. OG went with a drow strat while EG went with a more conventional line-up. Suma1L had the extremely favourable match up of Templar Assassin vs Topson's Invoker and with some immaculate psi blades picked up a kill on him early on during the laning stage. The two teams traded blows with EG falling slightly behind against the Drow lineup of OG but it remained anyone's game as the laning stage broke down. Topson quickly put an end to the stalemate as he began single handedly killing heroes around the map, opening up more opportunities for his team to capitalize on which culminated in one fight around the rosh pit where both teams burned almost every buyback. OG continued to get pick offs and eventually took down EG to take a one game lead in the series.
Game 2 draft went very quickly as OG seemed to know exactly what EG was thinking, picking and banning heroes swiftly, and OG's coach ppasarel confirmed the team's confidence in his post-draft interview. The early game proceeded sluggishly, but slowly N0tail's Silencer and Ceb's Ursa got kills left and right as EG continually took poor trades. SumaiL's Gyrocopter struggled mightily against Topson's Arc Warden, a comfort pick from his pro career beginnings. EG certainly was not respecting OG's teamfight power, losing poorly chosen teamfights and slowly getting picked off. OG, taking a massive teamfight in the center middle of the map are able to take the first Roshan, and build up to eventually take EG's top melee barracks. Sensing weakness, OG proceed up middle lane but a massive dive from OG is repelled and EG make a massive comeback by wiping OG. A mistake from Ursa allows EG to take another teamfight, blowing the door wipe open for EG to take the game after the home crowd team takes second Roshan. Mounting a huge comeback led by s4 and SumaiL, EG take control of the map despite getting split pushed, but wait for the third Roshan. EG take the third Roshan and resume farming, but lose a teamfight where they use all of their third Roshan items. OG are able to force EG back to respecting their kill potential and the game stalls. Almost casually, Topson is caught out by EG's smoke and OG fall apart in an anticlimax, bringing the series to a 1-1.
The game after Game 2 of the series started active, OG getting 2 quick kills on the board. OG needed to hold out their Spectre-Zeus-Io lineup against EG's deathball. As EG gained more and more levels, OG struggled more and more with the laning stage. SumaiL took a strong lead of midlane after killing Topson solo twice. Several smart rotations keep OG's farm close to EG, but SumaiL and s4 retain top Net Worth spots and that caused a lot of pain for OG. Slowly EG gets their ball rolling, gaining more and more advantage over OG in the midgame, and move to take the first Roshan. Incredibly, OG get an excellent initiation on EG and take a slight win but are unable to prevent EG from taking Roshan after the fight. OG is able to shave off the aegis and show some life in the game. OG is able to slow down EG's game for some time, and EG oblige wanting to wait for the second Roshan while trying to pickoff OG, and eventually EG do take the second Roshan. Somehow, EG mis-position while chasing OG and lose their Aegis and Cheese for very little but maintain their aggressive poise. EG continued to apply pressure and were able to take a second lane of barracks after finding a few more pickoffs. OG's tenacity came through once again as they were able to take a lane of rax for themselves and then take Roshan down, giving themselves some hope to make a miraculous comeback. OG put their aegis to use and after a chaotic team fight where Arteezy got caught by Spectre and died separated by his team OG took another lane of barracks evening out both teams. While EG got the last rosh, the momentum was entirely on OG's side and they took one last team fight before pushing down mid and ending the game.
And so ended the longest day of TI8 so far.
Recommended Games
Team Liquid vs. PSG.LGD Game 1
Evil Geniuses vs. OG Game 2

We recommend game 3 too, so just keep watching the VOD.



CREDITS
Writers: OmniEulogy, rabidch
Front Page Image: TheHexHaven
Editor: rabidch
Graphics: Valve, Julmust, Exitiums