VGJ.S vs OG
The day kicked off with VGJ.S versus OG, a true David vs Goliath matchup. While VGJ.S dominated Group B with many 2-0 victories, OG punched their way to the Upper Bracket with scrappy win after scrappy win. OG, however, did have one small consolation in this matchup; a series draft penalty on VGJ.S due to the use of 2 coaches during Group B drafts. Their disadvantage during the draft didn't seem to matter though as Resolut1on's Weaver created all the space his team needed around the map while maintaining his position as the highest net worth hero at the same time. OG held on through the mid-game with Ana's PL farming well but the strength of VGJ.Storm's three cores were too much to overcome at that point in time. As Topson's Zeus continued to slowly acquire items the fights, became harder and harder for VGJ.Storm even with a rax advantage in two lanes. Ana eventually proved too hard to deal with and OG managed to take a team fight at VGJ.Storm's base and close out the first game. VGJ.Storm was one game from being sent to the lower bracket after their terrific group stage.
Shifting gears in Game 2, VGJ.Storm opted for a completely different but similar minded hero pool with Ursa, Storm Spirit, and Nature's Prophet. OG mostly stuck with heroes from the previous game, albeit with ana on Troll due to VGJ.S's respect ban on Phantom Lancer. Throughout a game of musical chairs in the laning stage, OG was able to cripple Resolut1on's Ursa and consequently take a commanding lead after an early mid-game Roshan. Down but not out, VGJ.S held on, winning the next few teamfights despite OG's second Roshan advantage. Finally, a teamfight combo under the narrowest of saves on Ceb provided a breakthrough for OG to take raxes. Later, a pickoff on Topson and Ana forced buybacks from the two in order for OG to take the crucial third Roshan. Steamrolling with their newly acquired consumables, OG marched full steam ahead to take megas, and eventually, the series upset 2-0.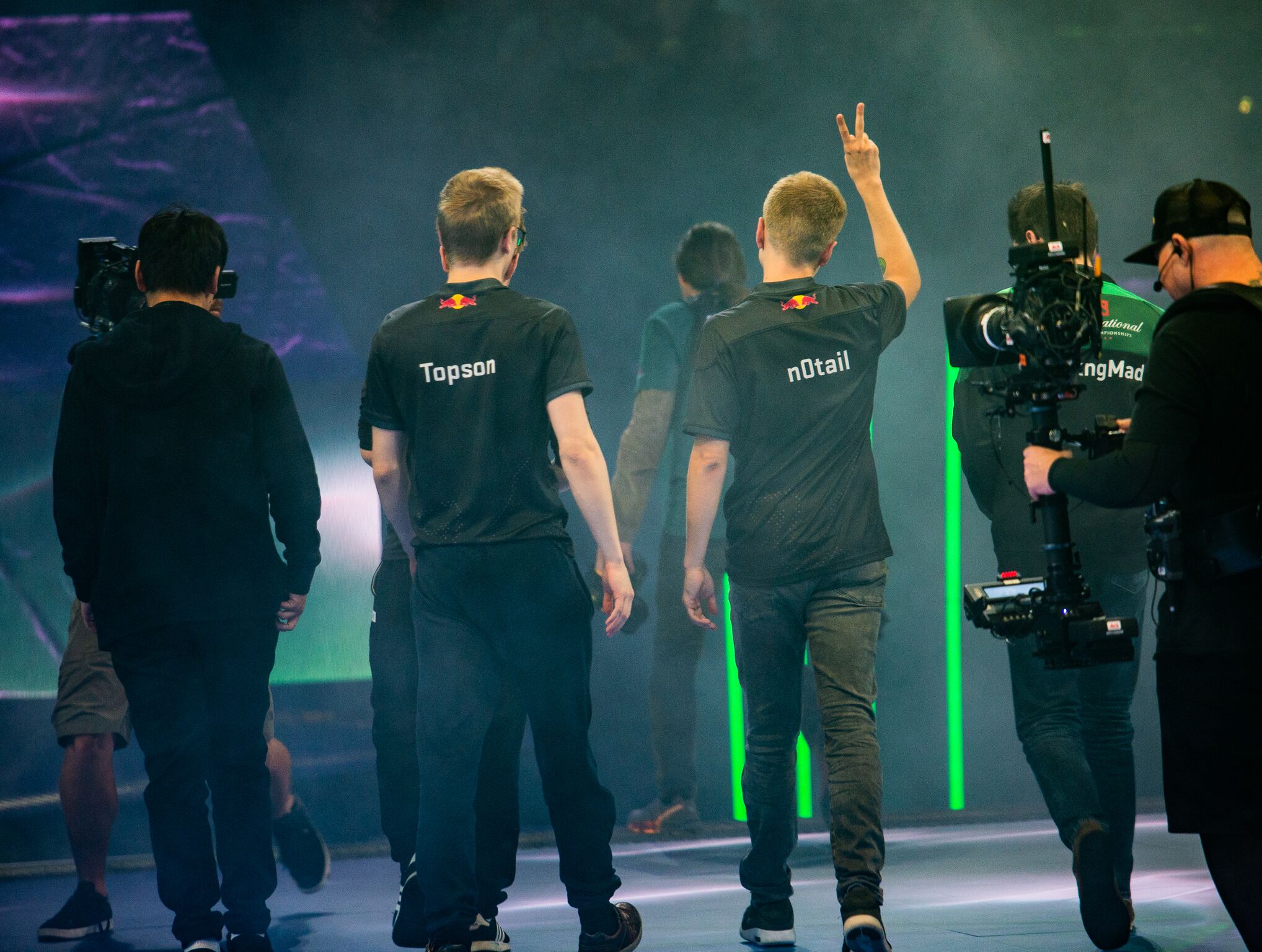 Photo by Yamato
EG vs Secret
In maybe the most anticipated series of the day, EG and Secret certainly believed that greed is good in Game 1 as EG picked Alchemist while Secret picked Phantom Lancer and Morphling. Like many of their Group Stage games, EG bullied their way to a large early game lead led by Alchemist and Arteezy's Ursa, but Secret were able to quickly counter in the midgame by catching EG's supports, allowing them to stop the bleeding. The game remained tensely even and both teams dodged big teamfights in order to farm key items. Little by little, EG naturally gained the Alchemist advantage that culminated with a Roshan kill followed by a massive teamfight off of an Unstable Concoction & Supernova combo, but EG were not able to just end the game just yet. Key pickoffs on EG's cores stymied EG's engine, but in the end, the second Roshan proved instrumental for the home crowd team to overpower Secret and take Game 1.
Game 2 began by Team Secret keeping the early game much more competitive. Fata's Mirana and MidOne's Tinker were off to good starts, but a few unexpected dives in the mid lane by EG caught Secret off guard and it lead to a tower kill and multiple unanswered kills. EG continued to pressure hard with their Drow/Gyro/Weaver tri-core lineup before MidOne's Tinker could come fully online, resulting in some decent map control going EG's way. As soon as MidOne's Tinker got his core items, the game became much harder for EG. Arteezy getting picked off across the map made it seem like Secret had a good chance to push the series to a Game 3. A power struggle between Suma1L's Gyro with Drow aura and the dps that MidOne could put out ensued. While Secret had their fair share of good fights, EG prevailed eventually, took down MidOne's Tinker twice, and sent them to the lower bracket 2-0.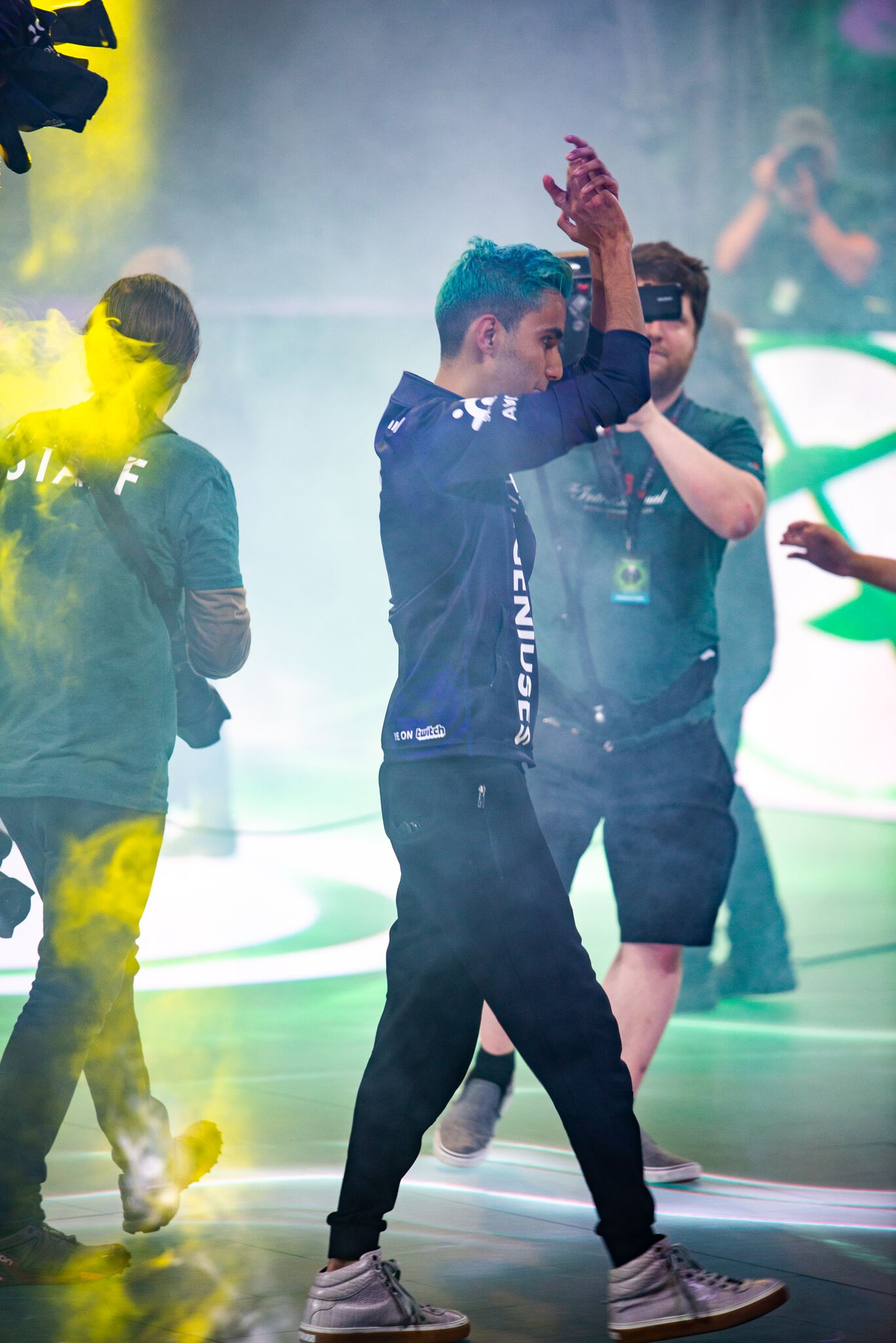 Photo by Yamato
Optic vs Serenity
The first of the elimination matches of Day 2, Serenity went up against OpTic to see if they could keep their cinderella story alive. OpTic's offlane picked up first blood due to the power of Brewmaster and Venge, shutting down Zhizhizhi's Phantom Lancer. At the same time Serenity focued on their offlane, responding by getting kills on Pajkatt's Spectre. The deciding lane saw CC&C getting a pick off by himself as soon as he hit level 6 on Storm Spirit. The early game was close but the balance of the game was only on a knife's edge, either team able to upset the balance. OpTic struck first, tower diving Serenity's T2 in the safelane and killing four heroes, CC&C started to snowball while both 33 and Pajkatt were also able to find their farm. OG eventually wore Serenity down and closed out the first game.
In the second game things started much better for Serenity. OpTic's Alchemist in the mid lane struggled against Serenity's Bloodseeker, and every move OpTic made was read and responded to. Serenity set themselves up in the early game to push OpTic to a deciding game three as they continued to win early fights. OpTic responded to Serenity's pressure by setting traps for Storm by having Nyx stalk him while under Vendetta, it lead to XinQ dying multiple times in a row, and OpTic soon found themselves getting pickoffs all over the map. OpTic took control of the game completely and crushed the "new Wings" 2-0, knocking Serenity out of the tournament.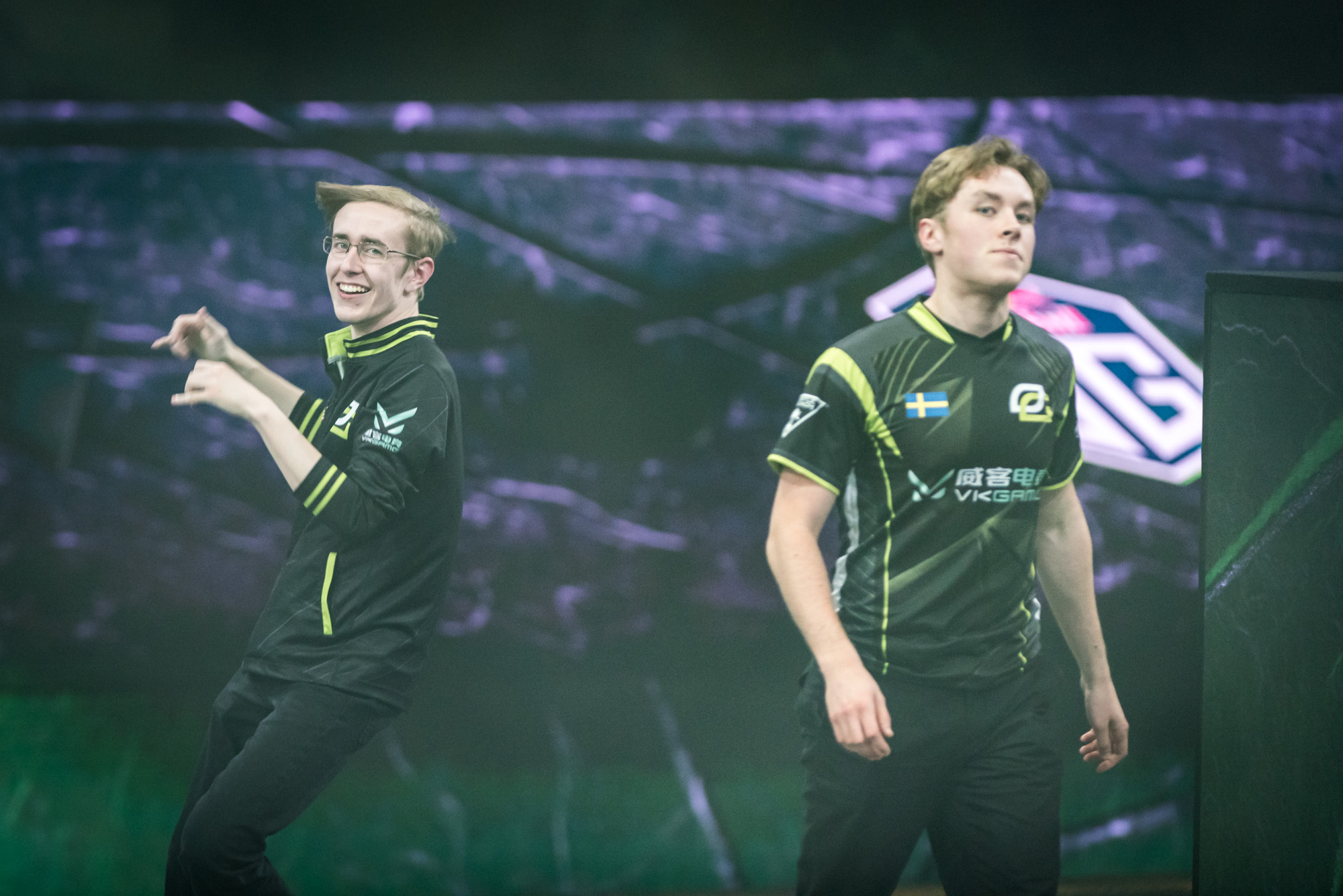 Photo by TheHexHaven
VP vs Mineski
No[o]ne would have expected both VP and Mineski to be fighting for survival in just the second round of the lower bracket, but that match up was exactly what we got to end day 2 of the main stage. Mineski started off with a slight lead after the laning stage broke down but due to some exquisite play by No[o]ne on Invoker the game evened out. Both teams spent several more minutes trying to gain the upper hand through positioning, not willing to take a fight that would not guarantee a success. Virtus Pro eventually found their opportunity at the Dire t2 top tower where they caught and killed two of Mineski's heroes, took the tower, and map control. Their proactive movement gave VP another chance to take a good fight and they jumped on it, wiping the SEA players off the map and securing their lead. Eventually the bears take the next Roshan and Mineski's rax, but get caught out exiting and lose the teamfight. Mineski moved to force VP play defensively after securing consecutive pickoffs on VP's cores. Mineski and VP danced around the map until Invoker catches Mineski out of position, initiating a massive teamfight that exhausted buybacks on both sides. After pure chaos, the CIS team clenched the win and a 1-0 lead.
VP went for redemption for the theme of Game 2, selecting Enigma for 9pasha after Mineski drafted Storm with the memory of VP's Game 1 loss against LGD. No[o]ne's Clinkz leapt to a massive lane win after killing Moon's Storm twice before 5 minutes. Meanwhile the other lanes only went evenly and later not so well after Clinkz's pressure spilled over into them, kills flying everywhere. But Mineski could not keep up with Virtus.Pro, who were wreaking havoc wherever Mineski showed on the map and simply could not keep up and lose one of their tier 3 towers. All was not lost though, as Mineski made moves to start teamfights best described as slobberknockers in attempts to test the CIS team's ability to execute. VP are caught unaware and take some heavy blows, but maintain their poise to take the second Roshan. Soon after, Mineski walk too close to the edge, hoping for an advantage, but VP, led by No[o]ne, punish their moves and force Mineski to submit Game 2 and SEA's TI8 run. In dominating fashion, VP moved to the next round of the Lower Bracket to play against OpTic Gaming.
Recommended Games
VGJ.Storm vs. OG Game 1
Evil Geniuses vs. Team Secret Game 2
CREDITS
Writers: OmniEulogy, rabidch
Front Page Image: TheHexHaven
Editor: rabidch
Graphics: Valve, Julmust, Exitiums