The International Main Stage begins. A live performance accompanied by a terrific introductory video hyped the audience up to the point where the ground shook. With the audience sufficiently excited, Gabe Newell took to the stage where he announced every person in attendance would receive beta access to Artifact, Valve's upcoming card game. This was all before the draft had even started for the first match of the upper bracket, Team Liquid vs OpTic Gaming.
First blood at The International didn't come easy. PPD managed to deny himself twice as Abaddon to deny Liquid from scoring the first kill on the Main Stage and then ran down GH with Pajkatt to get the kill for themselves. Unfortunately for OpTic, Miracle's last-pick Alchemist went relatively uncontested, and by 25 minutes, he was a nearly unkillable giant. With MinD_ContRoL on Clinkz taking the second highest networth slot as well, OpTic was quickly forced back to the drawing board for Game 2. Unlike TI7, in which Liquid were knocked into their now historic lower bracket run by IG 2-1, OpTic fell 2-0 after being bullied by Matu's Broodmother and MinD_ContRoL's Batrider in the second game. The defending champions look strong as they continue their upper bracket run.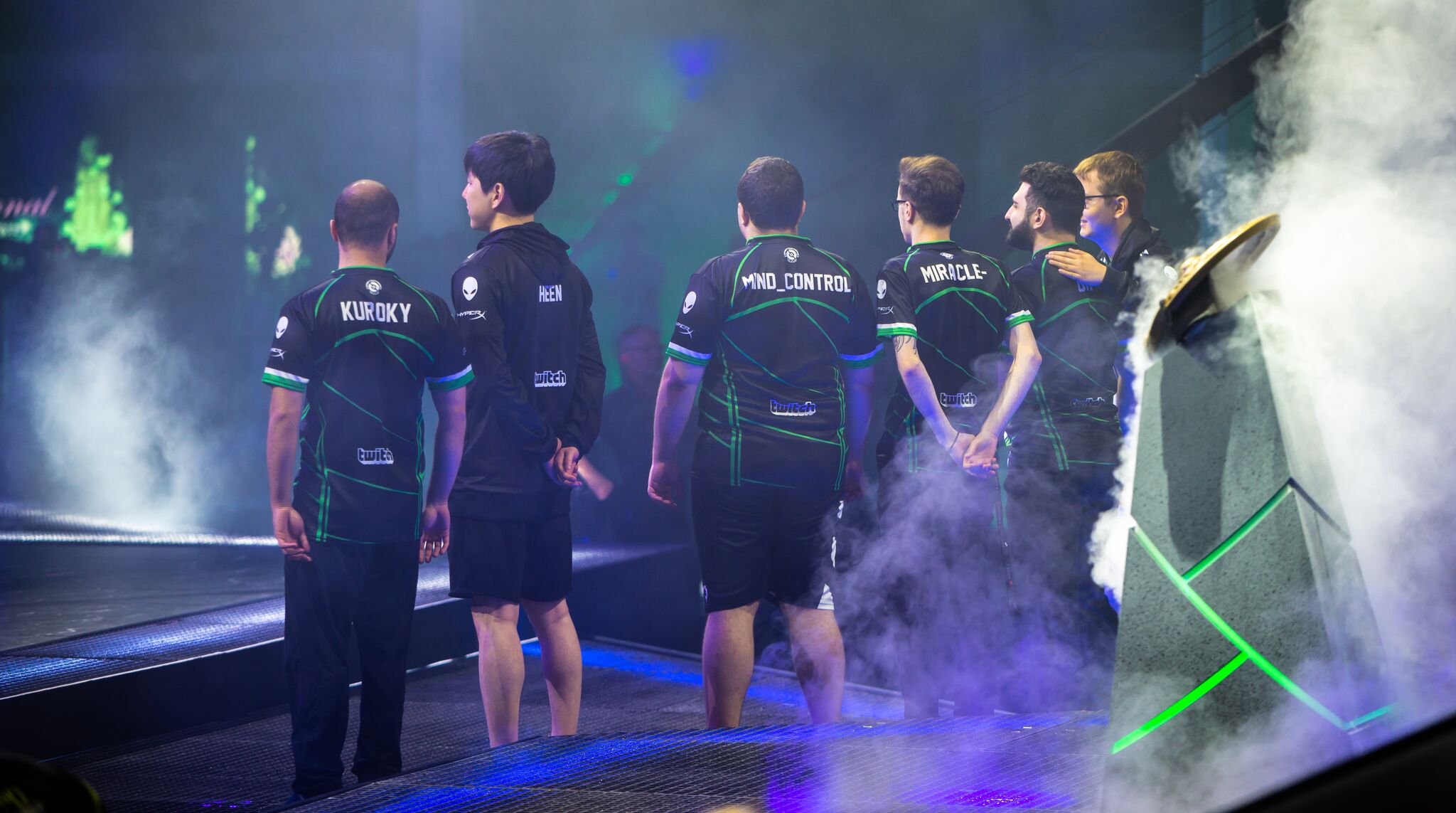 Photo by Yamato
The second match of the upper bracket could very well have been the upper bracket finals or the grand finals themselves, Virtus Pro vs PSG.LGD. LGD opted for a Drow Ranger strategy that buffed Maybe's Storm Spirit, while VP went for a 5 man indestructible deathball lineup to counter. A back and forth game followed with VP coming back from an early lane disadvantage. A crucial teamfight where Pasha's Enigma whiffed a Black Hole, however, proved fatal for VP who were caught out without enough buybacks and not enough time to prevent LGD from seizing the throne in Game 1.
Game 2 featured VP's Alchemist pick brawling against Ame's Terrorblade, with both VP and LGD playing hyper aggressively in the mid game. Viciously, kills were traded back and forth between as the teams prioritized teamfights over towers. Catching out VP's key mistakes, LGD eventually clawed their way to a leading edge in the game, neutralizing No[o]ne's Alchemist. Despite VP's extended attempts to keep themselves in the Upper Bracket, LGD downed them into the Lower Bracket 0-2.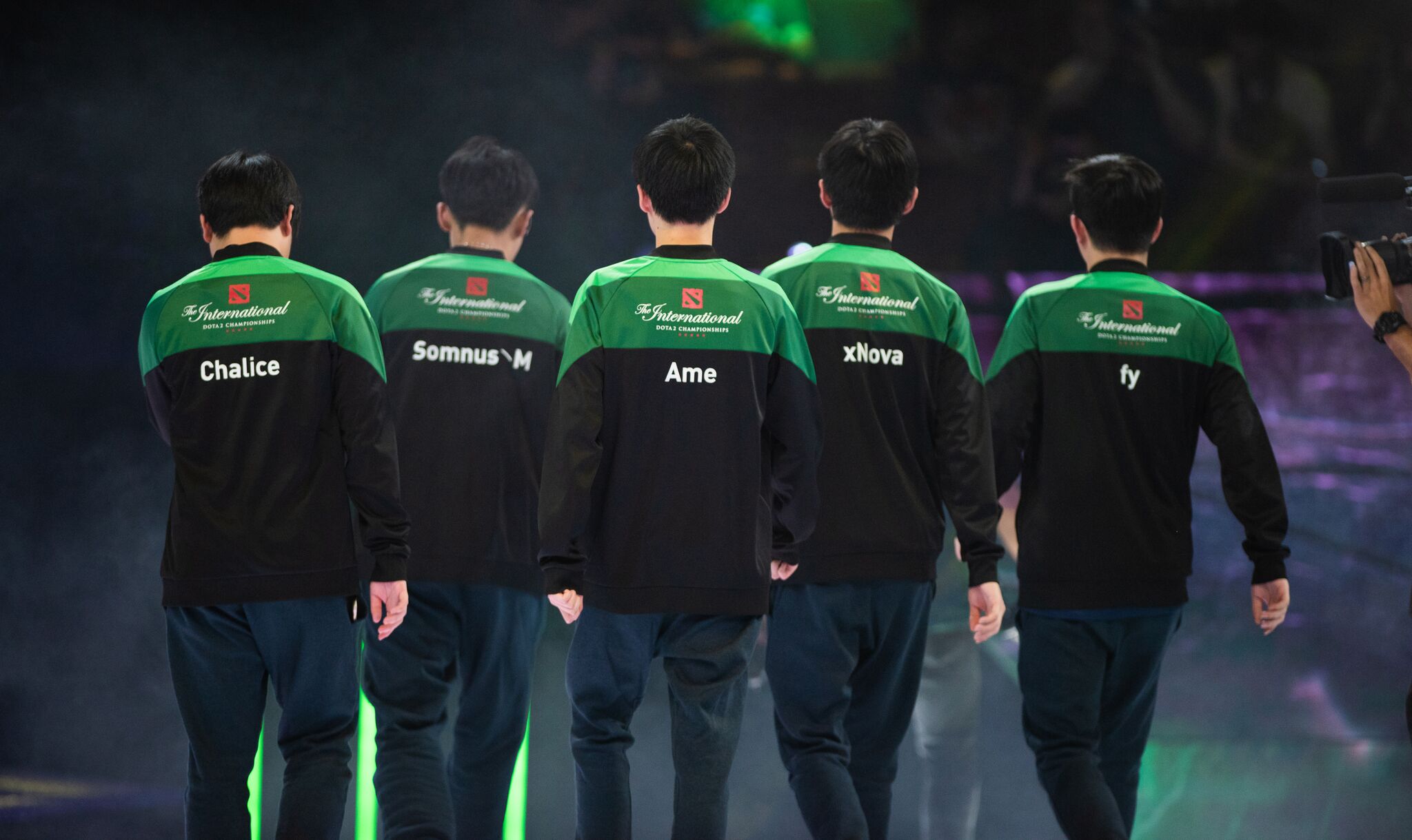 Photo by Yamato
Lower Bracket Elimination Matches
With the Upper Bracket matches concluded for the day, we moved to the Lower Bracket where we would already have to say farewell to four teams. Serenity and Fnatic were up first and very early on Serenity's draft with Gyrocopter, Lina, and Tiny started to take over the map. Envy's Ursa died a few times during the early stages of the game and Fnatic, who has been on the very edge of starting the upper bracket, trailed in the bo1 elimination match. Universe quickly became the only hero on Fnatic's side that was keeping up with Serenity's cores in networth and even though the team fights were relatively even, often with multiple buybacks from both sides, the gap did not close. Eventually Serenity was able to get through Fnatic's buybacks with the Aegis and Cheese and took the game, eliminating Fnatic from TI.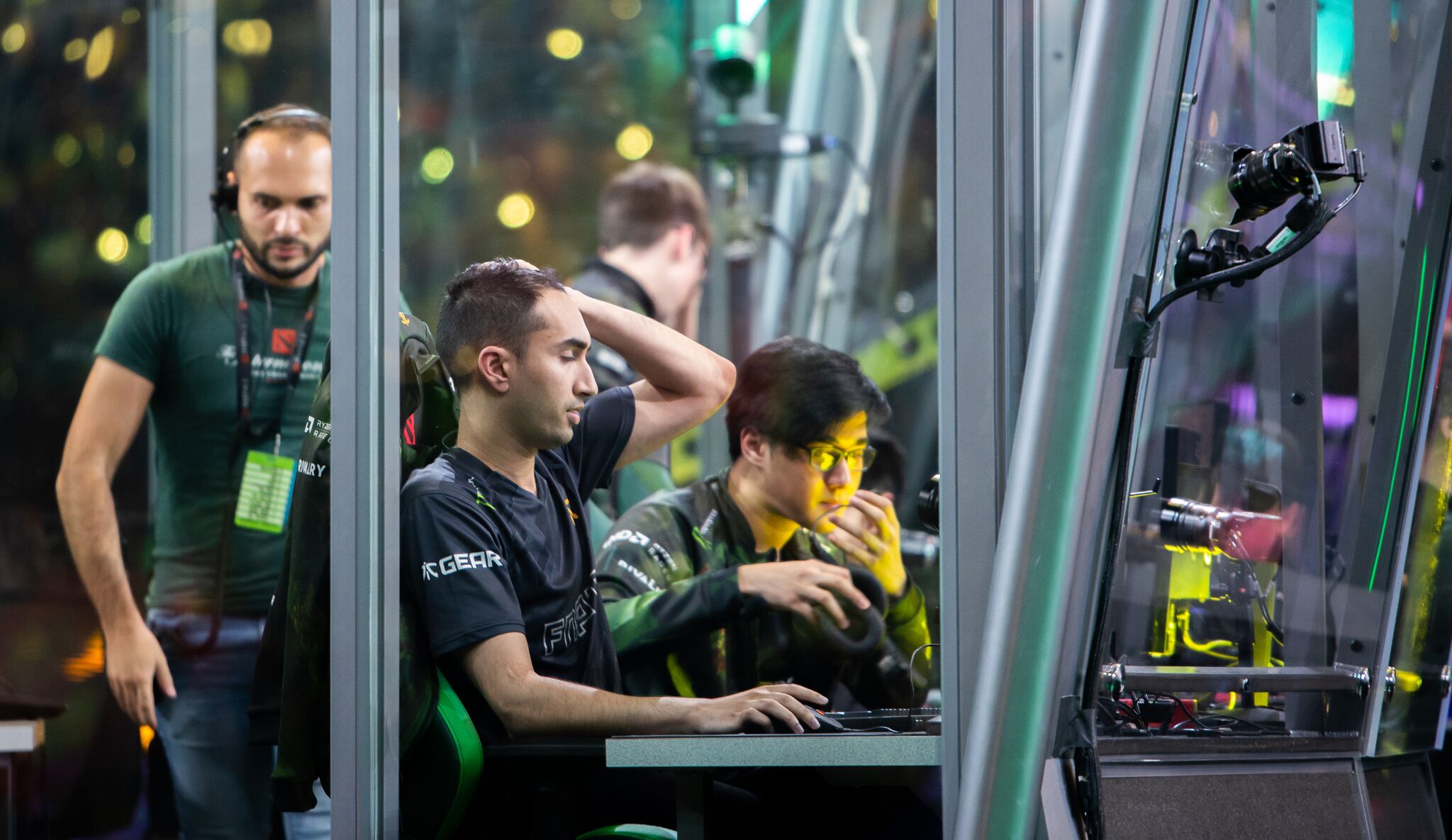 Photo by Yamato
The second series of the lower bracket was a battle between two SEA teams, Mineski and TNC. Mineski went into TI as the favourite from SEA but after a disappointing group stage they found themselves among the bottom teams in their group. The two teams were dead even during the laning stage,each core only a few cs apart from their counterparts and both teams struggling to find an avenue to break the game open in their favor. TNC was finding kills but with Moon's SF topping the networth chart and Mushi's Spectre close behind the game remained in a standstill despite the score being 25-5 in TNC's favor. All it took was one won team fight and Mineski found themselves pushing into TNC's base, before taking another fight during the siege and winning the game. TNC became a second team knocked out of the group stage.
Newbee versus Winstrike was the 3rd match of the Lower Bracket, featuring the second China versus CIS game of the day. Winstrike's draft put their hopes around Silent's Phantom Lancer while Newbee put their hopes into squashing that PL. After a strong laning game from Winstrike that was spearheaded by Iceberg's Tiny and nongrata's Clockwerk, Newbee's strong teamfight kicked in and gave Newbee the advantage in the midgame. A narrow close Roshan contest by Newbee resulted in a decisive win for Winstrike, but the game remained deathly close as Winstrike chipped away at Newbee's base, eventually taking middle rax after a massive teamfight over the second Roshan. Tragically, Sccc was picked off after a misblink, forcing his buyback into a forced third Roshan fight that failed. Winstrike was able to finally sweep away the rest of Newbee's buildings and advance to the next game against the loser of VGJ.S vs OG.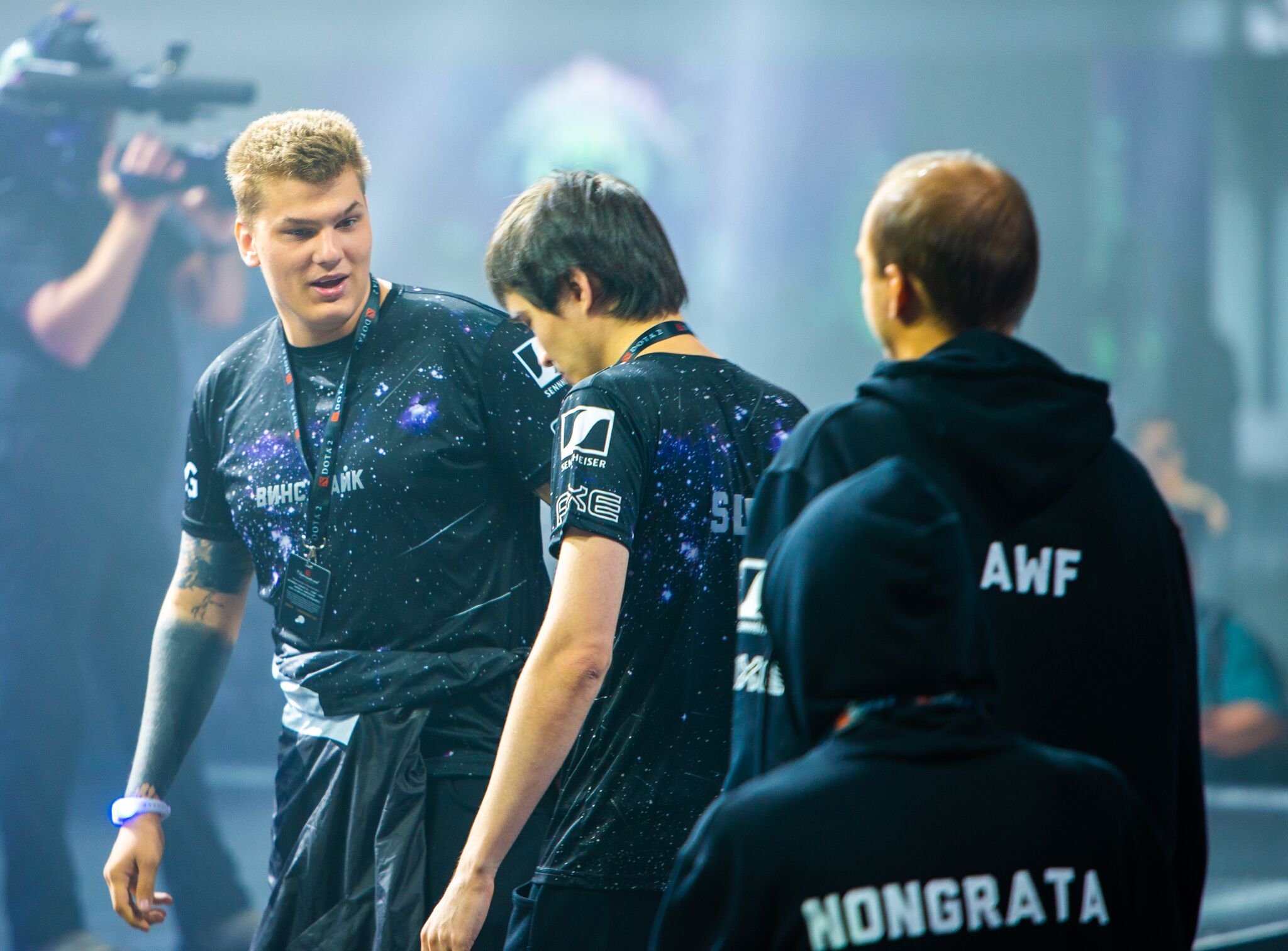 Photo by Yamato
VG and VGJ.T ended Day 1 at TI8, two teams very familiar and similar with each other, teams fielding young experience anchored by old experience. Knowing well how their opponents played, VGJ.T chose to play their tried and true Sylar Terrorblade. To counter, VG picked Arc Warden for Paparazzi and other space creators to pick apart VGJ.T through splitting and ganking. What followed was an intensely methodical game from both teams, each wanting to play their own game and trying to force pickoffs from the other team, resulting in a very static and even game determined by small, yet crucial mistakes. But all it took for VG to crack a rax was a poor initiation from VGJ.T. Yet the game was not quite over, and VGJ.T showed signs of life as they fought for it. But every pulse they beat was hammered down by LaNm's Echo Slams, and his team decisively closed out VGJ.T's TI8 run and the first day of the Main Stage.
Recommended Games
Virtus.pro vs. PSG.LGD Game 1
Mineski vs. TNC Predator Game 1
CREDITS
Writers: Yamato, OmniEulogy, rapiqch
Front Page Image: yamato77
Editor: rabidch
Graphics: Valve, Julmust, Exitiums