Main Event - Day 5
The second last day of The International 2016 has come to an end, and now it is time for the remaining three teams to make their final push to become the proud owner of the TI6 Aegis of Champions. After such a long event, with most teams showing all their cards as they fought for survival through the group stage and elimination matches, analysts and viewers hard at work may have the book out on the strategies that have carried each team thus far. In response, teams will have to decide on whether they need to tighten up by falling back on well practiced and executed strategies, or to innovate, risking untested and unfamiliar pocket strategies. Composure through these nerve racking drafts and concentration in critical fights through well practiced teamwork will decide which team will emerge as the final King of the Hill; only one dream will persevere and the rest will crumble.
Upper Bracket
Wings Gaming vs Evil Geniuses
In a match-up that had to feel like a replay of the Upper Bracket finals from last year, Wings and EG both entered this series with a loaded hero pool and crazy draft deck's at the ready. Could PPD and EG figure out yet another Chinese team in the same manner that they did against Newbee and EHOME earlier in this event? And as the last Chinese team in the tournament, Wings carried their own ambition, as well as the pride of a nation on their back into this match-up. Could Wings find the right amount of inspiration to finally demolish the boys in blue? Here's how it went down.
Game One
The boys in blue started off the series with some unorthodox lanes, putting Sand King mid in the hands of Sumail, as well as sending Weaver + IO to the offlane. Wings drafted a more standard lineup although they rounded it off with a Jungle Enigma which we have not seen too much as of late.
The early laning stage was passive until the 10 minute mark when EG started finding a few pick-offs. These pick-offs didn't slow Wings down since they still had better map control and were still able to keep up with EG in terms of farm. They also put a lot of pressure on Fear's Anti-Mage, who was still under farmed at the 20 minute mark despite his team being up 10-5. At this point Wings had taken almost every outer tower of EG, while they still had all three tier 1 tower's of their own up and running.
With Fear quite behind on his item timings, Wings decided to start tanking up with a Mekansm on Enigma, two Hoods, and the S&Y on Razor so they could take Roshan and start to make their final push for the win. After a pick-off on IO, Wings decided to take their first tier 3 tower from EG, who were not willing to contest. After resetting, Wings went back to push mid again and managed to win a massive fight due to a huge Ravage + Black Hole combo. They backed off a bit since they still could not safely take EG's Rax, however Sumail got confident and got caught as he went out to farm.
Finally Wings managed to break EG's base, and without the numbers to defend the game was over.
Game Two
The American squad got off to a strong start in game two, with repeated 3 man ganks giving them a significant early-game advantage and control of the overall game tempo: Fear secured multiple early kills, Sumail farmed comfortably, and it looked like EG might be able to find a game three after all.
However, Wings disregarded EG's early-game dominance with a stunning performance by iceice's Elder Titan in the game's first real teamfight, where a perfectly placed Stomp and Earth Splitter earned the team a 2-0 fight, and their first real sense of momentum. From there the game was back and forth, with Wings winning the majority of teamfights, but EG showing some excellent play that earned them a critical kill on Shadow's Huskar. Bolstered by that confidence, they decided to go for an ill-fated Roshan play that gave Wings not only several kills, but also a free aegis.
On the back foot, EG looked to take an engagement at a strong timing: both Universe's Night Stalker and Fear's PotM had found their Aghs, giving them a serious upgrade in both their positioning and damage potential. While things started off looking good for them, Wings were simply able to outlast EG's damage output. Fear's fate was particularly tough as a well placed urn eliminated his PotM on its last tick.
EG might not have known it, but that battle was their last stand. Wings quickly moved to claim EG's high ground, and while their remaining players futilely threw themselves at Wing's mid-game ball of death, there was nothing to be done. The former TI champions were forced to GG out in just a bit over 20 minutes.
With EG knocked down to the Lower Bracket finals, it's hard not to remember last year's TI when a remarkably similar EG squad was 2-0'd in the Winner's Bracket finals by an upstart Chinese squad. EG came back last year with a resounding 3-1 victory: tune in tomorrow to see whether they can put on a repeat performance.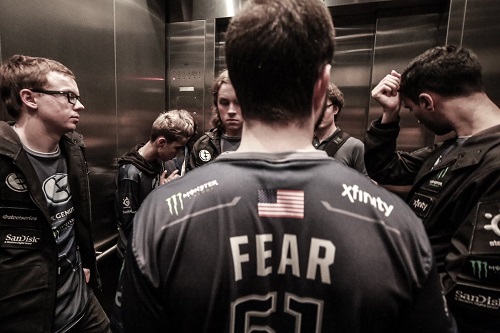 EG after their tough loss. Photo courtesy of Valve
Lower Bracket
Fnatic vs MVP Phoenix
Fnatic have been rising to the occasion, defeating European powerhouses while showing strong early-game discipline throughout the event. MVP just dropped down from a crushing defeat to Wings where their chaotic and overaggressive tendencies were punished greatly. Would Fnatic have the wherewithal to play a similar game and weather the aggression out of MVP, and clean up once they have exhausted all of their abilities?
Game One
The first game began with one of MVP's classic four melee early-game face rush lineups featuring a QO Slardar along with MP on Timbersaw. Coming into the series there was some speculation on whether they would change things up, however MVP decided to stick to their most familiar lane right out of the gate. Fnatic responded to the face rush draft quite well with their Sand King pickup for Ohaiyo, who along with the roaming 343 Bounty Hunter was able to massively disrupt the early-game of MVP.
Mushi was camped mid by Ogre Magi, although this allowed BH to acquire kills on supports in both side lanes, then eventually help Mushi catch up after stealing MVP's jungle stacks. Throughout the early-game MVP were having a really hard time taking fights with Ohaiyo's early Blink Dagger making it incredibly easy for Fnatic to punish any possible aggression. With the strength of SK, Fnatic were able to take some good fights where Slark + Tinker were able to clean up after the SK initiation. MVP showed some signs of life with one minor fight going their way due to Forev's Mekansm healing them back up, however, after a game changing Crystal Maiden ultimate in the next fight MVP could no longer keep up with the farm Fnatic were acquiring. MVP looked strong in some moments, although the burst damage to finish their enemy off was never quite there, and as a result Fnatic were able to win one final fight at the Roshan pit and take MVP's rax shortly after.
Game Two
The next game began with an uncharacteristic draft from MVP, albeit normal by the standards of every other team. This time they favored a more farm centric lineup featuring Mirana, Sven, and a odd Faceless Void pickup that is generally difficult to make work with Sven (not impossible though). Fnatic drafted Medusa for MuShi and Juggernaut for MidOne, with 343 roaming on Riki. Most of the action started in the top lane between the Ogre + Void dual offlane and Fnatic's Jugg + Shaman dual safelane. With the presence of a roaming Riki, Fnatic got off to a quick start with multiple kills throughout the opening minutes in the top lane. Riki also managed to secure the midlane for MuShi after some light harassment and a courier snipe that withheld QO from obtaining his much needed Healing Salve.
By the 20 minute mark Fnatic had a commanding 17-8 lead, however MVP were not out of the running yet as they manged to find a crucial pick-off on Medusa and Juggernaut. This move helped bring the Sven in line with Jugg + Medusa in terms of networth, although more importantly Faceless Void was beginning to recover from his rough start. Over the next 10-15 minutes MVP were able to even out the kill score and find back to back pick-offs on Fnatic's cores. At this point the game was beginning to look like it could go any possible direction, especially after MVP were able to halt Fnatic's Aegis push just before the 42 minute mark. Despite looking like the game could go any way, MVP still needed the perfect Chrono and overall better teamfight in order to take out Fnatic's lineup, otherwise they would just get kited and slowly whittled down by the Skadi Medusa.
At 50 minutes MVP decided to go for Roshan, and Fnatic opted not to contest it. MVP put the Aegis on QO, however Fnatic had set up a trap in the Radiant jungle, catching QO and immediately erasing his Aegis along with Ogre's own life. Void was not able to go in for a Chrono as Juggernaut was blocking him off from the fight, and without that Chrono, Medusa and his friends were able to massively kite MP. With three heroes down, Fnatic went for a final push and managed to get mid rax, force multiple buybacks from MVP, then win yet another fight, and eventually end the game and take the series 2-0.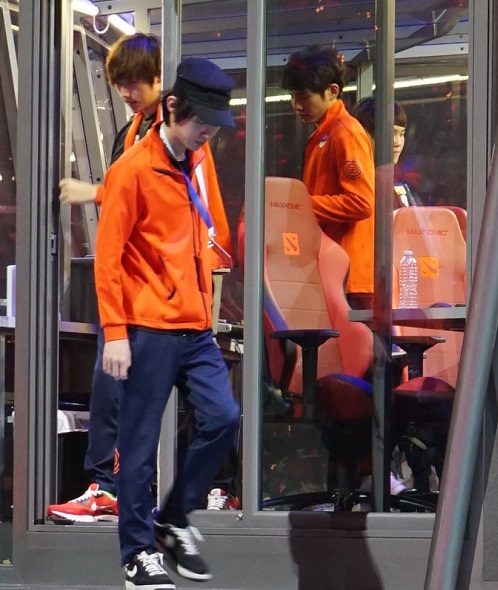 MVP leaving the stage for the last time. Photo from the LiquidDota twitter
Fnatic vs Digital Chaos
If Wings vs EG might have been called an expected, even anticipated match-up between giants of the East and West, the idea that Fnatic would be playing DC for a spot in the Loser's Bracket finals of TI6 would definitely be the reverse. It was just last year that Reddit was laughing at w33's statement that he'd be at TI5, and here he was playing on team SUNSfan against SEA's best for a chance at top 3 in the biggest ESPORTS event of all time. Here's what happened.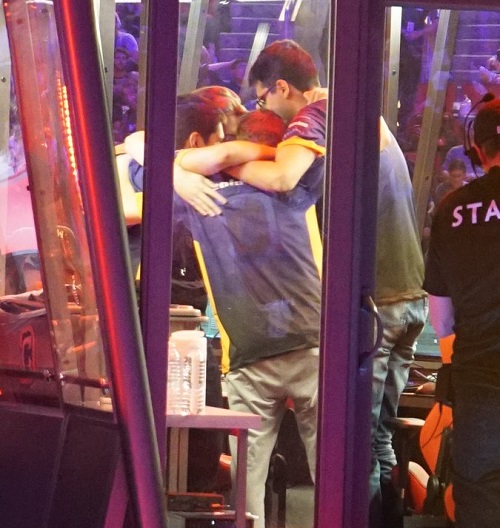 The boys getting ready
Game One
Game one started with an aggressive, 4-melee Ursa backed draft from DC and Mushi leading Fnatic on what we might call the FotM PotM. Moo and Misery were able to secure multiple early-game kills with an effective DS + Slardar pairing, propelling DC to a strong start out of the laning phase.
Fnatic showed signs of life in the mid-game, with some strong fights that found Ohaiyo duel damage, and Fnatic several kills. However, as in the EG vs Wings series earlier today, an ill-fated Rosh attempt put them on the back foot, and DC in the driver's seat. Fnatic were able to find one excellent fight with a well-placed arrow pegging Moo, but beyond that once Misery picked up a blink on his extremely greedy 4-position Slardar, DC weren't ever really in danger: Fnatic's issues were perhaps best represented by Ohaiyo having only 34 duel damage on his LC 33 minutes into the game despite there being numerous fights.
Hesitant to throw away what looked like a won game, DC chose to farm it out. They didn't even tickle Fnatic's high ground before securing a 25,000 gold and exp lead, and even when that lead gave them two sets of rax, they pulled back and farmed up to reach a stunning
45,000
gold lead before going for a final push. While Fnatic certainly made DC earn the win, there was little they could do from such an out farmed position, and were forced to GG out.
Game Two
Up a game, DC ended the draft with exactly one goal. Don't get Huskar'd. However, with Fnatic exposing their Huskar pick 4th, they allowed DC to pick up an uncommon hero for their last pick: the Chaos Knight counter. This was Chaos Knight's second pick this International, with the other pickup also being by DC as a counter to Secret's Huskar (DC won that game).
The early laning stage saw some action and strong plays from both sides: MidOne was able to dodge a level one gank by leveling Sleight of Fist to dodge an early torrent, but DC were able to find repeated pick-offs early. On the back of some strong fights (including a decisive 2-1 win by the top rune), DC were able to leave the laning stage with a modest lead.
Headed into the mid-game Ohaiyo's Faceless Void topped the networth charts, but DC saw to that in short order, repeatedly killing the offlaner to send him plummeting down as they continued to farm up. As the game continued, one thing became clear: Fnatic weren't able to find the mid-game fights that their Huskar-centric lineup relied on.
DC's mid-game play was carried heavily by w33's Invoker. w33's clutch sunstrike snipes and critical coldsnap stuns salvaged lost fights for DC and let them clean up the fights that they won. As DC picked up momentum, w33 was critical in helping the team find extra kills and push forward towards victory. At the same time, as Resolution built up farm on his Chaos Knight he became a force to be reckoned with, providing the physical DPS necessary to bring down a perpetually stun-locked Mushi.
With some deft late-game tactics, DC were able to secure mega creeps by taking what looked like a losing fight, only to have Moo suicide for bottom Rax while his teammates pulled out a victory in the top lane. Quite remarkably, DC obtained mega creeps while having lost only a single tier 1 tower, emphasizing the dominant position they were in throughout the game. With mega creeps and a significant lead, DC were able to push down the midlane and find a fight that ultimately lead to their victory.
Recommended Games
The Current Bracket