Main Event - Day 4
The fourth day of The International 2016 brought us some more SUNSfan, SEA Doto, a Kaci vs Slacks rivalry, and
UNDERLORD
(aka Pit Lord for you DotA nerds). The event has been a dream so far with some of the best DotA in 2016 by far. Unfortunately, there are only two days left, with five teams remaining. Today we saw the heart breaking eliminations of TnC Gaming, Liquid, and EHOME. The next question is, among the five teams remaining, who will win it all?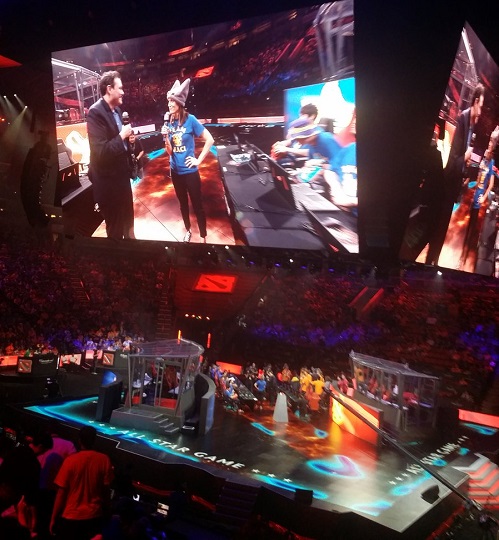 Slacks vs Kaci, the showdown of the century. Photo from the LiquidDota twitter
Lower Bracket
TnC Gaming vs Digital Chaos
The first series of day 4 was between two of the biggest underdog stories of TI6, DC and TnC. Both teams shocked the world by making it this far, but unfortunately the journey had to be cut short for TnC today. This team of young Pinoys were led by DemoN, one of the great NA DotA veterans who was thinking of retiring just earlier this year. Their performance at TI6 is one that TnC should be extremely proud of. With their win over TnC, DC moved on to face EHOME later on in the day (recap below).
Game One
The first game of the series came off to an almost perfect start from TnC with Sam_H's Batrider absolutely dominating Moo's Beastmaster in a 1v1 lane top. The other lanes were alright for DC, and they even managed to limit the farming of TnC's Drow Ranger, but it didn't matter as Batrider had acquired Tranquils, Drums, Blink, and a Force Staff by the 15 minute mark. The Naga Siren on DC had some decent space in the early game, however, TnC were clearly not worried as they were able to start shutting her down later on as the Drow train was able to take all of DC's outer towers by 23 minutes. Morphling was also making great use of her replicate on the Naga Siren illusions as well which helped with their pushes. DC were able to get a few pick-offs, and for a while it looked like Naga Siren may be able to come online, although TnC finally took Roshan and managed to end the game with their final death push. Moo attempted to rotate from behind for some shenanigans, but the Song of the Siren halted all attempts for some cheekiness. Game one then went to TnC, and Pinoys from all over went crazy!
Game Two
Things were looking real good for TnC coming into game two, but DC weren't going to lay down yet. They went fairly all-in with a great high-ground defense draft that relied heavily on top tier Chronospheres from Moo's Void. Their game plan was to outlast TnC while obtaining enough damage from Resolution's Ember Spirit to end the game. TnC's Alch had a rough time early on with w33/Misery stealing his stacks. By the way, with this massive gold increase from taking Alch's stacks, w33's Magnus almost had enough gold to buy Blink Dagger at around 8 minutes... buuuuuuut, he went Echo Sabre first instead. The early game was a disaster from TnC until Axe got his late Blink around 16 minutes, which immediately led him to find a double kill. This was a sign of life from the Pinoys, however, they quickly fell backwards after DC took out three hereos with a smoke gank. The rest of the game played out in DC's favor, although there were a few small victories from TnC here and there. After a great RP + Splitter + Ice Blast + Ember Cleave combo at the Roshan pit, DC were able to push TnC's base and force an Alchemist buyback. Afterwards, Resolution purchased a Divine Rapier for his Ember and they were able to crush one final fight and take the win.
Game Three
After game one, everyone was worried for DC, however, they recovered like true professionals. On the other hand, the game two loss completely crushed TnC, which resulted in some questionable drafting during game three. Jimmy was a bit too greedy trying to "get dat money" with another Alchemist pick-up along with TB. There isn't too much to say about this game as it was a stomp for DC. Misery made a lot happen early on with his Sand King, which completely stalled all farm for the cores of TnC. w33 and Resolution were quickly balling out of control on Mirana/Slark, which are two of the last heroes you want to have snowballing against you. Eventually DC decided to take Roshan before ending the game. TnC attempted to interfere but were swiftly cleaned up, and DC promptly marched down a lane and ended the game shortly after.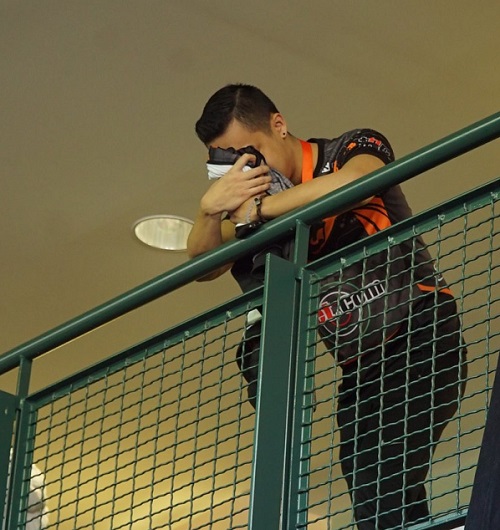 The heart of a champion. Photo from LiquidDota twitter
Liquid vs Fnatic
The meeting of Team Liquid and Fnatic showcased two of the Manila Major's strongest teams, each making a run through the lower brackets after underperforming in the group stage in Seattle. Fnatic entered the match riding wins over Escape Gaming and Alliance. Despite those wins it was a bit hard to judge whether the SEA squad were truly stepping up their game as most viewers can likely agree that neither European squad were likely to finish near the top. Liquid, on the other hand, came into the match after dominating performances against Na`Vi and more impressively, Newbee; whom they likely would have 2-0'd with a slightly less all in draft in game two. After eliminating Newbee and facing a Fnatic team known for inconsistency, many Liquid fans likely were looking ahead to the following round against MVP.Phoenix.
Game One
The first game provided a wake up call to both the fans and perhaps even Team Liquid itself that Fnatic were riding a similar wave of momentum. SEA Dota is known for its aggression and, while Kuroky has proved to be one of the more stable and consistent captains, it's hard to ignore that Mushi and company might have significantly out strategized him in game one. After picking Luna and Ember Spirit, it seemed like Team Liquid would have plenty of time for Matumbaman's Naga to come online. Fnatic's other heroes however, provided plenty of aggression to allow for a dominant laning stage. By 15 minutes, Fnatic were doubling Liquid's kill score and the Luna/Shadow Demon/Undying trilane completely shut out Kuroky and Mind_Control in the early laning stage, forcing MC to rotate to get any experience and allowing UD to begin pressuring other lanes by minute 5.
It became clear early the game was on Matumbaman's shoulders and while he valiantly tried to will his team forward, BKBs on all three Fnatic cores before the 30 minute mark proved far too much to deal with for one Naga with mediocre farm. Thanks to a 10 minute Dragon Lance, Mushi was able to fight early and Ohaiyo hit multihero crushes on nearly every single attempt. Team Liquid mounted one major mid game push but were rebuffed thanks to Fnatic buybacks which got more than enough in return to be worthwhile. As with the previous round, Liquid were forced to regroup after a game one loss.
Game Two
Game two seemed to be following the same formula as the round again Newbee and faith in Kuroky's ability to adapt seemed to make victory a foregone conclusion. Team Liquid aggressively tri-laned against the defensive tri of Fnatic. After slaying each of Fnatic's safelane heroes in clinical fashion, the tempo for early game was set. As against Newbee, Liquid built a 20,000 gold lead on a 25-6 kill advantage and game three appeared to be inevitable. Thanks to some fantastic warding in the Team Liquid jungle and overly greedy itemization by the Europeans, Fnatic were able to not only take out Kuroky but also end the lives of all three Liquid cores to the tune of 6244 gold. Mind_Control, overestimating his strength returned to lane and died again as fast as he could respawn for another large chunk of cash.
The wheels really began to fall off when Liquid forced the issue in top lane and allowed Fnatic to deftly counter play their sloppy initiation with a set of new and high impact items purchased after the previous fight. Trading 5-1, Fnatic essentially evened the net worth and suddenly the 0-2 began to loom over fans of TL. The deal was all but sealed when a smoked Team Liquid triple initiated on the low impact Undying and Tombstone allowing the expertly spaced cores of Fnatic to drop their overwhelming load of magic damage on the heads of the bizarrely BKB-lacking Sven and Axe. The rout was on as the net worth swung heavily into Fnatic's favor and the Drow empowered lineup mowed down buildings.
As in game one, Liquid mounted a willful comeback but after a final 5 man wipe 49 minutes in, the last European hope was snuffed out. Though questionable itemization will likely be the main story, Fnatic's positioning was championship caliber and Ohaiyo, yet again destroyed TL's coordination with masterful stuns. For many teams a 7-8th place finish at The International is cause for elation but the result is likely a very bitter pill to swallow for a team regarded as a top 4 favorite to win it all entering the event. This feeling is only exaggerated due to the fashion in which it happened. Fnatic moves on to face MVP in a matchup to determine which SEA team will represent their region in the top 4.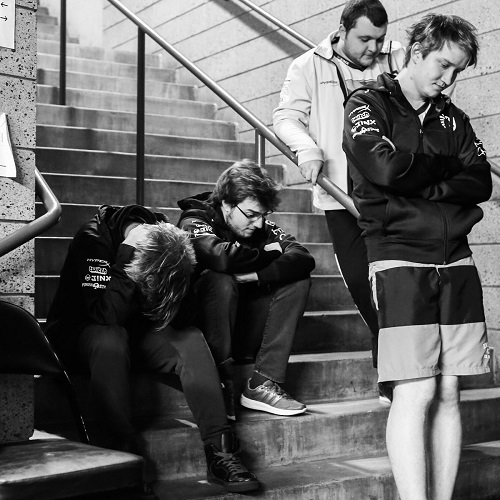 Liquid are heartbroken. Photo courtesy of Valve.
Digital Chaos vs EHOME
The day came to an end with another series from Digital Chaos who were up against the Chinese wildcard winner, EHOME. EHOME are one of the strongest teams at TI6, although their road here was not one of the easiest. They did not get a direct invite, nor did they manage to qualify directly. The team was given one final chance and they managed to advance into the main event through an easy wildcard run. Now they were able to show the world what they were truly capable of, and with a 5th-6h place finish everyone knows they belonged here all along. Unfortunately, DC were on fire today and managed to eliminate them 2-0 in this series.
Game One
The first game began with a nice bait and switch from DC where they fooled EHOME into thinking they drafted a core Naga, however, it was a support and the true core was Resolution's Vengeful Spirit. EHOME were fairly greedy as they picked up Anti-Mage and Razor as their cores. DC started off with an aggressive trilane, but it did not succeed and eventually both teams supports just started roaming for kills. DC were able to find easy gank kills with a Net + Stomp + Sunstrike combo. Unfortunately they did fail this combo on AM a couple of times, but it actually delayed his farm regardless. He was still 1 component away from Battlefury at 20 minutes, and the Razor of EHOME was not doing much better. Just as Am finished his item, DC found a few crucial pick-offs and quickly took top rax. AM picked up two towers as well, but it was not enough. DC took another Aegis and then found a fortunate pick-off on AM. After that they marched down bottom and took the rest of EHOME's base after a huge combo from ET+Invoker. The win went easily to DC, and as I said it set the tempo.
Game Two
Game two did start off well for EHOME. w33 got firstblood but Old Chicken dominated the lane with his Death Prophet regardless. Part of EHOME's major mistake this game was putting so much emphasis on shutting down Moo's safelane Timbersaw. It seemed great at first as they were able to kill him multiple times back-to-back, although rotating that many heroes to shut down a single hero does have its consequences, especially if said hero is Moo's Timbersaw which can come back with ease after acquiring his Bloodstone. Resolution was able to get farm and he eventually made some major plays to win DC key fights and recover their early game. At some point it was clear EHOME were out of it as it's quite hard to come back with Lifestealer and Death Prophet being behind. A few fights occurred and DC eventually just rolled them for the 2-0.
Digital Chaos will move on to fight the winner of MVP Phoenix and Fnatic tomorrow, but for now this young NA/EU hybrid have surpassed all odds as they sit in the top four.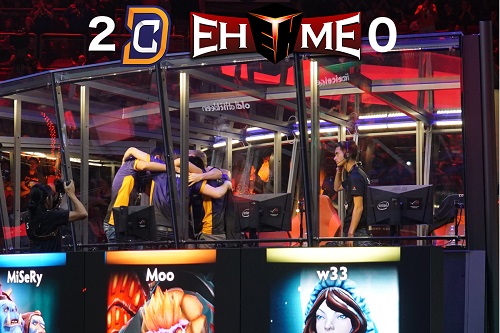 DC have defied all odds. Photo from LiquidDota twitter.
Recommended Games
The Current Bracket