Main Event - Day 3
The midway point has been reached at the main event with the elimination of half the teams in attendance so far. Only eight teams remain, however, there is still a lot of DotA to come. Today we had to say goodbye to Alliance and Newbee, who have both had the taste of a TI championship in the past. Aside from the eliminations we also saw EG and Wings cement their spots in the top three after defeating EHOME and MVP, who have been knocked down to the Lower Bracket. Things are continuing to heat up, and after one of the best games ever seen at a TI between EG and EHOME earlier, this event is beginning to surpass all expectations.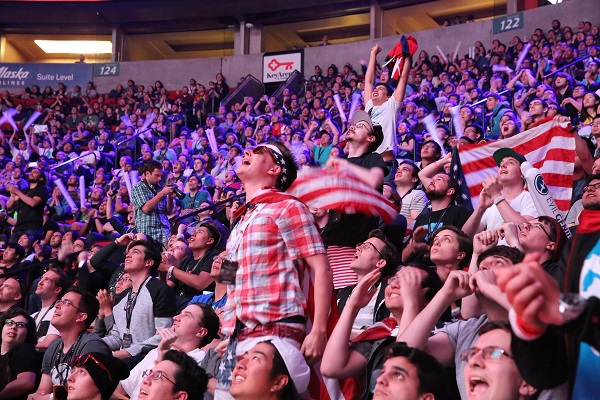 The TI6 crowd is insane. Photo courtesy of Valve
Lower Bracket
Liquid vs Newbee
Game One
Liquid came out swinging and never looked back. Or at least that's what they wanted to do.
Liquid entered game 1 with a draft that the panel called unfavorable, and they sure played like they knew it. A brutal Sand King/Kunkka combo took an early two kills top, and Liquid quickly built on that lead. By 20 minutes into the game they had 12 kills on the board to Newbee's 0.
Newbee began showing some signs of life at around 22 minutes when they took a nice fight that got them their first kill on a support Kunkka. While the fight briefly looked good for them they ended up not only trading a support Shadow Demon for the kill, but also giving up their Lifestealer. At 23 minutes the gold and experience graphs said it all: Liquid trended towards a 10k lead in both.
While Liquid might have been comfortable, they weren't able to do what they needed: win the game or at least secure a significant advantage with real high ground potential. Instead, they hung back with their lead and did the one thing they couldn't afford to do, which was give Kpii's Naga some space. While Liquid was able to find a few key pre-radiance kills on Naga to keep Kpii down early, Newbee's regular offlaner did a great job of rising back to the top of the net worth chart despite a large deficit in kills and map control.
Newbee did a great job of earning the space that they needed with a pair of deadly Nyx + Naix ganks that first took out Fata, and then Matumbaman. The combo was particularly effective vs Matumbaman because he was farming a lane with flameguard, which gave Nyx a free carapace stun and kill. With a few minutes of free farm for Kpii, Newbee gladly shoved Liquid out of the driver's seat and took control of the game.
The first evidence that Liquid was losing came at around 35 minutes when they tried to push high ground and take Newbee's T3 bot. While they were able to slow siege for a while with a Keeper of the Light Aghanim's that kept them perpetually at full health, they eventually attempted to go on Mu's batrider and failed to find the pick inside the Newbee base. This caused them to both lose their SK and Kunkka, give up Roshan, and put Newbee in the driver's seat for the first time in the game.
A few minutes later at 43:30 the cracks really began to show for Liquid when a KotL pick lead to an abandoned teamfight that forced Liquid to give up an Ember Spirit. Seconds later Newbee was at Liquid's door, pushing against their T3 mid in Newbee's first high ground attempt, which gave them another kill and a pair of Liquid's rax.
Liquid threw Newbee off with a Rosh attempt at 49:30 where Newbee seemed to think that Liquid was smoked up in their woods.They got Roshan, but were unable to find any kills and had to give up both their Kunkka and Sand King. Matumbaman picked up a last-ditch rapier at 50:40 to go with his newly-acquired Aegis, leading Liquid to take a last-ditch fight in their woods at 53 minutes. Even with Matumbaman's insane damage output it wasn't enough and Liquid was forced to GG out.
Game Two
Fighting for their life in Game 2, Liquid picked up the brutal Shadow Demon + Mirana combo, and ended up with a draft that the panel and casters described as remarkably Newbee-esque. Newbee, no slouches themselves, again picked up the Batrider that has found them great success as well as a Timbersaw, which is quickly becoming one of the most popular heroes of the event.
The absolute early game didn't find many surprises, with Liquid's powerful SK Undying lane finding serious farm against Newbee's Disruptor and Timbersaw. At the same time they took an early first blood with a nice disruption on Kpii's batrider. They followed this up shortly with a fight bottom around 4:30 that showed the absurd power of Undying in a trilane: with a nicely placed Moonlight Shadow from Fata they were able to earn a kill on Timbersaw (and a 1 HP miss on Chen) in an early 3v3 fight.
Liquid again looked comfortable early, with Fata almost 1,000 gold ahead of Hao's Jugg, and Matumbaman's Morph in second at 7:30.
The first decisive fight of the game was a resounding victory for Liquid. Provoked when Liquid traded a tomb for Chen's entire creep army, they took a bizarre 4 for 1 that involved a ridiculously aggressive Omnislash from Hao. Fata, Liquid's sole casualty in the fight, followed this up with a cheeky arrow that lead to an easy pick on Kaka's Disruptor.
Emboldened by their early wins they traveled into Newbee's jungle to find a kill on Chen that quickly snowballed into a Timber death as well as a greedy Chakram revealed the tree-fearing robot's position and brought Mu down. They continued to find more pick offs, killing Kaka and then Kpii to take a 12-3 kill lead by thirteen minutes.
From there Newbee seemed entirely unable to find their footing: Liquid's absurd burst and extreme map control forced Newbee to either hide in their base or give up entirely free kills and gave Liquid a massive 7,500 gold lead at only 15 minutes. From there, Newbee simply crumbled and after a few picks they GG'd out just after the 17 minute mark, making this the shortest game of the main event.
Game Three
Newbee started game 3 off with a surprise first-pick Wisp, while Liquid picked up a pair of familiar faces in Shadow Demon and PotM. Newbee also picked up Batrider: they played the hero in all 3 games this series (and have favored it heavily over the course of the tournament). The draft was rounded out with several more repeat picks (Morph and Timber made their second showings in the series and the ever popular Axe was picked up again) but also with some surprises with Newbee picking up Shadow Shaman and Liquid taking the Anti-Mage.
TL got off to an auspicious start by managing to claim both bounty runes. Contention over the middle lane was tough with a Wisp/Morph combo from Newbee facing off against Mirana and Undying from Liquid. Liquid's pressure paid off, with them earning an early first blood on the Morph (as well as giving Fata a early cs lead).
While Newbee did find a pair of kills to lead 3-2 at 6 minutes, Hao's morph was actually behind Jerax's Shadow Demon in terms of CS, even without Jerax doing a neutral stack. On the back of an under farmed Morph and a happy Anti-mage, Liquid were able to emerge on top of the net worth chart early for the third game in the series.
Liquid took a ridiculous teamfight win near the rosh pit at around 10 minutes. While Newbee was inches from finding a kill on Fata, Fata slipped through their fingers and Liquid claimed a pair of support kills for free. Matumbaman had some minor fight participation while finding excellent farm for an early battlefury, and Liquid stymied Newbee's smoke attempt with a perfect scan at 11 minutes. The result of that failed smoke gank was another fight that briefly looked good for Newbee but resulted in a resounding 4-2 for Liquid.
Newbee found their first real win of a fight at 14:30 when they took out Mirana and SD, but the advantage was quickly erased when Liquid found a kill on Bat and the ever-farming Matumbaman followed it up with an easy solo kill on wisp.
Liquid's early-mid game play was particularly remarkable because they were practically playing 4v5 and were
still
able to find favorable fights while giving Matumbaman all the space that he needed for the flashfarm that defines a good Anti-mage. By 18 minutes, Matumbaman had surpassed 10 cs a minute and had BF, Yasha, Vlads, and treads.
Just after 19 minutes, Liquid took an aggressive Roshan that lead to both an Aegis for Matumbaman and a dominant teamfight win. Newbee attempted to contest the Roshan but ended up donating a triple kill to Fata and eventually losing their Rhasta and Morph to Matumbaman as well. Liquid ended the fight by grabbing Newbee's T2 bot and rolling past the 10,000 net worth lead line.
From there, there wasn't too much that Newbee could do. They did a commendable job of attempting to find farm in extremely unfavorable conditions, but Liquid quickly grew to dominate the map. Newbee found a pick on Shadow Demon, but when they attempted to follow this up with a T2 push top Morph was instantly mana-burned, shut down, and killed.
Liquid, nervous about throwing away a won game, played extremely careful Dota as the game moved on. They took an entirely uncontested Rosh at 31 minutes and found picks as they could, and didn't make their first foray onto high ground until 33 minutes into the game. However, once they stepped onto Newbee's high ground they showed just what a dominant position they were in by jumping straight to Newbee's T4 to take out Timbersaw. Newbee made an extremely cheeky play with a relocate to take Liquid's T3 top. They were able to force Liquid back without giving up rax, but Liquid returned a minute later with a BKB on Matumbaman and were able to simply walk down bot lane to seal the deal and knock out Newbee.
Fnatic vs Alliance
Game One
Fnatic entered with a fairly comfortable draft, although they peculiarly closed out with a Storm pick. The game started fairly passive, but still there was some minor action across the map due to the Bounty Hunter. The game remained passive for a while despite some small skirmishes, which quickly gave Alliance the lead in kills.
As Alliance tried to build on the lead with smokes and movements around the map, Fnatic continued eluding them and just kept farming as expected with MuShi's Sven. Alliance started taking towers instead, getting a quick Echo Stomp/Arrow combo on Dj's Shadow Demon as he killed Loda with Shadow Poison stacks, and MidOne's Storm sniped Akke in the back line. In spite of the lead Alliance appeared to have in kills and towers, Fnatic were still ahead in both graphs as the farm built up to Fnatic hitting their item timings and taking a 16 minute Roshan, only for them to continue farming and split pushing for the next few minutes, as Alliance took the mid T2 tower in return for both their bottom towers. The game continued in this passive manner as Fnatic asserted map control, keeping Alliance mostly in their base and venturing only as far out as their T2 towers, while building up their gold and XP lead.
Both teams continued taking quick pick-offs as Alliance started regaining map control followed by a quick skirmish forcing a Ravage from Admiral Bulldog, resulting in MidOne choosing to suicide, wasting the Ravage. Fnatic proceeded to regroup and smoke into Rosh, killing him just as the first big teamfight of the game broke out with Alliance trying to contest, resulting in a 2 for 1 trade going the way of Fnatic. With the Aegis gone, Fnatic continued farming the Radiant side of the map whilst s4 split pushed top and the rest of the team hung behind Loda farming as they slowly moved their way top as well. Having scanned out Alliance's movement, Fnatic regrouped behind their T2 top and smoked up, taking another quick 3 for 1 teamfight. The story mostly remained the same with Alliance making movements top while Fnatic made movements bottom then top to defend only for Alliance to quickly back off bottom, maintaining a back and forth rhythm for both teams, getting pick offs on heroes out of position and starting fights without any commitment from either team.
The next Roshan respawned soon enough around 39 mins and this time Alliance tried to get their hands on it, only to be jumped on at the last moment with Bounty Hunter claiming the Aegis and the kill, followed by Fnatic snagging 4 kills, losing only the Slardar. With 4 on Alliance dead, Fnatic proceeded to force buybacks and take s4 as well as the bottom melee rax, quickly backing off afterwards. As both teams continued playing this patient game, Fnatic attempted to go for a play bottom resulting in nothing more than the bottom ranged rax, swiftly retreating again. The game continued in the same safe and patient manner as it had the entire duration until Fnatic believed they could and tried to break high ground, only for Alliance to use Force Staves, keeping Loda alive and kiting MuShi to his death while killing off the supports for dessert, further delaying the game and forcing Fnatic to back off. Roshan respawned about a minute after the fight and Alliance again quickly tried to grab Rosh only to be stopped and forced back, securing Fnatic their 4th Roshan of the game. A couple of minutes later Fnatic tried to force the issue only for MuShi to die along with MidOne and Loda, with both carries buying back afterwards resulting in Fnatic retreating and staying patient yet again.
Fnatic began using Disruption to slow siege Alliance's base as they chipped away at their rax while Akke quickly got picked off in his own base. With only a lane of barracks left, AdmiralBulldog went for the initiation, starting off yet another fight ending in nothing happening as both teams refused to commit. Fnatic proceeded to take their 5th Roshan as they prepared for the final push. Around 62 mins, Fnatic finally appeared to commit, taking a quick pick on AdmiralBulldog who was too far out and without buyback, only to back out and slow siege again. Just past the 63 mins mark, MidOne finally, truly committed, jumping on Loda and the supports, obliterating them and forcing the diebacks before AdmiralBulldog could respawn, finally earning a very patient gg call out of Alliance along with an ultra kill.
Game Two
This game started off well for Alliance, who managed to take the early lead in kills and networth due to some great Enchantress and Nature's Prophet early game plays. By 13 minutes, Alliance had the top three spots on the networth chart. A few minutes later Alliance took a 3 for 1 trade near the radiant mid tier 2 tower, bringing their lead to 13-3 over Fnatic. The rest of the early game still went in the favor of Alliance, who were slowly getting pick-offs and taking down towers.
Despite looking completely out of it, the game was eventually saved by multiple teamfights won by Faceless Void, who was quickly becoming the most farmed hero on the map. At the same time Alliance's Enchantress was slowly falling off despite the great early game, while the Batrider of Fnatic was making his way back and picking up multiple items. The shift was quite quick and surprising as Fnatic started to completely outplay Alliance. Due to some itemization errors and losing a few fights, Fnatic were able to take out Alliance once and for all.
Upper Bracket
Wings vs MVP Phoenix
Game One
Wings started game 1 with a 5-ranged lineup bolstered by a drow, and a surprise Warlock last pick. MVP grabbed a slightly more conventional team that featured QO's signature PA.
MVP got off to a great start with a pre-rune first blood that showed that they weren't looking to change anything about the extreme aggression they've shown over the course of the tourney. They followed it up with an early kill on Wing's wisp on their standard quest for early game domination into an easy victory. Their aggression continued with some excellent abuse of Wing's lack of vision to give them a kill on the offlane puck. While MVP were able to continue to find kills with their classic aggression, Wings was able to find a victory in the midlane with a well-leveled QOP and a kill on Invoker.
As the game moved towards the 10 minute mark it showed a familiar scene: MVP was determined to find aggressive picks (and they found them) but Wings was able to find early towers (and push towards a T2) with a powerful 4-man deathball. As the game slowed down MVP, ever comfortable with risks, entered the rosh pit before 12 minutes. Wings were able to sniff it out with an orb, but MVP were able to take a solid 2-4 fight. However, ever aggressive, MP's invoker ended up in a 1 on 1 with Puck that he lost with some help from a rampaging Warlock golem. MVP, undeterred after a scary fight, immediately returned to the Rosh pit and were able to put an Aegis on QO by 14:30.
Wings showed the flexibility that is so representative of a top team, absorbing the body blows thrown by MVP and repeatedly grouping up to push towers. Shortly after they were able to brutally abuse a chokepoint to find their first dominant team fight of the game with a 3-1 trade, leaving MVP on the back foot.
Wings were consistently able to find kills on MP's invoker, leaving MVP's midlaner perpetually underfarmed. As the game progressed MVP began to look rudderless, unable to start the snowball that is so characteristic of their wins and lacking the ability to lean back and farm to grind out a slow win. Wing's disciplined Dota quickly started to pay off when they were able to turn a 3-2 teamfight victory into a Rosh and a significant advantage at the 26 minute mark. By 29 minutes it looked like the teams had swapped, as Wings casually dove into MVP's base on their way to a T3 tower and rax bot. Minutes later, Wings were able to take a crushing 4-1 fight, mid rax, and a 32 minute gg.
Game Two
Game 2's draft was classic MVP: 5 melee heroes (including a Spirit Breaker and Ursa!) and an obvious plan for a facerush-style fast game. Wings responded with a relatively standard draft that featured tournament-favorite heroes like Elder Titan, Faceless Void, and Batrider.
The game's first two minutes were quiet, but MVP got rolling quickly after that. They found a first blood mid, an immediate follow up with a classic 17% bash in their jungle, and then a kill under Wing's T1 mid in quick succession.
By 7 minutes MVP had found 7 kills, with the majority of them at or beyond their opponent's standing towers. However, they seemed to be so absorbed in their aggression that at 8 minutes they hadn't even bothered to upgrade their courier (Wings was late as well, not upgrading until the 5 minute mark).
Wings began to find their footing at 10 minutes when an ill-fated attempt on Juggernaut lead to a pair of deaths for MVP's BH and PA. However, MVP were able to maintain a farm lead (helped by an 11 minute rosh and a pair of towers) and kept the initiative by snagging Wing's T1 mid. What followed was an entirely expected series of events, where MVP ended up picking an over-aggressive fight by Wing's T2 that lost them the Aegis and 3 heroes for Wings 2.
From there Wings began to take charge of the game, finding picks on Bounty Hunter, then PA, and then SB with an
amazing
stomp by iceice during charge to secure the kill.
Once Wings took charge they were never really willing to yield. With perfect teamfights and the bashgods on their side, they took an 0 for 4 at MVP's T1 bot around 21 minutes and rolled on from there. MVP were able to take a desperation rosh shortly thereafter, but with Wing's ability to dominate teamfights an extra life for one of MVP's heroes wasn't a particularly large concern.
From there, there were several engagements that looked like they might be game-ending, with each fight worse for MVP than the last. Wings looked to close out the game with a
beautiful
teamfight where ET barely survived a 4v1 gank on the back of his ghost scepter and gave his team a perfect 3-0 fight and top rax. In the ultimate humiliation, Wings took a fight at Rosh that involved Faith 1v3ing MVP, surviving, and giving Wings bot rax. From there, there wasn't much left for Wings to do. After gathering up and grabbing some items, they walked through MVP to claim a top 3 spot at TI6.
Evil Geniuses vs EHOME
"USA USA USA USA USA!"
"EHOME EHOME EHOME EHOME!"
The chants roared from the crowd, loud and furious, rattling the rafters of Key Arena in support of each team, competing for supremacy as if decibels decided the outcome. Defending champion Evil Geniuses took the stage against upstart EHOME in the second winner's bracket semifinal of The International 2016. The North American side was peaking at the right time, reaching new heights as a team right as the competition heated up in the biggest tournament of the year. Still, there was a perception that EG was still an underdog when matched against EHOME. The Chinese wildcard team had looked dominant throughout groups, topping its own and continuing the momentum with a quick dismantling of Alliance in its first playoff match.
Legendary captains, veteran carries, superstar supports, mercurial midlaners, and "old" offlaners faced off for a guaranteed spot in top 3 and a crack at Wings Gaming for a finals appearance.
Game One
EG fed 5 early kills to the safelane Timber/Warlock and jungle Beastmaster of EHOME, and lost the T1 tower by 6 minutes. The dual aggro lane of Axe/SD was unsuccessful, but the rotations of SumaiL's Mirana and Universe's Void responded. EHOME maintained their early advantage, rotating the 1/3/4/5 combo to take the radiant safelane T1 by 9 minutes. A disastrous mid T1 defense from EG ceded four more kills. With iceiceice's Timbersaw popping off, EHOME had won the early game.
EG then lost control of the radiant jungle, and EHOME used the map dominance to maneuver themselves into a fast bottom T2 take followed by an Aegis pick-up. EHOME smoked through the radiant secret shop, behind the top T2 to take SumaiL's life and the final two T2's. As the timer hit 18 minutes, EG's highground defense was tested for the first time. Old chicken overextended with the arrogance of a second life, and Universe responded with a perfectly placed Chronosphere. At the end, four EHOME heroes fell, the Aegis was downed, and EG managed to extend the game.
EG began to take back map control with multiple core pick-offs in the midgame, delaying the second Roshan take with timely Ice Blasts. At ~27 minutes, Juggernaut finally claimed another Aegis, but it was still SumaiL's Mirana that was topping the networth charts. The Aegis yielded naught but farm however, upon its expiration, EG smoked through their own Ancients, taking down the carry of EHOME and transitioning with blistering pace to the dire mid T3. EHOME bought back and successfully defended their barracks.
Past 40 minutes, the BKB on Timbersaw gave EHOME a major edge. The Anti-Environmentalist ripped through EG's squishy supports, securing a third Roshan and giving the Chinese team a real chance to end the game. Evil Geniuses kited out the BKB's, buying back on multiple heroes and finally turning the tides of the fight behind the burst of SumaiL's Ethereal-Dagon combo on the then-defenseless cores of EHOME. Again, an uneasy equilibrium had been achieved.
Another combination of radiant ultimates resulted in the death of iceiceice, and EG took the minute timer as an opportunity to illusion siege the open mid rax of EHOME, taking the ranged and backing off safely as the Timbersaw returned. EG camped the dire secret shop, and were caught out in a disadvantaged fight right after the fourth Roshan spawned. EHOME took another stab at EG's bottom rax, but were repelled by more buybacks, only to come back later and claim the first melee.
Smelling blood, EHOME swarmed the middle lane behind the refreshed Chaotic Offering, but EG punished the over-extension of EHOME's cores with well-chained disables. The pendulum of momentum swung wildly back-and-forth as the lives of cores were traded in the middle lane. EHOME was finally forced to cede objectives as the team saved their carry's buyback, for a potential advantage later on.
It was that small edge in an eight-buyback teamfight that gave EHOME megas, with cooldowns and heroes being refreshed, dragging the fight across the radiant base and giving EHOME a seemingly decisive advantage. EG barely held the T4's with triple Dagons, blowing up EHOME cores and neutralizing the push. The home team made a final death march down the middle lane, unable to equalize the objective count but baited EHOME out of their base.
Again, an epic engagement ensued, stringing from the dire T3 all the way back to the radiant Ancient where old chicken's Juggernaut made a last-ditch effort to end the game. EG masterfully kited out EHOME's cooldowns and killed the enemy heros one-by-one. Universe ended the game with a Rapier in his inventory, bashing down the buildings and the remaining EHOME players, successfully completing EG's comeback and cementing this game as one of the best at The International 2016. The chants from the crowd afterward said it all:
"HOLY SHIT, HOLY SHIT, HOLY SHIT"
Game Two
EG and EHOME entered the second game in the series with similar drafts to the first. Neither team saw issue with their strategy, and as such, both of them seemed destined to butt heads again. EHOME made the first strategic adaptation, responding to the Drow Ranger by offensively trilaning against it. EG's strong supports reign supreme however and secure the safelane with first blood, forcing the Warlock into the radiant jungle. The true goal of giving the Axe space proved successful, and he was the top networth hero at ten minutes.
EG's early game rotations were superior, using the strength of the Drow aura to bring down the Timbersaw multiple times. Only the Axe was able to provide a response for EHOME, using his freshly minted blink dagger to take PPD's Shadow Demon off the map. EHOME the began to five-man, smoking in the trees beside the dire T1 and looking for an engagement. Ultimately, however, a clutch Disruption countered the Berserker's Call and Universe's Chrono secured three kills for EG.
Another fight broke out around 20 minutes, and again the only hero to die for EG was the Medusa, now topping the gold chart. Without a clumped fight from EG, EHOME largely lacked the damage to kill multiple heroes through the Disruption. Still, EHOME's early timings kept EG from pressing any advantage, keeping Roshan alive and stalling the push that defines the Drow Ranger playstyle.
The midgame was centered around the 'sphere. EG's vastly superior teamfight won fight after fight, finally securing Roshan. The siege began at 36 minutes, SumaiL's Medusa begun standing in front of the tier 3, with Aegis and Shadow Demon as his insurance against death. EHOME jumped, and EG swiftly brought down the Axe and Timber. The mid barracks fell, and EHOME made one last ditch effort to repel EG, but fell short. GG was then called. EG are top three, and are now only two series away from repeating as champions of The International.
Recommended Games
The Current Bracket