Main Event - Day 2
The International 2016 has been full of surprises thus far, and today has been no different. After another epic day of games, Dota 2 fans around the world will have to say goodbye to Team OG and LGD who will unfortunately join the four teams evicted on day one. If you asked anyone if these two teams would be eliminated this early before the event began, the majority would probably say no, however, TnC and Digital Chaos have been playing some amazing DotA lately so their wins today have been more than deserved. To some this may be an upset, but to others it just seems like it's the time to shine for some new blood, and TI6 is proving to be all about teams shining that may not have had their chance to do so quite yet. The International 2016 is shaping up to be an amazing event, and it still has a long way to go before the Grand Finals come this Saturday!
Lower Bracket
TnC Gaming vs Team OG
Game One
OG vs TnC's draft showed us some familiar faces in a much-contested Drow pick, which went to OG, and two playoff MVP heroes for TnC in Axe and Elder Titan.
The game got off to a comical start that ended up representing much of the early game when Fly attempted to suicide to neutrals uncontested in order to get back to base and was sniped by a clever Eyyou with an Elder Titan spirit. Much of the rest of the game went similarly: OG attempted to play their standard, controlling Dota but TnC managed to worm their way through cracks in OG's armor to divide them, pick them off, and ultimately outplay them.
OG looked reasonably comfortable early game: they were pushing at TnC's t2 mid at 9 minutes with what looked like an unkillable deathball, took out all of TnC's outer towers by 12 minutes, and had 3 of the 4 top network heroes (with a comfortable lead over Phantom Lancer in fifth). However, TnC found repeated pickoffs on Fly and N0tail and repeatedly won the smoke-positioning wars with multiple 3-1 or 4-1 engagements in their favor.
There were some moments in the midgame where it looked like the game would take on the character that many of us expected, with OG back in the drivers seat. However, OG took a hugely disastrous fight at around 27:30 where they ended up losing 4 just to kill a mediocrely-farmed Phantom Lancer. Sam_H, after a rough early start on his Axe, began to redeem himself with a crucial call to pull Moon out of a chrono followed by a 2 man call that secured the teamfight for TnC.
As the game continued, a familiar pattern emerged. OG was comfortable when grouped up and taking head-on engagements, but TnC was disciplined enough to wait patiently for the positioning that they needed to repeatedly shut down OG. TnC had some nice lategame plays (including a massively ballsy 1v5 by Kuku's PL that gave TnC top rax without a death), but once they seized control of the game they never really lost it. They absolutely earned their game 1 win versus one of the favorites in the tournament.
Game Two
Game 2 started off with a bang with an early Drow from TnC and a last-pick huskar (as well as an entirely blue/purple lineup on the radiant!). OG went for the vintage io/tiny combo, with n0tail playing the larger side of the deadly combination.
TnC scored an early first blood (off camera) on Miracle's Ember Spirit, but quickly fell far behind with a sloppy start. OG found picks, took objectives, and after a 3v3 teamfight bottom that gave Fly's Ogre a double kill, looked like they had an easy game 2 in the bag. By 11 minutes, OG was up 7-2 in kills and had a remarkable 5,000 gold networth lead.
TnC seemed unable to pull it together, taking what looked like their first favorable engagement top at around 13 minutes when Sam_H landed a great chrono, but TnC lacked the DPS to finish and lost the engagement convincingly.
OG must have felt as assured of victory as this humble writer, because what followed for the next 45 minutes was an absolute disaster.
TnC took a sneaky rosh at 14:30 with OG reacting only when it was done; they lost the ensuing fight but found their first solid fight of the game past their T2 mid at around 19:30 with Sam_H landed his second great chrono of the game. The chrono saved Kuku's Huskar with just a sliver of health and, with an excellent venge swap, allowed Kuku and then Raven to clutch out the fight. Miracle played cocky against a Drow with sniper-like gusts, securing TnC a critical kill.
For the next 40 minutes, TnC repeatedly clutched key fights in a remarkable showing after such an awful drubbing early on. By 54 minutes, the game felt entirely even, even if the networth didn't reflect it. TnC's superior hard control of chronosphere was held back only by the thread of an io/tiny backdoor.
Honestly, it's hard to do the scale of the comeback and storyline here justice. TnC, the first Pinoy team to qualify for The International in years, managed to 2-0 one of the favorite teams in the tournament and knock out the 2-major winning OG. They showed remarkable discipline and the ability to play on in what looked like a sure defeat. The series is absolutely worth a watch, and does a great job of showing why we as Dota fans love The International.
Digital Chaos vs LGD
Game One
DC started game 1 with an interesting draft that featured both the early killing power of a Disruption + Torrent + Sunstrike combination and the lategame staying power of a farmed core Naga. They pulled off to an early start with their combination, and W33 was able to hold his own against a strong Maybe TA.
The first 15 minutes of the game featured a couple of sloppy plays (notable is a missed impale by Moo on Xiao8's batrider top) and some unlucky events for DC (W33's sunstrike being split with a neutral creep, denying him a kill). But for the most part, it showed two disciplined teams who were both determined to control the pace of the game.
LGD took a nice fight at the Rosh pit at 20:30 that gave them a pair of kills and an aegis, but their problems started soon after. While they had some control over the game, they didn't have the ability to force the fights that Maybe's TA needed in order to snowball the game into a victory. Instead, they piddled into the 25 minute mark with only a couple of teamfights and gave DC the slow game that their Naga needed. The next 5 minutes contained no kills at all, and allowed Naga's farm lead over TA to slowly but surely grow as Naga's ridiculous farming efficiency with radiance showed through.
LGD was able to show a bit of fight at around the 34 minute mark when Xiao8 was able to use his BKB to land a kill on Moo (and shortly thereafter a kill on SD as well). But DC were able to slow the game back down just after that (with the help of an incredible sunstrike snipe by W33 while taking rosh at around 36:45).
A few minutes after the rosh, Xiao8 seemed to snap. LGD knew that they couldn't allow the game to continue at the pace that DC was setting, and attempted to force a fight top. DC swatted away the attempt with minimal effort, not even needing to use Naga's Sleep in the last fight of the game: Maybe's TA died without buyback and LGD gg'd out.
Game 1 was certainly a change of pace after two thrilling lower bracket games in TnC vs OG, but it showcased DC's critical ability to grind out a win when they need it most.
Game Two
Game 2's draft came with dual surprise last picks: DC picked up the little-seen Gyrocopter, and LGD responded with a tournament-first Necrolyte.
There were times where both teams strategies seemed non-obvious: LGD's tower-pushing lineup lost multiple early towers to DC, and DC seemed unable to harness the power of timber or find critical track-gold fueled pickoffs.
As the game slowly progressed both teams seemed to be comfortable playing for the slow, grind-focused win that are an elite team's bread and butter during critical elimination series. The game wasn't absent some excellent plays (Misery's remarkable body-block of Xiao8 top, followed by Xiao8's ridiculous surivival, comes to mind).
At times it looked like LGD was angling to move into the driver's seat and take some serious towers on the back of Necro's hero-deleting ability, but 35 minutes into the game neither team had a particularly dominant edge.
DC finally took the edge they needed with a crucial teamfight around 39 minutes that took out both DK and Necro and gave them their first rosh of the game. They capitalized on this several minutes later with a push that got them LGD's T3 bot. While Wyvern had a clutch cold embrace and ult that kept DC alive, Moo's dive on Timber quietly gave LGD's creeps a ranged rax mid at the same time.
After a slow couple of minutes, DC tried to find a pickoff with a cheeky smoke all the way into LGD's base bot. For a minute it looked like they wouldn't find much, but they turned the smoke into a free glyph use and then a BM pick (with no losses thanks to some excellent Wyvern saves).
DC played off this carefully and confidently, backing to take an aegis and returning to radiant's bottom tower for a fight. While LGD was easily able to pick off Gyro, he was back in the fight 3 seconds later after reviving from Aegis. DC were able to peddle this into two kills on BM and DK, as well as a full lane of rax. From there, there wasn't much left for LGD to do: DC moved mid, then top, and by 55 minutes they had obtained mega creeps.
LGD were able to muster the resolve for one final attempted push down mid, but a perfect Wyvern ult gave DC a win in the fight and eliminated LGD 2-0.
Moo's mom cried.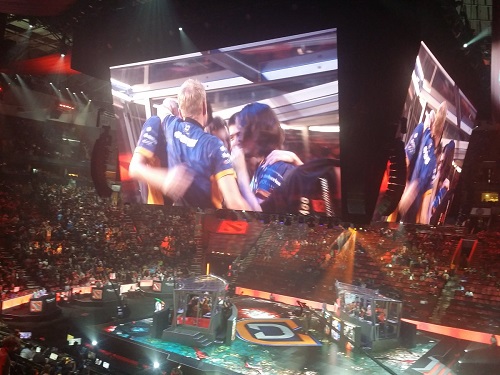 DC on the main stage. Photo courtesy of LiquidDota
Upper Bracket
During the first day of the TI6 playoffs, we saw some of the best games of Dota we've seen in quite a while, so the expectations for day 2 were very high. As the day progressed, however, the relative skill levels of the teams in the upper bracket quickly became clear.
Alliance vs EHOME
In the first series of the day, we saw two struggling teams face off. For Alliance and EHOME, the group stage of TI6 was a way of proving themselves worthy of being at the event. Alliance were, as Akke said in a pre-game interview, "sad and disappointed" that they did not receive a direct invite. For EHOME, an invite wasn't as expected, as they had had a difficult time adjusting to their new roster. They definitely have the players to make a deep run at TI, but so far have consistently failed at winning, or qualifying to, just about anything in since Shanghai. But you know the rest of the story. Both teams surprised the Dota 2 world in the group stages, with EHOME even winning their group after coming out of the wild card qualifier.
While the teams' stories might be similar, their in-game performance in this best of 3 turned out to be as different as night and day. Over two games, EHOME completely decimated Alliance with great decision making, and some of the best support play we've seen at this tournament from Fenrir and LaNm.
In the first game of the series, Alliance drafted a seemingly strong lineup, with Loda on the Drow Ranger and AdmiralBulldog playing Bristleback. EHOME decided to counter them by going for a strategy building off of mass magic damage from a Sand King, a Mirana, and a Veil of Discord on Undying, backed up by the physical damage of Juggernaut. Alliance pretty much got the start they needed, as most of EHOMEs pickoffs early game killed the two supports of Alliance, while Bulldog farmed at an incredible rate, finishing his Crimson Guard in 12, yes 12, minutes. The Swedes were poised to secure a quick game 1 victory, but EHOME didn't get that message. Thanks to a standout performance on Sand King by eLeVeN, EHOME brought the game back. With Mirana's double Starfall almost one-hitting Loda, there was not much Alliance could do, aside from trying to regroup for game 2.
In game 2, EHOME's game plan was fairly straightforward: They simply needed to disable Alliance to death. All five of their heroes (Sand King, Elder Titan, Shadow Demon, Sven, and Mirana) had stuns, and boy, did they use them. Alliance tried to counter by drafting Lone Druid and Batrider, comfort heroes for Bulldog and s4, respectively. But once again, eLeVeN showed us some great play on the Sand King, as he created an incredible amount of space with gank after gank. This, paired with the initiation power of the Shadow Demon, let EHOME cruise past Alliance.
Evil Geniuses vs Newbee
In the other Upper Bracket series of the night, we saw no less than 7(!) former TI champions go up against each other, in a fight of the titans. And what a series we got. In the first game we got the pleasure of seeing SumaiL's Storm Spirit demolish China once again. But that doesn't mean that game 1 was an easy game for EG. They were down 9-1 in kills after 15 minutes, and the Chinese fans could smell blood in the water. Unfortunately for Newbee, only one of these kills were on heroes that actually mattered. The rest of Newbee's kills were on the two supports or on the Batrider—heroes one would expect to lose. As a result, Fear basically got his lane all to himself, allowing him to end up with a GPM of 600. His counterpart in Newbee, Hao, finished with 481 GPM. Meanwhile, SumaiL recovered admirably and started balling out of control, ripping apart Newbee's back lines in fight after fight. The MVPs of the game were, without a doubt, the supporting cast of EG who created space and kept their cores safe time and time again.
Then we have game 2… what do you even say about a game like that? It was a 70 minute slugfest with enough changes in the graphs to make even the most experienced rollercoaster rider a bit queasy. One minute, Newbee would seem to outfarm EG, and the next, there would be a teamfight that changed everything. And just as in game 1, the supports of both teams played an extremely big parts in the outcome of the match. ChuaN got assigned to the Oracle, a hero that has done quite well in the tournament; on the other side, zai played the Elder Titan, another high-impact hero. However, EG had a strategy to deal with the Oracle: focus him down first. In almost every teamfight, EG forced Chuan to use False Promise on himself, which limited his utility in teamfights. zai, on the other hand, again shone bright on the Elder Titan, once juking in and out of the Rosh pit in a very impressive maneuver. In all honesty, these are just anecdotes from a great game of Dota, and you should all go watch the VOD instead of read my feeble attempt at recapping the action.
Recommended Games
The Current Bracket