Main Event - Day 1
After a refreshing two day break following the completion of the group stage, The International 2016 was back in full swing today with the beginning of the Main Event at Key Arena. Now that the Main Event is underway, the stakes have greatly increased with four teams being eliminated and two teams being knocked down to the Lower Bracket on day one alone. The battle for the $20+ million prize pool has begun, and for these sixteen teams the time to show up is now or never!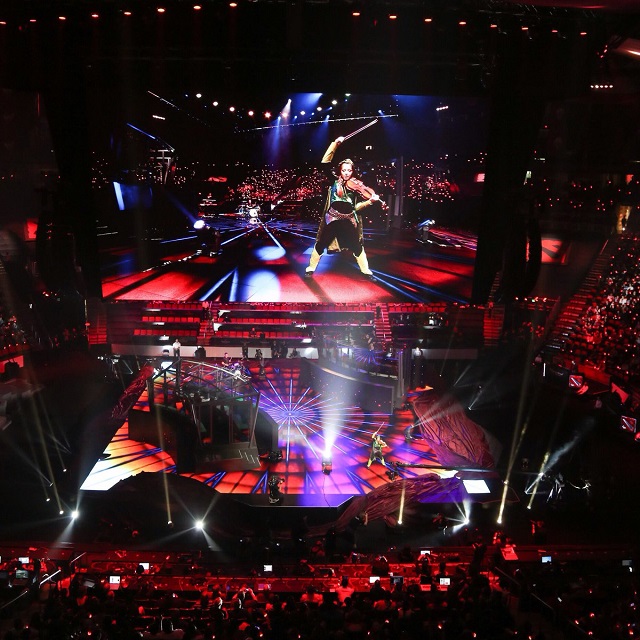 Opening Ceremony at TI6, photo courtesy of Valve.
Upper Bracket
MVP Phoenix vs OG
Game One
Any Dota 2 fan would be thrilled to watch a series between OG and MVP Phoenix. To have this match kick off The International 6 today in Seattle only added to the main event hype descending on Key Arena. Two of the most technically sound and coordinated team-fighting squads at the event, the level of play on display for the fans truly showcased what competitive Dota 2 is all about. As the two teams filed into their booths, a palpable electricity rippled through the surprisingly full stadium where thousands of fans had gathered on a Monday morning to celebrate their beloved game.
Day one of the Main event began with a bang and more than a few questions as MVP drafted five melee heroes including a carry Faceless Void while also giving up Earth Spirit and Miracle-'s Timbersaw. The early stages of the game seemed to confirm the thoughts of many viewers as the MVP side lacked damage in MP's Chronospheres, and Miracle- sliced through the Korean flanks with ease. The tide began to turn however, as MVP appeared to find their rhythm by doing what they do best; grouping up, fighting and pushing the pace at every possible moment.
Even a farmed Miracle- began to fall victim to the relentless pace set by the Koreans as he repeatedly positioned himself between team and foe only to eat a handful of bashes ala Spirit Breaker and Void, followed by a resounding critical strike from QO's Desolator wielding Phantom Assassin. In a counter-intuitive approach, the Chronospheres and MVP's hyper mobile lineup began to isolate heroes outside the purple sphere, and begin every fight with a numbers advantage before kiting and decimating Miracle- like a well orchestrated boss fight.
MVP's game plan of avoiding Miracle- until the rest of OG had fallen appeared on full display during the decisive fight at 37 minutes into the game. After Febby's Bounty Hunter broke OG's smoke, MVP baited the two time major champions into a spot where MP could lock Timbersaw in place long enough for the OG support staff to be decimated. Following the GG push one must wonder whether the last pick Timbersaw might actually have been a loaded hook, that OG bit down on a bit too hard.
Game Two
MVP, as they often did in the group stages, changed pace in game two to focus on a more farm oriented 4-protect-1 style of play. As was often the case in groups, the results were lackluster. With QO on a farming and split pushing Alchemist, the Phoenix squad looked outclassed and out-maneuvered. At one point, MP's mid Venomancer was the second lowest net worth in the game and would have stayed near the very bottom had QO not gifted him an Aghanim's far too late to have much effect.
This is not to take anything away from OG's performance in game two, however, Miracle- single handedly resurrected Outworld Destroyer to the tune of a 17/2/16 KDA. With OG's talented mid on the assassin role, n0tail methodically crushed towers on Terrorblade to expand the gold advantage. Despite their best efforts to claw back into the game, MVP's predicament became crystal clear when Miracle took on four MVP Phoenix heroes near the opposing Radiant tier 2 tower while his entire time sat on their Dire side of the river, taking Roshan and defending the split push simultaneously. Miracle- netted a triple kill for his positioning and nearly wiped the Koreans from the map before QO triggered his BKB and TPed home, only to watch his base crumble under the pressure of a insanely farmed Terrorblade.
Game Three
Despite the draft in game 1, the biggest surprise of TI's opening series had to be OG vs MVP game 3. Though OG surrendered QO's undefeated Phantom Assassin, yet again, they were also to pick a number of comfort heroes who seemed to provide a great deal more synergy than the draft presented by MVP. The Koreans broke their streak of ties by handing OG one of their most lopsided defeats ever. Forev stole the show by abandoning the offlane against KotL and Sven in favor of an Iron Talon jungle approach that netted him level nine and three kills before the 8 minute mark had even come.
The trend continued as OG were pressured into fight after fight before their Tinker or Sven had time to get anything of note. MVP took full advantage of these slower scaling cores by butchering OG in every engagement, ultimately finishing the game with over a kill per minute; a result that knocked the tournament favorites to the loser bracket with a resounding 4-36 defeat. Forev finished with 17 kills and no deaths while QO recorded ten kills and thirteen assists. MVP moves on to face Wings while OG will take on TnC in the Lower Bracket.
Wings Gaming vs Digital Chaos
Game One
MVP vs OG is a hard act to follow in terms of hype for any teams at TI6. Key Arena's crowd made plenty of noise anyway as China's highly lauded Wings Gaming climbed onto the stage. DC's welcome was no match for the Chinese hopefuls and neither was their play in game one of the series. Despite having some reasonably good fights and comfortable picks, DC couldn't seem to shut down the Wings Drow, played by shadow, who punished mistakes and quickly farmed up an insurmountable lead. With the offlane Brewmaster being a heavy factor, Wings took control of every fight and allowed Drow to pump out massive damage which transitioned nicely into pumping massive damage into the DC towers and base structures resulting in the GG.
Game Two
Game 2 brought some of the day's loudest cheers to Key Arena when Wings picked not only Pudge, but a Techies as well to round out their draft. Following some friendly wishes of fun and luck, DC proceeded to dismantle the Chinese team's best attempt to recreate a 3k MMR pub game (just jokes). While the game subtracted another hero from the dwindling list of unpicked options, Wings looked sloppy, uncoordinated and generally uninterested in closing out the series. DC rolled over the feeble early high ground defense presented by the under-farmed Wings heroes and forced a game three against arguably the world's most eccentric team.
Game Three
Not quite full of fun for the day, Wings added yet another hero to the picked pool by selecting an offlane Centaur. The mood and tempo of game three was clearly different from the Chinese side as they relentlessly pressured the DC cores with an exquisite Chen performance by iceice.
Resolution was unable to splash any magic on the squad with his familiar Morphling and Wings forced DC into bad spots, time and time again. Boasting an incredible amount of disable, especially once Innocence's Rubick got ahold of a heavily strength morphed Adaptive Strike. In the end, DC looked out classed and out communicated. Their defenses crumbled to the push and while Misery and Saksa managed to find pick offs on the tail ends of fights, the trades were never in DC's favor. With the resounding stomps of many centaur hooves, Wings resoundingly stomped Digital Chaos into the lower bracket and set up what could be one of the more mind bending series in Dota's history against MVP Phoenix on Wednesday.
Lower Bracket
As expected, the Lower Bracket was full of tension due to the kill or be killed nature of the BO1 series. Four teams were eliminated on day one, with four more moving on to the next day where they will repeat the process once again. The event is already turning into quite a blood bath, and it has just begun.
The first series of the LB was between Vici Gaming Reborn and TnC Gaming. The underdogs going in to TI6 were definitely TnC, however, after a slightly better showing in the group stage than VG.R it was safe to assume this series was going to be a nail biter. Overall VG.R got off to a great start with Axe farming up the jungle and their safelane feeding off of Sam_H who had some early troubles. In the end the Storm Spirit pick did not cause as much trouble for TnC's Tinker as they would have hoped due to DemoN's Silencer posing a massive threat. While it was back and forth for a while, Raven was slowly outfarming everyone on Terrorblade until he was eventually too much to handle. TnC were then able to steamroll VG.R's base and quickly end the game. With their win here, TnC will move on to play OG in a BO3 that is set for tomorrow.
Up next we had LGD vs Team Secret. These teams are two of the biggest fan favorites representing the East and West at the event this year. Coming into the event LGD were seen as one of the stronger teams, although they did not live up to that expectation in the group stage. On the other hand, Team Secret are a team with great potential, but due to recent performances it was hard to predict that they would do well coming in, and after a poor showing in the group stage this LB series was their last chance to finally show what their all-star lineup could truly accomplish. The game itself was epic to an extent, but fairly boring as well considering the majority of the game was a long base defense due to Secret's Alchemist/Terrorblade combo. Team Secret did not look completely out of the game at any point, and even until the final moments 60+ minutes in they could have taken the win. However, in the end with a late game rapier and some messy team fights LGD were able to secure the game. This moves LGD up to face off against Digital Chaos tomorrow to further test whether they are capable of making it as far as we thought they could.
The third series for the LB was between Escape Gaming and Fnatic. Escape were one of the wildcard teams fortunate enough to make it to the main event, which in and of itself is a massive accomplishment, but as we saw in the group stage they were not quite playing up to the standard needed to make a splash at TI6. Fnatic didn't have an amazing showing at groups either, although they are very clearly on a different playing level than Escape which was shown tonight after what was a fairly quick stomp. The TA from Fnatic had a perfect laning phase despite all odds, and from that point on they were unstoppable. The game was in Fnatic's hands the whole time, and unfortunately Escape's time in the Main Event was cut short tonight. Nonetheless, they should be proud of making it this far. With their win, Fnatic will move onto the next LB series, although their opponent will be known later on following the EHOME/Alliance Upper Bracket series.
The final series between Na`Vi and Liquid was one of the most heartbreaking of the day, if not of any TI to date. Na`Vi are legends at The International and have one of the largest followings of any team there, and Liquid came into the event as one of the top teams to the majority of fans out there. Unfortunately due to a disappointing group stage from both teams, one of these fan favorites had to be eliminated tonight. Liquid were able to show some promise during the game with a quick 36 minute win over Na`Vi. The Axe from Liquid was able to get really farmed and wreak havoc, which is slowly becoming a trend from Axe in most of the game we've seen of him. The Naga from Liquid was able to greatly disrupt the Chronospheres from Na`Vi as well, and after a few failed fights Liquid were able to safely push for the win. They will move on to face the loser of EG vs NewBee from the Upper Bracket. Unfortunately, we must say good bye to the dota legends, Na`Vi.
Recommended Games
The Current Bracket