The enigmatic western squad of particularly outspoken personalities known as Cloud9 has had an interesting year. At their best, they have looked capable of taking on the world, but at their worst have failed spectacularly. Everyone remembers their infamous loss to Team Secret in the Dota 2 Asia Championships, where they were caught without teleport scrolls and lost their base as a result. Despite their inconsistent performance, they have many dedicated fans who believe – rightly so – that they can win it all at The International 2015. If Cloud9 brings their A-game to Seattle they are capable of taking home the aegis. The hard part will be getting the everything to run smoothly.
Following recent underwhelming performances in tournaments, rumors of internal team conflicts have cast doubt on the team's chances at success this August. After their most recent disappointment – ESL One Frankfurt, where they were eliminated in the first round by Invictus Gaming after a close game – EnVy confirmed that he and FATA- fought over unspecified team issues. To some, this may not seem surprising: Jacky Mao has a perceived history of poor communication in past iterations of his team, especially when losing, and SingSing, PieLieDie, and Aui_2000 were all unceremoniously cut from the roster since The International 2014 to make way for new talent. It would seem that this iteration of the team is no different.
Playstyle
Cloud9 plays around their mid and carry more than other teams, which is saying something. Until recently, EternaLEnVy used to draft, which meant that he would pick lineups to suit his playstyle as a greedy carry. FATA- and EnVy are both focused on maximizing their farm, which sometimes leaves n0tail and MiSeRy starved for gold and levels. The tradeoff of their playstyle is that their supports are generally more aggressive during the early game than other support pairings in the west. Even though Team Secret averages more kills per-game in this patch than Cloud9 (with 15 more games played than C9), n0tail and MiSeRy average more kills per game than Puppey and KuroKy. This tendency is apparent in their preferred support picks across 6.83 and 6.84: Lion (26-11), Earthshaker (11-4), Bane (9-2), Night Stalker (6-3), and Bounty Hunter (5-3). In addition, even though there are clear trends in their support picks, they will sometimes pull out unorthodox heroes like Pugna (7-1) and Jakiro (4-3). When it comes to Cloud9's support duo their greatest weapon is their versatility. MiSeRy and n0tail can play anything, it seems, and are unafraid to bust out a surprise pick to catch the enemy team off guard.
C9's core players are, by comparison, relatively static in their playstyle and unwilling to make many drastic changes. FATA- and EnVy have a lower number of combined unique heroes played in the last two patches than their supports do, and their playstyle is relatively limited. This is perhaps where Cloud9 is weakest. Their supports and offlaner are versatile and diverse in their hero selections, while their carry and mid player are restricted to a relatively small hero pool. Whether this is a drafting choice made by the team or something else entirely is not readily apparent. Either their cores will have to step up their performance on their current heroes, or they will have to diversify their picks and come up with new strategies.
When playing from behind, bOne7, MiSeRy and BigDaddyN0tail have to protect their mid and carry at all costs, or create pressure by ganking the enemy jungle with heroes like Nyx Assassin and Skywrath Mage. Cloud9 will often try to smoke and take Roshan at roughly the 12 minute mark, regardless of whether they are behind or ahead. This can lead to disastrous teamfights which either throw away their lead or make the enemy team's lead even greater. Cloud9 do generally not have a favorable history around the Roshan pit, but going in as a team to sneakily kill Roshan early is sometimes their only way back into the game. When all else fails, Cloud9 will resort to their old split-push style, avoiding teamfights and pushing lanes where the enemy is not. This can be easy to punish with the right heroes, but all of Cloud9's players have great map awareness and know their limits. Their ability to split-push safely and avoid punishment can make them incredibly difficult to play against in long games, but it means that the supports quickly become starved for items and farm as farm priority is shifted exclusively to EnVy and FATA-.
Achievements
Cloud9 has a rough history when it comes to tournaments - because of their tendency to consistently come in second in seemingly every tournament they play, they have gotten a glimpse of victory many times, only to ultimately fall short. While a worldwide second place ranking is nothing to be ashamed of, they have yet to experience a major victory. In 2014 they won two small tournaments for a combined prize pool of $8000 USD, but came in second 10 times (9 times as Cloud9, once as Speed Gaming.INT).
Unfortunately for their fans, Cloud9 have failed to take a tournament this year. Their best results were a second place finish in DotaPit and two third place finishes - one in Starladder Season XII and another in the MarsTV Dota 2 League. They placed 6th – 8th in the Dota 2 Asia Championships, The Summit 3, and ESL One Frankfurt. If this roster continues its trends in 2015, their result in The International could be a disappointing one, given the roster's potential for excellence.
C9 vs. TI
Going into the event, I wanted to know exactly which teams Cloud9 had the best record against, and who they struggled with. Thanks to
@NoxvilleZA
(who will be doing official stats at The International this year) I was able to get the data I needed for Cloud9.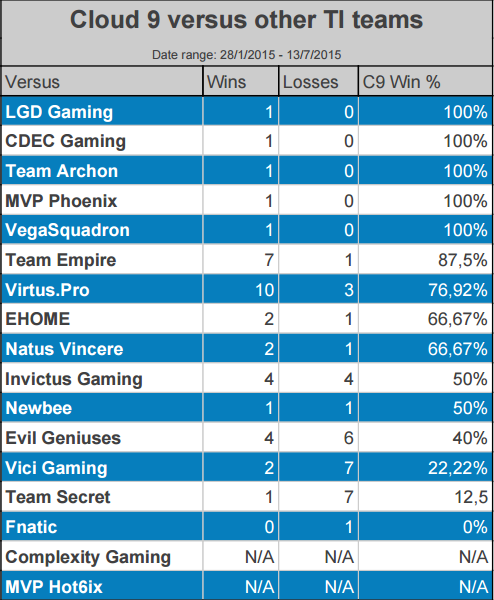 As you can see, Cloud9 perform best against the CIS-region teams Virtus.Pro and Team Empire. Considering that both of these teams have been looking strong for most of 2015 so far, this is an impressive feat. In crucial games, it would probably be best to put your rares on C9 to win a matchup against either of these teams, based on previous history.
On the other side of the coin, EnVy and co. should pray that they don't meet Team Secret or Vici Gaming, because their stats against two of the favorites going into the event are frankly terrible. Of course, given that Vici Gaming and Team Secret are two of the best teams in the world, losing to them wouldn't be too shocking, but if Cloud9 come up against either of those teams in an elimination match, it would be inadvisable to bet on Cloud9 to come out on top.
Finally, in the middle of the pack, Cloud9 and Evil Geniuses are split 40/60 after their recent battle in the DotaPit Grand Finals, where C9 looked simply outclassed. There's something to be said about the importance of results taken from an online tournament, but the fact remains that EG seem to have C9's number right now. Other notable recent games between the two include those from The Summit 3, where Evil Geniuses lost their first series against Cloud9 0 to 2, but then came back the next day to win 2 games and lose only 1 against their rivals, sending them forward to the playoffs and eliminating Cloud9. If EG and C9 meet in a crucial match, it is difficult to say who would take the win. Both teams will have to work for it, but at the moment Evil Geniuses seem to have the advantage.
Why Cloud9?
It would not be an understatement to say that Cloud9 have a tough road ahead of them at The International 2015. Their results for the last year have been shaky at best, and they have an overwhelmingly terrible record against some of the heavy favorites to win it all. They are a team that is willing to try anything, since nothing seems to be working very well for them. With internal issues plaguing the team and many viewers speculating that a disband is imminent, Cloud9 have the world against them. However, something about the team makes it impossible to fully count them out of the running. Their spirit and dedication to advancing forward at any cost makes it hard to dislike them. EnVy found his place in competitive Dota 2 with No Tidehunter, a team that kicked him and went on to win The International 2013 while he didn't even attend the qualifiers. In 2014 Cloud9 placed 6th after losing to Vici Gaming, who went on to place 2nd in the event. After making so many strides forward in the last few years, it seems unlikely that Jacky Mao will go gently into that good night – instead he will try to drag his team to victory whether they like it or not.
Players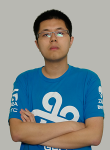 EternalEnvy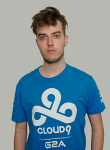 Fata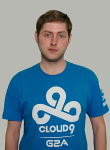 Bone7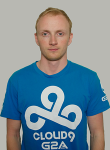 Misery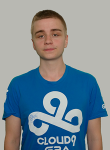 BigDaddy
Click the player images above for more information
---
CREDITS
Writer: Turbo
Editor: Julmust, tehh4ck3r
Graphics: Cloud 9 Official