Main Event Day 1
Upper Bracket Preview
The grandest event in the history of Esports is set to begin in merely 24 hours. Hanging in the balance of the first day lies the coveted position of one of the finalists, who will spend the next two days from a position of strength, keenly eyeing the rabble below, preparing for their would-be challenger on the final day.
The four teams that have gathered in the upper bracket are set for a melee among royalty, these lords will fight the last duels with a shred of civility in the upper bracket before the unfolding three days of desperate struggles and broken dreams.
You take the High Road;
and I'll take the Low Road
Newbee vs Vici Gaming is an example of an upper bracket matchup that was never "supposed to" happen, which just goes to show how little worth "supposed to" actually is. This the fight between the top finisher of the group stages and the underdogs who battled through fire and ice from the bottom of the group rankings. Let's take a bit of time anyway to quantify this a bit.
DK, iG, Newbee, and VG are the big four chinese teams. Over the course of 2014, they've played a total of 145 official matches between themselves. Coming in third and fourth in overall win rate for these matches are VG and Newbee, both hovering near 45%. Incidentally, it's not surprising that VG selected Newbee as their opponent over DK, as VG has a 7-15 (.318) record vs DK this year compared to their 11-6 (.647) record vs Newbee.
In any case, VG took the short cut to the upper bracket by simply playing conventional and consistent Dota throughout the group stage, leading to a 12-3 record and #1 seed. Interestingly their three losses were against EG, Cloud 9, and Na`Vi, the only remaining western teams. Perhaps this represents a weakness in understanding western playstyles, but depending on how the brackets play out, it's entirely possible this weakness will never come up again.
Newbee, on the other hand, took the long way to get here. They struggled to a 7-8 finish due to some close losses, but they swept the three-way tiebreaker to stave off elimination. In the next round of playoffs, Newbee played three best-of-three sets in a row, winning them all including an upset of top 4 favorite iG, and by running that gauntlet Newbee secured their spot in the upper bracket.
I admittedly find these teams to be the hardest to describe strategically, but in some ways I see them as more refined versions of LGD, particularly in the emphasis they place on taking early towers. At the same time, they're both capable of playing a more well rounded game. That being said, one of the most interesting facets of this series is how similar some of the hero preferences are between the teams.
Team Preview: The Final Fantasy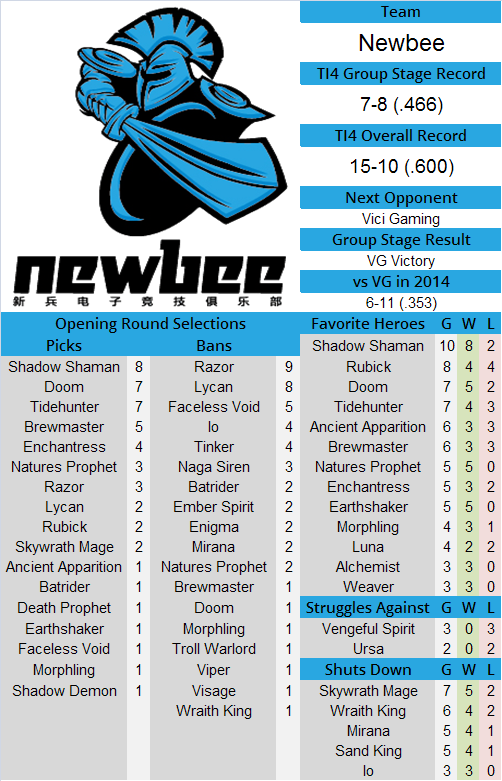 To the Summit of every Mountain; toward the Radiance of the every Star
More than anything else, Newbee loves that
Shadow Shaman
. Other sources of push they'll leap on given the chance are Enchantress, Nature's Prophet, and of course
Lycan
. Newbee has the most
Enchantress
games of any team in the tournament, and they also have the best
Nature's Prophet
record of the tournament at 5-0. Also of note but not making the cut for the chart, Newbee has a perfect 2-0 record on
Death Prophet
.
Aside from that, they place a lot of value in grabbing a form of a big CC ult early, with 20 of their 50 first round selections being split between
Doom
,
Tidehunter
,
Brewmaster
, and
Faceless Void
.
As for carries, they're willing to play previously nerfed heroes that a lot of other teams have dropped, such as
Luna
,
Alchemist
, and
Weaver
. They also have an affinity for
Morphling
.
On the support side of things, their best performing hero is
Earthshaker
.
Try to keep those heroes in mind as we move to VG...
Team Preview: Chained Giants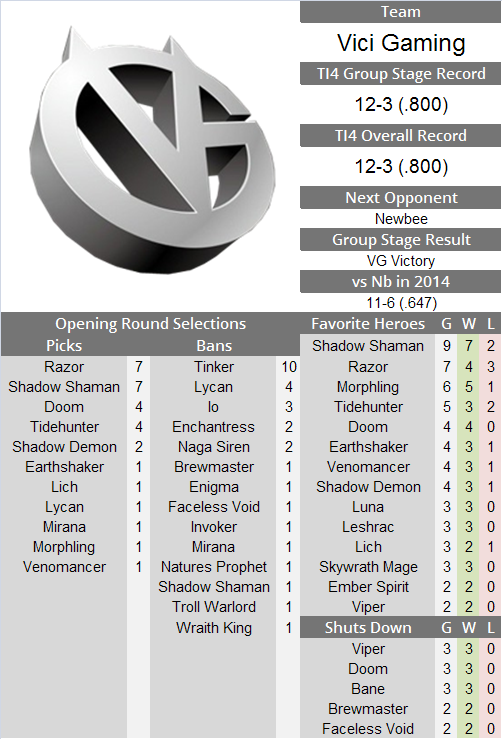 The Dreams of Youth; with Pride they will Conquer
Most common hero?
Shadow Shaman
. Grabs
Doom
whenever possible. Other favored carries include
Morphling
and
Luna
. Preferred support is
Earthshaker
. If you have a sense of Deja Vu at this point, well, no one would blame you.
VG does have some unique quirks of their own. They have the most successful
Leshrac
play of the tournament with a perfect record on the hero and more wins with him than all other teams combined. And when they grab Leshrac, they often look to bring around
Shadow Demon
to create the roaming power duo. They also have an unusual pick for their offlaner in Venomancer, but it's certainly worked out for them. VG is 3-1 with
Venomancer
this tournament; every other team is a combined 1-8.
Also VG
really
hates
Tinker
, as they banned him in 12 of their 15 games.
Verdict:
VG has had Newbee's number in the past, and I expect it will continue in this series. One possible wrinkle is whether VG's remained sharp through the long break since their last game. Newbee may still be riding high off their success in the gauntlet, which could provide a psychological edge.
The Impetuous Youth challenges the Steadfast King
On one hand, this is another battle of similar playstyles. EG and DK are the two most flexible teams remaining, capable morphing effortlessly between different compositional strats, and unafraid to champion heroes ignored by the rest of teams in completely unexpected fashions.
On the other hand, the two teams couldn't be more different. EG's players are the brash newcomers, representing a region that has never made significant headway in the placements at previous Internations. DK on the other hand are the old guard, with rumors stirring of multiple players facing retirement regardless of this years outcome. A loss doesn't mean elimination for either team, but it does mean that the path to the ultimate goal has suddenly become much harder.
DK has the slight edge this year, but only over a miniscule set of nine games. EG boasts the more significant victory with a 3:2 win over DK in the finals of the Summit, so their match history is pretty even overall.
Team Preview: Out of the Ashes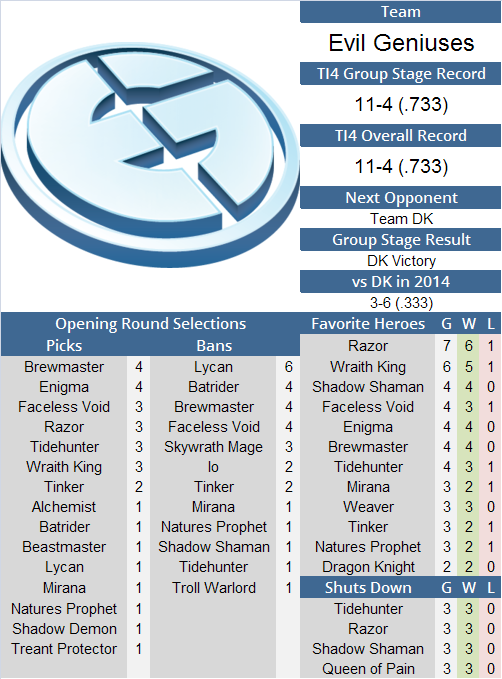 To Grasp Destiny with your own Hand, though the World may be against you
EG's opening picks are all over the place and extremely difficult to pin down, but they tend to favor grabbing a big CC ultimate with 11 of their 30 first round picks split between
Brewmaster
,
Enigma
, and
Faceless Void
.
It's common knowledge at this point that EG has by far the most successful
Razor
of the tournament. What might be less obvious is that they also have the most successful
Wraith King
. He tops their list of supports, with
Shadow Shaman
close behind.
Like Na`Vi, Tinker has to be in your mind when drafting against EG, but perhaps more interesting was EG's competent use of unconventional picks
Necrolyte
and
Omniknight
. The ability to design team compositions around these otherwise ignored heroes makes it extremely difficult for opposing drafters to know what to expect.
Team Preview: The Perfect Storm[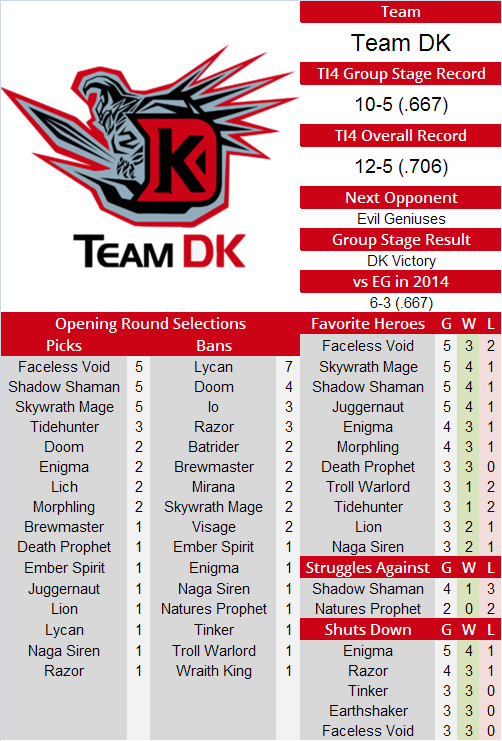 Upon the Path of the King lies only Victory
DK play this tournament has been that special kind of erratic that makes it hard to write off anything as a failed experiment. The first day of the tournament, DK had a narrow loss to their rivals iG in a 50 minute game that featured a rare
Troll Warlord
and an otherwise unheard of
Tusk
. Despite the loss, DK lost no faith in either hero and came back the next day with a repeat pairing of
Troll Warlord-Sven
and blew out C9. A day later, DK brought out Tusk again, only this time in a bizarre 4-protect-1ish lineup built around
Antimage
and featuring
Death Prophet
and
Undying
and they made it work against Newbee.
And just to impress on you how unconventional these picks are, DK has the only Tusk games of the entire tournament and the same holds true for Sven. They're responsible for two of Undying's three picks and three of Troll Warlord's five. That Antimage game was the heroes only win of the entire tournament, he's 1-2 so far, and while Death Prophet has seen a surprising amount of play, DK is still responsible for three of her seven wins.
Another example of this heterodox drafting is
Juggernaut
. DK has run the hero five times, mostly as an extremely unconventional support but also as an offlaner. Part of what's driving this seems to be a belief that Omnislash is undervalued since the recent Base Attack Buffs the hero received, but another factor is Healing Ward. DK has done an extremely good job responding to
Tinker
picks this tournament, and two of those games featured a support Juggernaut whose Ward helped mitigate rocket spam and sustain the early pushes that robbed Tinker of his much needed map control.
DK ends up becoming a real puzzle to draft against, because while you're keeping all these frankly bizarre hero possibilities in consideration, you still have to watch out for old super-farm standbys
Naga Siren
and
Morphling
who are both ready to punish exposed lineups.
Verdict:
A complete toss-up, and hopefully the most volatile series of the four.
To the Grandest Stage
No matter which two teams we find here, we will have a feast for the eyes between those who have just secured a top three position at the International.
Will BurNIng and rotk's paths cross again, with memories of past TIs bubbling just beneath the surface?
Would the young geniuses of the East and West do battle upon each other for the future of DotA?
Perhaps we will see clash of two Chinese Dream Teams of different generations.
Or maybe we will see somebody bleed crimson red between a pair of blue teams.
---
CREDITS
Contributors: phantasmal
Gfx: heyoka, miwi^
Editors: Kupon3ss