Void in the Off-Lane
Between TI3 and TI4, there has been a substantial shift in what teams look for from the off-lane position. A good way to see what's going on is to focus on the aggregate hero usage of the off-lane specialists of the final eight teams remaining at both tournaments.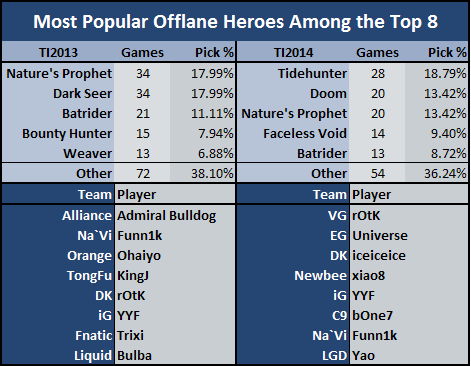 With the exception of
Weaver
, who was primarily used by teams like Fnatic in Tri-Core lineups, TI3 was dominated by low investment off-laners who could abandon the lane against strong defensive trilanes. This year we see a slightly greedier assortment of heroes, but the most noteworthy trend is an emphasis on heavy CC. Except
Nature's Prophet
, the heroes on the 2014 list are essentially defined by their CC ultimates.
Of these heroes, the big standout is
Doom
, who is tied with Mirana for the fifth most picked hero of the tournament, boasting an impressive 60% win percentage over fifty games. When looking purely at his games played by the remaining eight off-lane specialists, that win percentage jumps to 80%, thanks in a large part to performances from VG's
rOtK
(4-0), iG's
YYF
(4-0), and Newbee's
xaio8
(4-1). However, given his popularity and success, we should be seeing a lot of bans directed at him this coming weekend, so we should consider other options.
Unlike Doom,
Faceless Void
has struggled a bit so far. He's tied with Wraith King for the eighth most picked hero with 42 games played, but his record in those games is a disappointing 18-24 (.429). I don't consider Void as overexposed as
Razor
(.382), who has served as a veritable bug zapper for western drafters. Liquid (3-5), Alliance (2-4), Na`Vi (2-5), mouz (0-3), and Empire (0-4) have all repeatedly fallen for the static hum of Razor's siren song (distinct from Song of the Siren, which is another layer of hell entirely).
But there's one exception here among the western teams. EG has had great success using Razor, boasting a 6-1 record with the hero, and this is a constructive counter-example because it shows that Razor is not a bad hero, just a misused one. Using
datDota's lane tool
, we can look at Razor's record in particular lanes. What we find is that when run as a solo mid, Razor is at a respectable 16-14 (.533); when run in any other position that record drops to a miserable 13-33 (.283).
Razor's specialty in the early game is using Static Link to dominate 1v1 lanes and small engagements, but he's not much of a scaling threat like an actual carry would be. If you make a habit of sticking Razor in the safe lane, your opponents can safely ignore him like in
Na`Vi vs Newbee
where Newbee relentlessly pressured Na`Vi's Wisp-Tiny combo while their Tidehunter got enough out of the off-lane with Anchor Smash. Alternatively, you can respond to an expected safe lane Razor pick like
LGD did vs Liquid
, where they aggressive tri-laned against the hero so that he'd die midway through any link attempt. When you stick Razor mid, you're committing him to a much more reliable 1v1 versus one of your opponent's most valuable heroes, and they can either a) accept they won't find much farm b) bring a less valuable hero mid or c) commit their support to mid which creates favorable match-ups for your outer lanes. A huge portion of Razor's value as a pick is in jamming an opposing laner, and barring rare and specific match circumstances, mid is simply a more reliable place for him to work that magic.
And this brings us back to
Faceless Void.
As a hard lane solo, Void's done decently well at the tournament with a 13-9 (.591) record; in the rest of his games he's 5-15 (.250). It's easy to answer why he's suddenly working in the off-lane. Various buffs to Chronosphere have bumped up his sans-items contribution to the team, a 25% reduction in Time Walk's mana cost allows him to use it more often as an escape, and his extremely recent turn speed buff makes Time Walk more reliable as an escape.
The more pressing question is why is a hero who seems so farm dependent only working out in the worst lane for farming?
The danger to a Faceless Void pick is that outside of Chronosphere, the hero doesn't have that great of scaling early on, and if you draft too heavily around Chronosphere you risk becoming completely dependent on hitting a good Chrono. You wouldn't think it, but the
least
successful, common TI4 pairing for Void that I've found so far is
Skywrath Mage
at 4-8 (.333). There's probably nothing
wrong
with the combo, Chronosphere into Mystic Flare is certainly a potent setup, but the pairing might reflect a draft that's often too concerned with what it's going to accomplish while Chrono is up and not concerned enough about being able to accomplish something while Chrono is down.
Interestingly enough, Faceless Void's most successful pairing is
Tinker
with a 4-1 (.800) record, and it's not just one team's pocket strat as four different teams (EG, DK, Na`Vi, and Liquid) have won with it. It's not a combo you'd intuitively expect to work, but there's a certain logic to it. Few teams will be able to devote enough force to prevent both Tinker and Void from farming, and if either one gets strong early, they can create the space for the other to catch up. Chronosphere also lengthens teamfights dramatically, which is great for a hero whose damage potential depends on Rearm cycles. It's an illustration of TI4's tentative lesson for drafting around Void: diversify your portfolio.
On the flip side, there's a few heroes that Void has appeared to struggle against. The first two are
Shadow Shaman
and
Enigma
. Void is 1-5 (.167) versus Shadow Shaman and 2-7 (.222) against Enigma. While both heroes have definitely been two of the most successful heroes of the entire tournament, it's possible that their especially pronounced success against Void reflects a difficulty he has dealing with early push comps.
The other matchup Faceless Void has struggled with is the other AoE CC ult specialist,
Tidehunter
. Void has gone 4-8 (.333) in those matches, which might suggest that Ravage is an especially good spell for stuffing Chronosphere attempts. As such, Tidehunter might warrant a later round ban for any team looking to run Faceless Void. However, the match is not un-winnable as we saw today in
iG vs Newbee
. By prioritizing Tidehunter for Chronosphere attempts, iG's Faceless Void was capable of neutering his counter-initiation. Still, it might be preferable to avoid the matchup through bans when possible.
---
CREDITS
Contributors: phantasmal
Gfx: heyoka, miwi^
Editors: TheEmulator