TI4 Group Stage Day 2:
Recap and Vici Gaming Analysis
Today, Vici Gaming's play was reminiscent of their play from more than half a year ago. They came in dominating each team, not dropping a single game throughout the day, showing that they are a true dark horse to be looked out for in the upcoming matches. Right now they are sitting at the top with a record of 7-1, bringing Chinese Dota to the top like we are back at TI2.
Yesterday, we saw a bunch of surprises with teams like Cloud 9, Liquid and Na`Vi.US finishing at the top. Today things started to stabilize a little bit, and the true top dogs made their way back to the front. Team DK, iG, and Evil Geniuses are all tied for the second spot at 6-3, with Na`Vi closely behind at 5-3. DK had an abysmal start yesterday after some medical issues with LaNm, however, they went 4-0 putting any thought to rest that the old DK was no more. Alliance and Titan also made some great leaps in the leaderboards, as they both went 3-1 and 3-2 respectively, and are now edging slowly into the middle of the pack where they join Fnatic, Cloud 9, Liquid, Na`Vi.US and Newbee.
At the bottom we still have LGD, Empire, Mouz, and Arrow. Unfortunately they did not have the success stories of DK and Alliance today, and still remain in jeopardy of being cut before the next phase. Arrow did manage to not MUFC the group stage today, winning two games and erasing their major losing streak.
Vici Gaming Analysis: The Dark Horse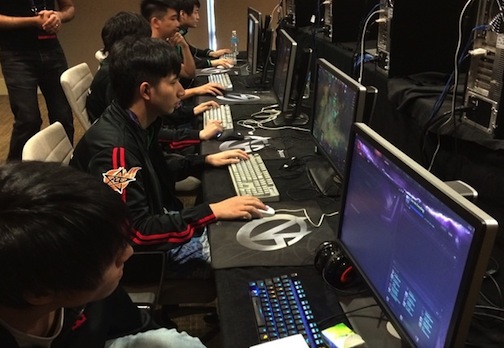 Vici Gaming are on top of their game at the moment. Can they keep it up?
Strategic Evolution
VG have several of the most individually skilled players in the world, yet if you were to poll most fans on their eventual TI4 placement, VG might scrape in 6-8th if they were remembered at all. As for being potential leaders of the group stage, it would be astounding if they were even mentioned. Yet they stand as #1 going into day 3, a heavy favorite to be seeded into the WB. Here is the journey of this underrated team, starting from the summit, dropping to rock bottom, and then all the way back up again.
7 months ago, VG was the best team in the world. They dominated a cutthroat China, and mercilessly crushed all foreign opposition at the EMS One Lan in Poland. VG's success during this period came from two central strategies: disciplined push lineups, and chaotic teamfighting/5 manning. Though the lineups differed, the play was similar. Rotk would either play a bully, most notably Bristleback, or his trademark Clockwerk to control the tempo. Fy and Fenrir continuously dual-roamed middle , while Rotk either pinned enemy supports to his lane or positioned himself to break smoke ganks on Super. As a result, Super won his lane decisively and was put in a dominating midgame position. Whether Sylar was abandoned or assisted, he acquitted himself beautifully both by staying atop in farm and executing properly in fights. Then VG would group up, take towers or Roshan, and deny their opponents space to farm.
Pugna push lineup
Alliance
(Radiant)
Vici Gaming
(Dire)
VG ran Pugna dual-core pushing lineups better than anyone else, mostly thanks to their impeccable formation, solid drafts, and rigid discipline. Though they later gave up this concept after pushing was nerfed in later patches, VG's near undefeated record with this plan is a testament to how ruthless their play could be at its best.
Chaotic Teamfighting
Invictus Gaming
(Radiant)
Vici Gaming
(Dire)
VG's other primary successful strategy is difficult to label, as it combined strong midgame fighting with a reliable lategame and unpredictable movements. Sylar was given a self-sufficient laning carry like Gyrocopter or Weaver, while Fy and Fenrir devoted themselves entirely to winning middle. Super's preeminence would then drown opponents just from the threat of solo or dual pickoffs with Fy or Rotk. VG effectively utilized their map control to take towers and Roshan, while severely restricting their opponent's farm. Unlike the pushing lineups above, they excelled here in confusing teamfights where their individual skill and precise targeting could shine. With multiple sources of backup initiation, Rotk was not required to jump in first, and often in fights Super led the charge, letting Rotk act as an agent of chaos and disrupt the enemy formation.
Selfless Sylar, Fed Fy
Vici Gaming
(Radiant)
newbee
(Dire)
As VG struggled to cope with the changes of 6.80, they devised a system to maximize their individual talents. The primary features of this concept were how devastating Fy could be if given substantial farm, and that less space did not limit Sylar's impact. VG ran multiple cores, always had two sources of initiation, and would either retreat Sylar into the jungle or place him in a 4 man offensive movement while Fy farmed. VG had the flexibility to either 5 man effectively and rely on a double or triple BKB timing with Fy's disproportionate impact, or control the map with a global ganking threat from any of their initiators. This strategy worked very well, but VG couldn't bring it out every game, nor did they have all of their old consistency in fights. However, they did have one more solid plan, featuring the redoubtable Sylar Antimage.
Evil Geniuses
(Radiant)
Vici Gaming
(Dire)
In fact, VG are 9-4 overall when bringing out Sylar's AM, making it their clear backup plan. With how well they function as a group of 4, even when Super or Rotk play another core, it makes one wonder why they don't rely on Sylar's extreme lategame carry prowess to save the world more often. Unfortunately, they tended to fall back on Sylar even when he was not on a major lategame carry.
Summer Woes
After 6.81, VG seemed lost as a team and often made basic strategic errors. For instance here, Sylar's safelane Invoker held a massive farm advantage over everyone in the game, while DK made Super's life as Slark a miserable existence. VG had multiple opportunities to force fights, leveraging Sylar's temporary power to regain control and let Super back into the game. Instead, VG played their lineup like Sylar was a Spectre or Medusa. They made little attempt to change the tempo, instead praying that Sylar would somehow carry his team to victory even beyond the 30 minute mark. Even when it was apparent that Sylar's influence was beginning to wane, VG still didn't make the decisive smoke, movement, or Roshan that they needed. In the end, VG stood meekly by while DK controlled the flow of the game, and VG died miserably in fights to DK's vastly more functional lategame lineup.
Fenrir: "We have those games too, where we think we don't even know how we can possibly lose, then we lose anyway."
DK played reasonably well in that game, but VG's poor decisionmaking has become an all too frequent occurrence. Another blatant example occurred against Fnatic at the Summit Lan. Fnatic's unusual carry Meepo and Scythe Kunkka had flopped. The game was all but won: Fnatic was executing a hail mary push 20k gold and 2 rax behind relying on a single core Meepo and an underfarmed Mirana to beat an Aghanims Lich. All VG had to do was sit on their highground, stick Rotk's Doom on the frontlines, and save Sylar's Weaver with a force staff if initiated on.
Instead, VG had the inexplicable decision to defend their irrelevant Radiant bottom t2 tower rather than wait at base. Due to the narrow corridor, this tower is the hardest to defend in the game, and unsurprisingly, VG lost the fight in the choke point to a Disruptor ultimate and lost the game. Instead of looking like flashy fools, Fnatic's innovation and daring was praised, all because VG made an amateur error. VG somehow lost the ability to play from behind, yet they also can't always finish out won games. They don't seem to possess the rigid discipline and inspiration of DK anymore, nor the hive-mind movements and sharp ganking of Newbee. This weakness was further shown by their humiliating first round defeat to Fnatic at ESL One, going 1-2 against a Wisp-Tiny they saw coming every game.
TI4
Given their steady decline in past months, few expected VG to be any more than an average team that could put up a good fight. Yet out of nowhere they have displayed a form eerily similar to their past dominance. Their drafts are functional rather than fancy, and play to their strengths. Super appears to be out of his slump and up for contention as one of the stronger mids once given his staple heroes like Razor and Dragon Knight, while Sylar & Fy are at their best. Unlike many other top teams, they have smoothly enhanced their leads with careful aggression and a strong initiative, as well as recovering from deficits with solid formations and good movement. Their ganking is strong, as Empire.Resolution's 2-12 Storm Spirit found out, and their teamfight capability is top notch, thanks to sprinklings of individual brilliance such as a Blink-less Ravage steal by Fy's peerless Rubick.
So far in TI4 VG have used two different systems. The first is a dual or triple core farming lineup that brings out initiation in Rotk, teamfight decisionmaking in Super, and all-around excellence in Sylar. VG seems to pick from the same small support pool, favoring at least one hero with good initiation and teamfight power.
VG have finally found the perfect carry hero for the patch: Morphling. Whatever the circumstances, Sylar's Morphling has been utterly dominant this competition. He has played from behind and under immense pressure, as well as smoothly controlling games where he got fed. With Burning playing far below his usual level so far, Sylar has been the carry of the tournament, and so long as he keeps getting the right heroes, that is unlikely to stop.
The second system is a variant of their originally dominant 6.79 Pugna pushing strategy that won them ESL One. They have used several different combinations to punish teams that lack early game counterpush, without revealing their hand early in the draft. Though their pushing lineups are not allin, VG have shown their old characteristic exploitation of small openings.
This skillset was best demonstrated by their remarkable victory over Newbee, all the more so because they gave up silly deaths to start off 0-4, which would normally doom the laning phase for most teams. In addition, they did not even smoke, for the first such game in the tournament. With so many teams relying on lucky smoke rotations to create an opening versus superior opponents, VG's manly lineup smashed directly into Newbee's base at 10 minutes and took rax at 17 despite starting from a deficit.
newbee
(Radiant)
Vici Gaming
(Dire)
Though VG did not possess extreme pushing heroes like Pugna or Death Prophet, they brilliantly exploited the lack of obvious anti-pushing heroes on Newbee and their reliance on Blinks. Sylar's Prophet rushed an ultra-fast Orchid for greater dps and controlling Newbee's powerful ultimates. VG forced down 5 outer towers and took firm initiative over the map before Xiao8's Bat finished his Blink, and threatened rax when Mu's Brewmaster was 300 gold from Blink. Even though VG had little initiation of their own, the deathball power of Rotk's Venomancer and Super's Razor gave them an extra edge in any direct slugfest. Without Brew's Blink and Bat's Blink/Force, Newbee's lineup did not function as intended and could not overcome the raw power of VG.
VG entered the tournament as potential dark horses or total unknowns. Now, they are one of the major threats for a podium placement. They may not have shown the same level of dominance as DK, iG, or Newbee in the past, but they have shown the most consistency thus far in TI4, with only one game where they looked like a completely lost team. In a tournament with lots of lucky smokes and illogical results, that may be the most important ingredient.
---
CREDITS
Contributors: TheEmulator, Ver
Gfx: heyoka, miwi^
Editors: TheEmulator