We wouldn't blame you if you didn't know of Arrow Gaming before the TI4 SEA Quals, very few outside the region did. Now, after their blistering run at the event, they are an easily recognisable part of the scene. In fact, the international Dota community rallied around the Malaysians as their visas were first rejected, and then granted, thanks in part to the intervention of the Malaysian Ministry of Youth and Sports.

All in all, their non-SEA fanbase has grown by leaps and bounds since their victory in the TI4 qualifier back in May. For the most part, underdogs tend to be easy to cheer for, they allow us to be optimistic without the same sense of expectation. On top of this, Arrow has the added advantage of being somehow loveable. If their r/dota2 AMA showed us anything, it's that they're a down-to-earth team with a great sense of humour and a real love for the game.

In the end, many will be cheering for Arrow because they feel, in some way, they can identify with the team. While they do technically have a team house and they are incredibly skilled, on the global stage they are still very much the underdogs. Still, they absolutely tore through the TI4 SEA quals, and are without a doubt the second strongest team in the region, just behind Titan. Now, they are about to enter for an entirely different playing field for the first time.


Arrow are now in Seattle.
In a sense, Arrow are living the dream. Coming out of nowhere, they managed to top an entire Dota region and did so in style. As new and as young as they are, the team is heading to take on the best in the world in a series of David and Goliath showdowns with the potential for some enormous upsets.

We're not going to say that these five Malaysians have a big chance of going deep at TI4. Then again, we all remember what happened last year, when the world underestimated five of their countrymen. Maybe the mishaps of the other Malaysian team will remind them that they are competing with the giants of Dota 2.

Whatever happens, Arrow fans can be proud of one thing; Arrow came here the hard way. They proved themselves better than every other team in the SEA qualifier. No matter how they do in Seattle this week, they will be flying the Malaysian flag high, and on their young shoulders will ride the aspirations of thousands of SEA players just like them. If their targets align, and ddz flies through the midlane, they just may shoot arrow, hit arrow.
A SEA team to the core, Arrow embody everything the subcontinent has come to represent. Like CIS giants Empire, they are powered by their two main cores, and it is this one-two combination that powers them through the majority of their games.

The synergy between their two top cores however, is very different from Empire's. Empire's Resolut1on and Silent are equally flashy and are adept at running around and killing things, either alone or together. By contrast, LaNcE and ddz have very different approaches to the game. LaNcE is a safe carry who prefers staying alive and farming to getting involved in teamfights, but often finds himself sucked into mid game teamfights. Thus, Arrow will often give him a hard carry and let him ride out the early and midgame on ddz's broad shoulders.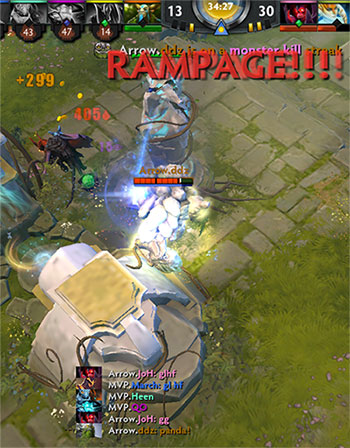 The TI4 SEA Qualifier in a nutshell.
ddz's primary role on Arrow, then, is that of a space-creator. While his spectacular mid style is very entertaining to watch, it is also an integral part of Arrow's strategy. His outlandish play in the midlane often spills over to the rest of the map very early on, and you will usually see him taking part in early game ganks and rotations without any hesitation.

In our TI4 SEA Qualifier coverage, we wrote:

Carry players have been the focus of these SEA qualifiers. If you're facing Scythe, you worry about Meracle's Naga. If you're facing Mineski, Jay's Morphling will give you sleepless nights. And, if you're matched with MiTH, then LaKelz is certainly a force to be contended with.

If you're facing Arrow, however, your worries are doubled. ddz may be the frontrunner for MVP of this tournament, but that's only because LaNcE is his shadow. Any team that hopes to beat them tomorrow will have to look for ways to neutralise them both, because with cores of this calibre, focusing on one is just not an option
Source
This space creation relies heavily on Arrow's support duo, led by team captain JoHnNy, and the two supports often operate as extra limbs for ddz. They orbit around him in the laning phase and shovelling players into ddz's waiting maw, ensuring that their mid player has the start he needs to snowball well.

Thus, as a team, Arrow is perfectly aligned to play out every part of the game the exact way they want to. This is the team's core strength, and what they have going for them at TI4 proper as well. Their overall strategy is multicore in a competitive environment that currently favours it heavily. They regularly choose to implement this strategy by running a very gank-heavy aggressive style of play, something that positions them well to succeed in a meta that is geared towards taking fights and towers early.

Like most SEA teams, however, their achilles' heel is their mid and lategame decision making. Winning the laning stage via well timed rotations is one thing, but going lategame, and in particular taking highground, is entirely another issue. Will ddz and company have the experience to know what to do and when to do it, especially when they are up against the best in the world?
Fua "LaNcE" Hsien Wan - #1 - Carry
A safe, solid carry, LaNcE is Arrow Gaming's nock, the little ridge that the bowstring fits into, the tiny cranny which decides any arrow's trajectory. While it may at first seem like ddz is the one doing all the damage, it is on LaNcE's shoulders that the team falls in lategame scenarios. Proficient on heroes that require a lot of farm, LaNcE can shine on everything from a Doom to a Morphling or a Lycan, and do so while being incredibly evasive.

Thus, if ddz is a beacon of light in the early and midgame, LaNcE chooses to sit in the shadows, farming away in the safelane or the offlane. In general, he only emerges from the dark when ddz is close to burning out. Where Empire's Silent loves fighting, LaNcE prefers disengaging from fights, and only gets involved if he must. This is not to say that he won't pitch in during midgame engagements if needed. However, his modus operandi is usually one of staying out of the way and farming while his #2 draws their opponents' attention away from him.

Ultimately, LaNcE is one arm of Arrow's two pronged approach to the game, and in this he synergises perfectly with his #2. In fact, part of the reason that ddz can go ham in the midgame is because he knows that LaNcE will be there to pick up the slack after the 30-minute mark should things go south for him.

SIGNATURE HEROES
---
Kok "ddz" Yi Liong - #2 - Core / Midlane
If LaNcE is the nock of this arrow, then ddz is without a doubt its bodkin tip, a fine point gauged to pierce an armoured target. Hailing from a part of the world where aggression is the name of the game, it's worth pointing out that ddz's midplay is more than just spectacle. His core strength is the fact that he synchronises perfectly with his #1, and they manage to share the game perfectly between the two of them.

ddz's has described his approach to mid as fast hand, feed less. In the TI4 SEA Qualifiers, he averaged 12.4 kills per game over the entire tournament (Meracle placed second, with 9.0), but managed to do so while maintaining only 3.0 average deaths per game. That's pretty incredible, especially given the gank-heavy nature of SEA Dota.

While the fact that he led the TI4 SEA quals average-kills chart would be impressive on its own, the fact is that ddz's aggression is not driven by ego. His mid strategy on heroes like Tinker, which he himself describes as "i see ppl, i kill. items build to kill", centers around going completely nuts in the midgame, opening up the map with the threat of being anywhere and everywhere at the same time. This is a strategy that serves to set up optimal teamfights for Arrow.

SIGNATURE HEROES
---
Chiok "xiangzai" Soon Siang - #3 - Core / Offlane
It's got to be hard being an offlaner on a team like Arrow. While xiangzai is by no stretch of the imagination the best offlaner in SEA, on Arrow he performs his role admirably, holding down his own lane so the other two can go well for his team.
Often given heroes like Centaur, Nature's Prophet and Dark Seer, xiangzai occasionally transforms into a legitimate mid to lategame core that does his fair share of initiation and damage. Most of the time however, xiangzai has to be content with sitting back and grabbing less farm so his other two cores can shine, and he does this thankless job exceedingly well.



SIGNATURE HEROES
---
Johnny "JoHnNy" Lee - #4 - Support
Arrow's captain and drafter, JoHnNy is a long time SEA Dota veteran who played for the Chinese team RattleSnake last season. Their current captain and drafter, he moved to Arrow Gaming in March this year, and has no doubt been a vital part of their success.

While the most visible part of Arrow's playstyle is its two-core strategy, this approach would not be possible without the solid support play and leadership that JoHnNy brings to the table. Along with MoZuN, he helps establish the threat of Arrow all over the map very early on, and is usually the one given micro-intensive heroes like Chen or Visage.
SIGNATURE HEROES
---
Chung "MoZuN" Kah Sheng - #5 - Support
ddz's other phantom limb, MoZuN is a reliable support who plays an integral part in Arrow's early game roaming. A support in the tradition of Titan's Xtinct, he is great on Rubick and Disruptor and is as such a vital part of Arrow's teamfight ability.

One notable characteristic of this support duo is that they share a lot of heroes. They both play Sand King, Enchantress, and Shadow Demon well, for example, and thus their roles are quite fluid, giving them a lot of flexibility when drafting their supports.
SIGNATURE HEROES
5. We Hardly Knew Ye, Zephyr
4. The Arrow Strikes
3. Power Overwhelming
2. Titans No More
1. Just The Beginning