Chapter V: The Mind of a Support
---
The theory part is over. Now we take a look at actual decisions and their outcome.
5.1 Game of Patience
Patience is the key to making good decisions. Think about what you want to do, how you want to do it, and who should be involved in each step. Tell the necessary parties to be in position. The same applies to your opponents and creeps; keep track of their movements, wait for them to overstep their boundaries, then punish them. Do take risks, but only calculated ones. If your actions are not well thought out, the clock will work against you. Movement takes time and failed actions will result in the loss of experience and farm. The worst case scenario is that someone on your own team is killed because of your impatience, so keep it slow but steady.
5.2 Lane Decisions
During the laning phase several decisions have to be made in order to secure an advantage. If you make the wrong calls you give your opponents an advantage which they can abuse in certain cases.
5.2.1 Neutral Pull Effects
Each game, you will find yourself on the safe lane against one, two or three opponents. Let us take a look which effects pulling has:

Positive Effects
Lane equilibrium moves towards you

Additional experience and gold gain for the pulling person

Potentially a double wave which can be used to push

The denial of your opponents' experience and farm

A larger zone corridor.
Negative Effects
The carry needs to last hit under your tower

The carry takes damage since he has to tank creeps.

Your opponents can contest the pull

Your opponents can pull creeps from your pull to their tower

The enlargement of the zone corridor can be used against you
As you can see, pulling has a lot of effects. Let see how we can take advantage of these.
5.2.2 Objectives of Neutral Pulls
Pulling Neutral creeps to gain experience and gold should only be done if you are sure that the outcome of the lane equilibrium will be to your advantage.

Here are some examples:
Pull when the lane equilibrium is next to your opponents' tower to get the creeps back to your side. This will enlarge your zone corridor

Pull when your carry can tank the damage without risks and does not lose last hits while being under your tower

Pull if you want to create a double wave to push

Pull to punish your opponent contesting the rune
I hope it is clear now that you should not pull for the sake of a little experience and gold advantage but to achieve certain objectives.
5.2.3 Efficient Harassment
There are two forms of harassment; the so called "right click" damage and mana based damage. When you go for a certain form of harassment you should first look at the following hero stats: right click damage, armor, damage reduction through passives and items, and regeneration through items. When you trade right click hits you have to make sure that you can outlast your opponents. When this is not guaranteed you have to make use of your mana to push your opponents out of the lane. When there are multiple targets you should always have a priority of which target you want to hit first, which to hit second, etc. to maximize your damage. At the same time you have to avoid getting hit by targets that deal a lot of damage to you. Harassment follows an objective: Gain full control of your lane. When you cannot control the lane with the damage or your presence in general, go and do something else since you have no impact in that lane.
5.2.4 Skill-Builds
Many heroes can be skilled in different ways. These choices have benefits and downsides.
General advice:
Do not skill before you actually enter your lane. Sometimes opportunities will be missed if you select a certain skill too early

Do not skill something which can have huge drawbacks if you are not 100% sure that it will do what you have planned

Do not make the mistake of going for the same build over and over again - question yourself

Analyze your own and your opponents lineups and think about your tactical concept. Certain matchups and certain lanes require certain skill builds.
Example: Dazzle can be skilled in two different ways: Lane control and push oriented.

Going for the lane control build in a 5 man push centered lineup does not make much sense.
5.2.5 Leeching Experience and Farm
You are allowed to take the farm and experience of your cores when it benefits your team.

Cases:
You are able to get a crucial level.
Example: Level 6 to gain access to your ultimate.
You can finish a core item with the farm you take.
Example: You need 2 last hits to finish Arcane Boots
Your core is already high level and does not benefit as much as you of the experience gain
Example: Your carry is farming a big ancient stack and you take off some experience

That should give you a good feeling when you are allowed to leech and when you are not.
5.2.6 Effects of Pushing
At some point your lanes will be pushed. The reasons for that can be fights near creeps or pushing on purpose This leads us to a question: What general effects does pushing have?

Positive Effects:
Advanced vision from your creeps.

More map space for you and less map space for your opponents.

Creates pressure for your opponents and removes pressure from you.
Negative Effects:
Pushed creep waves are dangerous to farm

Easily accessible farm for your opponents

Loss of vision in or next to your zone corridor

Requires a rotation by your players to start the push
These observed effects can be used to your advantage.

When your lanes run smoothly and do not need extra help, rotating is often a bad idea. But smooth lanes imply that you are at least even with your opponents in terms of farm and levels, so rotating may give you the lead that you need to snowball. Also consider that when you have a lead, increasing that lead can give you the edge which you need to close out the game.
5.3 Forms of Rotation:
There are several forms of rotations and we'll discuss them in the general context of: Gank, Pressure, Defensive, and Trade.
5.3.1 Gank Rotation
Rotations for the purpose of ganking can increase your lead but also can bring you back into games in general. When you lose your lanes this is often the only approach that makes it possible to come back from behind.

Gank Scenarios:
Your carry has free farm and is already farmed enough to control the opponents Off-Lane solo.

Your off-lane got zoned badly but still has potential to set up a successful gank which can bring him back into the game

Your mid-lane has a rough time in his 1 on 1 and a gank can turn the tide

Your opponents over-committed and you are sure that rotating there can guarantee you kills
If you are going to leave your lane for a gank, you should make sure that the gank will give you a lead or bring you back from behind. Otherwise you are at risk of the gank decreasing your lead.
5.3.2 Pressure Rotation
Now we will talk about rotations with the goal of pressuring a certain lane or hero. The reasons for these rotations are keeping opponents cores/supports busy and forcing them to play more passively, which will decrease their farm or experience gain. Pressuring a lane will in general forces rotations out of your opponents. This fact can also be used to set up ganks on other lanes after your opponents have rotated.

Pressure Scenarios:
Your carry is less farm dependant than your opponents' carry or you have a second farming core. This happens often against four-protect-one lineups.

You want to force rotations to create space in other lanes in order to split-push.

You want to force rotations in order to sneak a Roshan. Often used if you are on the Dire side.

You want to force fights in general because you have the stronger team fight lineup.
It should be clear now which goals can be achieved using the Pressure Rotation.
5.3.3 Defensive Rotation
This form of rotation is necessary when your opponents decide to push or you realize that a gank is on its way. Timing is crucial for this kind of rotation; if you are too late your target could already be dead. When you decide that a defensive rotation is needed, make sure you that you will be in time and that you will not expose yourself.

Defensive Scenarios:
Opponents push a lane to siege your tower.

Opponents push out lanes to split push

Opponents push out lanes to attempt Roshan

Opposing supports rotate to your lane to set up a gank

Opposing supports or cores rotate in order to pressure your core
Many times I have seen supports teleporting in to defend towers which resulted in a dead support and a dead tower because they underestimated the situation. Another common error: Supports rotate to defend towers without any mana which results in a destroyed tower and a lot of wasted time.
5.3.4 Trade Rotation
Trade rotations are used if you cannot make it in time for a defense or a skirmish. Your goal is to at least get something in return.

Trade Scenarios:
Opponents attempt Roshan and you will not be there in time to contest it.

Your are too low on mana or hp to make a proper defense.

Your team's ultimates are down so you cannot take a fight.

Your team lacks the core items necessary to take a fight right now.

Your team can not make it in time due to teleport cool downs.
If you have to give up certain things, never do it without taking anything in return.

5.3.5 Rotations conclusion
Since we took a look at all possible forms of rotations, some conclusions can be drawn. The main thing that I want to point out is the fact that rotations are not always your choice, but rather are forced by your opponents. And vice versa. Unnecessary or poorly planned rotations will harm you, whereas well planned and necessary rotations can give you a lead or at least hold your advantage. Rotations follow objectives and are not done at random.
5.4 Rune Control
Rune Control is a job that is mostly done by supports. Controlling the rune brings several benefits and has only small drawbacks which can be ignored. The outcome of the Mid-Lane is often decided by runes. There are also some runes and rune timings which can in general impact the early game heavily. Let us first take a look at the benefits runes can bring in general for your team.

Rune Benefits:
Runes open up the possibility to gank, to take fights or to push.

Runes can be used to refill bottles which can heavily influence the outcomes of your mid- and off-lanes

Runes taken by your team can not be used by your opponents in any way.

Runes in general can change the outcome of fights at any stage of the game.
This shows us that rune control is a very important thing and should not be forgotten.
5.4.1 Impactful Runes
There are certain runes that are even more important to control.

The four minute rune: This rune is probably the most important one. Let me explain why: your solo lanes will hit level 6 between the four and six minute mark. This fact on its own already opens up the possibility for certain rotations. If you add the 4 minute rune into the mix, certain objectives of your choice are basically guaranteed.

The late- and mid-game runes: If we take a look on the later stages of the game, controlling runes is still a nice thing to do. double damage runes can be used to take down Roshan really quickly, or take fights which you would usually not be capable of winning. There is a reason that the double damage rune is also called "rune of gg".
5.4.2 Who should control the Rune?
Usually the position five player makes sure that the rune on his side of the map is controlled. But there are some rules that should be taken into account.
Rules of contesting Runes:
Check your timing: Will you be in time for the spawn?

Check for opponents' movement: Will they be there and can they kill you?

Check for your teammates: Will they be around to take the rune or to support you?
If you cannot handle the rune control on your own, make sure your team will be there to back you up or do not go for the rune at all; you will either waste your time or get killed. When you are around the rune area and you cannot contest it on your own, try at least to scout it without dying so that you know what is coming.
5.4.3 The Rune Trap
Since your opponents are usually also interested in the rune, you can abuse that fact to set up ganks around the rune's spawn areas. You should be ready for that. Communicate with your team to set up this kind of gank and do not walk into your opponents rune traps.
5.5 Stacking Neutrals
Many tactical concepts and heroes rely on farming the neutral creeps on the map. This fact creates another job for the supportuo: stacking neutral creeps. Neutral creeps give your team another form of income. They provide gold and experience which you want. Farming these neutrals efficiently often makes the difference. Since all the cores should be busy farming (as well as the position four player), this job should be done by the position five player.
5.5.1 Priority of Stacking Neutrals
To make things clear: stacking is never bad and should always be done, at any time and any game stage. But the priority of stacking should be analyzed by taking a look at your lineup. You should ask yourself if there is anyone who can farm them early on. If there isn't, you should do something else and only stack if your movement paths collide with creep camps. This will allow you to stack efficient without losing much time.
5.5.2 Farming Neutrals
After you have stacked for your team, the stacks will be taken by your team. This can take time and exposes your cores. Your job as support duo is to make sure that your cores will be safe while farming the stacks. Place wards nearby and be present. This also benefits you as a support since you can leech some experience.

Often your opponents will recognize the absence of your cores and assume that they are farming certain camps. Be ready for that.
5.5.3 Neutral Pull Timings
I will not write anything in particular on how to pull, stack, or on what trees have to be cut to make certain pulls. This map shows the general pull timings for each camp, which supports should keep in mind in order to stack efficiently.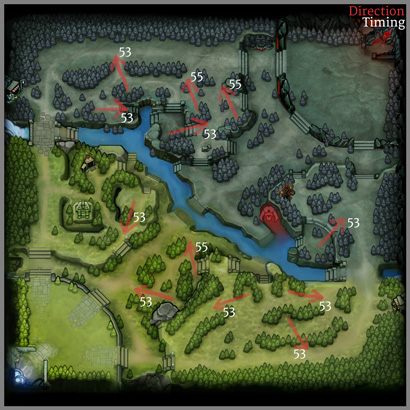 5.6 General Fight Behavior
There will be smaller skirmishes and big team fights. Supports usually provide disables like silences, stuns or slows. I will introduce you in some basic patterns that should keep you alive long enough and help you not waste your spells.
5.6.1 Safe Positioning
The general rule is to stay as back as possible, but still in range for your spells. As long as you do not provide long range initiation there is no reason to even be close to the front. Defensive supports should be ready to save their teammates while aggressive supports should be ready to do as much damage as possible without dying.
5.6.2 Skill Priorities
You should crowd-control targets that are close to your teammates if they constitute a threat. Otherwise, always try to crowd-control opposing heroes that have not used their important spells yet. This will throw off their plays and often makes the difference. Also go through upcoming fights in your mind asking yourself the following questions:
Who is the most important kill target?

Who is the most important ally to keep alive?

Who can kill you easily?

Who can you kill easily?
This should show you that walking into a clash unprepared is not a good idea. Spells will be wasted, wrong targets controlled and allies die.

5.6.3 Skill and movement Pattern
The following pattern can be applied to any hero that cannot tank a lot of damage.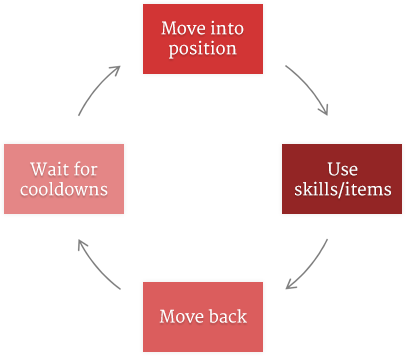 Author: Ler
Editor: sn0_man, Heyoka
Art: Nixer