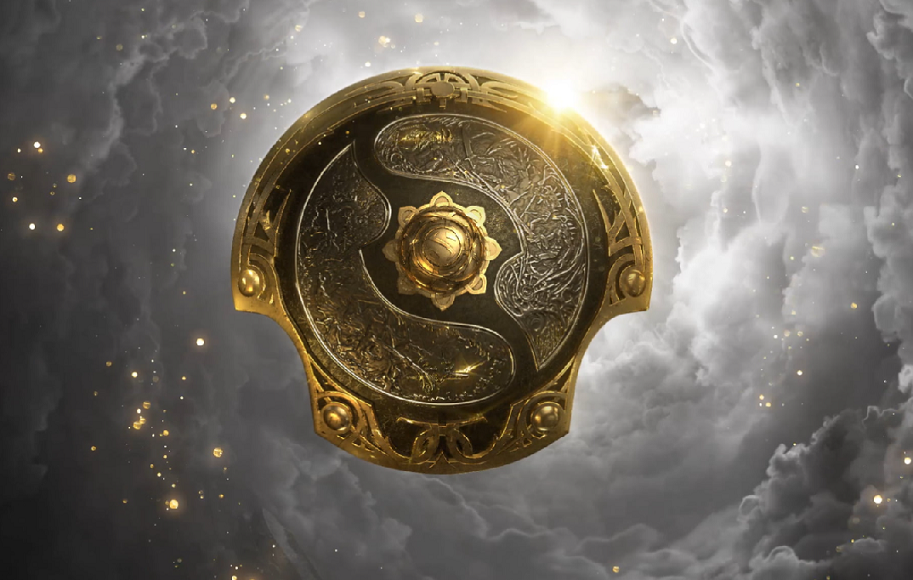 Viva Peru
The Peruvian organization Thunder Predator has been a staple of the South American region since 2017. The tight-knit Peruvian lineup boosts the total representation of Peruvian players to be the second highest after China heading into TI10. The current iteration was primarily established in 2019 with the veteran SA players Minoz, Leostyle, and Mjz. The TP lineup was solidified for the 2021 DPC season with the (re-)addition of Frank in the offlane and MoOz as the soft support. Through Minoz, TP can draw a line to the first-ever SA team to play in a Valve major: Team Unknown. Back then, Unknown had to beat out other teams to qualify through an "Americas" qualifier, a similar position to where they find themselves now - placing better than the "not-EG" teams from the Americas this season. Apart from EG, TP has won more international games at the 2021 DPC majors than their counterparts from both North and South America.
The remarkable performance of TP this season started with a second place finish in the first 2021 DPC split, netting them an invite to the Singapore Major. The unquestionable high for TP in 2021 was their run during the Singapore Major where they placed first in the group stage only dropping games on the last day of groups. They completed the event with a sixth place finish, losing to the eventual tournament champions Invictus Gaming. This result secured a place in competitive dota history as the first SA team to place top six in a double elimination Valve major. Since then TP placed third regionally in the second DPC split after dropping games to beastcoast and NoPing. This third place netted them just enough DPC points to secure the final invite for TI10. On top of this are early exits from the recent ESL One Fall 2021 and OGA DotaPit Invitational. The elusive top four placement at a Valve major remains the next historical flag for TP to plant. However, they do not have an easy road ahead of them, as TP's performance in the second half of the season has been more muted than their hot start to the DPC.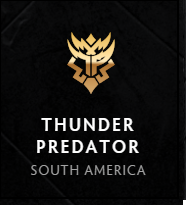 TP will look to draw on the experience and excellence of Minoz to carry them at TI10. Within TP, Minoz plays a pressure oriented style, as indicated by having the second most average tower damage of hard carries in TI10 throughout the 2021 DPC season. Minoz also manages to play an active role in fighting for his team, featuring the fifth highest KDA of TI10 carries during this time frame. These features are reflected by the heroes he played the most during the 2021 season — Wraith King, Terrorblade and Antimage. With Troll Warlord on the rise since patch 7.30, we may expect to see a return of Minoz's signature hero at TI10 as well. Minoz's playstyle tends to complement the team fighting heroes favored by Leostyle-, such as Puck, or going for all out pressure with a Leostyle- Death Prophet.
Although TP appears to be coming into TI10 on the backfoot they will be looking to recreate the magic they unveiled in Singapore. TP looked as though they had exited a hyperbolic ping chamber playing on-lan at the Singapore Major showing strong fundamentals and fielding meta heroes. TP's performance earned high praise from (then unstoppable) Puppey in the
post game interview
where he said that this is a team you need to beat early-on because of their late game prowess. The team has since brought in additional help with TI5 winner Fear to assist in the coaching role. TP will really have to rekindle their valor from earlier this year for the chance to break into the top eight at TI10 - and with the other SA teams - to chase that elusive top four finish. If nothing else, make sure to spam lighting bolts and "gaaaaaaaa"s in the chat when TP plays!

OG are back for their Defence of the Aegis 2 after successfully defending their title in 2019. The squad heading into TI10 includes the OGs NoTail, Ceb, and Topson. The core lineup is joined by Saksa, who replaced Jerax, and SumaiL who (re-)replaced ana after TI9. OG has faced several challenges throughout the past year as COVID-19 dashed the hopes of the post-TI9 roster with SumaiL and Midone who was going to replace Ceb, leaving Midone on carry for much of 2020-2021 with a brief stint of ana coming back in the second split, and finally SumaiL joining the lineup right before the qualifiers. OG has also attracted a fair amount of Twitter drama over the past year: first NoMail calling out Alliance as "cheaters" for using an in-game coach; and second, Ceb getting involved with Secret's twitter over trash-can memes.
We'll leave it to you to decide if Secret's memes went too far (they did), but prior to the TI10 qualifiers, it's a fair criticism that OG was never able to really get going. Throughout 2021 they have always been behind their WEU compatriots. They just narrowly avoided relegation to the lower division after the second season of DPC by beating Brame in tie-breakers. These mediocre results are also reflected by the list of opponents over the past two years - OG has only played one series against an opponent outside of WEU/EEU since TI9! The drama and lack of results have left OG fans disappointed so far through 2021.
That said, all the elements of OG's TI winning strategy now appear to be in place, let me summarize: Post mediocre results throughout the DPC season, check. Bring in a super star carry at the eleventh hour, check. Get into TI through qualifiers, check. Add a dash of sports psychology and a binder full of strategies (fy is sweating already). With all this, the question on my mind is: why won't OG win TI this year?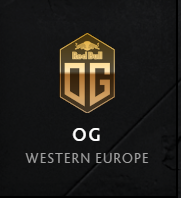 One answer to this question may be that one element of their patented strategy is missing, namely Jerax. It seems a ridiculous question, but can Saksa fill the shoes of Jerax? To highlight the ridiculousness, let me rephrase that: Can a TI runner-up and at one time owner of the top three support MMR accounts in Europe make it on the third place team from the EU DPC? But that's OG dota for you (i.e., crazy) and Saksa needs to match the play of a two-time TI winner. Despite prestige as a pubstar and the legendary TI6 second-place finish with Digital Chaos, Saksa has yet to find his stride in OG. In the 2021 DPC season, he had the fifth highest GPM of soft supports at TI10, yet the fourth lowest KDA and is middle of the pack in tower damage. Kill and assist metrics (5th and 4th among TI soft supports, respectively) reveal Saksa as an active support, but also one that is dying a lot. Historically, Saksa favours heroes such as Rubick, Tusk, shadow demon, and phoenix - not necessarily as active as Jerax's signature earth spirit and tiny. This season, Saksa has been playing meta favorites Lion and Nyx, along with more specialized heroes such as Dark Willow, Clockwerk and Hoodwink. Expect to see Saksa following along in the all-out aggression of OG, although this may be a bit outside of his comfort given the high death count throughout the DPC season so far.
Another reason that OG may not win TI10 is that they are assured to have a target on their back. Shame on any team that takes OG lightly. That said, I don't expect that most teams will have much experience playing against OG given their two year international hiatus. And even so, will other teams be ready for the assured knockout punches that OG will bring? Already in the WEU qualifiers OG were innovating with Chen drafts, who, heading into the draft, was considered to be nigh unplayable by analysts. They further showed their resilience and innovation in the TI10 qualifiers through a lower bracket run and beating Tundra.Nine's Winter Wyvern mid prior to the heavy nerfs that mid-Wyvern would receive in patch 7.30. All this having played with SumaiL in the carry role for only a few weeks. One can't help but feel that OG have, once again, peaked just in time for TI.
OG has the skill, experience, and toughness to secure the three-peat and I, for one, am excited to see OG back in action against international teams. Tune-in to the OG games for high-paced games, chat wheel spam, new meta heroes, and sick team fight execution.

Alliance comes into TI10 featuring the roster that was acquired after the departure of the old Alliance to the Liquid organization. Alliance's lineup was first formed in 2019 around Nikobaby (hard carry), Limmp (midlane), 33 (offlane), Handsken (soft support) and fata (hard support). Fata and 33 were dropped in 2020 to bring in TI3 champion S4 to the offlane and the experienced fng as a hard support. The story of Alliance in 2021 has been ones of highs and lows. The highs always seem to be centered around the weekly regional competition of the DPC league, while the lows have always been in high-stakes tournaments featuring international competition - a trend that does not bode well for Alliance heading into the highest stake competition of the year.
Alliance found success in Season 1 of the DPC with a second place finish behind the juggernaut that was Secret. With Secret slumping in Season 2, this paved the road for Alliance to take the top spot in WEU Season 2 - netting them enough points for a direct invite to TI10. When it comes to the LAN events, and even some online tournaments, Alliance's results have been disappointing to say the least. Alliance placed last in the group stage at the Singapore major, gaining the unfortunate recognition of being the only team eliminated from groups. Later at the Animajor, Alliance dropped out in two quick series to LGD and Team Spirit. Although posting decent results at ESL One Summer 2021, they were a disappointing seventh/eighth at ESL One Fall 2021. These results have led to skepticism among critics throughout the season, and a healthy dose of drama. Near the start of the 2021 DPC, the Alliance organization
allegedly filed a complaint
to Dreamleague potentially regarding the misuse of data surrounding their performance. Peak drama for the organization was the now-infamous "6'th player incident" by bringing in ppd as an in-game coach for games in DPC Season 2 before this rule was quickly revoked by a Valve ruling (this being partially unveiled through a post-game interview, resulting in another complaint filed against Dreamleague…).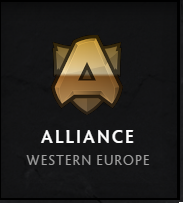 Drama aside, Alliance has relied on sublime carry play from Nikobaby to carry them through the season. Nikobaby's playstyle can be characterized as aggressive and confident. He was, by KDA, the most successful hard carry in WEU throughout 2021. However, by international standards, he stands in the middle of the pack in terms of KDA compared to the other hard carries at TI10. Consider also that Nikobaby was the third lowest in tower damage of all the carriers at TI10 throughout the 2021 season, putting this weight on the other members of his team. This tower damage metric also comes as a surprise, given the large number of games on heroes like Wraith King, but is balanced by his other signature heroes: Phantom Assassin, Slark, and Faceless Void. These aggressive carries fit-in with the teamfight ultimate gameplay that Alliance likes to bring.
Nikobaby's PA games
are a must watch!
All-in-all it's difficult to know what to expect from Alliance at TI10. Will we see the well-prepared machine that took down both splits of the WEU DPC? This version of Alliance was most successful playing around big team fight ultimates, featuring heroes such as: Faceless Void, Warlock, Winter Wyvern, Mars and Undying. Or, will we see the Alliance that bombed out of the two Majors? The former will be disappointed with anything less than top four, the latter will be lucky to make it into the top eight. Alliance fans can draw hope from one source: being the underdog and proving the haters wrong seems to be the greatest strength for Alliance, so in this way Alliance have positioned themselves perfectly coming into TI10.

The iteration of Secret heading into TI10 consists of captain and founder, Puppey, with Team Secret veteran YapzOr who was picked up in 2017 along with Midone. The Secret roster was amplified for TI9 with Zai (offlane) and Nisha (then hard carry). The roster heading into TI10 was finalized after TI9 by picking up Matumbaman in the hard carry role and displacing Nisha to midlane to replace Midone. The TI7 winner, Matumbaman, and Polish phenom Nisha showed their prowess during the COVID era. Team Secret has had the most successful run of all-time in professional dota during 2020: in May/June they were 47-3 through 50 games and 67-8 through 75 games. Team Secret dominated the WEU/EEU regions in 2020, so much so that Secret 3-0'ing grand finals became a meme. This domination netted Secret the Esports team of the year in 2020, PC player of the year (Nisha), and coach of the year (Heen).
This dominance carried into the first split of DPC 2021. Secret didn't drop a single series during the first split. They went into the Singapore major with high expectations after winning what has historically been considered one of the strongest regions in global dota. Given the high expectations, the resulting fourth place finish at the major came as a disappointment. Rather, prior to the major, Secret hasn't seemed the same since the last post-game interview after the WEU split. The interview features a team that appears confused and dejected regarding a lack of competitive dota for several weeks. It seems that Secret haven't yet gotten their foot back on the gas after a fourth place finish in the second split and group stage exit from the AniMajor. Have Secret taken a page out of OG's playbook, by essentially qualifying for TI, then phoning it in until August (well, now October)? Rather than going hard all season up to TI and burning out, perhaps this is what Secret needs to finally break into the grand finals at TI after all these years.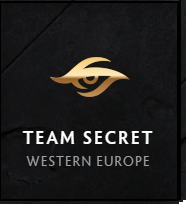 The enigmatic Nisha in the midlane was one of Secret's keys to success in 2020. Over the past year you can get the feeling that this guy is just here to win games of Dota. Nisha is a player out of the spotlight and lets his play speak for itself. He crushed the laning stage during their period of dominance through 2020 and the first split of 2021. His signature Morphling is particularly unstoppable, with a 77% winrate in progames overall all time! Since the start of the 2021 DPC season, nerfs to Morphling, Kunkka and Puck may have hurt Nisha's hero pool in the second split, however, over the 2021 DPC season Nisha played the third most heroes of all the midlaners heading to TI10.
Secret as a whole complements the versatility of its players with an absurd amount of experience and depth of strategy. The members of Secret are not new to the big leagues - Puppey being the only player to have attended all 10 TIs (on top of winning the first one), and Matumbaman winning TI7 with Liquid. The 2017 Liquid synergy is extended through their mastermind coach, Heen. Secret at their best seems to always get more gold out of the map than their enemies. And when getting rich failed, they just straight outplayed their opponents. The Secret of yesteryear made the game look easy for them at every stage, and for that Secret anything less than first place is a disappointment. That said, the second half of 2021 has been anything but easy and if this trend continues they will be battling for top eight. We will soon find out if a break was the key that Secret needed to finally level up and claim the second Aegis for Puppey and co.

EG-TA Online: The Cliffteezy Poggerino heist.
Ahh Kapitan. I have been expecting you. So it begins, the compendiums are transferred, the players list is complete and you are the Kapitan now. Whether you come to me for fantasy team help, or maybe real team help? You have the location now. Romania. So we go to TI10, yes? I, for one, am keen to see how things have changed since our last trip to TI.
Bad news, we said goodbye to Sumail & S4. We welcomed Abed & Ramzes666 and stand-ins such as Ryoya and Bulba. In Europe we call that failure. In NA, it is deferred success! Iceiceice was eventually added by our boys in blue. IceIceIce, i'm not going to lie to you even in Version 6.82 this man would be crazy. His playstyle of early diving T3's, complemented Abed's performances this year on Storm Spirit. Abed executed deep aggressions and played impressively at the Singapore Major. EG ultimately gained a question mark meme, and lost 3 games in a row 2-3 in the grand finals. Game 5 being sealed in the draft with a last pick Spectre.
Die young, or live long enough to see yourself become a villain. Surely there are worse fates to suffer. To be a game villain has its perks. You could receive the title of boss, have your own lair or private island, and sit on your mountain of riches. The villains in our games are eternally ephemeral and sublimely lying in stasis, waiting for the hero to come plunder and take their riches triumphantly, repeatedly, downright imprudently. Game bosses seem to employ the same stratagems every time as well. Recognizing that inability to adapt, an astute player can induce a favorable outcome based on an intuitive strategy. A game boss would do the opposite, allowing the adversary to adapt and overcome. Like picking storm spirit early on in a tournament draft, and repeating such an activity, even revealing it in early rounds.
Why not?
Remember we set sail on your fantasy ship Kapitan. This is your operation, your payday. I am just the grease in the wheel. The forgotten bounty rune near the enemy tri camp. The helpful coach who can come in and sub for the illness-stricken mid because he still has good mechanics and actually innovates in his draft picks. Recently EG has drafted with Fly at helm convening with Bulba. Cr1t talked about this process in an interview back in April. Artour does chime in on occasion with his thoughts, while being forced to stand behind Bulba. Let's hope for extra chairs for Mr. Artour at this TI. Without Sumail, a void had to be filled. A playmaker was needed, one who can win against any region. This is something in NA we eternally envy. A successful NA player may excel in his region, but show unreliability on the main stage of international competition. If there's one thing the NA fans want, it's for their teams to not play like NA in tournaments. Let's cover up some of those horrible habits we have in our region. Sure you're representing us, but don't represent
all
of us.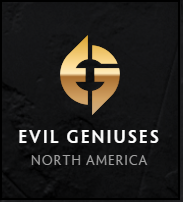 Kapitan. What do you think Mr Artour is doing right now? If you listen very carefully on SONAR, you can hear him screaming. SONAR meaning Streams Of the North American Region. If you find yourself in an NA pub, trying to farm for the late game but your team throws, do not lament! You now have two things in common with Arteezy, the 2nd thing being you dear reader also haven't won a TI. Like a game's final boss, who's weakness can be reliably exploited again and again, EG after TI9 achieved performances second to few over the last year. That means oodles of admirable 2nd and 3rd places that would quench many organization's thirst in a non TI year. However the 1st places have gone to PSG.LGD at the AniMajor, iG at Singapore Major, and even Secret at Dreamleague Season 13 leaving EG a strong craving for 1st.
Have you ever tried shooting the missles at the flying Nightstalkers? Great sport here in NA. Kapitan I don't think we'll see much safe lane Tinker in TI but, a professional player voiced a legitimate concern while streaming. "When does this hero get fun?" That quote is from OG.Sumail, during a game practicing tinker safe lane in patch 7.30 ladder matches at OG.Notail's training house. It is a fair point to make that playing heroes we are comfortable with and are extensively trained on can be more fun. Having fun is an important part of the game, as OG has shown us with unconventional drafts that are executed with sheer courage and belief.
October 11th brings us the chance to see what the real heist will be. Will we see another pilfering of EG's hopes by squads adroit at forcing fights before the position 1 player is ready? Or will it be the greatest heist of all, EG hoisting the aegis of champions, hopefully not while Arteezy's Terrorblade is on a cliff waiting to safely BKB TP. Tune in to TI10 to see just how teams deal with Mr. Artour and EG with no crowd presence. The cliff meta is ripe to return in 7.30d when you consider Magnus, Dark Seer, and Bat Rider can all be popular picks.
EG spent the month before TI bootcamping in Monaco. One must ponder what the month was spent on. Twitter reports mental health coaching and strategy. Kapitan, I think Mr Artour must be missing us. Shall we see how he is getting on? Aggregated information from ladder match reconnaissance indicates Mr Artour on Sven, Tiny, and Clinkz. Even newer 7.30d games on the books show Naga Siren, Troll Warlord, and Life-stealer. All excellent choices for an in-meta carry. They are also all heroes that lack a reliable way to gain free pathing. 6 heroes who can be stuck on a cliff. Can our bulbous boys in blue blossom new strategies to overcome their own Cliffteezy meta? This writer hopes hard carries drafted include Spectre, Morphling, and Faceless Void. Arteezy must find the balance between the burdens of these heroes, and the joys of an ecstasy long
waiting
.

The Wildcard
Burning's Team Aster has had its most successful year since its inception, mostly shaking off its joke name of "茶队" and Tea Master. Long time Aster members Xxs and Borax (previously BoBoKa) were joined by Monet and White Album, with veteran LaNm providing stability to the team in late November of 2020. Since then they've dominated the upper division in China, taking 2nd behind IG during the first DPC split, and claiming 1st during the second. When you combine this with both of their I-League 2021 victories where they triumphed over PSG.LGD, IG, and VG, it's a little strange that they aren't thought of as the biggest threat coming out of China. Yes they haven't seen the same success that PSG.LGD has internationally with their back-to-back 9th-12th place finishes at the Major, but they've proven that they're just as good as their regional counterparts. Now would be the best time to prove that they can replicate their success internationally as well.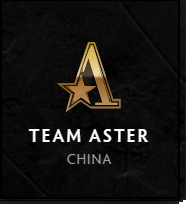 Without a doubt Team Aster's most unique player is Borax. Having risen up through the ranks as an Earth Spirit and Monkey King spammer, Borax has become a much more well rounded 4 for Team Aster. While Borax has shown the ability to play most 4s competently, he has been able to shine for the team on more unconventional heroes like Pudge. During the DPC Regional League, an early Monkey King pick by Aster could not be penned into Monet, allowing Aster additional flexibility to outdraft their opposition. Pudge has also been an exciting pick recently for Borax, having been picked in all 4 of the games in the finals of i-League 2021, the most recent chinese tournament. Similar to Monkey King, Pudge allows Borax to roam and playmake for his team while securing farm for his cores. This often gives Aster an early edge to help snowball them into the midgame and then quickly close out the game.
Dominating performances during the DPC Regional League has thrust Team Aster into the spotlight, but self inflicted wounds and puzzling late game decision making has led to poor results in the majors. Many have Team Aster on the outside looking in against the more established Chinese teams of PSG.LGD, Elephant, and VG. Now it's time for them to show they won't wilt on the grand stage.
Writers Defessus, Wyrm, Emperorchampion, OmniEulogy
Editor OmniEulogy