After two weeks of facing teams relegated to the bottom of the DPC standings, week three was set out to be the first challenge for Team Secret. They were set to take on Team Nigma, who have looked good so far winning against both Alliance and Team Liquid, seemingly gnawing at Secret's heels. Well Secret seemingly took offense to that theory, as they took down Nigma in a very one-sided matchup.


vs.
Team Secret
Team Nigma
2
0
Game 1: 90 seconds to rule them all
Team Secret
(Radiant)
Team Nigma
(Dire)
At first glance, the first game of the series looked to be an interesting one. Secret opted to put Matu mid on the Slark, for a better matchup against w33ha's Batrider. A call that definitely pays off as Matu dominates the midlane early on. It's not the end of the world for Nigma, though, as Batrider has some comeback potential. Unluckily for Nigma, though, this game fell apart before they even had a chance to give Bat that flash farm. In just 90 seconds the game went from "OK" to horrific for Kuro and his team.
The absolutely horrible sequence of events kicked off around the six minute mark. Matumbaman chose to utilize his early lead by rotating top. He claims the life of both Kuro and Miracle, a big payoff. If this was the only result of that move, Nigma probably would've been able to lick their wounds and re-focus on their laning. But it didn't end there. As Matu TP's out w33ha joins the lane, alone, and dies for a return kill on YapzOr. Not the trade he was hoping for. Oh you think we're done? Nope. After Grimstroke and PL respawns, Miracle over-pursuits top in hope of grabbing a kill on Zai, only to donate his (and Kuro's) life. And as if that wasn't enough, Matu manages to secure yet another kill in the midlane, this time on Mind_Control. With that, 90 seconds of full on action comes to an end, and Secret has grabbed 6 kills while only giving up 1.
Over the next five minutes, Nigma were desperate to undo their previous mistakes as they tried to find a way to penetrate Secret's defenses. Secret, on the other hand, had no interest in inviting Nigma back into the game and easily parried every move thrown at them. And it seemed like whenever Secret wanted to make a move, there was next to nothing Nigma could do. And when the 16 minute mark rolled around, Secret found themself ahead by 10k gold.
While the game went on for another 27 minutes, there's not much more to say. Secret won the game based off 90 seconds of extremely sloppy play from Nigma in the laning phase. Which doesn't tell you much about either team.
Game 2: Closer But Not Close Enough
Team Secret
(Radiant)
Team Nigma
(Dire)
Coming into the laning phase of game two we, as observers, were really hoping to see more of what Nigma was really capable of. The comedy or errors that ensued in the first game wasn't indicative of their strength and the game overall felt very underwhelming. And after the first handful of minutes, it felt like Nigma was outmatched again. We saw the same type of situation as we did in game 1, Matu in mid, playing a hero aimed at limiting w33ha's farming ability. In the sidelanes both cores from Secret found themselves at a CS advantage compared to their positional opponents. The one saving grace for Nigma was that Miracle was able to play his lane solo meaning that Kuroky could move around the map on Nature's Prophet, to create space.
But not too much came off Kuro's space. Or, not enough, we should say. He did manage to help secure the first blood mid, and a few extra bounty runes. However, when it came time for the first engagement of the game his contribution wasn't as big as Nigma would've hoped for. Instead, it was Secret who claimed a 4-1 kill advantage in the fight. While this could be construed as very similar to the game one sequence that cost Nigma the game, it really wasn't. The former TI winners probably would have preferred not to lose all four heroes but the space they created for Miracle paid off almost immediately. Because just a few minutes later, Secret tried to go aggressive onto an isolated Miracle. Not only did Morphling survive that gank attempt, his team claimed two kills, losing no one. This influx of gold was definitely something Nigma needed as it gave w33ha a BKB, giving his team some much needed confidence.
Over the next few minutes, we saw some pickoffs happening but no big teamfights. The teams knew how close this game was and neither had a gold lead big enough to safely take a winning fight. So both teams focused on securing space on their opponents' part of the map. Matu hanging around in the Dire jungle and Miracle pushing in the bottom lane. A very typical setup. This would all change with a basher pickup from Matumbaman.
At the time, Nigma felt rather safe on the bottom half of the map. They committed four wards to make sure they would be caught off guard. You could argue that this ward coverage was actually detrimental as it allowed
them to relax a bit too much, if there is such a thing. Because when Miracle and GH went for a kill on Puppey, who had been annoying them for quite some time, mr. Fuzzy Wuzzy lept in from nowhere. It was all a bait. Nigma's goal was clear: get the bottom tower. So by Puppey showing himself in lane, Miracle and GH assumed this was their time to shine. Instead they both ended up donating their bounties to the war chest of Secret. And if you give Secret an inch, they'll take a mile.
After yet another kill on Miracle in the bottom lane, Secret had sent a clear message to Nigma: "This is our map". Because that really was the truth. Secret allowed Nigma to be on certain parts of the map, Nigma didn't claim them. While the gold lead was "only" 4k at this point, Matumbaman was huge and Puppey's position 5 Puck is starting to look like something you have to ban out. Secret again found themselves in a position to just guide the game into a win and they, again, did so almost perfectly.
Secret are looking incredibly scary and at this point we don't know who can threaten them. They have struggled against their next opponent, Team Liquid, from time to time but if they continue playing like this, they're gonna sweep the EU DPC and the Major. Hats off to Puppey.
Series MVP: Matumbaman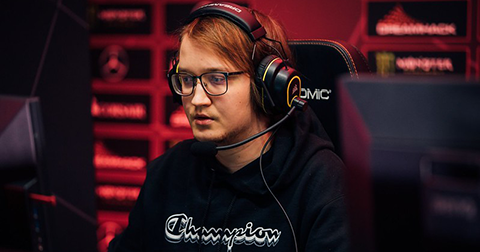 Matu might be the most versatile core player in Dota 2. His skill ceiling might not be the highest of all position 1's, we still feel like that award goes to Miracle, but he's not far off. You can throw Matu into any situation and he'll find a way to succeed. Which is why we think it's a damn shame that he doesn't get more recognition. He doesn't go without it but if it was up to us, every Secret game would just be the camera focused on Matu following every move he makes.
Recommended game:
Nope. Go watch one of the other regions!
---
Writer: Julmust
Editor: OmniEulogy
Graphics: Julmust / DreamHack