We said it yesterday but it bears repeating today: having the DPC back is SO awesome. Every day we will now get the best teams from all regions competing. And the EU DPC has delivered some great matches so far. Yesterday was no expection. Alliance vs. Nigma was everything it should have been. Well at least game three. Both teams proved that they're worthy of inclusion in the top division and that they are to be feared.


vs.
Alliance
Team Nigma
1
2
While there was only one series to be played today it definitely had potential to be a great one. While Team Nigma has a strong series record against Alliance, 6 wins and 3 losses, if you look at individual matches the count is a much more surmountable 15 wins for Nigma and 12 for Alliance. Still, though, Nigma has Kuroky back on their roster and the expectations were for them to win.
And while they did fulfill those expactations, it was definitely not an easy win for them. They dropped the first game and were pushed to their limits in game three. Luckily for Nigma, Miracle seemed as hungry as he has ever been and that alone can carry you through a lot.
Game 1: All focus on mid
Alliance
(Dire)
Team Nigma
(Radiant)
Nigma's draft for game 1 really should draw you in as a Dota fan, for two very different reasons:
Reason 1: The excitement you get from watching GH play IO again. A sight we don't get to see that often these days.
Reason 2: The peaking of interest that comes with an offlane Alchemist.
Still, even with those two things happening on Nigma, we wouldn't say they came out of the drafting with a clear advantage. Alliance's draft, while not as flashy, definitely set them up for a potentially solid game.
After a rather passive first playday — where first bloods often took place 5+ minutes into the game — we saw an explosive start to the first game of this series. Both teams headed into the Dire triangle before the horn had even sounded. And it wasn't just a stand-off type of situation. They ran head-first into each other and we ended up with a three kill score, just after the first bounty runes had even spawned. Alliance came out of the early skirmish slightly ahead as they claimed two kills to Nigma's one while the teams split the bounties. However, after this the aggression died off. Just as the teams who played yesterday, it seems like the prevailing strategy is to focus on your laning.
The big question for said laning phase was how well MinD_ContRoL would be able to keep up on the offlane Alchemist. Playing in such an exposed position, an Alch can't go his usually preferred build — maxing out Greevil's Greed — and instead have to focus on "normal" last hitting. He started out creep skipping with Acid Spray, hoping that would be a solution and while it worked for the first creep wave, fng was easily able to repel Nigma's offlaner after that. In fact, fng was a real problem for Nigma in the early game, constantly pressuring either Kuroky or MinD_ContRoL. With that Nikobaby could get a significant early CS lead in his lane, sprinkled with an MC kill on top. However, all was not lost for Nigma. On the bottom lane Miracle managed to not just get a small advantage on s4 but also, surprisingly, managed to get an early solo kill. So with both offlanes being lost, focus shifted to the midlane.
At first it seemed like Nigma would be able to pull off a clear win in the midlane as w33's puck built up an early CS-lead at the 5 minute mark. Next came the defining few minutes of this game. With Limmp's Batrider falling behind in the midlane and the bottom lane starting to fall into the hands of Nigma, Alliance had to prioritize one of their two heroes. They chose to goB for the midlane. We can't say why that was the case but it was probably due to the kill potential in that lane and the fact that enabling Limmp could possibly give everyone else on Dire much more room. And the bet on Limmp immediately paid off. It all started with the Batrider getting a solo kill on Puck. That was then converted into a nice follow up on GH's IO. And if you think Alliance was done there, Handsken stuck around for the next rune-spawn giving Alliance, and Limmp, a third kill in roughly two minutes. The result of this was that Alliance's midlane managed to get his level 6 before his counterpart.
The batrider getting an early level 6 put Nigma under immense pressure and forced them to put all their eggs in a Miracle-sized basket. The problem with this is the both teams knew that was the case and it allowed Alliance to fully dictate the tempo of the game. Limmp knew exactly where to be, and when, as he relentlessly pushed Nigma around the map in the mid-game. Meanwhile the rest of the Alliance player had an easy formula to follow whenever they saw an enemy hero: Is the Batrider near? If yes, attack. If no, back off. Simple as that. Nigma desperately tried to reclaim the territory they lost in the early game but Limmp was having none of it as he outright outperformed w33. And at the 19 minute mark, you could tell that the jig was up for Kuro and co. as s fight broke out in the top jungle. Limmp tried to get there as quickly as possible and made a rare mistake as he TP'd in on a with very little HP. Nigma managed to deny his attempt to join the fight and Limmp found himself stranded at the bottom half of the map. This resulted in roughly 20 seconds of bat-free fighting, the best case scenario for Nigma. But as the dust settled, Alliance had been wiped their opponents while only allowing a single kill in return.
Alliance's bet on the mid-lane had paid off as it brought them a win in game 1.
Game 2: "If it ain't broke, don't fix it"

backfires
Alliance
(Dire)
Team Nigma
(Radiant)
The words in the title probably echoed through Alliance's heads heading into game 2 of the series. Limmp's performance on Batrider in the first game was so scary that picking it up for him again was a no-brainer. And the space created allowed Nikobaby to essentially free-farm on the Wraith King, so why not do that again? Well it's simple really. You're playing against one of the greatest captains of all time. While we're sure Kuro was kicking himself for not trying to contest the midlane more than he did, that doesn't mean he doesn't have answers to what just happened. In the case of game two here, it was putting Miracle back into the midlane. Something yours truly is a strong proponent for, in general. Moving Miracle out of the midlane was a huge mistake from Nigma and it's baffling that they haven't realized that yet. This game, we got to see why.
In game 2 the teams returned to the same kind of passive, farm focused, early game as we saw during the first day of the league. No more aggression on the enemy side of the map before the horn blows. Fall back to farming. And just as in game one, Nigma managed to get the upper hand early on. Both sidelanes went in favor of the position 1 but in the midlane Miracle heavily outperformed Limmp. At times the Slark was doubling the creep score of the Batrider. Unlike game one, though, Alliance decided not to give Limmp any extra help in mid. And it's hard to see why that is. They didn't have the same kind of lock down as they had in the first game — as they fielded a Pango/Oracle support duo — but seeing how efficient Limmp was in the first game, why would you not try to help him out again? We don't want to sound overly negative but this baffling decision from Alliance pretty much cost them the game, right there. Miracle was allowed to get a Diffusal Blade after just 10(!) minutes.
While the item didn't immediately result in a kill for Miracle, its presence allowed Nigma to run the board. Whenever they wanted to grab control of an area on the map, the combined power of GH and Miracle allowed them free access. Alliance's deficit meant they couldn't engage thus being forced away from key areas of the map. Today's meta means that once the safelane tower falls the position 1 of your team will relocate to the enemy jungle, assuming the enemy's safelane tower has also been taken. In this game we saw that same move happen but without any tower being claimed by either team. Miracle's lead, combined with the safety of an IO, allowed Nigma to basically bully Alliance. Look at the clip below. You'll see Kuroky, GH, and Miracle performing a move that Nigma has done for years and they love to do. Together they flood the enemy jungle as a tsunami, forcing Alliance to retreat to the one safe harbor they currently have: their own triangle. That has three camps. Meanwhile Nigma can farm everywhere else. Normally this would be a very risky move at this point in the game. A TP to the tier 1 tower bot would be a blade to the back of Nigma. But Kuro knew Alliance couldn't threaten them.
The rest of the game was basically just both teams going through the motion. In fights Alliance might be able to grab a support kill but it was very clear who was at the driver's seat as Miracle ends the game 21/0/4 and Nigma evens out the score.
Game 3: A battle for the ages
Alliance
(Dire)
Team Nigma
(Radiant)
While Alliance's decision to not give Limmp the help he needed in game two was a bit baffling, the drafting decisions Alliance made in game three seemed to be nothing short of lunacy. Nigma had just displayed that they had the solution for Alliance's Batrider strategy and yet they went back to pick the hero up again. Yes, they had more lockdown this time around with the Shadow Demon/Mirana combination. Yes, there wasn't an IO for Nigma. But would that really be enough? Well picking a heavy kill combo and banning IO wasn't the only thing on fng's mind game three. It seemed like they wanted to take the fight to Nigma with a trilane setup against w33ha bot. And the idea is logical. w33 has often been the weakest link on Nigma so by making sure he doesn't get to play his game, they hope to make it easier on everyone else. And at first it looked like the plan was going well. Limmp performed much better in the midlane being down by only a few creeps. On the botlane the aggro-trilane of Alliance quickly built themselves a small, but comfortable, lead. Basically none of the cores, on either team, had uncontested farm but it seemed like they were all content with the situation. Maybe Alliance's draft wasn't lunacy after all? It would come down to how well Limmp could perform on even footing.
As we started entering the mid game, Nigma was the first to show their teeth as they took down the Batrider off the back of a Phoenix rotation. Alliance struck back and claimed the bounty on the Death Prophet. And that's how the game played out for a few minutes. Nigma got a pickoff. Alliance responded in kind. Repeat. Then Nigma shifted gears. While Miracle's Diffusal Blade wasn't completed as quickly as it was in game one (12 minutes in) the impact was pretty much the same. This time Nigma was able to claim the towers that's normally required to secure their opponents jungle and Alliance was simply not ready for the aggression that followed. Over the next five minutes, every single hero on Alliance had to spend some time on the sidelines as Nigma claimed a total of nine kills. It looked like Nigma had broken the back of Alliance.
However, unlike in the previous game Alliance managed to stop the spiraling and stabilize. Interestingly enough this wasn't due to any item pickups or level timings on their own part. It more had to do with overconfidence on the side of Nigma. Miracle bought a Shadow Blade, something that Alliance had most likely scouted because all of a sudden they had sentries seemingly everywhere. So when Miracle tried for a cute play between the mid T2 and T3 towers of Alliance, he didn't fully understand the danger he was in. A well executed team fight resulted in all the cores on Nigma dying with GH following them shortly thereafter as he overstayed his welcome in the jungle. The next few minutes were tense. Both teams knew that BKBs would be the key to winning fights from here on in. After Limmp and w33ha both finished BKBs it was time for another skirmish. Nigma probably had the upper hand in the fight, simply based off their gold lead, but when the Death Prophet popped her BKB way too early Alliance simply backed off and waited out the duration. Once w33's BKB was done they re-engaged, yet again coming out on top of a fight.
And this is where it came time for Alliance's biggest star to shine. Nikobaby wasn't invisible in the first two games but his impact hadn't been felt as much as it normally is. Mostly because of how quickly the games swung one way or the other. But with a Blink Dagger in his inventory, he could now dicate fights much better. In this next fight, w33ha was more patient with his BKB but Nigma seemed to be unable to break the ranks of Alliance to get big damage in. So when Nigma's big teamfight ults had expired, without doing much, Nikobaby could simply blink in and burst down the Slark. And then the Death Prophet. Nigma was most definitely in danger of dropping this game after an amazing mid-game performance.
But here's the problem with having to come back from deficits: you have to be perfect. Nigma had just lost two teamfights in a row but they still held on to a small lead. Meaning that Alliance would have to perform perfectly again and again to win the game. And with every teamfight the chances of you messing up increases. And at 30 minutes into the game, Alliance couldn't perform perfectly anymore. Nigma converted a pickoff on fng into a Rosh kill. Immediately after fng bought back and the call to fight came through. S4 Timberchained in. Nikobaby walked up to be the big frontline damage dealer and Limmp lurked in the shadows, ready to lasso one of the big targets on Nigma. But it didn't work out. GH countered the aggression from S4 and Nikobaby with a beautifully placed Egg while Miracle snuck around the back of Alliance, picking off Handsken's Mirana. The skirmishing went on so long that Nikobaby could re-spawn and subsequently die again. And all of a sudden all the good work Alliance has done was for naught.
After this the match swung back and forth a few times more but as Nigma had secured themselves two sets of rax, even a lost fight wasn't as bad as it would have been before the 30 mintue mark. And we can't rag on Alliance too hard here. They had roughly two minutes of poor play in the middle of the match that made it close to impossible for them to win. They put on an absolute show for the fans and if you ever want to study tape on how to play when you're behind, this is the game you will want to watch!
Series MVP: The virtuoso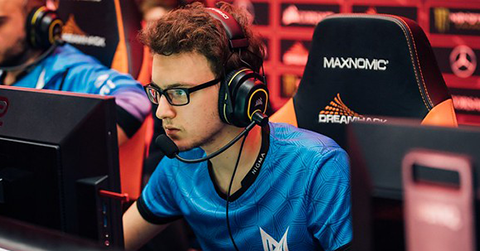 There can be no doubt that Miracle was the man of the match, here. While his performance in game three wasn't as dominant, you can still tell how much trust is put in him by his teammates and how well he handles that pressure. His Slark performance in game two alone was virtuoso worthy material.
Recommended game:
Game 3. Just game 3. Go watch it. It has everything from entertainment to valuable lessons. DreamHack hasn't uploaded any VODs to YouTube but they do have videos on Twitch:
https://www.twitch.tv/videos/881444193
---
Writer: Julmust
Editor: OmniEulogy
Graphics: Julmust / DreamHack