And we are underway! The first day of the EU DPC has now been played and my lord does it feel good to be back. Right from the start these games got that special aura a DPC bestows onto a tournament. The special Dreamhack production was back — watching Kyle get the most horrific haircut while mouthing "help" was hilarious — and everyone seemed to up their game. Casters and players alike.
As you might have noticed in the preview, we're going for slightly shorter pieces to cover the EU DPC. Simply because there will be so much to follow. For the first few weeks we'll also be experimenting with how we do recaps. Instead of recapping every series, we'll focus on one sereis a day. Let us know what you think!
Now, without further ado. Lets have a look back of the first day of the EU DPC.


vs.
Team Liquid
Vikin.GG
2
0
Heading into the first day of play, Liquid had a lot of pressure on them. They're supposed to be one of the best teams in the world. That means they should easily dismiss a team like VikinGG. But thus far they haven't been able to do so. As you might have seen in our preview piece, Liquid had only managed to pull out a single series victory against VikinGG coming into the league. And that was back in October.
For VikinGG the first playday was all about maintaining their streak against Liquid and, as a team who is predicted to fight for that last playoff spot, get an upset win that could prove useful further down the road.
Game 1: Win lanes, win game
Team Liquid (Dire)
Vikin.GG (Radiant)
Going into game 1 it was clear that the teams had very different views on the paths to victory. While Team Liquid focused on drafting safe — 4 out of the 5 players played heroes we can consider to be comfort heroes for them — VikinGG wanted to mix it up on their end. With a relatively new patch and no official games played there was no real telling who would draw the longest straw with their strategy. Both approaches definitely have their ups and downs.
The start of the game was slow and careful. Neither team wanted to step out of line too early. Qojqva's Lone Druid faced off with Tobi's Lycan. A snoozefest. In the midlane Micke, normally a safelaner, faced off with BOOM and the lane unsurprisingly fell into the hand of VikinGG. So if we were gonna see action, it was gonna be on the bot lane. And we did. Eventually. Five minutes into the game, it was time. Insania moved down and as he did Liquid exploded onto the IO/Monkey King combo, securing them two kills and a nice laning advantage.
This sparked an action packed 5 minute period, mainly focused on the bottom lane. And no matter what VikinGG did, Liquid always managed to come out on top. Coming out of the laning phase, Liquid held a solid 5k gold lead and from that point on it was the game was theirs to claim. VikinGG tried their best to push Liquid around, using their slightly earlier power spike on the Lycan to take the first towers but Liquid reacted correctly and elected to take towers for themselves. And for the rest of the game, that was the story. VikinGG attempted aggression only to be perfectly parried by their opponents.
The nail in the coffin came roughly 18 minutes in. A long and lengthy engagement in radiant's jungle seemingly swung back and forth but as the dust settled, it was Liquid coming out on top. Again. From here on, Liquid played safe as they slowly and surely guided the game into a safe harbor. Their comfort pick strategy worked out perfectly.
Game 2: Rinse and repeat
Team Liquid (Dire)
Vikin.GG (Radiant)
For the second game Liquid opened the draft with the exact same combo as in game 1: Crystal Maiden and Puck. Showing that they highly value those two heroes at the moment. No one can blame them for that after their success in the first game. However, instead of electing to maintain the same drafting style after the initial two picks, they swung away from their pressure focused draft in game 1 as they picked Enigma for Taiga. This caused VikinGG to smell blood in the water. Taiga has had some stand out performances on the hero over the last few months but if they can get a hero that pressures Enigma in lane and can follow him into the jungle, it's a huge win. An easy pick: Bounty Hunter support. And as the underdogs departed from their base, that's what everyone assumed would happen. Boxi would take a 4th position role and give the offlane farm to Taiga. Everyone was wrong.
Taiga instead went to his own jungle. So we ended up with a trilane safelane versus a jungling position 4. And all of a sudden we had teleported back to 2014. And here's where VikinGG made a critical mistake: when Liquid revealed their lanes they didn't react right away. Instead of rotating Aramis top, to look for the Enigma and be a general nuisance, he chose to stay bot, stacking and pulling for the first two minutes before being forced top by an aggressive move by Taiga. And for Liquid that meant it was go time. Not just in the bottom lane. No. Liquid went aggressive in both sidelanes. Punishing even the smallest positional mistakes, quickly burning through the regen on VikinGG.
While all the kills seemingly happened top lane, the impact was definitely felt for poor Shad. He quickly found himself far behind the Lone Druid and with Boxi keeping on even footing with him, thanks to some impressive lane control, Shad was screwed. And this was one of of the major flaws of VikinGGs plan for this series: they underestimated Liquid's strength in lane. Boxi hit level 6 before Shad, Liquid pulled off a big rotation and while it didn't result in a kill on the Riki, it effectively forced him out of lane. Giving him no chance to have a major impact for the rest of the game.
After this Liquid showed off their biggest improvement over the year and a half they've now spent with the organization: their ability to guide advantages into wins. For the rest of the game they did exactly what they had to do to further their advantage, leading them to their second sub-30 minute win in as many matches. Giving them the perfect start to a brand new DPC season.
For VikinGG, it's back to the drawing table. They can no longer count on teams under preparing for them. They're part of the big boys club now. And unless they go back and fundamentally change something about their game they might fall as quickly as they rose. Next week's not gonna be easier for them, as they'll have to take on Team Secret.
Series MVP: The silent killer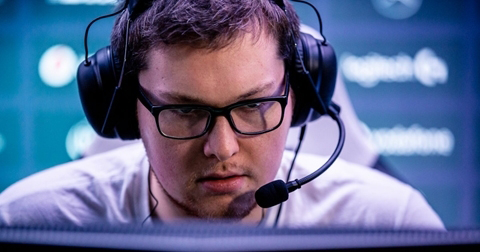 It's hard to decide on a single player on Liquid who stood out. Taiga had some amazing Black Holes in game two and his Earth Spirit was jaw droppingly good. Micke played as aggressive as you possibly can on Puck, always toeing the line. Boxi's Slardar was impeccable and Insania knows every in and out of playing CM. This was a team win, first and foremost.
However, if we had to pick one MVP, it would have to be the one player we've just mentioned in passing. The silent killer. Qojqva. In both matches it seemed like VikinGG simply forgot he existed. He was extremely solid in lane and transitioned into a huge threat once the fighting started. And he did it without dying once. In either game. Today Liquid was an acetabularii and qojqva was the ball. Perfectly hiding until it came time for the prestige. That's why he's our MVP for the series.


vs.
mudgolems
Team Secret
1
2
5
4
3
2
1
1
2
3
4
5
<
>
<
Mudgolems came into the first day of play hoping to prove to the world, and maybe themselves, that they're not gonna be an easy win for the big teams. Secret came in wanting to prove that they are still a force to be reckoned with. And even though Secret won the series, both teams got what they wanted. Secret showed that they are not to be toyed with in game 1 and 3, masterfully protecting their cores, while mudgolems clearly stated that they're no pushovers in game 2. If the rest of the EU DPC plays like this, we're in for a hell of a season!
---
Writer: Julmust
Editor: OmniEulogy
Graphics: Julmust / DreamHack