BoraNija
out of mudgolems


Dusko "BoraNija" Boranijasevic announced today that he was no longer part of the mudgolems roster. BoraNija did not play under the roster for their tiebreaker match against Just Error, which put them at the bottom of the round-robin group in the EPIC League Division 1. German player Daniel "Stormstormer" Schoetzau substituted in their tiebreaker match, but it did not make enough difference as Just Error was able to defeat Alliance as well, causing no need for a 3rd match. Sources close to the team say the team is currently not set on a replacement and is looking to try out players as they continue to compete.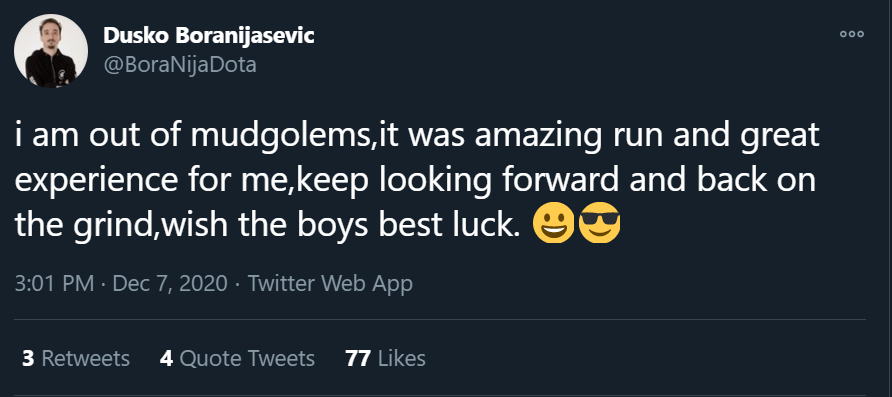 BoraNija's official announcement


The roster saw early success in taking second place at the BTS Pro Series Season 3: Europe/CIS, and a 3rd place finish at ESL One Germany 2020. The team successfully qualified for Division 1 in the EPIC League, taking down the likes of Gambit Esports, Live to Win, and Yellow Submarine. After a great start in the early stages of the round-robin, defeating both Just Error and Team Nigma, the team began struggling to gain any more wins during the event. First narrowly losing 2-1 to both Team Secret and Vikin.gg, mudgolems found themselves only able to take one more game off Alliance for the rest of the group stages. This left the team with a final score of 2-7 in series, and 7-16 in games. Mudgolems' first Division 2 playoff match will be against the ex-NiP roster December 8th, 2020.



Fata addressing their losses at EPIC League
---