The global pandemic has left the Dota Pro Circuit somewhat in disarray. Travel bans and tournament cancellations have stranded team members and forced competitive play offline. But the show must go on, and ESL One's online league for EU and CIS teams has put on quite a show thus far. Halfway through the group stage we've already seen veteran dominance, upstart brilliance, shocking upsets, and heartbreaking comebacks. This tournament is the highest stakes event many of these teams will be attending in the near future, so they're not holding anything back.
ESL One's league combines the EU and CIS regions and includes a broad enough pool that we get to see some of the more well decorated and veteran squads take on some up and coming talent in the broader region. Some of the circuit juggernauts like Secret and Nigma are playing at full strength, but others such as OG and Alliance are playing with stand-ins or entirely new squads. Meanwhile issues with latency and remote communication have affected almost all the teams, and to some degree evened the playing field overall. As a result, while some of the household names have found success, others have fallen prey to less successful teams that are hungry for a breakout result.
Metagame
With the release of patch 7.25 in mid march, we've seen a shift towards a metagame that places a high value on winning lane matchups and converting that advantage into dominance of early and mid game teamfights. Matches tend to be decided by 25-30 minutes in, with some of the more one-sided affairs dipping below the 20 minute mark. It seems very difficult to play from behind, and even TI caliber teams have struggled to recover from early game deficits despite good execution later in the game. Securing good lane matchups and tools for mid game teamfights has been the focus of the most successful drafts.
7.25c was released partway through the group stage, and was definitely targeted at reducing the strength of early game lane dominance. Although the metagame has become slightly less snowbally and some heroes have seen their fortunes fade overnight, the metagame remains centered on winning early 5v5 engagements. The changes in the patch have made it easier to recover from imperfect lanes, but teams that can fight early and often are still generally securing an insurmountable advantage early on.
In terms of specific heroes, particular attention has been paid to 3s and 4s that can contribute early to teamfights without significant farming priority. In the offlane Mars has become first pick/ban material for almost every team, with Beastmaster and Centaur also seeing a lot of play. These offlaners can single-handedly turn early fights with their ultimates and often only need a blink dagger to be a threat. Meanwhile at the 4 position we've seen the rise of Tusk and Pangolier, as both are capable of providing mobility, initiation, and sustained damage in a role that allows them to roam the map and join almost every team fight. Tusk in particular has had great success in part due to the strength of Tag Team in large early-game engagements.
For those teams favoring a more late game focused style, the carries of choice have been tanky raid boss heroes that can quickly farm the map by themselves. Alchemist, Wraith King, and Medusa have all seen significant play on lineups designed to weather the storm of early aggression and eventually turn the tide in the late game. Since these lineups focus on single hard farming carries, they have also tended to prioritize position 5 heroes that are capable of saving their carry from being jumped on such as Oracle and Shadow Demon. Not traditionally played as a support, Weaver has also seen play in the 4 position due to the strength of his Aghs Time Lapse as a defensive tool late in the game.
The fast paced nature of the meta makes every lane and every fight feel critical. When a team's mid or carry struggles in lane they have no guarantee of buying enough time to farm back to being relevant. Any fight where a more aggressive team fails to secure an objective feels like a loss of precious minutes in a limited window. The current flavor of DotA at this event leaves the viewer hanging on every moment, never knowing which one might decide the game.
Group A
Currently heading up group A is Virtus Pro, who hold a 4-0 match score thus far. Early in the tournament the CIS stalwarts looked somewhat vulnerable, dropping the first games in their series against both HellRaisers and Gambit. However they managed to win both series, and they've tightened up their play to win their next matches 2-0. VP have played a relatively balanced style, with both late game oriented play focused around the stand-in iLTW and aggressive mid game play driven by No[o]ne-. They have one of the tougher schedules remaining, having yet to face both OG and Nigma, but they seem likely to hold onto one of the top two spots and make their way into the upper bracket.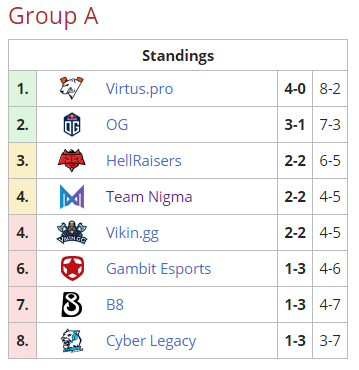 OG's up and down performance has been the highlight of the group thus far. Playing with two stand-ins, including the return of Ceb, OG are playing their trademark aggressive and rotation oriented style. At their peak OG's teamfight execution looks unbeatable in any scenario, but their losses are characterized by poor lane matchups and inopportune deaths on key playmakers. In both wins and losses the team has showcased a playful approach to both the draft and the game, at times seeming almost as if they aren't taking the group stage seriously. Whether they secure themselves an upper bracket spot or have to risk fighting through the lower bracket seems to hinge on their ability to maximize the brilliance and minimize the misplays.
Not all the big names are finding such easy success. Although they were an early favorite with an established roster, Nigma finds themselves already on the verge of failing to advance from the group stage. In losses against OG and Gambit as well as a tight series with Cyber Legacy, the core issue for Nigma has been falling behind in the early game. Their execution in 5v5 fights is still phenomenal, but when their cores, particularly w33 and MinD_ControL, struggle in lane they often fail to contribute enough before the late game. They've righted the ship recently with a rout against B8, but they'll need a full return to form to survive the rest of the their schedule and make the playoffs
The best match of the group thus far was the series between OG and B8. OG made a number of questionable decisions, both in their draft strategy and in game. As a result B8 was almost able to take the series off the back of some truly excellent play by Dendi. However, at all points in the game, whether they were ahead, even, or behind, OG showed an excellent understanding of how to minimize the impact of losing heroes and convert their own kills into objectives. The culmination of that understanding being a come from behind victory where despite being on the back foot for most of the game OG managed to go straight for the throne and win from just a couple good late game fights.
Predictions
Upper Bracket:
VP, OG
Lower Bracket:
Nigma, Viking.gg
Eliminated:
HellRaisers, B8, Gambit, Cyber Legacy
Group B
Death, taxes, and Team Secret dominating in an uncertain meta. Team Secret looks pretty much invincible at 4-0 having dropped only a single game so far. They've figured out their way around the aggressive early side of the meta, being one of the first to demonstrate the strength of Tusk's Tag Team in early fights. They're no slouch later in the game either though as they've notched multiple wins carrying the game with Medusa and Spectre. Having already gone through most of the strength of the group, I expect it to be smooth sailing for Secret into the upper bracket where they will likely be the team to beat in this tournament.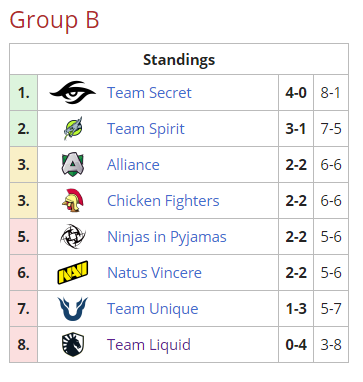 Other DPC hopefuls aren't faring quite as well though. Team Liquid are winless halfway through the group stage, and look lost in the current metagame. They've prioritized some off-meta hero combinations in their drafts, but this has mostly resulted in them falling too far behind early and never being able to hit a power spike with their lineup. As the group currently stands it seems unlikely that they'll be able to make the playoffs even if they do win out, so the remaining games might be a good chance for Liquid to change it up and see what they can make work.
There have been a few team shuffles in the lead up to this tournament, notably leaving both Ninjas in Pajamas (NiP) and Alliance playing with two new players. The established teams have been somewhat hit or miss with their new lineups, showing their individual strengths but also some struggles in coordination. That slight power vacuum has made room for some less well known teams to make a break for the playoffs. Both Team Spirit and Chicken Fighters have scored some upsets, and although they have a tough path ahead they seem reasonably likely to hang on and sneak into the elimination bracket.
Team Secret's ability to dominate games even when their opponents seem to do nothing wrong has been the most impressive part of the group's games thus far. Their clean 2-0 victory over NiP was a masterclass not just in the aggressive early game of the current meta but also in drafting without tipping your hand. In both games Secret picked Tusk, Pangolier, and Nature's Prophet, but they switched around who played which heroes and lanes such that NiP couldn't know what matchups they would be getting until they showed up to lane. From there Secret simply out executed their opponents in every relevant fight, and despite a valiant effort by NiP's playmakers, Secret seemed to be in the driver's seat the whole time.
Predictions
Upper Bracket:
Team Secret, Chicken Fighters
Lower Bracket:
Team Spirit, Ninjas in Pajamas
Eliminated:
Na'Vi, Alliance, Team Unique, Team Liquid
Conclusion
While both groups have some stand out performances, the middle of the pack is still very tight. With each team having three games left to play, we should see the differences in team strength start to be demonstrated a little more clearly.
Will the current group juggernauts roll their way through to the upper bracket? Can a hungry team upset the existing powerhouses and set themselves up for an upper bracket run? Might an underperforming team turn their fortunes around and get a chance at the playoffs?
There are still a lot of games left, and we'll just have to see how they play out.