The last Major before TI and the last Power Rank before TI. Some of the top teams are entering Moscow in much weaker condition than we are used to seeing them in. Meanwhile EHOME is watching with bated breath from home as Alliance and Gambit look to unseat them from the last direct qualifier slot. This Major promises to have a lot of exciting match ups on a relatively new patch. Lets see if it delivers.
If you want to show us staffers just how wrong we are, don't forget to
join the Prediction Contest
for bragging rights!
You can see how we ranked the teams here:
+ Show Spoiler +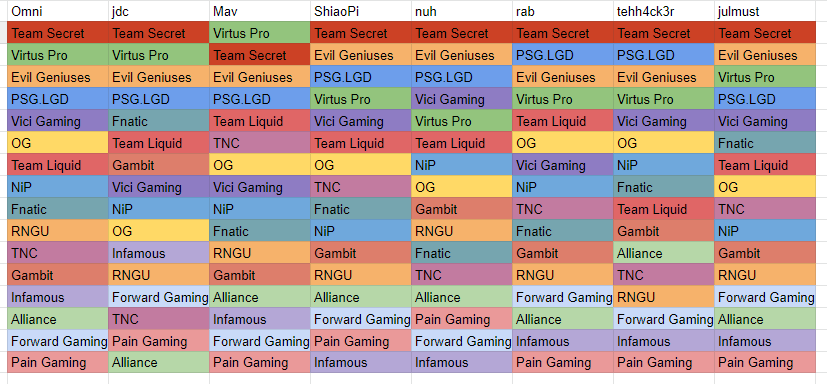 and without further ado here are the rankings.
16th. Pain Gaming
Despite the fact Epicenter features a BO1 LB elimination round, both SA teams are ranked dead last; and the worst of the two is the Brazilian squad for good reasons. Pain Gaming once had the Misery + w33 combo that, together with hFn, achieved 2 BO1-elimination victories in a row, one of the against Liquid back at the Dreamleague Major. Now the Brazilian squad is a full national team that has some familiar faces with 4dr, Mandy and Thiolicor. This is not enough to counterbalance the weight that the previous iteration of Pain had. Even though the new Chaos roster - with hFn and Misery - failed to get through Open Qualifiers, the specific pedigree of a squad leverages heavily in a Major. This iteration of Pain may be one of the best Brazil-only squads available, but for the last Major of the season, Pain doesn't have enough pedigree to handle the pressure against all of the teams that are fighting for those DPC points.
15th. Infamous
Near the bottom of the pack this group of Europeans and Papita have actually been doing incredibly well in South America. They recently managed to take down J.Storm on US East servers 3-1 to qualify for WePlay and they've mostly crushed their opposition inside of South America. The problem is no teams is the region want to scrim them due to the make-up of their team and as such they will be heading to the Major vastly underprepared and they happen to have a brutal group with EG, Team Liquid, and Gambit all together with them. At most you could argue Infamous has an outside shot at beating a confused Team Liquid and maybe, just maybe beating Gambit to make the upper bracket. Personally I'm cheering for this group of underdogs but it's going to be one hell of a rough path ahead of them. Luckily though bo1's seem to be Black's forte as some might remember from his Faceless days so while they are ranked 15th, they can upset anybody in a bo1.
14th. Forward Gaming
Moving Forward, we have yet another struggling team. The weaker of the two NA teams to qualify for this Major, Forward have been struggling all year. They've managed to qualify for three of the four Majors but have only managed to finish above last place once, at the Kuala Lumpur Major. While they aren't quite the stack of NA rejects that is any team that ixmike is on, they aren't exactly contenders for the crown. This is, after all, the second-best NA has to offer. The best things this team has going for it are having pieliedie and Aui_2000 on the team, one of whom isn't even playing. This tournament doesn't mean much for Forward in the grand scheme of things because they would need a top-6 performance to push themselves into qualification for TI9, something essentially requires divine intervention. Forward's best realistic hopes are to win their Bo1 match before getting taken down by any team that gets knocked out of the Upper Bracket. Maybe something magical will happen to allow Forward a strong showing, but the Disneyland Major already happened, so don't count on it.
13th. Alliance
Being a European team isn't easy, right now. Sure, you get to scrim against the best teams in the world — with low latency — but qualifying to Majors is close to impossible if you're not part of Secret, Liquid, or OG. Alliance, just like NiP, had to go through the gauntlet that the Minors represents in the DPC system. Which isn't necessarily a bad thing; "What doesn't kill you, makes you stronger" as the old saying goes. And Alliance are strong. In the finals of the Minor they pushed PPD and NiP to five games before finally folding.
The partnership between Loda and Insania grows stronger with every tournament and you can clearly see the coach and the captain trusting each other more and more. While Alliance probably won't win TI9, they definitely deserve a spot in the tournament. The team is still young and — if they can stick together — will surely face a bright future. We may have ranked them 13th here but would be neither surprised or upset if they manage to score a much higher finish in Moscow.
12th. RNGU
It's easy to take credit away from RNGU when you consider their performances in big scenarios across this DPC season: a 3rd place back in the DL Minor and a 7th – 8th place finish in the Dota Pit Minor. These factors ranked RNGU below every other Chinese team, but what made this team get above the likes of Forward Gaming and Alliance is how they managed to get here. Getting a direct ticket from in the Chinese qualifiers might be easier than before, but defeating Vici Gaming, Major Champions, 3 times in a row and only dropping 1 qualifier game vs PSG.LGD is quite a feat for any team. This makes us wonder, does RNGU have the classic 'good vs local rivals' gene or are they actually capable of delivering an upset in this Major? If our theory is correct, RNGU doesn't have that many chances as the LAN is stacked with the best teams in the world rather than local opposition they have figured out (looking at you EHOME and Sirius).
11th. Gambit
Perhaps you would have expected VP to easily walk through the qualifiers for the Major and take first place in the groups easily but Gambit stood tall and once again proved they might just be a major threat at Epicenter and beyond. Gambit would be placed much higher if it was not for their inconsistency at events. They go from placing 2nd at a stacked ESL One Katowice to bottoming out at the Dota Pit Minor. At ESL One Birmingham they were nearly eliminated in groups just to turn around and beat Team Liquid and Vici Gaming before getting handled by Team Secret. Although no one can blame any team for losing to Team Secret right now the point remains that Gambit can show wildly different performances even within the same tournament. They need a top 6 finish to unseat EHOME from the last direct invite spot in the DPC and as long as the Gambit from the Dota Pit Minor doesn't show up it is very likely they will outperform our ranking of them here. However if fng is not able to navigate his way through Epicenter we might also see them fall much earlier than expected.
10th. TNC
This team is dynamite (yes that was a bad pun that barely makes sense). While TNC is ranked 10th they have proven they have the ability to beat the likes of Fnatic as they did so in the qualifiers in order to earn their spot here. They also finished 4th at ESL One Mumbai. The only problem is that they finished behind Keen Gaming, Mineski, and Na`Vi, three teams that were unable to qualify for this Major. However TNC is still a strong team capable of taking down most teams in their way. Luckily for TNC they also have a buffer between themselves and being knocked out of TI qualification as EHOME currently sits in 12th making it extremely unlikely that TNC will lose their direct invite.
9th. NiP
For the second Major in a row, NiP are forced to take the long road to the Major. The ever-stacked EU qualifiers have been, understandably, an issue for them. In the Paris Major qualifiers they took a loss to Team Secret and then, surprisingly, The Final Tribe. Then, in the Epicenter qualifiers, they finished second in the group stage only to fall to Alliance and then OG in the playoffs. There is a big upside to having to play through these Minors, though. If NiP is successfully staving off burnout, then they have benefited greatly from playing by far the most high-stakes games of pro Dota in the past few months. NiP has to play so many games between both sets of qualifiers and the Minor that they're able to build a lot of confidence and momentum leading up to the Major. We saw this work out for them in Paris as they were able to reach the Upper Bracket Semifinals and subsequently their best finish of the year (discounting the Kuala Lumpur Major, where they had MinD_ControL as their substitute. Look for another strong performance from NiP at the Epicenter Major, but don't be surprised if they are still unable to break into the top-4.
8th. Fnatic
Fnatic have had a wild year. They started out the season with a fresh squad with a completely inexperienced Captain. Jabz had never captained a game in his life, and yet here he was, leading championship players like IceIceIce and Abed. It has been far from easy for what has often been considered the strongest team in SEA, it's been a long, hard road. Theirs has been the story of training and improvement at every turn. They would go from a struggling, new team to eventual championship contenders, able to take down some of the best teams in the world. At least, that's what they would have liked to have happened. The truth is that while they have improved a lot over the season, culminating in a 3rd place finish at DreamLeague after a respectable 1-2 loss to Virtus.Pro, that trend did not last forever. In their most recent tournament, the Paris major, they finished in last place with an overall game score of 1-5. They won a single game against Complexity Gaming, not exactly a powerhouse, in the group stage before falling to Keen Gaming in the elimination Bo1's. If they had continued their streak of improving finishes, or even just had a solid performance in Paris, then Fnatic would likely be ranked much higher. But as is, they've earned only a middle of the pack ranking, fitting for a team that can beat VP in one tournament, then lose to Complexity in the next.
7th. OG
From golden retriever puppy to angry wolfhound. That's probably the best way to describe OG's season so far. A lot of that has been attributed to the return of ana. We won't argue with ana's skill — the young Aussie is a world class player — but that's not actually what makes OG great with him on the roster. There's something more at play here. Without ana, OG doesn't feel like a complete team. Without ana, there's something missing. No matter if his replacement is Pajkatt, Resolut1on, or iLTW, OG just doesn't seem like the same team without ana. Somehow these five players combine into something ineffable.
While OG haven't exactly dominated the scene since the return of ana, they're the third best team in the best region of the DPC. And that's no small feat. That's why we've chosen to put them behind Secret and Liquid in the rankings but we're still convinced that their finish at EPICENTER is will be enough to secure an invite to TI9.
6th. Team Liquid
For most of the teams already qualified for TI9, the EPICENTER Major isn't an important tournament. While it is the last Major before The International everyone's well aware of the fact that a big patch is coming, so any lessons learned here won't have an effect on their TI performance. For most teams that's a relief. Not so for Liquid. With w33 being added recently, Liquid need to make the most of EPICENTER. With TI on the horizon, Kuroky needs answers that can only be answered in a competitive setting.
This all makes placing Liquid incredibly hard. The top teams will probably come in to the event on limited practise which means a Liquid in top shape has a better chance than before. At the same time the big question mark is how well w33 has managed to gel with the team in such a short period of time. We choose to trust Kuroky's judgement and that's why we see Liquid as a solid top 6 team at EPICENTER.
5th. Vici Gaming
Placing fifth in our Power Rank we have Vici Gaming from China. While we all recall their inspiring run during the Dreamleague Major it is also true that consistency has always been Vici's greatest enemy. High points such as the former more often than not were followed up by Top 8 finishes right after. ESL One Birmingham provided us with the latest example as VG finished on top of their group before losing two series straight in the brackets to finish in 5th-6th.
Their roster certainly has what it takes to win Majors like they did in Stockholm, but you still have that constant nagging worry in the back of your mind asking: "Will Ori throw?". Obviously that was hyperbole and is in any regard too easy of an explanation of their consistency issues. Nevertheless it is part of what led them to this placement as something of a gatekeeper between the top tier teams and their challengers. Although they are already long qualified for TI, securing a top placement here will do wonders for their confidence heading to Shanghai.
4th. PSG.LGD
The scariest team from China, PSG.LGD has been lead well by Fy during this DPC season. They currently sit 5th in the DPC and consistently place well at Majors but have yet to get more than a 4th place finish. They have also never finished a Major below 5th/6th which proves their consistency but also goes to show that something is missing from the TI8 runners-up. While it is extremely impressive that they have managed to get to this point, it must be disappointing for a team who was not only so close to winning TI8, but who also won Epicenter and MDL last year before TI8. They have been unable to solve whatever issue has been holding them back, and it hasn't just been against Team Secret. TL, VP, and EG have all handed them losses during these tournaments and if they want to get a higher rank they will need to prove they can overcome these obstacles as the defending champions at Epicenter.
3rd. Virtus Pro
The torchbearer of the CIS region heads into their home tournament slightly bruised in recent form. Following a surprising Top 8 exit in Disneyland they also found themselves challenged domestically as Gambit snatched the CIS-topseed away during the qualifiers for EPICENTER. Naturally many fans were looking forward to ESL Birmingham as Virtus.Pro's chance to rectify the record but instead Solo & Co. took a break to readjust. While that makes their current strength difficult to gauge Virtus.Pro has been one of the most consistent top finishers of the current DPC season and we can assume them rejuvenated for Moscow. You might think it questionable for them to be ranked third but considering the pure skill on their roster and albeit less important their victory at the Adrenaline Cyber League 2019 just before Birmingham they are a team never to be underestimated, even when struggling.
With the crowd at their back they are poised to make yet another deep run in preparation for TI in Shanghai.
2nd. EG
EG come in at their highest ranking this year, and well-earned at that. Behind only Team Secret, EG have performed well all season, finishing third place in three of the four Majors so far. EG have been a paragon of consistency, dispatching lesser teams left and right, while only taking losses to the likes of VP, Secret, and Liquid. The fact that EG regularly lost to this caliber of team, despite having similarly skilled players, suggests a weakness in drafting. America's boys in blue have had lots of faith in their coach, Bulba, but this seems to be a consistent issue. A notable pattern is their habit of figuring out what works for them early in a tournament, then repeating that strategy until they hit a top-3 team, who then abuse EG's predictability. If this can be rectified, such a change could push EG over the top, allowing them to overtake the likes of Secret and VP. While they struggled against those top teams earlier in the season, they recently earned a second-place finish at ESL Birmingham after taking Secret all the way to game 5. That finals certainly could have gone either way, so while we can, as always, expect a podium finish at the next Major, this could be EG's tournament to finally overcome their rivals.
1st. Team Secret
What's there really left to be said about Team Secret? They've dominated the DPC season so far and have shown no signs of stopping. They've reached the finals in three — out of four — Majors and won two of those. Even when they've looked shaky they've found the strength to bounce back. They're the best team in the world. For now. Remember, Secret has been in this position before. In the leadup to TI5 they were seen as shoo-in to lift the Aegis. Even the team bought in to that storyline as they stopped scrimming because they felt they were so far ahead of the pack. Catastrophe followed and Puppey won't let that happen again.
Even though Secret qualified for TI9 at the end of January, they've shown no signs of slowing down. They've found a perfect formula for their team and are confident in their ability to execute it better than anyone else. So they keep on experimenting and they keep on winning. We see no reason for this to stop in Moscow, which is why Secret are #1 in our PR.
CREDITS
Writers: uberXD, ShiaoPi, Jdc214, OmniEulogy, Julmust
Editor: OmniEulogy
Graphics: Epicenter