We're back with another Major Power Rank, this time for DreamLeague in Stockholm. We've got the world's best teams all in one place but unfortunately some are not at full power. With that being said we've tried to rate the teams as fairly as possible and bring you the Stockholm Major Power Rank.
We are also holding a prediction contest
which you can read about here
if you are interested in joining us in guessing how the individual games will go!
Lastly, here are our individual rankings of the teams which we used as an aggregate to get the final ranks.
+ Show Spoiler +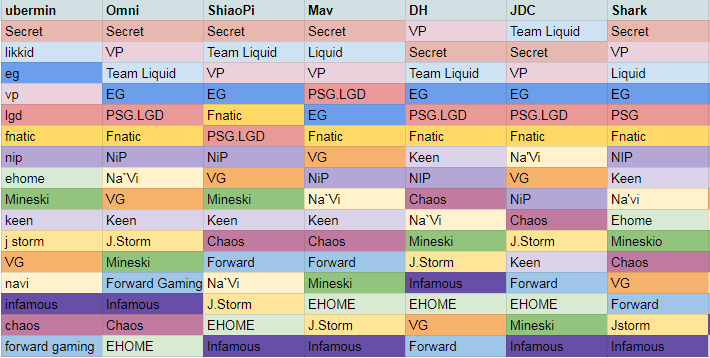 16th-13th. EHOME, Infamous, Forward Gaming, J.Storm
Welcome to the bottom line: where hope is a lie and madness is the only way out. These 4 teams have been selected as the weakest in this competition. Only an upset, a flash of inspiration, or a chaotic encounter can help these teams avoid a bad ending.
What does a team in this bracket of the power rank aim for? Well half of these teams are qualified for the international as of today, and the other half is below the red line. Of this group Forward Gaming has the highest stakes in this tournament. During 2019 the team hasn't been able to achieve the results that the supposed 2nd best in NA should have. With a bottom 8 finish in Kuala Lumpur and Chongqing this squad finds themselves being surpassed not only by the teams you would expect, but also by SEA teams and squads like Alliance.
Do you remember what happened to the last team we decided to put in last place after they lost 2 members? With the Major just around the corner, EHOME has tried to make the best out of a bad situation, but hasn't shown any promising results. Hence, we decided to lend them a hand by placing them dead last.
This placing might be a bit rough on J.Storm. After all they managed to qualify for 2 tournaments in a row and they got a respectable 9th to 12th place in Chongqing, eliminated by Fnatic that proceeded to take out Team Liquid right after. However J.Storm still needs to prove they can break into the top 8, and not just win a single bo1, to advance in our rankings.
Finally, Infamous is a team loaded with Peruvian (and Argentinean) power. That usually goes one of two ways: miraculous or disastrous. We're betting on the latter and give Chaos a bit of an edge as their specific pedigree, and a bit of luck, should allow them to surpass their regional rivals. It is important to add that Infamous lost a match vs. Masoku and Smash stack in a south American tournament.
12th-9th. Chaos, Mineski, Na`Vi, Vici Gaming
The top 12 has some potential for upsets in Stockholm. Both Na`Vi and Vici Gaming are more than capable of taking down the upper echelon of teams and yet both have faced so many struggles to get here that it would be difficult to rank them any higher than they currently are. While it may be believed that they can do better than 9th and 10th, as we have them in this ranking, they're going to have to prove it. Vici Gaming is coming off their win at the Minor and as we saw with EHOME in Chongqing, the Minor winner can not be underestimated. Mineski also has a lot to prove at this event. Under Pieliedie's leadership they've managed to remain consistent but that on its own has not been enough for them to overtake Fnatic as the #1 team in SEA. Their result at ESL One Katowice, where they narrowly avoided elimination in the group stage, was followed by beating Chaos before their run ended. For this reason Chaos follows Mineski in our ranking. While Misery and W33 have turned this team into a somewhat capable threat to their fellow competitors, they're still a far cry from being a contender to the higher ranks. The good news is that should they match or exceed our expectations of them, they will advance a few spots in the DPC rankings, a huge accomplishment for a team who currently sits in a three way tie for the 12th spot.
8th-7th. NiP and Keen Gaming
NiP's results thus far have been all over the place. They started off the year on a bit of a high note, getting a 4th place at the Bucharest Minor off the back of a solid playoff run beating Playmakers and OG despite doing badly in the group. NiP followed up with a convincing qualifier run for the DreamLeague Season 11, beating Vega and Secret in the group and then OG in the playoffs to make it. NiP unfortunately were not able to keep their momentum going in February. Despite a good group result at IEM Katowice, they lost categorically in the playoffs to Secret and OG. NiP has tried rebounding slightly but haven't yet had many opportunities to shine. They did win the WePlay! Dota 2 Tug of War: Radiant beating Kaban, Team Singularity, who had ousted OG and then Team Empire, however this was only a minor tournament. So far we know NiP does have the potential to duke it out with the best of them but are also capable of losing quote haphazardly. Its this inconsistency which lands them here in the power ranking.
Keen Gaming have had a pretty lackluster first quarter of 2019. Similarly, to NiP they came out of the gate swinging with a good showing at The Bucharest Minor, leaving their group in second place off the back of 2 wins vs NiP, beating Team Team and NiP once more to get 3rd
Keen tried to keep their momentum going by participating in all the qualifiers and tournaments they could, but coming short almost each tine in February. They weren't able to make a showing at MDL Macau of the back of losing to the relative unknown Room310 in their China qualifier back in January. They also failed to make it to IEM Katowice, being eliminated by For the Dream a small Chinese team with no notable results up till this point. Their one success came in the qualifiers for the DreamLeague S11 itself where, despite a rocky group stage, they managed to rebound in the playoffs beating Team Root, Team Aster, who had defeated them in the group stage, and Royal Never Give Up. And while Keen did recently win the JJB Spring Cup, it was only a minor event with none of the big Chinese heavy hitters in participation. Their WESG run, despite them getting second place, isn't as impressive when you consider they didn't have a major team in their group and the only big team they beat was EHOME while losing to a smaller team in TNC Predator. Overall their results aren't very inspirational going into the DreamLeague and they'll need to work hard if they want to make it as far as they did at Bucharest.
6th-5th. Fnatic, PSG.LGD
The highest ranking Asian teams on our power rank, PSG.LGD and Fnatic, are due for a breakout. The past two Majors in Kuala Lumpur and Chongqing have seen VP, EG, and Secret battle their way to place in the top three, leaving high ranking eastern teams like Fnatic and PSG.LGD wanting for more. Between the first and second Majors, both teams have improved their placement. Fnatic going from 7-8th to 5-6th and PSG.LGD going from 5-6th to 4th, though the trajectories of their placement progression have been slightly different.
Fnatic has enjoyed an uncontested season thus far as undisputed kings of the SEA region. After picking up members of the TI8 Mineski (iceiceice and Jabz) and South Korean wunderkid MP, the once-internationally staffed squad has crushed every qualifier they've participated in, and have been one of the few eastern teams to make it to the finals of a non-DPC, international tournament when they filled out a full five game set against Team Secret in the PVP Esport Championship last October. More recently, they place top four at ESL Katowice, placing the highest out of every eastern team in attendance.
While Fnatic has retained their full roster throughout the year, PSG.LGD has undergone a small but notable change since their shocking loss to OG in the TI8 finals. After the Chongqing Major their star mid player, Somnus`M, announced that he was taking a break from play and that CDEC's mid player, Xm, would be taking his place. The other four members of the TI8 finalist' lineup, Ame, Chalice, fy, and xNova, have not gone anywhere and have kept the team at the top of the Chinese scene in Somnus's absence. Unlike Fnatic, LGD would forego intermediary tournaments between their participation in DPC events and qualifiers after this roster change, so the only information on this new iteration of the team is their dominant performance at this event's qualifiers. That was nearly a month and a half ago, however, and there have been a pair of balance patches since the DreamLeague qualifier (7.21b and 7.21c), which has definitely had an impact on the professional meta.
Both of these teams looked extremely strong in their qualifiers, and relatively resolute in their rosters. Their regional dominance has yet to translate to even a non-DPC LAN win or a top three finish at a DPC event. While they are sure to impress during groups and have a strong showing on DreamLeague's main stage, the strong field at this Major edges these teams into this great-short-of-excellent placement at 5-6th.
4th. EG
While another 3rd place would solidify EG with a TI9 invite, we're sure that they would not be satisfied with anything less than first place. Unfortunately for EG they now have one more contender in the form of a complete Liquid roster to deal with. We saw that head to head matchup at MDL Macau where they finished 2nd, losing in the finals to Team Liquid. It is because of this that despite finishing 3rd at back-to-back Majors they sit 4th in our Power Rank. The good news is that VP seem to have been bit by the Apex Legends bug and so if EG meets them in the upper bracket once again, they may have the edge if VP have started to slack off with their TI9 invite already secured.
EG's qualification to the DreamLeague Major went fairly smoothly. A single surprise loss to Flying Penguins during the group stage followed by two straight forward 2-0's and then a single 2-1 victory over Forward Gaming is what got them here. Everything is set for EG to become the 3rd officially qualified team to TI9, they just need to keep playing as they have been, and prepare to take down TL, VP, or Team Secret who will surely stand in their way at some point during the event. The Major trophy is within reach for EG.
3rd. Team Liquid
The TI7 championship winning Team Liquid are out of excuses. After failing to qualify for Kuala Lumpur and a partial roster performing at Chongqing, Liquid are showing up in their home region with a full roster and every signal pointing to a deep, fruitful, run. The team's rocky September woes are now nearly half a year in the rearview mirror, and every time the team has been in full attendance, Liquid has shown excellence over all competition in the field. In addition to qualifying for both Chongqing and DreamLeague Majors, Liquid has led commanding victories at both the Megafon Winter Clash, where they skated to an easy first place without dropping a map with teams like Secret, VP, and PSG.LGD in the running, and at the more recent MLD Macau where they went 12-3 and triumphed over (an admittedly underperforming) VP and EG (sans Suma1l), outscoring the latter in the playoffs to the tune of a 5-1 map score.
Since MDL, however, there has been a 7.21c balance patch and no games on record for Liquid, full lineup or not. Meta aside, this team has shown repeatedly that when they show up, they are in it to win it and can throw down with the best the world has to offer. If there is any team at DreamLeague that can break up the Top 3 Triopoly that has dominated these past two Majors, it is this fully realized Team Liquid squad.
2nd. VP
Well well here we are again at another Major and at the top are the usual suspects since the inception of the DPC. Why VP is ranked this high should really not need much explanation by now. Their stability and consistency in placing Top 4 at almost any event they attend is thus far in the season only rivalled by Secret. Taking into account not only the last major where Puppey bested the CIS-region's best to steal the crown but also the recently concluded MDL and ESL tournaments outside the DPC putting VP below Secret was easily justified.
Given the play they have shown at Macau where they almost got eliminated by iG while playing Apex Legends in the Draft during groups we actually had a plethora of reasons to put them even lower. But then again VP almost always show up big at Majors and we can expect them to take Stockholm a lot more serious than their trip to China.
Maybe their somewhat lackluster performance in Macau was owed to the fact that you can only play with up to 3 players on a team in Apex Legends, meaning some of them were left out. Jokes aside, VP are still among the scariest teams in the world and we expect them to make (yet another) deep run at DreamLeague.
1st. Team Secret
Having asserted their dominance since the start of the season, as they always have immediately following a TI, there is little room for doubt that Secret head into the DreamLeague Major as the strongest team. Coming off of their wins in Chongqing and Katowice, as well as being one of two teams that have guaranteed their spot at TI, it would appear that the team is set to continue their dominant streak this season. The team boasts some of the best individually-skilled players in the entire world at the moment, with a seasoned captain to lead them and bind everything together.
Furthermore, the team's fearless innovation and experimental style often puts them just that bit ahead of everyone else in the meta, and combined with the individual skill of their three core players in particular, it is often difficult for other teams to predict how Secret will play out their draft, as evidenced especially by zai's willingness to play non-traditional offlaners in the offlane. Hence, there is little doubt indeed, that Team Secret come into this tournament as the heavy favourites.
CREDITS
Writers: OmniEulogy, 2009, uberXD, DoctorHeckle, Destructicon, ShiaoPi
Editors: Julmust, OmniEulogy
Graphics: DreamLeague