Yes that's right, we're doing this again. Can't be any worse than last time right?
+ Show Spoiler +
With the passage of the New Year and the conclusion of the Bucharest Minor, the DPC now proceeds at full speed as we face the second Major of the season starting this weekend. Despite being mired in drama over the last few months, the Chongqing Major is set to give us a good overview of the DPC standings at last, with certain teams perhaps solidifying their positions in the DPC, and others breaking into the standings. With many of these teams having not played much competitively since the arrival of 7.20, this Major will no doubt give fans a clear view of which teams stand at the top, and which of these teams have the potential to be dark horses.
That said, we here at LiquidDota proudly publish our power rankings for the Major for all to see, amidst a sea of ambiguity and unknown, making it that much more exciting as we seek to find it meet the same fate as our last power rank.
Note: This PR was done using aggregate score (more or less, Liquid losing Miracle forced us to make some last minute changes). If you'd like to take a look at how we individually ranked the teams you can see it in the spoiler!
+ Show Spoiler +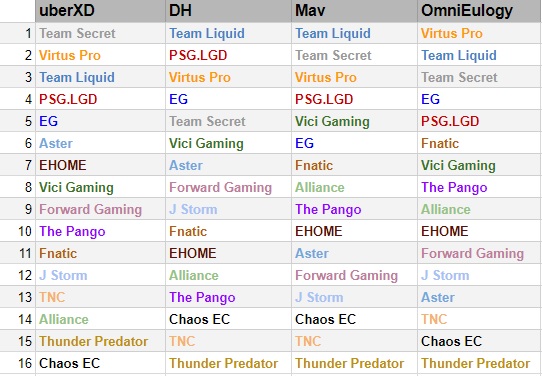 16th-13th. Thunder Predator, Chaos, TnC, J.Storm
These are the four teams that all power ranks will be most likely to agree on the placement of; Jstorm, TNC, Chaos (formerly PaiN Gaming), and Thunder Predator. The Peruvian team Thunder Predator only made it to the Major after a disqualification of CCnC's stack, giving them the weakest relative strength to the rest of the teams in this competition. Although both Atun and Matthew have Major experience, Peruvian squads usually have trouble translating this experience into consistent tournament performances.
The other South American team, Chaos, would probably be considered the best of the bottom four teams on paper. W33 and Misery should be enough to improve this team chances at the Major dramatically, especially with the consistent performances of hFn, but the results so far tell a different tale. Chaos might have the pedigree to make it out of this bracket, but since the Kuala Lumpur Major this team hasn't really shown any growth to match the experience they supposedly have.
TNC's surprise relegation to the bottom four is an unfortunate but realistic placement in the wake of the drama that surrounds the team. The team spent several days in the middle of a storm of political and cultural wrath from the local authorities of Chongqing and the Chinese community in general, and Valve firmly decided against their attempts to PR their way out of the situation. In one fell swoop they both confirmed Kuku would be banned from attending the Major and docked 20% of TNC's current DPC points. Losing one of their players is hard enough, but the pressure of the overall situation could impact the team's play even further. It remains to be seen whether TNC can bounce back from this setback, but the odds are not in their favor.
At the top of worst tier of the Power Rank sits J Storm, rising above the rest of the teams thanks to the addition of Fear as position #4 back in December. J Storm managed to get first place in the NA qualifier, defeating both Forward Gaming and Evil Geniuses during their run. However, almost immediately after qualifying J Storm then kicked one of their players, Milan, replacing him with the aforementioned Fear. The move so far has not paid off substantially, as they lost the ESL One Katowice qualifier to compLexity 3 -1. It remains to be seen how Fear will fit into their roster, and for now they stay relegated to bottom tier of the Power Rank based on both their results and the unceremonious kick of their previous 4th position player.
12th-9th. Alliance, Forward Gaming, The Pango, EHOME
In 12th we have Alliance, a team that has been making great strides ever since the conclusion of TI8. They made it to the upper bracket in Kuala Lumpur but quickly saw their exit from that Major at the hands of PSG.LGD and TNC. Their recent results have been a mixed bag going from their 4th place finish at I Can't Believe It's Not Summit, 1st place finish at MegaFon Champions League, and then 5th-8th place finish at WePlay! Dota 2 Madness. We're unsure of what Alliance will show up in Chongqing but with any luck they'll find themselves in the upper bracket again with a chance to prove themselves once again.
Forward Gaming has had a rough go of things lately. A string of poor placements has seen the stock of this team plummet. They were 2-0'd by Pain at ESL One Hamburg, finished 9th-12th at the Kuala Lumpur Major, and followed that up with more 5th-8th placements. Forward Gaming has proven that they don't belong at the very bottom of our rankings but they also haven't convinced us that they belong any higher than 11th. It's surprising given the talent on this roster but whatever problems are plaguing this team need to be fixed before they make any more deep runs in events.
The Pango sits in 10th place after a string of great online performances. They came 2nd at Maincast Autumn Brawl, 2nd in the Megafon Winter Clash qualifier, 1st in the Chongqing Major qualifier by beating VP 2-1, 2nd at I can't Believe It's Not Summit, and finally 3rd/4th at WePlay! Dota 2 Madness. Given how well they have played online we may have undervalued them a little by putting them in 10th but that is just the difference in the level of competition at a Major. The Pango could very well go on to make this their break out tournament and prove to everyone that they are serious contenders to receive a direct invite to TI9, but we'll have to wait and see.
EHOME has a lot to prove after winning the Minor and finding themselves at their first Major. Coached by Xiao8 and led by y`, the former Wings captain, we're excited to see what EHOME can accomplish. With Faith_Bian playing offlane for EHOME as well and Shadow standing in for Team Liquid, for the first time in a long time we have the majority of Wings playing at a huge international event. EHOME finds themselves just outside of the top 8 in 9th place but it would not surprise us to see them fight their way to a higher position, similar to most of the teams we're about to name.
8th-7th. Team Aster and Fnatic
Two of the most contentious teams in our ranking have been the perennial SEA top dogs Fnatic, and the Chinese qualifier and group stage darlings, Burning's very own Team Aster.
Team Aster could place pretty much anywhere and not have it be too much of a shock. When they're not flip flopping between winning H-Cups, Syler and the boys are crushing through regional qualifiers for ESL and Majors. A last minute change before their run at Kuala Lumpur raised some eyebrows when they swapped out their mid Dstones for an up-and-coming tier two warrior, loveyouloveme, all at no DPC point penalty. This strategy proved to be a bust, finishing in the bottom four after a nearly hour long best of 1 against NA
Fnatic has rebuilt following a diaspora of their western talent, patching the holes with a combination of Team Faceless alumni iceiceice and Jabz and the Korean carry of legend, MP. Complimenting Pinoy wunderkids Abed and DJ, we haven't seen too much of Fnatic outside of their Major qualifier/main event runs, a lone LAN appearance, and an effortless near-sweep through the online-only Kings Cup. Despite this commanding grip on their home scene, Fnatic ended up only barely scraping their way into a top 8 finish at Kuala Lumpur. Admittedly, they only dropped sets against EG, PSG.LGD, and VP, and while the competition is stiff, they failed to take a single game off of any of them, which could signal that Fnatic is still a shelf below the upper crust of the global scene. Since the staff rated Fnatic anywhere from 6th to 11th, another 7-8th finish at Chongqing would not surprise anyone.
6th-5th. Vici Gaming and Team Liquid
Vici Gaming is right behind Liquid as the duo of Paparazi and Ori have begun to look like their former selves once again. Their second place finish at ESL One Hamburg came from taking down Team Aster and Virtus Pro before narrowly losing 3-2 to Team Secret. The follow up 7th/8th place finish at Kuala Lumpur also saw them start in the upper bracket after once again triumphing over Aster and their latest win in the DPL Season 6 where they 3-0'd the Minor winner, EHOME, gives us a lot of faith that Chongqing may be the place for Vici Gaming to make their mark.
Team Liquid is perhaps controversially still ranked 5th, there is no doubt that we carry some bias. Team Liquid will be playing in Chongqing without Miracle- and replacing him will be Shadow, someone we haven't seen in competitive Dota for months. However, the new patch has given some of our writers a little more hope, as the meta sees some of the team's best heroes make a return, only giving us confidence in their ability to dominate. Little can be said about Team Liquid's abilities so far as they have yet to make a mark on the DPC this year after pulling out of the DreamLeague Minor and opting to take a break. However, their performances at the MegaFon Winter Clash proved convincing, along with a dominant performance in the qualifiers for this Major. It would appear that the break has helped the team find their footing again. The only question is whether or not the team can find success while also playing with a stand-in.
4th. EG
Ever since the addition of Fly and s4 EG have looked incredible. 3rd place at TI is nothing to scoff at and they followed that up by taking 3rd place at the Kuala Lumpur Major. The only issue that EG faces is that once they make it to the very end they have ended up falling short more often than not. Depending on when they run into the tournament favourites they may even drop out of the tournament earlier, like what happened at ESL One Hamburg when they hit Secret in the lower bracket and dropped out of the event in 5th/6th. While there is no shame in losing to the tournament winner, it is something to be worried about when so many of the teams at Chongqing are tournament contenders. That being said EG usually still rolls over any team that gets on their way till the later stages of the tournament; their consistency is something rarely seen in Dota 2 and for that we have given them 4th place.
3rd. PSG.LGD
Following their great performance at TI8, narrowly losing to OG, PSG.LGD haven't quite been able to recapture the magic that got them there. Indeed they've suffered a bit of a rocky period in their performance; while they were able to qualify in first place for the Kuala Lumpur Major over Vici Gaming, once they got there they only earned 5-6th place. The team has done slightly better in the other tournaments they've attended however, earning a 3-4th place at the PVP ESports Championship and 3rd at MegaFon Winter Clash. A interesting trend in the past few months seems to be LGD performing well in the group stages, often winning them convincingly, but falling flat once the bracket stages start.
Unfortunately LGD's withdrawal from the Dota2 Professional League Season 6 (2018 S2) robbed us the chance to study the trend further and fully ascertain their form. Nonetheless, while falling off slightly from their TI8 2nd place, they've still maintained themselves consistently in the top 4 so it is only fitting to rank them 3rd place. However, they will need to overcome their bracket level woes if they wish to recapture their old form.
2nd. Team Secret
Team Secret have historically not performed very well at TI; as such the 5-6th place performance at TI8, while their best result yet, was still a disappointment. As such Secret went through a restructuring afterwards, letting go of both Ace and Fata in favor of Zai and Nisha, and the rewards for their efforts came shortly afterwards.
The team's first great showing came at the Kuala Lumpur qualifier, which they crushed convincingly, and they followed it up with a win at the PVP ESports Championship and ESL One Hamburg 2018. While their momentum was briefly stifled by VP at Kuala Lumpur, with Secret narrowly coming in second, they went on to dominate the Chongqing qualifier and also place 4th at the MegaFon Winter Clash.
Their results thus far since their shuffle have been quite promising and it makes them one of the favorites going into Chongqing.
1st. VP
Seeing VP up in the top four shouldn't surprise anyone even remotely familiar with the past two years of competitive Dota; after all, when a team is considered to be underperforming when placing 5-6th at two consecutive Internationals, it is safe to say the team is among the elite. The 2018-19 Pro Circuit is shaping up to be no different, with Virtus.Pro roaring out of the gate off of the back of the year's first (and much more emphasized) Major victory over Team Secret after a thrilling five game set.
It is easy to characterize the CIS squad as both very stable, and very good. After showing no signs of slowing following the trade of Lil to Natus Vincere in early 2018 for Rodjer, like their similarly skilled and similarly resilient contemporaries Team Liquid, VP has seized the big patch's metagame shifts by the horns and have wrestled success to the ground. The only thing they have to worry about is getting back into form after an uncharacteristic 2nd place finish behind seasoned Techies drafters No Pangolier in the Chongqing qualifiers, and a very early first round exit at MegaFon Winter Clash, albeit at the hands of TI8 runner-up, PSG.LGD. Bumps in the road aside, the strength of Virtus.Pro cannot be denied, and we anticipate nothing less than another deep Major run from the storied, accomplished squad. With Team Liquid's strength unexpectedly diminished they are uniquely positioned for yet another Major win.
CREDITS
Writers: OmniEulogy, 2009, uberXD, DoctorHeckle, Destructicon
Editors: Ceribai, OmniEulogy
Graphics: StarLadder, ImbaTV