Solving the DPC's problems
Over the last year, we've seen an increase in friction between the three parts of the DPC: the teams, the tournament organizers, and the fans. The three have been pushed further and further away from each other thanks to scandals involving DMCA takedowns and players making racist comments on stream. This polarisation resulted in a situation where the entire DPC now sits on a barrel of gunpowder with a lit match in its hand. Over the last year, the gunpowder in this barrel has gotten drier and drier for every passing scandal, simply because Valve have chosen to stay reactive rather than proactive. Or — to be more frank — they've chosen not to get their hands dirty.
To me, the solution is clear as day, and something I've been advocating for a long time: Valve needs to hire a DPC commissioner. A single person that sits on top of the entire system and — at least officially — has a hand in all matters that pertain to the league. A single point of contact for the TO's and the teams.
"Make no mistake, this is a defining moment for Dota 2 esports."
A commissioner is needed to prevent situations where the COO of a huge team feels like he has tweet out
"We have had no contact from Valve, despite our attempts to reach out to them."
to explain his actions, a team captain having to take to
Twitter to get Valve to contact him
, or a VP of a major TO saying
"They don't engage a lot to discuss things."
when asked about if they contacted Valve regarding media rights. Imagine that. ESL basically had to go "fuck it" and poke the bear to find out if they were allowed to DMCA strike Twitch streams. coL — even though they denied it — felt they had to kick a player for non-gameplay related incidents if they wanted to compete in a Major. All of this because Valve hasn't figured out something as basic as communication and being proactive.
And these are not isolated events. Over the last year, I was lucky enough to work as a journalist covering Dota 2 exclusively. I got to interview everyone from players to managers to talent. And most times when I brought up Valve related subjects — be it Major tournament structure or last-minute roster moves or anything else — their reaction was all pretty much the same: they don't know what's going on because Valve doesn't communicate. They're often flying as blind as the fans are. For a "league" as big as the DPC, that's beyond sad. It's downright laughable.
Now imagine if Valve would've had the foresight to install a commissioner a year ago. ESL could've reached out to him to find out if they're allowed to sell media rights and Kuku could be serving whatever sentence he was handed down. So if a local government would've come along and tried to ban him, Valve could've simply pulled the Major. They can't do that now because the only public statement made about Kuku came from TNC and said was that he was given
"necessary penalties and sanctions".
What does that even mean? It could be anything from having to skip dessert to 10 lashes. I wouldn't be happy about that as a Chinese fan.
(Edit: Since the writing of this article, TNC has clarified the penalty. However, that is — again — a reactive response)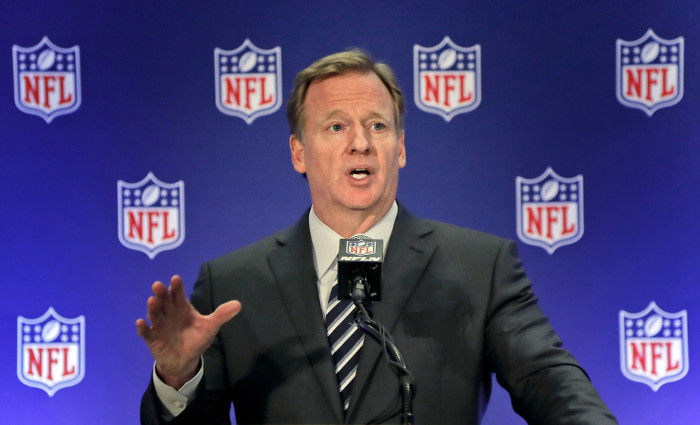 Roger Goodell, hated but needed
This is where Valve needs to look to the NFL. As any fan of (American) football does, I despise the NFL's commissioner, Roger Goodell. But I also realize how important he is for the league. He's constantly the bad guy. You never see him delivering good news and wherever he goes he's met with boos. He only comes out of hiding to announce a player has been fined or suspended and no one agrees with his rulings 100% of the time, not even close. However, he has built up a consistent system of penalties and sanctions that protects the league.
So just as in the NFL, not everyone would like the decisions being made by the DPC commissioner. In fact, a lot of people will vigorously protest the decisions made. The person in charge would be almost universally hated by fans. His job would be to lie down on a grenade to save his platoon. But by doing so — by making the hard decisions — he would play the role the DPC needs and the gunpowder would never start to dry.
As much as I wish I could end this piece on a happy note, saying that the future looks bright, I will remain pessimistic for the time being. Having a single person on top is not something that fits Valve's philosophy as a company. They want a flat structure and a commissioner, by definition, needs to be above everyone else. I hope they come to their senses because make no mistake, this is a defining moment for Dota 2 esports. If this rift is not mended properly and carefully it will continue to grow until the Chinese and "international" scenes are completely separate. And that would be the downfall of the game we all love.