Artifact recently made its first public appearance at PAX West, where thousands of gamers were able to get their hands on Valve's new Dota-themed card game for the first time.
The PAX West venue is located in the heart of downtown Seattle, a short drive from Valve's headquarters in Bellevue. It's an even shorter drive South to Renton, where Richard Garfield, the grandfather of trading card games,
great-great grandson of US President James Garfield,
and primary designer of Artifact, sold Magic: the Gathering to Wizards of the Coast in the early 90s.
Seattle also happens to be my hometown. It's where I grew up playing Magic during recess in elementary school, and attended PAX for the first time during my summer vacation from high school. With the convention center just 2 miles from my home, there was no way I was missing PAX this year.
Artifact was one of the most popular games at PAX, and there were long lines at the booth all weekend long. I arrived at 10 AM on Friday, the first day of PAX, and the line was already capped when I got there. It took some aggressive posturing to pull it off, but I was able to get myself in line around 11:20 when it finally reopened. I spent the next 3 hours waiting in line while watching one of the four large screens which were suspended above the stage, absorbing what I could from the live matches being played between PAX attendees and members of the casting team. When it was my turn to enter the booth, a very friendly Valve employee led me to an open station and began explaining the rules of Artifact to me. He answered all of my questions as we played a tutorial game against the AI, then he wished me luck in my upcoming games against PAX attendees.
You were allowed to keep playing until you lost. After my fifth straight win, a Valve employee noticed my streak and asked me if I would like to play a game on stage, to which I answered "of course!". A few minutes later I was playing a game against SirActionSlacks on the big screen. Despite my best efforts, I also managed to win this game. One of my many silly mistakes was made abundantly obvious to me (and the audience) by the casters, who I could hear in the background through my not-so-soundproof headphones. After the game I got to shake hands with the casters, went off to collect my Artifact swag, and left the booth with my lofty expectations for a Valve/Garfield collaboration met.
What follows are my first impressions of Artifact after seven games, written from the perspective of a card game addict, total Dota noob, and unapologetic fanboy of both Valve and Dr. Garfield.
The Difficulty Factor
One of the most discussed aspects of Artifact in the lead-up to PAX was the game's difficulty factor. Word on the internet was that Artifact is notably harder than Hearthstone, and somewhere in the same realm of complexity as Magic: the Gathering. Seven games wasn't quite enough time for me to decide if Artifact was more complicated than Magic or not, but it was certainly enough to tell that Artifact and Hearthstone are intended for slightly different audiences.
I don't expect Artifact's apparent complexity to be a major issue for fans of Valve, a company with a reputation for designing games that appeal to more "hardcore" gaming audiences. Both Dota and CS:GO have relatively high barriers to entry, and so will Artifact. Though card games and MOBAs are about as different as they come, I think that Artifact can appeal to the same kinds of challenge-seeking gamers who enjoy Dota.
Lanes Change Everything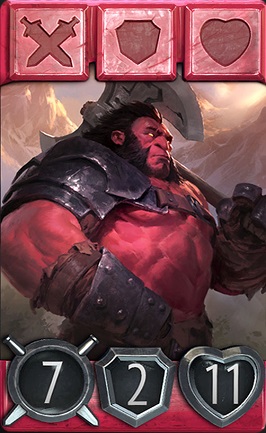 Even if you are very familiar with other card games, it will take some time to get used to the interplay between Artifact's three lanes. Though other card games (such as Elder Scrolls Legends) have tried similar things, the way that lanes have been implemented in Artifact presents a number of challenges which are totally unique to the genre. The lanes feel separate yet simultaneously intertwined, to the point that it kind of feels like you're playing 4 games at once.
For example, you win the game by destroying two of the three enemy towers. This means that it is often correct to completely abandon one of the lanes so that you can focus all of your resources on the other two. Predicting whether or not your opponent will do the same leads to an interesting game of cat and mouse, especially when it comes to choosing how to deploy your heroes.
Lanes always resolve from left to right, which makes each lane different from the others from strategic standpoint. The majority of the cards I encountered could only be played into the lane which is currently having its sub-turn, but there were a handful of spells and Improvements which could be played from one lane into another. This made the third lane the easiest to defend, as I could use Mana from my first two towers to play cards from my hand into the third lane. Conversely, the first lane felt like the easiest one to attack, as my opponents could not use resources from the second and third lanes to help to defend it.
Hero Deployment And The Upside To Losing Heroes
Losing heroes in the early game wasn't nearly as bad as I expected it to be. When heroes die (or are returned to The Fountain through other means) they can later be redeployed to any lane. The ability to choose where your powerful Hero cards can be placed often outweighs the downside of having your Hero killed in the first place.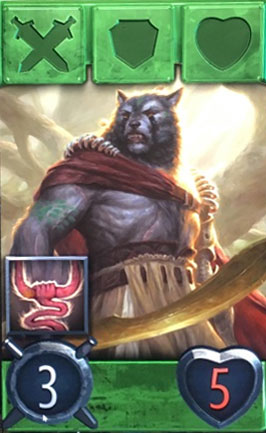 Early game Hero deployment decisions often felt like the most important decisions I made all game. Working with incomplete information, there was always a bit of guesswork involved in predicting where my opponent would deploy their own Heroes in the early game. Cards in your hand can only be played if you control a hero of that color in the lane, which only serves to further complicate the Hero deployment phase.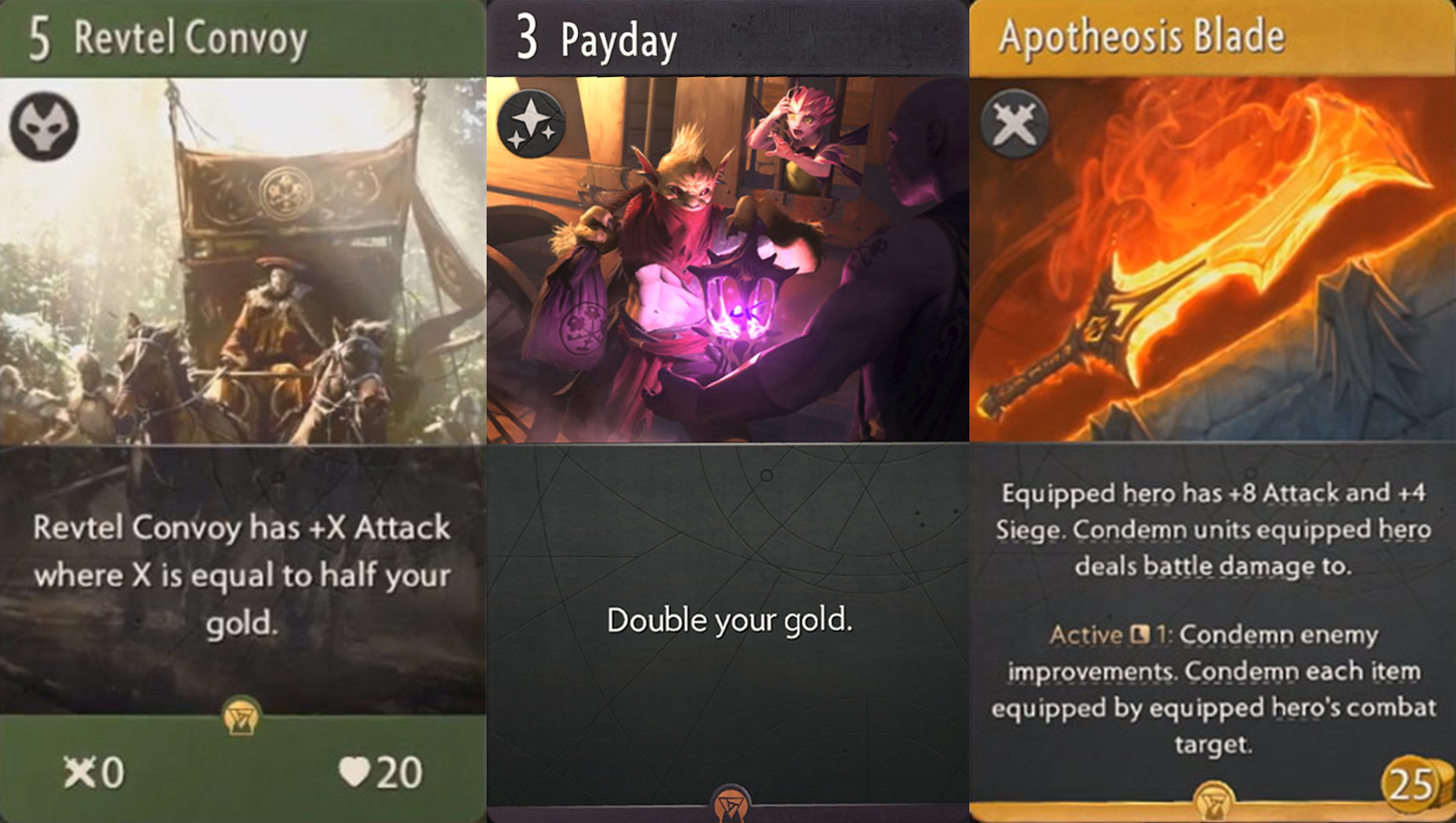 In one of my games, I found myself in an interesting situation as the Green/Black Econ Ramp deck. The goal of this deck was to build gold with fast hero kills in the early game, then use Payday to play massive Revtel Convoys and buy powerful items from the shop. I managed to destroy my opponent's tower in lane 1, and had whittled the tower in lane 3 from 40 health down to just 7, but my opponent was playing the Red/Blue Control deck and was starting to take over the game. I realized that my opponent was forced to devote all of their resources to defending the weak lane 3, and would therefore be unable to threaten the other lanes if I abandoned them. I decided to use spells from my hand to kill off 4 of my 5 Heros in a single turn, then returned my final Hero back to The Fountain with a Town Portal scroll on the following turn. This allowed me to deploy all 5 heroes to the lane 3 in one turn, setting up lethal damage with the help of a removal spell.
When heroes die, they will return to the battle with all of their previously-purchased equipment still attached to them (just like Dota). The inevitable return of powerful equipment cards threatens the classic concept of card advantage, placing a greater emphasis on concepts such as board control and tempo.
Improvements
Improvements are not the flashiest aspect of Artifact, but the way they interact with other game mechanics felt promising to me. Improvements apply effects to specific lanes (kind of like Enchantments in MTG, but only for one lane), and they can be deployed from any lane with a Hero of the Improvement's color in it to any other lane on the battlefield. This places a strategic significance on the second lane, where Improvements can take immediate effect.
I was pleasantly surprised to see that mechanics which increased a player's Mana were attached to Improvements. "Mana ramp" has been a historically powerful effect in games like Magic and Hearthstone, while simultaneously being a very difficult effect for opponent to meaningfully interact with. With Mana ramp being attached to Improvements (or Heros, in Crystal Maiden's case), Artifact players will have the ability to disrupt their opponent's Mana Ramp if they so choose.
The RNG Factor
RNG is a big part of what makes card games so exciting, but too much RNG can cast doubt on the importance of skill. In Artifact, the RNG-based aspects of the game (such as the location of newly spawned creeps) can certainly impact the outcome of games, but I got the immediate sense that good decisions in Artifact are far more important than good fortune. Though it's a bit too early for me speak definitely about the factor which luck will play in Artifact, my gut says that luck is not a significantly weaker or stronger factor in Artifact than it is other popular card games.