Interview with Mski.Moon
This interview was done by 2009 during the ESL One Birmingham Major.
Firstly, what were your goals heading into ESL One Birmingham?
We were eliminated from MDL and we didn't have a lot of time to prepare for this tournament. Of course, we were hoping to get Top 4 but our main focus was really to use this as an opportunity to get more experience and improve in preparation for the Supermajor.
So this tournament isn't as important to you guys as the Supermajor although getting Top 4 there would also guarantee a direct invite to TI?
Well, in terms of DPC points, if VP win this event we have a really good chance of getting enough points for a direct invite to TI anyway but we're still hoping to get a better result at the next tournament. We don't want it to stop at just Top 4, we want to win the Supermajor.
Let's talk about the game here. I've noticed that you guys have been first phase picking DK for you lately. As the solo mid player, what opinions do you have on this?
Frankly speaking, I personally don't like this at all but our coach says that I play it really well and he also says that it's necessary for some of these particular strategies. If the enemies don't ban it, I don't really care that it's first phase picked either.
What is the communication like in the team, especially with 71 as your coach?
71 has a basic command of English but it's not great so he will usually use English, but use Chinese when he starts going into the finer details. Usually our manager Orrin will translate for Jabz and ninjaboogie but if he's not around it's usually iceiceice or Mushi who translates for them.
Who's the main in-game captain for your team? Mushi is well known for being a captain in SEA so does he call the shots in the team, for example?
Well, at first, everyone would have their input but it gradually became Mushi and iceiceice who directed us in game. At some point, we decided that this isn't good for the team if we want to get to TI or even win TI. Consequently, we decided to let the two supports speak up and lead the team more so that they could also learn more things and improve together. Of course, that's mostly in the early game, we tend to discuss our calls in the mid and late game instead and go with it depending on the outcome of the discussion.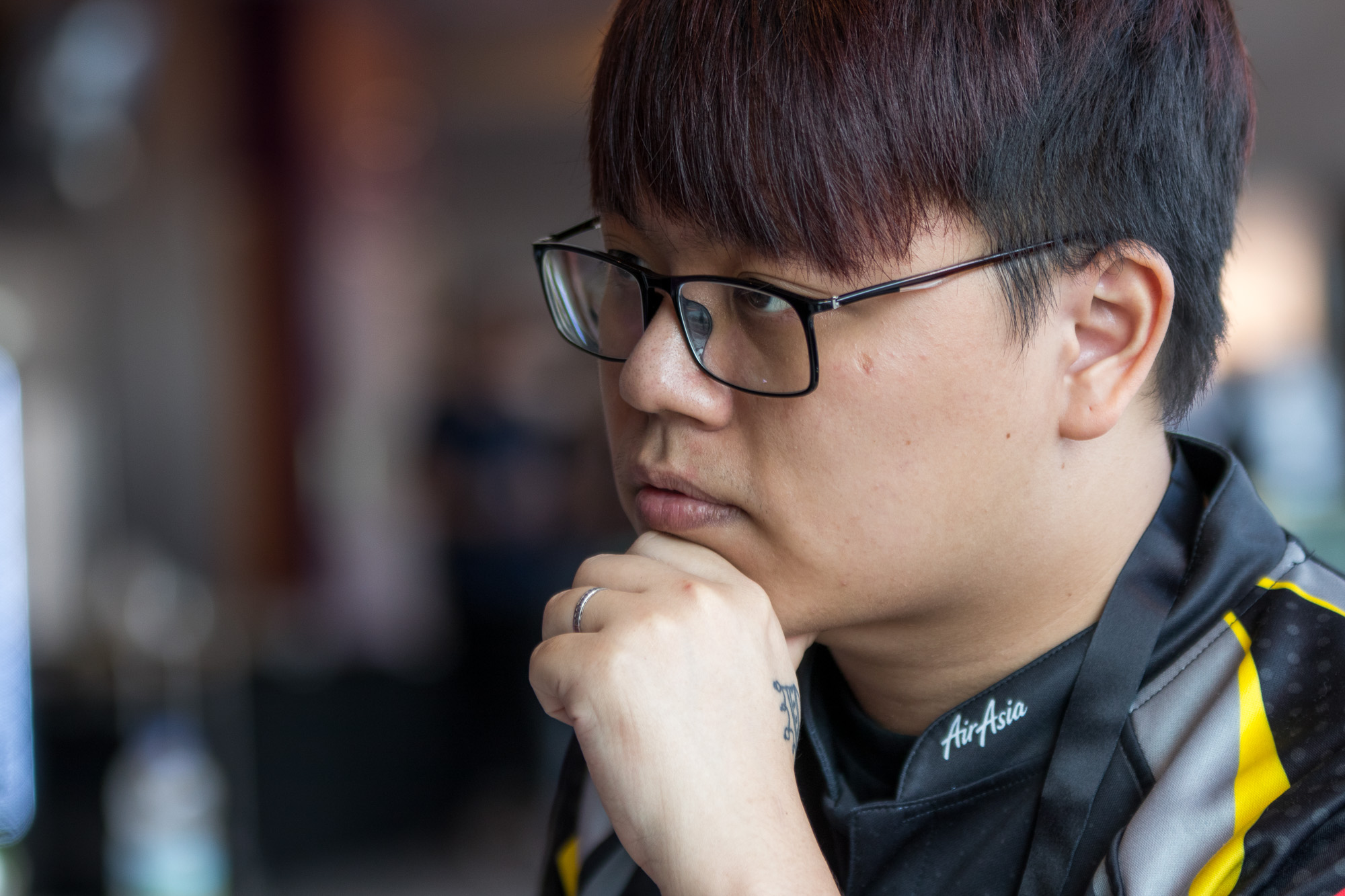 Nowadays, your drafts are usually done by your coach, 71. It shows that you guys really believe in him, so so do you just accept whatever he drafts for the team or is there some greater extent of discussions during the draft?
Let's take DAC for example, 71 would think about the first three bans and what he wants to pick and everything else is discussed. After DAC, I'm not really sure what sort of changes there have been but 71 no longer really does these things for us, but we haven't really asked him anything about it. It eventually just became 71 doing the drafts and the preparation by himself and we don't really know what we're going to play. This might also be one of the reasons for why we haven't been doing so well.
Let's talk about the DPC next, you guys travel all across the world to attend tournaments and frequently have to get on and off planes, would you say it has had a lot of stress and impact on your performance?
There's definitely a lot of stress because of constant timezone changes and jet lag but I can't really say that this isn't good either. This is because you kinda have to decide on whether you're participating in tournaments based on your physical and mental well being, so it kinda affects your performance as well. When you look at the schedule, if you think the timezone change will negatively affect your body, then you might decide not to participate in a tournament.
Alright, let's talk about you now. You're a veteran in the SEA scene going way back to the time of Sabun Warriors, Invasion, and you attended the Boston Major with WG.Unity. What are the differences between back then and now, and how big have those changes been?
These changes have definitely been huge and influential, like your teammates are more mature now. For example, back in Sabun Warriors and Invasion, when I was playing with them I never really thought about the possibility that I could end up playing at TI. I just wanted to win every tournament and of course that's still true but playing in these teams, the pressure is a lot greater and you push yourself even more.
Let's make a clearer comparison. Take your time in WG.Unity when you guys defeated coL 2-0 against all expectations. As a solo mid player, what are the differences in Mineski compared to back then?
Speaking from a personal standpoint, back in WG.Unity, I was more of a "big brother" figure, like the big boss of a gang kinda "big brother". Coming to this team, having Mushi and iceiceice as teammates, you could say there were three big brothers here instead of just me.
When you first joined Mineski, would you say you looked up to Mushi and iceiceice a lot and didn't think of yourself as really good or anything like that?
Well, not really, I wouldn't say I didn't think of myself as really good. The fact that they wanted to play with me is proof that I was playing really well at the time so I had a lot of self-confidence when we formed the team.
Right now, you guys are focused on the Supermajor and TI. After TI, is there anyone that you feel like you really wanna make a team and play with?
After TI, I guess I would especially wanna play with ah fu again. We were together in a team before and I think he's really improved a lot, so I would really like to play in a team with him again.
I guess we will have to wrap it up there. Thanks for doing this interview with us.
Thank you.
Interviewer
2009
Photographer:
TheHexHaven
Graphics
Nixer