Welcome to the Major that kicks off our triple header at the end of the first DPC season. With 3 out of the 8 coveted tickets to Vancouver already booked we have finally hit the homestretch just before The International 8. Out of the 12 competing teams in China only Secret has mathematically secured their ticket, for the rest MDL marks the beginning of the final mad rush for the remaining 5. With so much still at stake make sure to tune into the action as 5 of China's best clash with 7 of the world's elite to decide the next Major champion!
The Local Heroes

The reigning EPICENTER champions return triumphantly to China and are most certainly THE team to beat in Changsha. Not only have they broken the curse and become the first Chinese Major Champions but they also achieved that in dominating fashion. Losing only a single series along the way to Team Liquid during the group stages, before taking down Virtus.Pro and Team Liquid twice to take home the trophy, LGD seem to have taken off their gloves. Their wins clearly showed their superior grasp on the meta over their opponents and even with patch 7.15 released recently there is little reason to doubt their form. With the legendary fy at the reins and their strong record since DAC, LGD have finally achieved the consistency that many Chinese teams have lacked thus far and usurped Newbee's position as China's best.
MDL Changsha will be the stage for them to ram that message home. A win here in front of their domestic fans against a field that has an abundance of Chinese teams nipping at their heels would not only net them back-to-back Major titles but also a clear dominance over their backyard. As an added bonus a high finish would also be enough to mathematically lock down their invite to Vancouver although that is at this point in time more of a formality as LGD are not really in danger of losing a spot in the Top 8.
Regardless of that, whoever has to face LGD during this tournament better be sublimely prepared to even stand a chance or they will just get crushed once Ame, Maybe & Co. get rolling.
Time to Step Up

Mineski are in a peculiar position at this point of time. With their impressive win at DAC it seemed like a new powerhouse was on the rise and that the SEA region would have another clear contender for the top. Unfortunately for the fans their joy was short-lived and premature, as their EPICENTER run was cut short in a disappointing Top 6 finish. While their final placement did not fulfill their expectations, the games they lost were actually against the Top 4 at EPICENTER and that is nothing to be ashamed of.
Nevertheless a team of Mineski's caliber is obviously going to be aiming higher and Changsha will give them another opportunity to prove that they can hang with the very top. Consisting of some of the SEA region's best individual players the skill ceiling of Mineski is incredibly high, but at the same time they are dogged by the bane of seemingly all teams of their region: inconsistency. There are times when iceiceice and friends look absolutely on another level, seemingly impervious to any resistance; but then they also have games in which they look disorganized and in disarray. Was their win at DAC just a fluke run, where all the stars aligned? Changsha is just the right stage for Mushi's team to dispel all of these doubts and start building themselves up for TI. Residing above the magical number of 2250 DPC points Mineski and also participating in all three remaining Majors, their attendance in Vancouver is almost guaranteed. But can they carry the torch all the way on the grandest of stages? It is past time for them to kick into high gear and reaffirm themselves in the upper echelon of the Dota 2 world.

For almost the entire season they had been China's poster child, being invited as strongest representative of their region and successfully racking up their points for Vancouver. The tables have now turned however as a string of mediocre results and PSG.LGD's rise to prominence have left the TI-runner ups from 2017 in the shadow. Now sitting uncomfortably at rank 6 and 2220 points in the DPC rankings one cannot help but feel uneasy for them. Especially their recent loss to pain Gaming at EPICENTER and subsequent elimination in the groups must have shaken them up substantially. As the bi-weekly patch cycle continues to change the meta it seems like Newbee has fallen out of touch with it and their results suffered as consequence.
Did that wake up call arrive in time? Newbee clearly has quite a lot to work on in order to stem the tide of bad results in these last 3 Majors.
Now in China with plenty of support at their back and the majority of the Chinese scene present Changsha offers them the ideal chance to clear the air and take back their spot as China's strongest. As much as 2220 points seem, their lead to rank 9 is not even 1000 points and slip-ups could have disastrous consequences as the Chinese qualifiers for TI are shaping up to be yet another bloodbath. The time to steer clear of these dangers is now and should be more than enough motivation for Kaka, Faith & Co. to pick up the slack and shape up for Vancouver.

To say that Team Secret has hit a rough patch would be quite the understatement. Although they are the only team already guaranteed a slot in Vancouver their performance in the last couple of tournaments has been decidedly lacklustre for a team once solidly placed inside the Top 3 of the world.
After two early exits during DAC and Epicenter against Vici Gaming and Mineski respectively, Secret have reached a new low during their elimination at the hands of Keen Gaming during GESC Thailand. Arriving to Bangkok as an overwhelming favorite, no one predicted them to fall to Keen, whose only notable achievement so far was being eliminated early on in every DPC tourney they participated in (ESL One Hamburg, DAC 2018). Was it the patch mid-tournament that skewed the meta out of reach for Puppey & Co. or was the exhaustion from travelling across the world what made Team Secret perform this poorly? Or are there more core issues within the team? We shall never know, but for the outside observer the decline of Team Secret's performance should now be apparent even to the most die-hard fanboy. The uninspired play and funky drafts we have seen in Thailand are a far cry from Secret's capabilities and for them to stand any chance at TI, they need to start getting into shape now. While Liquid and Virtus.Pro's absence make this tournament less stacked, there are still plenty of strong teams far exceeding the calibre of Keen Gaming present. If Secret want to stop their downward spiral before it goes fully out of control Changsha is the place to start.

It has been a bit quiet around Vici Gaming ever since they got trounced by Virtus.Pro in the finals of ESL One Katowice as their Bucharest and DAC runs were cut off short. Nevertheless LaNm & Co. are still one of China's top teams and should not be taken lightly. Following a string of 4 silver medals during the DPC season they are currently still on course to punch their tickets to Vancouver but their challengers are not too far behind. In order to keep them at bay and buy themselves some peace of mind, VG is in dire need to score the necessary DPC points. Changsha will be their first opportunity out of the 3 final Majors and should be the "easiest" chance to succeed as the twin-headed European monster of Virtus.Pro and Team Liquid is missing. With 12 teams, a weaker field than Birmingham and the Chinese crowd's support the preconditions for a good run are all there. It is difficult to judge just how in form VG currently are as their last LAN was DAC a month ago and the two patches since then have changed the meta but with the stakes they are playing for in mind anything but a well-prepared Fenrir would surprise me.
Vici's chance to secure themselves TI is right here and all that remains to be seen is whether or not they can take it.
Any Dark Horses about?

As we finish introducing the frontrunners of MDL Changsha, we take a look at the teams slightly outside of the spotlight, with the first one being TNC. Successfully snatching two of the last 3 qualifier slots from fnatic in the triple header at the end of the season, TNC have a tall task ahead of them. Sitting at 495 points they would need at least Top 2 finishes in both Changsha and the final Supermajor to make it into striking distance to the Top 8 of the DPC. The question is, can they do it? Their lineup certainly has the depth to make a surprising run deep into the tournament, but it will not be easy in the least. Then again, it would not be the first time that TNC has surprised us all. When keeping in mind their Top 4 run at DAC, the chance that the Filipinos make it through to the direct invites suddenly doesn't seem quite so farfetched.

With the roster lock rules being as unforgiving as they are, OG are already out of the competition for a direct invite to Vancouver. Their performance would have cast great doubts on them being favorites for the Top 8 this season anyway, but it is important to keep in mind that all future matches are simply preparation for the open qualifiers to TI. Although OG's form has improved recently (as seen in their Top 6 finish in Moscow) it is altogether still a pretty ramshackle team. Mad has shown improvement in his transition from coach to full-time player again, but OG still looks quite questionable. At best the individual skill on these players still outshine their opponents, but much more often their play lacks the direction and finesse that the OG of past years had in spades. Maybe they can score a couple of upsets and make a deep run; bets, however, will not be on them to succeed.

Fresh off their championship in Bangkok, VGJ.Storm come into Changsha with a lot of momentum. Obviously GESC Thailand had a far less capable field present and a Major is a whole different beast, but the new NA hope has stirred the fantasies of a lot of fans. Taking down Fnatic 2-0 and then proceeding to also 2-0 Keen is not a bad feat for a team trying to break into the higher tiers of competition. Changsha is now the stage for them to prove that they can do more than a single strong tournament; a high finish at this Major followed up by another strong performance at the final Supermajor can be enough to establish themselves as credible threat. Especially considering the state of disarray in the NA scene as EG falters. However, even if they break into the Top 4 at both tournaments, an invite will remain out of reach as their roster change late made them ineligible for it. It all boils down to how scary they can make the NA qualifiers for the other teams in their region. If they keep up their upward trajectory it will be very scary indeed.

Being the sole CIS-representative in China for this tournament after Virtus.Pro withdrew certainly means a whole world of expectations are resting on their shoulders. While their play has shown some promise, as seen during Starladder Invitational Season 5, it is still far too early for them to challenge the established teams. Now with even less preparation and LAN experience due to visa issues preventing them from attending GESC Thailand, Vega squadron has a whole lot to prove in a very short amount of time. Then again the last time we discounted a CIS-team for a Major FlyToMoon happened. Can Vega write another chapter of the CIS-cinderella story? Unlikely, but not impossible.
I heard Changsha is Beautiful This Time of the Year
For every tournament we obviously also have teams that are not quite up to par with the rest of the competitors and Changsha offers us 3 of them. As is by now a sad tradition for the South American region their representative in China offer little reason for hope. While it is true that Pain Gaming made the playoffs in Moscow, they also fizzled out immediately and Pain Gaming is easily the strongest team in South America right now. Infamous' Peruvians (and Argentinian Papito) have a mountain to climb that is just as tall as the Andes back home. There is little in their play that suggests them topping Pain Gaming's results earlier. On the Chinese side, for both iG teams it has been quite the spectacular fall since TI7 ended. With a single DPC LAN appearance to their name shared between them, both teams are far removed from what we were used to during last season. Getting the short stick in the roster shuffle following Seattle, they have never quite recovered in the cutthroat environment that are the Chinese qualifiers. While iG has been floating around the main qualifiers for each tournament and even took games and series off of stronger teams, iG.Vitality has even dropped out of open qualifiers in this season and are thoroughly unimpressive. Both surprisingly managed to make it through the Chinese qualifiers to MDL but I highly doubt that they can transfer that success onto the Major stage. Changsha might just serve as practise for their inevitable run through the qualifiers to Vancouver.
A Closer Look at the Groups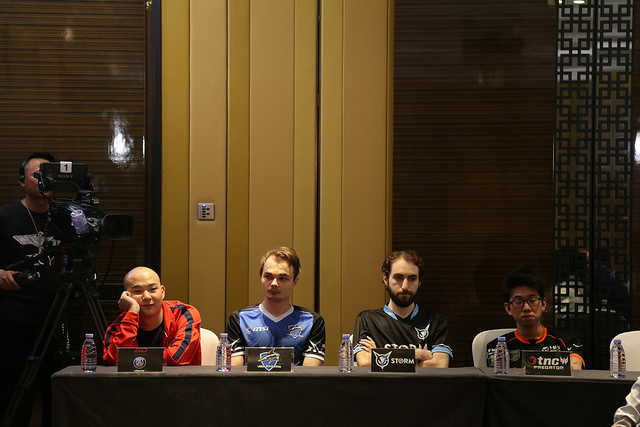 Photo courtesy of Shrinkzxo
Group A - Picking Order: Secret -> Infamous -> iG.V -> OG -> iG -> Mineski
Group B - Picking Order: PSG.LGD -> Vega Squadron -> VG.J Storm -> TnC -> Newbee -> VG
Welcome to fun and games at Changsha! Deciding to hold group selections with only Team Secret and PSG.LGD being seeded, the teams decided their own fate. And they promptly reminded us that maybe organisers should not be so lenient to them as we have 2 very lopsided groups.
The opening picks of Infamous and Vega Squadron respectively were unsurprising but then it escalated quickly. As Vega Squadron decided to avoid chinese teams they threw caution to the wind by picking GESC winner VGJ.Storm. Not wanting to be left behind the NA squad told Vega to hold their beer and proceeded to pick TnC to show that they are not afraid. Forced into picking one of Newbee, Mineski and VG, TnC accepted their fate and rolled the dice with Newbee. Meanwhile Group A leisurely picked themselves together a very comfortable group as Infamous and iG.V both got the picks they wanted. Trying to spice things up a little OG then picked iG to re-enact a new family feud episode before 71's (Mineski's Coach) wish was granted to avoid Group B.
With these selections in place we have 3 clear favorites for advancing to the Upper Bracket in Group A and a massive Free-For-All in Group B. It is definitely not the most balanced set of groups we have had, but it will be entertaining. So get your drinks and snacks ready, it is time to kick off the finale of the DPC Season in Changsha as we crown the 7th Major Champion!
Current DPC rankings can be seen here