Epicenter is the perfect opportunity for either Team Liquid or Team Secret to punch their ticket to TI8. With 750 points awarded to the winners and 450 available for the runner-up, if they manage to face each other in the finals both teams would secure TI8 invites for themselves. Liquid and Secret are far from the only contenders at Epicenter XL, however; the re-branded PSG.LGD look to advance upwards from their newly acquired 8th place in the rankings while Mineski look to take back-to-back Major titles fresh off their win at DAC. Newbee's last win was at ESL One Genting and while they seem to be having trouble with performing consistently they have also proven they have what it takes to defeat anyone in the world. We can also never ignore the hometown favourites, Virtus Pro, who are looking to win their 4th Valve Major, this time on home soil.
Group A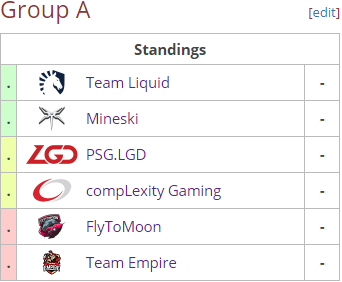 At first glance Group A seems to be a battle for 4th. Team Liquid, Mineski, and PSG.LGD all stand well above CompLexity, FlyToMoon, and Empire by nearly every relevant metric you could base the teams on. With the bottom two from each group being eliminated this puts the onus on coL, FTM, and Empire to take each other down and hope for an upset against Mineski, Liquid, or PSG.LGD. It should be noted that while PSG.LGD looked great at DAC, where they finished 2nd, they did subsequently lose to IG during the Chinese qualifier for ESL One Birmingham.
Adding on to the difficulty some of the teams in this group face, compLexity will be playing with a stand-in to replace Kyle who was removed from the team in March. Empire also faces difficulty with their roster as they just added their new carry player, Naive- on the 16th of this month, meaning neither team will be heading into EPICENTER XL with their full strength. FlyToMoon on the other hand has been showing promise as they qualified for StarLadder where they took a game off VGJ.Thunder and beat Kinguin on top of making it through the Madness qualifier for Epicenter.
The winners of group will be seeded into the upper bracket where a single win will get them top 3 at the Major. For Liquid if they can make it to the finals their TI8 invite will be secured, whereas PSG.LGD would move up from their perilous position in 8th with any top 4 placement. Mineski's win at the previous Major has cemented them in 4th place, and with so few large tournaments left it is unlikely that they get unseated. This does not, however, mean that Mineski will be content necessarily with 4th; no doubt they wish to become back to back winners of Epicenter. The fight for the top of this tournament should be a close race with an advantage going to Team Liquid and Mineski.
Group B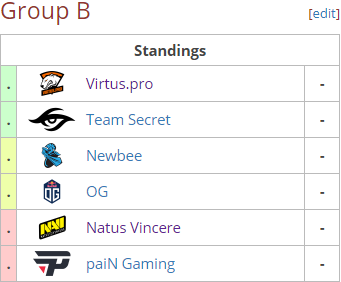 The second group is also fairly top heavy with Team Secret, Virtus Pro, and Newbee being the stand out teams while OG, Na`Vi, and Pain Gaming make up the rest of the group. Team Secret, like Liquid, will earn their invite to TI8 with a finals appearance which makes starting in the upper bracket all the more important for them. The two teams most likely to challenge them for the top 2 positions will be Virtus Pro and Newbee, although with Newbee's hot and cold performances it would not be surprising to see both VP and Secret easily take the top spots in the group.
Virtus Pro are coming to EPICENTER XL with the home crowd advantage, something which usually only applied to Na`Vi in the CIS region. After a narrow defeat during the Kiev Major there is very little doubt that Virtus Pro will want to lift the trophy at home in front of their fans. Their recent 3rd place finish at DAC after losing to a hot PSG.LGD was a minor stumble considering what came before that were wins at The Bucharest Major, and ESL One Katowice. With nearly 8000 points VP has already secured their invite to TI8 but their competitive nature and drive to prove that they are the best means they'll be giving it all they've got in Moscow.
On the lower end of the totem pole in group B we have OG, Na`Vi, and Pain Gaming. Na`Vi had their hard-earned spot in the top 8 taken away from them when Mineski and PSG.LGD surpassed them in the rankings. A recent 3-0 over Empire in the ESL One Birmingham may give fans of Na`Vi a bit of hope as they enter the group stage. Na`Vi has shown in the past that they can be competitive with the top teams, although it has been a far cry from their previous roster with Sonneiko at the helm. They will likely be fighting against OG and Pain Gaming to escape the group, but if any of these teams could manage to break into the upper bracket it would be an impressive achievement.