Defining Moments
The Shrine Bait
Every sport, digital or otherwise, has defining moments: moments where the legends of the game step up and show off their best side. It can be a clutch defuse as you're standing in a molotov, an interception on the goal line, or a breakaway with no time left on the clock. While the plays I've just mentioned often immediately leads to a win, Dota is a different beast. We have the plays, but you might not see the end result, a game win, for the next 20 minutes. These defining moments are nothing short of amazing, but what really happens during them?
As a foreign fan of the National Football League, I follow several YouTube channels in the hopes of learning more about the game. One of my favorite channels is that of
Samuel Gold
. He has a series called "Big Play" where he breaks down a single key play every week of the season in a short and easy to understand way. In this inaugural article, I aim to replicate this "Big Play" style for Dota 2. The goal here is not to investigate every nuance of the match, as there are plenty of contributing factors to why the game ended as it did. Instead, I focus on one big play or moment and break it down.
In the first game of the semi-finals of ESL One Katowice, Team Liquid picked up a massive early game lead against Vici Gaming off the back of a favorable laning setup for MATUMBAMAN's Broodmother against eLeVeN's Batrider. 20 minutes into the game, Liquid had already taken a tier 3 tower, amassed a solid 8k gold lead, and claimed the two top spots on the networth board. It looked all but over for VG. With control of the Dire jungle, Liquid decides to take down the top shrine in order to completely dominate the map and slowly choke out their opponents.
What Liquid doesn't realize is that VG is one step ahead of their thought process. They have identified that the shrine in the Dire jungle is one of the most vulnerable areas of the map. Three out of the four access routes to the shrine go through high ground, and the area is cramped. A team fight centric lineup, like the one VG fields, will have no problems defending the shrine (assuming that they are allowed to initiate). Using the shrine as bait is a compelling and unexpected move.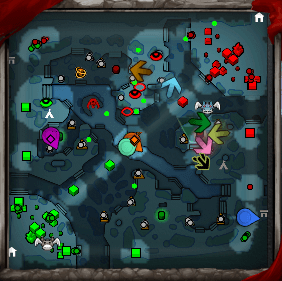 VG's warding position just before the engagement. Note how the sentry wards secure them the entire high ground next to their own anicent camp.
To set up for this ambush, VG places a total of four wards in the vicinity, focusing heavily on the area around the ancients, their preferred angle of attack. Thanks to these beautifully placed observers and sentries, VG gets three key pieces of information:
All of Liquid are in the Dire jungle looking to take the shrine
Liquid has no vision on the high ground next to the Dire ancients.
There are no BKBs up on Liquid's heroes
Even with all their big ultimates up, VG knows the stakes are high. Lose the fight, and Liquid will destroy the shrine, the tier 2 mid, and possibly a set of barracks. This would mean that VG lose all map control, and die a slow, painful death. At the same time, they also know that this is the best chance they'll get. In order for them to have a fighting chance, they have to fight perfectly and win decisively.
Vici Gaming closes in on the battlefield just as the shrine falls; for a moment, it seems like the opportunity has been lost, as Liquid has already started moving away from the area. Team Liquid actually could have sidestepped the looming fight right then and there, if it was not for some unlucky timing from GH on Earth Spirit. Seconds before VG moves up to the high ground, Earth Spirit starts retreating, losing critical uphill vision and allowing VG to take the shorter route to the battle ground. If he had not moved, VG would have been forced to swing around to the north, forcing them to miss their window.
However small that detail was, it's nothing compared to the following one. For me, this moment represents how mind-bogglingly small the difference between winning and losing can be in professional Dota. Instead of instantly backing out with his team, MATUMBAMAN, for just a second, moves towards the Dire ancient camp. This brief lapse in judgement allows VG to initiate, as Broodmother is in range of the Blink Dagger range of Batrider. Had the Brood retreated, Batrider would have had to use a Force Staff to get in range to use his Blink Dagger, resulting in a less favorable position for VG post-lasso.
After the Batrider initiation, Ori tries to use Death Prophet's Silence on Kuroky's Chen, to stop him from using Hand of God and Holy Persuasion. Unfortunately, Ori barely misses, but a beautifully placed Warlock ultimate from Fenrir stuns three other Liquid heroes. VG also threw the kitchen sink at the spider, killing Broodmother without giving her a chance to deal any damage. This is another situation that could have been easily avoided, or even turned towards Liquid's favor. Had they waited a few minutes, MATUMBAMAN would have had a BKB available, dissuading VG from attempting to catch Liquid off-guard.
The usage of Chaotic Offering does more than at first meets the eye. The triple stun not only stops the Radiant from reaching Broodmother; it also forces Liquid to commit to the fight. Losing MATUMBAMAN wasn't ideal, but they got the objective they wanted, and could probably have disengaged and closed out the game from here. With three heroes stunned, Liquid's hand is forced. While Chen and Tiny could have backed off, it's highly unlikely that both could have made it back to base safely. Chen has no natural escape mechanism, and even if Tiny has a Blink Dagger, he can't defend any objectives on his own. Liquid realizes that trading for 1 or 2 kills is the optimal outcome. They have to fight.
Tiny blinks in and does his best to save MATUMBAMAN with his own three-hero stun, but Broodmother has fallen too low in HP for it to matter. As she falls, Tiny is left in a precarious situation. Having used his Avalanche-Toss combo, without getting a single kill, he now finds himself in the middle of VG's lineup with nothing but his right clicks. The spells used to blow up the Broodmother now start focusing on him. Tiny slowly withers away to Warlock's golem and Exorcism.
Behind Tiny, Mind_Control's Viper is isolated on the low ground, and is slowly dying to Spirit Siphon and the golem. With the entirety of VG uphill from Viper, he has issues getting any damage onto the opposing lineup. Thanks to the excellent initiation from Batrider, VG put themselves in the dream position for a fight. Liquid's lineup simply does not have the damage to take a 4v5 fight without their biggest damage dealer.
VG takes the fight 5-0, exactly what they needed to swing the game in their favor. VG's play here, while not absolutely flawless, was a strategic mastermove from the Chinese. They knew Liquid wanted the shrine and knew exactly what they needed to do to exploit this. The call is amazing and VG's game, and ultimately series, win was well deserved.
Writer Julmust
Editor tehh4ck3r