Spring cleaning
has arrived




Out of the blue, Valve has just released the Spring Cleaning update for this year, despite the fact that it's not spring anywhere, yet - although the weather has been pretty good lately. Along with it comes the new gameplay update 7.08 which brings small nerfs and buffs to a selection of heroes and items.

Listing all the changes would be pointless so I'm going to make a short list of changes that mean a lot.

You can find a full list here: http://www.dota2.com/springcleaning/

Redesigned Player Profile



We've redesigned the player profile to include many common feature requests, as well as some new features. Check out your latest match performance, show off the uniquely combined cosmetics you've chosen for your favorite heroes and personalize your profile by choosing any background from the catalog of loading screens you own.



+ Show Spoiler +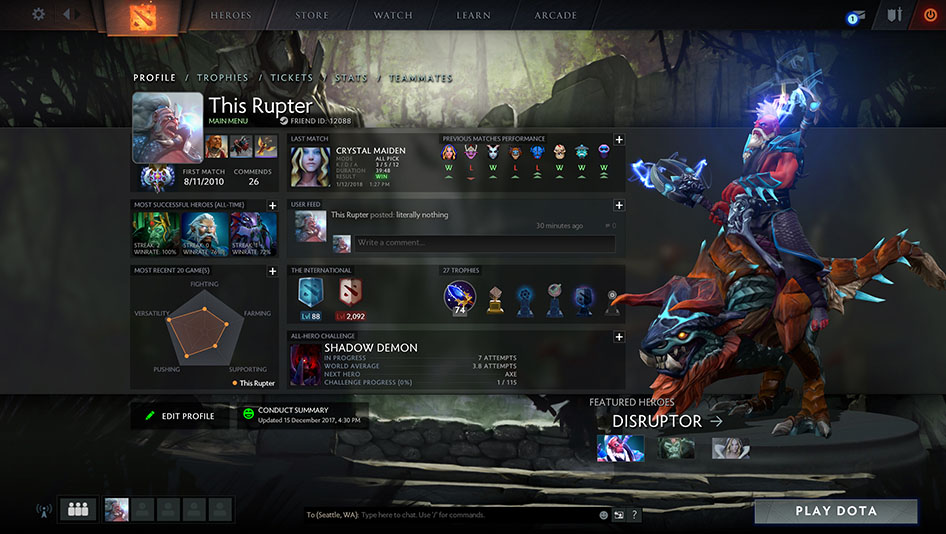 Gameplay Changelog Notifications
Dota constantly evolves, and keeping track of changes can be daunting. Now you can see which heroes have updates by looking at the top-bar portrait of a selected hero on the drafting screen. Hover over the icon to see any changes made since the last time you looked. In addition, there is now a section in the Learn tab with the full changelog. During a game you can hover over an ability or item tooltip to see if and how they've changed.
+ Show Spoiler +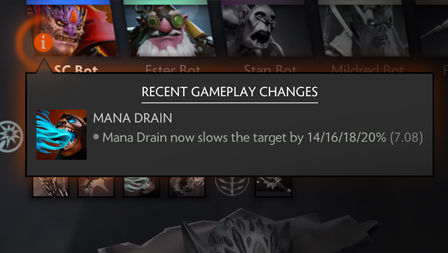 Last Hit Trainer
Make the most of every creep and push your GPM to the next level with the Last Hit Trainer, a new tool in the Learn tab. You can take the time to practice this vital mechanic anytime you want—even while queuing for a game.
+ Show Spoiler +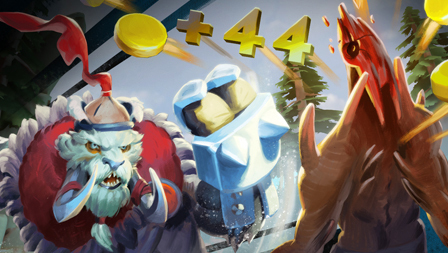 Strategy Phase Item Pooling
The time before the battle horn blows is precious for early-game reconnaissance. Get to the business at hand before the game even begins by pooling tangos and wards to other players during the strategy phase.
+ Show Spoiler +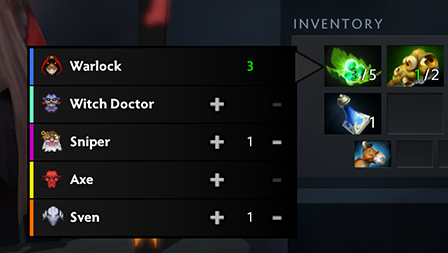 6 Month Matchmaking Bans
As part of this update, we are now automatically issuing 6 month matchmaking bans for players that show an extreme frequency of negative behavior (feeding, abandoning, player abuse, etc).
Language-based Matchmaking
Communication plays a vital role in destroying an Ancient. To help improve the lines of communication between teammates, your selected language is now a much greater factor when determining matchmaking.
Custom Game Arcade Revamp
The Arcade tab has been revamped to help you find open Custom Game lobbies with greater ease. Peruse open lobbies from around the world, or use the list of the most recent lobbies in nearby regions to join a server with a good ping.
Custom Game Matchmaking Penalties
Custom Game developers can now opt their games into a penalty-enforcement mode. Players who abandon or fail to ready up for these custom games will receive matchmaking cooldowns in the Arcade.
Color-Coded Teleport
In addition to the visible hero outline on incoming teleportation effects, heroes will have a color-coded ring around them that corresponds to the player's top-bar color when they use Teleport.
+ Show Spoiler +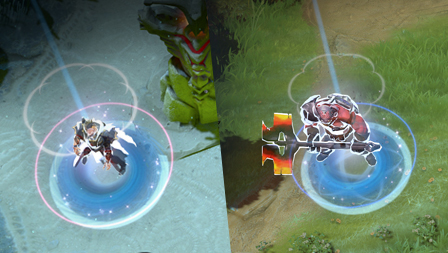 User Interface




Hero loadout pages now show what scepter upgrades that hero has
Talents can now show tooltips by pressing Alt
Anyone in a party can now invite other players directly
Runes can now be pinged via the Minimap
Ability icons now show a progress overlay for cast points once the button is pressed
Improved input latency for low end machines
Lifetime and Recent game stats are no longer shown to non-friends

Added an option to bring Dota 2 forward when match starts and when picking phase starts
Added an option to bring Dota 2 forward when a game is unpaused
Skills can now be leveled up during a pause
Skills can now be Alt-clicked during a pause
Buying items while dead will now go to your inventory directly, rather than the stash
Alt-clicking Dagon/Necro now says what level it is




Gameplay Patch 7.08



General Changes

Wards now require a constant 2 hits to kill (both Observer and Sentry Wards)
Tier 1 Tower armor aura increased from 1 to 2
Bounty Runes: Base XP reduced from 25 to 0
Bounty Runes: Gold Growth increased from 2/min to 4/min
Roshan now has 25% Status Resistance
All Pick: Drafting time per hero selection reduced from 30 to 25 seconds




Item Changes

+ Show Spoiler +


Aeon Disk:

Health threshold reduced from 80% to 70%

Battle Fury:

Creep Bonus damage reduced from 60% to 50%
Creep Bonus no longer works with illusions

Black King Bar:

Cooldown rescaled from 80/75/70/65/60/55 to 70

Blink Dagger:

Cooldown increased from 12 to 14

Enchanted Mango:

Mana restore increased from 150 to 175

Faerie Fire:

Heal increased from 75 to 85

Force Staff:

Time it takes for the full distance to be traveled increased from 0.4 to 0.5

Hurricane Pike:

Time it takes for the full distance to be traveled increased from 0.4 to 0.5
Cooldown increased from 18 to 23

Meteor Hammer:

Cooldown reduced from 40 to 28

Soul Ring:

Recipe increased from 185 to 200

Spirit Vessel:

Recipe cost increased from 600 to 750





Hero Changes

+ Show Spoiler +



Alchemist:

Chemical Rage base attack time improved from 1.4/1.2/1.0 to 1.3/1.15/1.0
Level 10 Talent increased from -5s Unstable Concoction Cooldown to -8s
Level 15 Talent increased from +350 Health to +400
Level 20 Talent increased from +360 Unstable Concoction to +400

Ember Spirit:

Sleight of Fist Hero Damage increased from 20/40/60/80 to 25/50/75/100

Enchantress:

Base damage reduced by 3

Jakiro:

Reduced attack backswing from 0.5 to 0.3

Juggernaut:

Blade Dance damage reduced from 200% to 180%

Leshrac:

Split Earth manacost reduced from 100/125/140/160 to 80/100/120/140

Lina:

Base intelligence increased by 3
Base damage random variance reduced from 18 min/max damage spread to 12

Lion:

Mana Drain now slows the target by 14/16/18/20%

Lycan:

Shapeshift cooldown increased from 120/90/60 to 130/105/80
Base armor reduced by 1

Medusa:

Medusa: Mystic Snake cast range reduced from 800 to 700
Medusa: Level 10 Talent increased from 12% Evasion to 15%
Medusa: Level 15 Talent increased from +15% Mystic Snake Mana Steal to +20%
Medusa: Level 20 Talent reduced from +800 Mana to +700

Morphling:

Morph cast range increased from 600 to 1000
Morph manacost reduced from 75/100/125 to 50
Morph Replicate cast point removed

Nature's Prophet:

Wrath of Nature cooldown reduced from 90/75/60 to 70/65/60

Omniknight:

Degen Aura range reduced from 300 to 275
Purification cast range reduced from 450 to 400

Oracle:

Fortune's End manacost reduced from 110 to 75

Pangolier:

Rolling Thunder cooldown increased from 50/45/40 to 70/65/60

Pudge:

Rot slow rescaled from 30% to 20/24/28/32%

Pugna:

Level 15 Talent increased from +1 Nether Ward Health to +2
Life Drain damage increased from 150/200/250 to 150/225/300 (Scepter now only removes cooldown)

Shadow Fiend:

Necromastry max souls reduced from 18/24/30/36 to 12/20/28/36

Shadow Shaman:

Ether Shock cooldown increased from 8 to 14/12/10/8
Shackles total damage reduced from 120/200/280/360 to 60/160/260/360

Tinker:

Base movement speed reduced from 305 to 290

Tiny:

Toss cooldown increased from 8 to 11

Tusk:

Snowball can no longer be cast while rooted

Windranger:

Windrun manacost reduced from 60 to 50
Level 20 Talent changed from +1 Shackleshot Target to +0.5s Shackleshot Duration
Level 25 Talent from +30% Ministun Focus Fire to +35%