More Than Just a Role
Everyone loves a playmaker. They're the ones that you know you can rely on in a time of need. The player who, when the chips are down, will outplay the entire enemy team. Playmakers have the uncanny ability to make something happen out of nothing. Where a normal player sees an impossible task, they see an opportunity. These aggressive plays are often more likely to succeed just by surprising the opponents. Later, I'll go over some specific examples of these plays, but for now, let's talk about what makes a playmaker.
Playmakers have exceptional vision and awareness of everything around them. They know their limits better than anyone and use them to lure the other team into a false sense of security. They make the most out of their skilled teammates and often have strong predictive skills. These skills translate perfectly between traditional sports and Dota. Players like Andres Iniesta or Steve Nash embody this for soccer or basketball, while in Dota we have players like s4, JerAx, and GH. Some of these skills are easy to observe while others can be very difficult to quantify. Vision and awareness are easy to notice from the player's perspective. Other traits like the ability to build up teammates or predictive skills can be harder to observe. Predictive skills are most often valued on skillshot heroes such as Mirana or Pudge, but they're just as important on initiators like Magnus or Axe. The initiator's ability to know where the enemy heroes will stack together or where they will be in the fog of war can often single-handedly win games.
For example, here's a stream clip where s4 calls out ahead of time that he is going to outplay the other team. s4 runs on top of his teammates to bait an Echo Slam, then uses Thundergod's Wrath to cancel Earthshaker's Blink and causes him to completely miss the Echo Slam.
It's plays like this that separate s4 and other top-tier playmakers from average professional Dota players. The foresight to know what is going to happen early enough to call your plays out 2-3 seconds ahead of time is one of the most important assets these playmakers have. Just a few seconds of preparation time for teammates makes a world of difference in how a team approaches a fight. This ties into making one's team perform to the best of their abilities. Knowing in advance exactly how to initiate will help get the best performance out of mid or carries (which depends on their farm, playstyle, positioning, and more).
These attributes are what makes the difference between players like Arteezy and s4. Arteezy is a very skilled player in his own right and is known to outplay opponents with extremely high-level mechanics (such as Manta dodging difficult-to-avoid spells like Glimpse). Despite both players being some of the best mid players in the world (when they still played the role), they could not be more different stylistically. Arteezy played the farm-centric, space consuming carry heroes of the mid lane (Naga Siren, Shadow Fiend, Outworld Devourer) while s4's signature heroes were playmakers and space creators (Puck, Batrider, Magnus).
s4's heroes are all archetypal playmakers, heroes that only need one or two major items to become huge threats. These items are usually Blink Dagger and another, hero-specific item. Puck, for example, has large power spikes when he picks up Veil of Discord and Blink Dagger while Batrider's spikes occur with Blink Dagger and Force Staff. These heroes often have very high skill caps before items are considered but activated items like blink dagger raise their complexity even more.
That's enough about general cases, though. It's time for an example of what makes s4 one of the greatest Dota players of all time.
Here's a clip from the Kiev Major finals, OG vs Virtus.pro, game 1. This is a very chaotic teamfight but try to keep track of s4 (Hint: he blinks left, off camera, early on).

OG starts this fight out at a huge deficit; they have been playing from behind for a long time and VP has built up a 17k net worth lead. Luckily for OG, Pasha's Magnus completely whiffs his Reverse Polarity and OG is given one opportunity to make a comeback. Fly's Supernova ends up completing with one hit left and OG manage to take the fight, earning them a 3k+ networth swing. At first viewing it's easy to blame the outcome on VP, with Pasha missing RP and 4 heroes letting a Supernova complete, but there's much more to it than that.
The fight begins awkwardly with JerAx's Monkey King chasing Lil's Tusk. Pasha sees this chase as an overextension on OG's part and plans on initiating with his Shadowblade and RP. However, he isn't ready for s4 and JerAx's movements. s4 dodges the RP with a quick Force Staff forward and blink back while JerAx leaps away to a tree. Pasha was actually very close to catching 2 heroes in the RP which would have won the fight for VP. After this is where we see truly beautiful thinking from s4. His team is incredibly far behind in a chaotic teamfight with ultimates and spells flying everywhere and what does he do? He waits. s4 sits on the edge of the fight until Fly's Supernova is almost dead before throwing a Flame Break. He then waits even longer for Supernova to complete before jumping in and Lassoing RAMZES666's Slark. It's important to realize that this didn't transpire over a few seconds. s4 sat on the edge and let his team fight with next to no assistance from him for a full 20 seconds. That's an eternity in teamfight time. s4's patience paid off and he was able to help his team make the first step towards a comeback.
All of this shows why s4, the ultimate playmaker, made one of the smoothest role transitions (mid to offlane) we've ever seen in professional Dota. Back when he played mid on Alliance, he played the role more like the position 3 player than the position 2 player, farming up his first item or two then creating space for AdmiralBulldog and Loda to farm. After moving to OG and transitioning to the offlane, he has continued to play many of the same heroes as before. Now he plays the same style from a different lane, just fighting against a carry and supports instead of a mid hero. This role switch has actually enabled s4 to play more heroes, like Axe and Dark Seer, that fit his style but are rarely seen in the mid lane. Despite only playing the role for a year, s4 is now considered to be one of the best offlaners in the world, mentioned in the same breath as players like UNiVeRsE and Faith_bian.
One of the biggest strengths of these mid and offlane playmaking heroes is their ability to start comebacks even if their team is at a major gold deficit. This comes from how these heroes only need a few major items to be effective combined with access to the farm needed to reach those items early. While the offlane shrine now needs 5 minutes to become active, the offlane jungle is more relevant than ever. If the enemy team dedicates a trilane to zoning the offlaner, heroes like Axe, Dark Seer, or Enigma can easily go farm the medium and hard camps every minute. These camps respawning faster allows offlaners to stay in their jungle and defend their tower if necessary, a much better situation than moving to the safelane jungle. The increased access to farm during the laning stage allows offlaners to get their first big item pickup at a reasonable time, meaning that even if their team is behind, they can still pick up the pace and start going on the offensive with their new high-impact item. In
game 3 of The Summit 6 grand finals
, OG were falling behind from the start of the game after their aggressive trilane didn't work as well as planned. During this game Arteezy and SumaiL commented multiple times about how s4's Batrider was the only chance that OG had to make a comeback. This brings us back to what makes playmakers great, the excitement of knowing that a comeback is possible.
Supports can be Playmakers too
As s4 has shown, there is a lot of overlap in playmaking heroes that can be played in either mid or offlane, easily more overlap than any two other roles. That isn't to say that s4 plays every playmaker that goes into mid or offlane. Invoker is the primary example of this: while he is one of the highest skill-cap heroes in the game and has the toolkit of a great playmaker, he still isn't a signature s4 hero. So, let's explore some of the other playmaker heroes/roles.
A common theme among playmaker heroes is their relatively unique spells/abilities (spells like Sticky Napalm or Nether Swap, as compared to bland spells like Wraithfire Blast). If there is a player / hero combination that perfectly embodies the support playmaker it is JerAx and his Earth Spirit. Earth Spirit highlights the differences between the 3 and 4 position playmakers. While most of the offlaners require some major item pickups to be effective, Earth Spirit can begin making plays from minute zero. You also know if you've ever seen JerAx's Earth Spirit that that hero has an incredibly high skill cap because of his mobility and versatility. This skill cap gets even higher when he picks up Aghanim's Scepter and gains his Enchant Remnant ability. Earth Spirit, like most playmaker positions 4s, works very well as a roamer / ganker in the early game and functions primarily as a movement / tempo controller in the mid and late game.
Another thing to consider is the trend towards playing traditional offlaners as position 4 supports. Roaming Slardar and Clockwerk went from non-existent to reasonable options over the past year. These heroes are both efficient roamers thanks to the combinations of Guardian Sprint / Slithereen Crush and Battery Assault / Power Cogs, allowing them to easily gank the opposing mid or offlaner. Both heroes also serve as strong initiators in the mid and late game (though Clockwerk only needs level 6 while Slardar needs a Blink Dagger), giving their team additional scaling from the support role.
Let's look a bit deeper at what sets the world-class playmaker supports apart. While s4 has his impeccable prediction and initiation skills to rely on, the support skillset can be very different because of how much less farm they have to work with. This means early game map awareness and movement are of paramount importance.
For example, here is a clip of Team Liquid vs Newbee from the Kiev Major.
In this clip, GH counters an enemy gank on Miracle and turns it around for a kill. At first glance it's just a decent play from GH that saves his mid, a worthwhile rotation with little opportunity cost. However, this play has a much greater impact than just saving Miracle's Tinker. Every smoke in the early game is a huge commitment; it essentially means that this is a very big play or important gank that you need to succeed. Normally just breaking the enemy smoke and forcing their retreat is a victory for the defender, but GH goes even further by turning it into a kill for his mid hero and then setting up a gank on the enemy safelaner.
How does GH do this? First, he and KuroKy push the enemy Nyx Assassin out of their jungle and watch the Crystal Maiden and Nyx escape towards the midlane. Seeing the enemy supports running towards mid from the bottom rune means that, without teleporting, their only routes to attempt a gank involve either smoking or running through Liquid's wards. This information allows GH to head towards the top rune while Kuro covers the south entrances to mid. From there, GH spots the enemy smoke at the shrine and positions himself on top of the ramp in order to break the dire smoke while pinging their possible smoke route through middle. With Miracle safely on his own high ground, the Crystal Maiden and Nyx must run up the ramp to get behind him (Miracle's positioning stops them from running straight through the lane). All this sets up GH perfectly to break the smoke, stun both heroes, and give Miracle a free kill on the Nyx.
Unfortunately for Newbee, it doesn't end there. With Crystal Maiden mid and Nyx dead there is nothing to protect the Juggernaut. Liquid takes advantage of this opportunity to move top as quickly as possible and gank the Juggernaut while the supports are out of position. Sadly, Crystal Maiden breaks GH's smoke as she runs towards top lane, forcing Liquid to settle for a Crystal Maiden kill instead. While this gank might have gone awry, it's the idea behind it that makes Liquid's supports so scary.
Similar to some of the defining characteristics that set s4 apart from other offlaners, this play shows off some of GH's highlights as well. The movement, positioning, and map awareness from GH makes him a great playmaking support, one of the best in the world.
Here's another clip from Game 3 of the same Liquid vs. Newbee series. This one is less general prediction and more mind games from Kuro and GH. The result is a big win for Liquid as they take an easy teamfight outside of Roshan and get themselves an Aegis. It seems like a pretty dangerous play, but Liquid's next-level positioning gives them a huge advantage.
First is the build-up; Liquid just took a free kill on Sven with 5 heroes around mid-lane. Normally this could mean an easy, uncontested Roshan; however, Newbee can fight exceptionally well around the Rosh pit with their Veil Ember and Global Silence. The normal reaction would be for non-cores to sit just outside the pit, in position to break any smokes when the enemy team reaches the river.
This is where Kuro and GH's setup shines. First, they deward Newbee's river ward to deny them vision of the area, making any attempt at contesting much more difficult for Newbee. Kuro places a ward near the Radiant ancients, giving Liquid vision over Newbee's two high ground routes to Roshan. The image below shows about the range that GH and Kuro can break smoke from.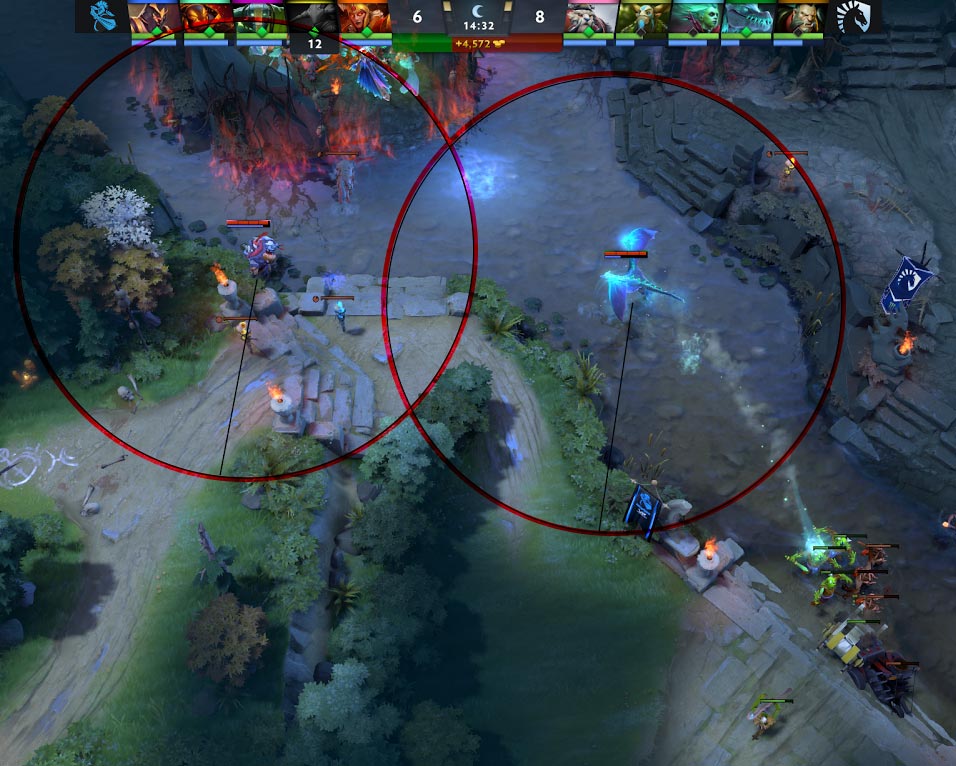 Shortly after Liquid sets up, Newbee pushes in towards Roshan at full speed and are caught completely off-guard by GH. Normally Newbee would be ready for their smoke to break when they hit the low ground or got close to the Rosh pit, but Kuro and GH were prepared for this. With their two wards giving vision of the high ground and Kuro / GH positioning themselves right next to the cliffs, Newbee's smoke breaks well before they expected it to. The Liquid supports' positioning is even better because of the night time vision, allowing GH see Newbee before they could see him. Liquid created the perfect counter-smoke scenario here, managing to turn Newbee's own smoke vision advantage against them. GH's exceptionally easy Winter's Curse gives Liquid a teamfight and Roshan that add another 2k+ gold and an Aegis to their lead. Plays like this are important to pay close attention to because there's so much more to it beyond "GH got a 4-man Winter's Curse."
Traditionally, we as viewers put a lot of emphasis on the flashy high damage heroes, shown by how nearly every match MVP vote at TI went to a farming mid or carry. While mid and carry players can be great, support and offlane playmakers are overlooked more often than not. Next time you watch a pro game, keep an eye out on these playmakers and ask yourself "Does this player deserve MVP?" If you think a fight might break out, keep an eye on their movements; during a fight, watch for how long they hold key spells. Following the hype of the casters is always fun, but closely watching playmakers can help you appreciate pro Dota on a completely new level. In the end you'll probably enjoy watching Dota even more than before. Maybe you'll even find a new favorite playmaker.
Writer jdc214
Editor JanG
Copy-Editors OmniEulogy, Sn0_Man