Four teams remain standing on the final day of the Boston Major. EG, the superstar team with five of the most individually skilled players in Dota. OG, two time major champions looking to make history with a third win. DC, the undefeated juggernauts, hungry for a championship after they fell short at The International. Ad Finem, the team no one expected to make it this far, the ultimate underdogs hoping to make their Cinderella story real.
OG vs. Evil Geniuses
After taking out Virtus.pro, EG supplanted them as favorites. A lineup feared and respected by every other team can be hard to bet against. With countless top 3 finishes and championships between their five players, it can be hard to match EG on paper. However, their opponents, OG, are the only team with a similar caliber of tournament performances. In the year since their formation, they won two majors, and were the odds-on favorites to win The International, a record no other team is even close matching. These teams met recently at The Summit 6, where OG knocked EG out of both the winner and loser's brackets with a combined score of 4-1. Analysts speculated that OG, a seemingly solid but unexceptional team, were EG's kryptonite. This match would show whether or not OG truly have EG's number.
EG's game 1 drafts was solid, but they gave away the Naga Siren to OG (a dangerous thing to do) and were then completely dominated by s4's clockwerk play. OG were able to end the game in under 30 minutes despite having a traditionally farm-heavy core Naga. The second game was a different story, with OG managing a complete outdraft. Luring EG into picking Ursa to counter their Alchemist, Fly then picked up OD to allow Alchemist to safelane while OD dominated Ursa in mid. Between Astral Imprisonment and Shallow Grave, EG's Morphling and Ursa could barely kill anyone, even the supports. OG walked over EG, winning the series in less than an hour of game time and proving their performance at The Summit was no fluke.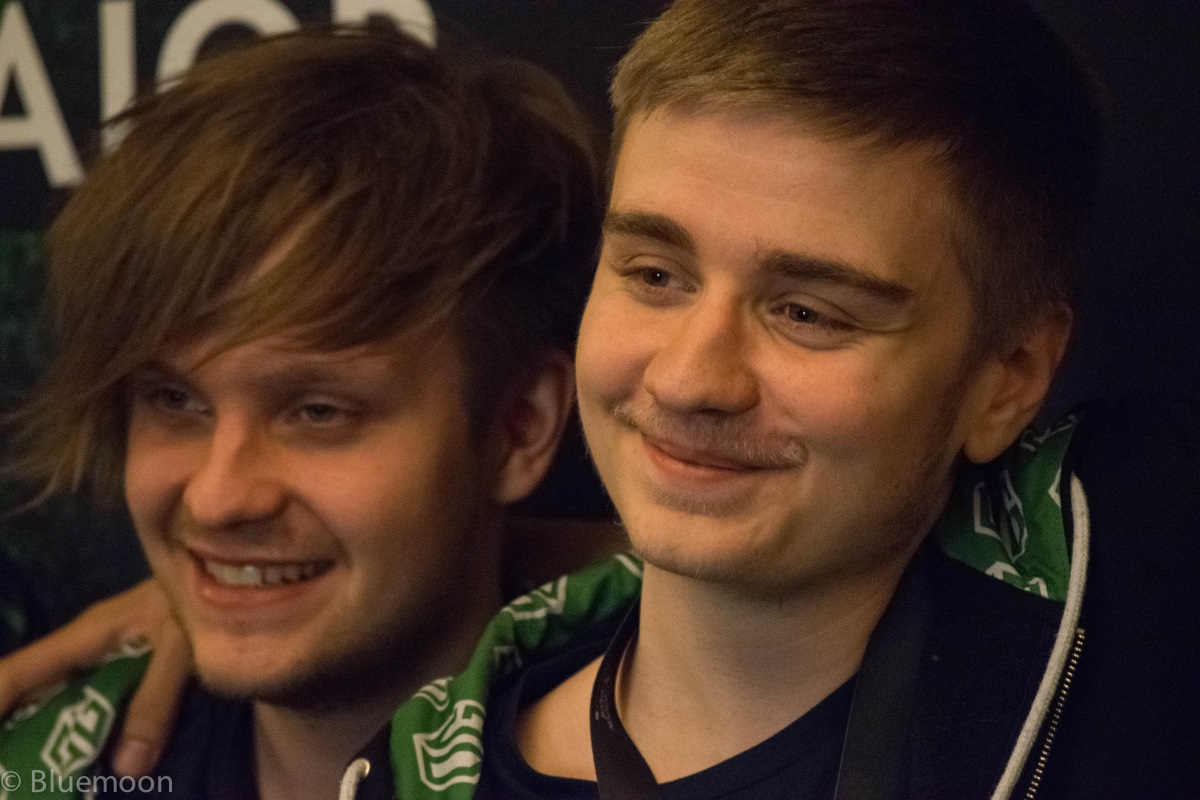 JerAx and N0tail after their victory over EG
Digital Chaos vs. Ad Finem
DC vs AF provided a great contrast to the earlier EG vs OG match. One semifinals was a battle of titans, while the other was an undefeated team facing off against a qualifier team that couldn't win a match 2-0. DC's Boston Major run had been nothing short of fantastic, with a record of 8-0 going into the semifinals. Their opponent, Ad Finem, was very reminiscent of DC before The International—a team that no one really expected to go far and whose luck would eventually run out. Yet, as we've seen before with teams like CDEC at TI5, sometimes the team with no expectations can be scarier than the tournament favorites.
AF showed why they made it this far in game 1 with a last pick Enigma that absolutely decimated DC. Spartan regularly landed two or three man Black Holes, sometimes catching both w33 and Resolut1on. This game never looked scary for AF as they accrued a massive networth advantage while Resolut1on's Morphling was DC's only hero farming for the latter half of the game. Eventually AF picked up an Aegis and sieged DC's barracks by repeatedly attacking with a magic immune, Lotus-Orbed Lifestealer. With the last barracks in danger, DC were finally forced to fight into AF and were unable to overcome their 30,000 net worth disadvantage.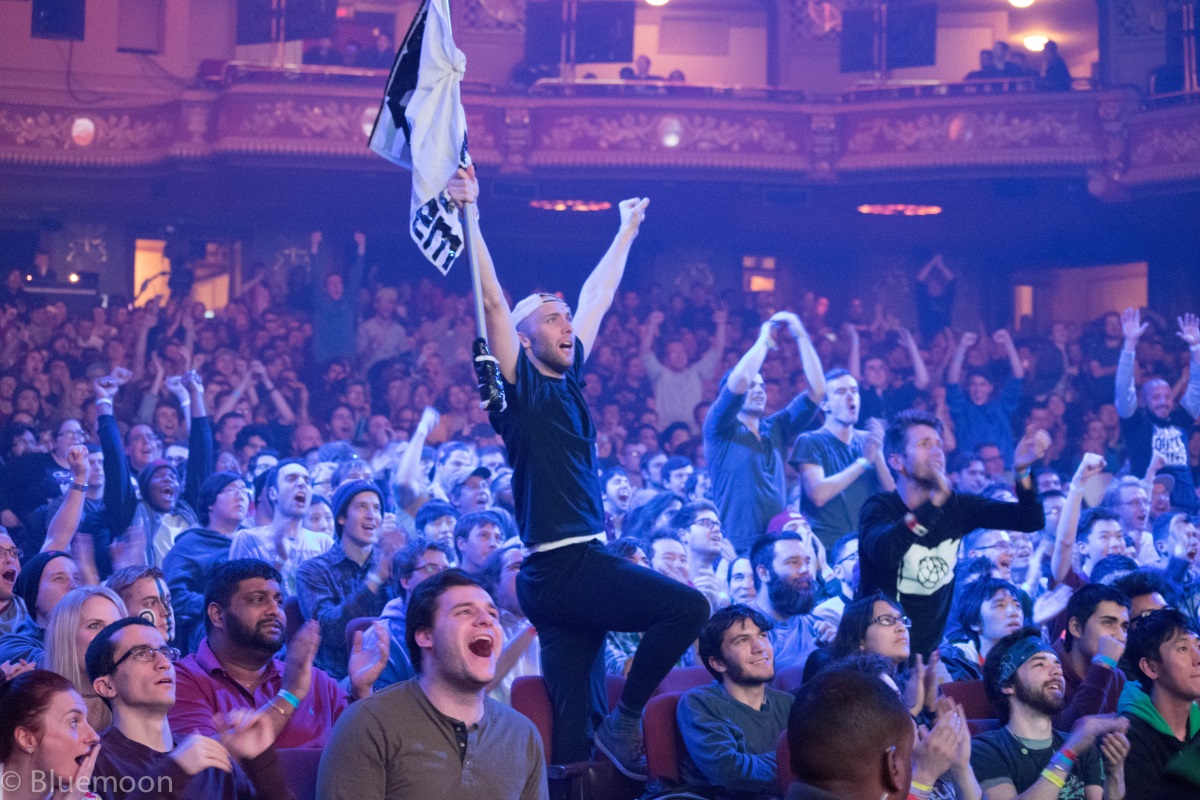 The crowd was on Ad Finem's side for much of the day
The second game was even more one-sided than the first. AF continually scored kills on Reso's Juggernaut despite the magic immunity provided by Blade Fury. DC lost heroes to AF's roamers while Sniper just farmed away in the mid lane. Skylark and MNT did an excellent job of avoiding sentries and managing to start every fight with numbers advantage by picking off one of DC's squishier heroes. Eventually, Madara's Timbersaw became truly unkillable by picking up Bloodstone, Pipe, and two Platemails. AF began running at DC with their Timbersaw as the ultimate frontliner with over 50 armor and massive health regen, making it impossible for DC to get past him to kill the Sniper. Ad Finem, after going to game 3 in both of their previous matches, stopped the DC juggernaut in its tracks with an easy 2-0. By this point AF had easily become the crowd favorites, with all of Wang Theatre inspired by the team's enthusiasm.
OG vs. Ad Finem
It's all come down to this. OG, the team with by far the best major performances of any team, and Ad Finem, a team thought to be one of the weakest in the field. OG's players are incredibly diverse, coming from vastly different backgrounds. Fly and N0tail, the heart of OG, are looking to cement their immortality in the Dota scene with a third major victory. s4, the former TI Champion, is looking to regain his former glory after Alliance's underwhelming performances the past two years. JerAx nearly tasted victory at the Manila Major with Team Liquid, losing out to his future teammates on OG. Finally, Ana, a complete newcomer to the professional scene, is looking to accomplish the greatest victory (outside of TI) after playing competitively for less than 6 months. All of these players have a strong desire to win and their captain Fly has proved he knows how to win majors; however, will they be ready for the team that has already upset so many other favorites?
OG have shown that they are a championship-winning team, but they couldn't contrast more with their opponents Ad Finem. After failing to qualify for The International and multiple Majors over the past year, this Greek squad chose to stick together and keep trying to improve. They came so close in many qualifiers, but never quite made it. This time, however, was different: they were able to make to to Boston through the qualifiers and prove that they deserved to be here. Ad Finem have also become the crowd favorites over the course of the tournament (with 77% of the Wang Theatre audience picking them to win the grand finals) thanks to their incredible energy and their captain SsaSpartan, easily the most animated player in Boston. This team showed up incredibly excited, just happy to finally be playing in a Major. Now their high tempo play had carried them all the way to the finals, but was it enough to take home the Eaglesong?
Game 1 showed interesting lanes with both teams choosing to put their aggressively position their carry in the offlane. AF's Drow proved to be very beneficial by pumping up the Puck's damage to absurd levels, allowing Thug to pick up several kills early on. Unfortunately, they were unable to continue capitalizing on this early aggression as OG began grouping up and AF's advantage was stalled. This slower pace gave N0tail time to farm up a key item that AF never saw coming: Luna's Aghanim's Scepter. From this point forward, the game was mostly a formality for OG, as no one on AF was even close to a BKB. Game 2 proved to be even more one-sided than Game 1 after the Aghanim's pickup. With AF securing very few kills in the early game, OG was able to dominate every lane thanks to Drow's Precision Aura. OG began 5-manning at 13 minutes and it was all downhill for AF after that.
The players shaking hands.
Game 3 was easily the best game of the tournament. This game had everything: back and forth momentum swings, counter ganks turning into full team wipes, rapiers, and more. This game showed Ad Finem's resilience, being able to put on a strong performance after two very rough games. This game was highlighted by immaculate play from supports, especially MNT and Spartan. Those two players made clutch plays to win teamfights time and time again with Rubick stealing Omnislash over and over while Earthshaker landed game-winning Echo Slams. Madara made the brilliant decision, baffling the casters, to purchase a Divine Rapier after an hour of back-and- forth fighting. This allowed AF to push in and take OG's remaining barracks, but the game didn't end there, as OG were able to hold on against Mega creeps. OG won a fight and Ana's Dragon Knight took control of the rapier, letting OG threaten to push back and take AF's buildings. Eventually Ad Finem recaptured the Rapier, and were able to expend OG's fortify and push their ancient down to 300 health at the cost of 4 heroes. This allowed MNT to use his Shadow Blade and walk up to OG's ancient, while Madara bought back and used BoTs 2 to teleport onto the invisible Earthshaker, activate BKB, and end the game.
Game 4 was a textbook case of out-drafting. Fly's last-pick Sven made AF's Templar Assassin and Lifestealer were almost unable to deal damage to N0tail later in the game. While AF did have a strong showing early in the game, they dove too deep during a gank-turned-teamfight at OG's safelane tier 2 and lost both Aegis and their Lifestealer's life. This was the major turning point of this game, as Sven became an unkillable, unstoppable force. All the while, Ana's Invoker continued to farm up thanks to the space provided to him. The late-game strength of Sven and Invoker eventually forced AF to tap out as OG showed why they won two of the previous majors.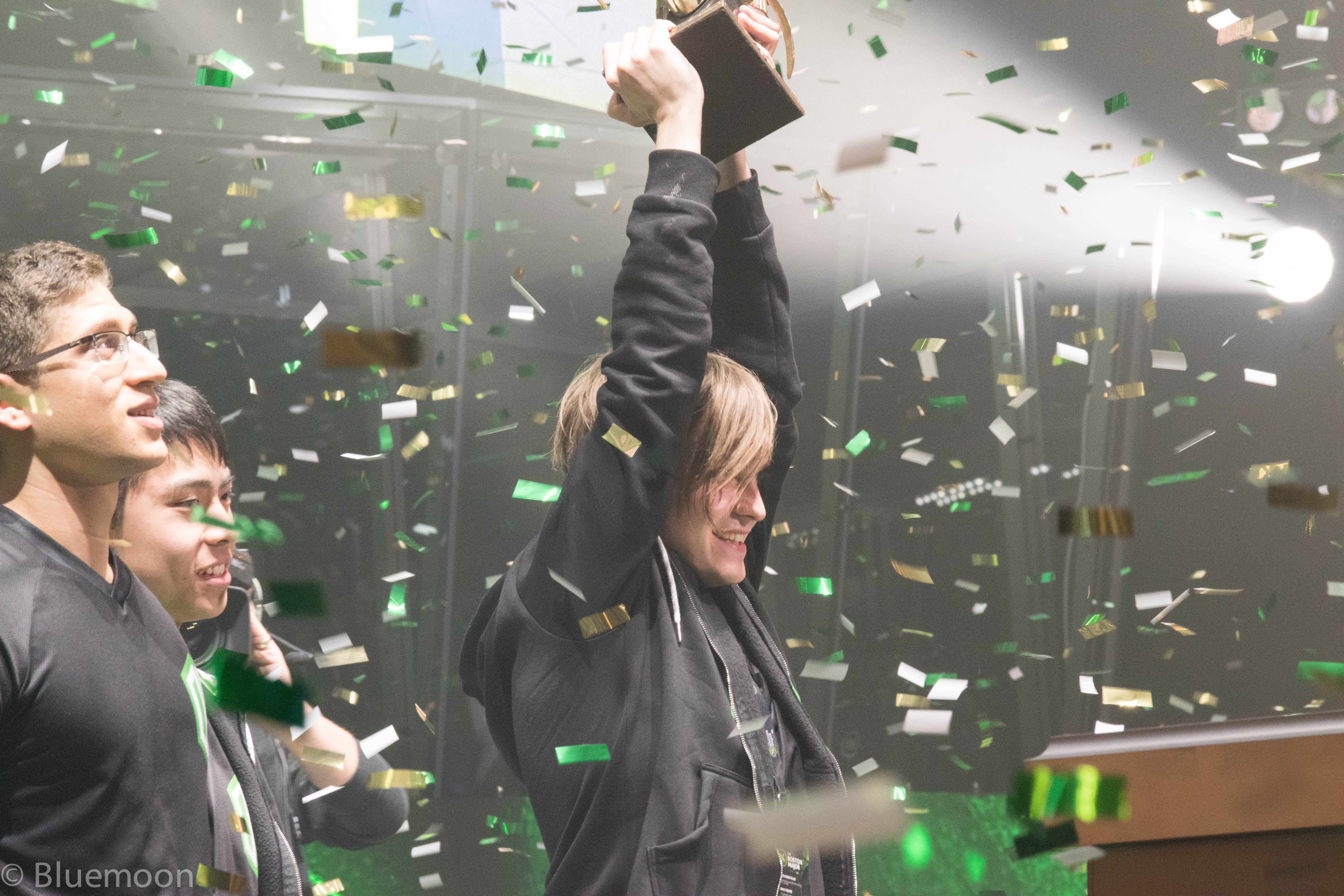 OG victorious once again.
OG once again made history by overcoming teams that were expected to walk into the Championship and Ad Finem, a team with more momentum than a freight train. They beat out the late-game loving EG and the MVP.Phoenix-esque aggression of Ad Finem, showing their versatility and ability to adapt to opponent's playstyles. JerAx and s4 were particularly impressive on this final day, with s4 completely dismantling EG and JerAx showing that one support can manage to win all three lanes for his team. N0tail and Fly have now won three of Valve's five Majors across multiple patches, while s4, Ana, and Jerax all have a Major win under their belts.
Recommended Games
Writers jdc214
Editors tehh4ck3r
Photography Bluemoon
Graphics Nixer