Next up in the run to TI is ESL One Frankfurt where six of the eight teams recently faced off in Manila. Many will be looking for revenge or to prove the legitimacy of their performances at the Manila Major. The only teams arriving in Frankfurt who did not compete at the Major are Vega Squadron and Virtus Pro who will be replacing LGD due to health problems for one or more of LGD's players. Their competition will know very little about them while they have been able to watch the other six teams very closely throughout the duration of the Manila Major. Whether they can fully utilize this advantage remains to be seen, but as we witnessed with Wings at the last ESL One in Manila it is very dangerous to underestimate anybody in this highly competitive era of professional Dota.
Rounding out the ESL One Frankfurt lineup are Liquid, OG, Fnatic, Na'Vi, Complexity, and Alliance. All of whom have made the flight from Manila to Frankfurt in order to put themselves through an even tougher tournament format that will truly have teams running a gauntlet. Beginning in the groups stage two teams will be eliminated before the main stage event where the surviving teams will be put through a single elimination best-of-three semi-finals with a best-of-five grand finals crowning the winner. Unfortunately, we will not be seeing Wings attempt to defend their title as they were knocked out of the qualifier by Vici Gaming. If the Manila Major was an endurance test, ESL One Frankfurt will be a sprint to the finish in which teams will have very little time to react to each other over the course of only two days.
The groups themselves look highly competitive as Group A features Liquid, Fnatic, Alliance, and Vega Squadron. Group B has OG, VP, Na'Vi, and Complexity squaring off against each other. Fighting for the top two spots of each group will be an uphill battle for many as Liquid and OG are expected to take the #1 seed in their groups leaving just one heavily contested spot remaining, barring any major upsets.
Games begin in
The Teams

The first team to win two valve Majors. The winners of the Manila Major will be going into ESL One Frankfurt with a target on their back. The question however is will it matter? We've seen exactly how strong OG is over the course of the last couple of weeks as Fly's drafting also seems a step above the competition. OG seems to outmatch anybody in almost every aspect of the game; farming, fighting, split pushing, strange item / skill builds included. With one of the deepest hero pools out of any team going into Frankfurt, OG has the ability to react to nearly anything they come up against. While Miracle continues to wildly outplay his competitors, we have seen the rest of OG step up, be it n0tail, Moon, Fly, or Cr1t, and deliver game winning performances. The heavy favourites going into Frankfurt can be none other than OG and despite every other team knowing what to expect, it seems like a monumental conundrum to do anything about it.

For Liquid, there will only be one goal in mind heading into ESL One Frankfurt and that is taking first place. With a recent second place finish to OG at the Manila Major still being fresh in their minds, Team Liquid must be hungry for revenge and for another victory after taking 1st at Epicenter in May. If any team can stop OG's momentum heading into TI6 it seems to be Liquid. We have seen Mind_Control's evolution over the past few months going from being a relatively unknown offlaner for different teams to delivering outstanding performances consistently and being a primary factor in what brought Liquid to the finals in Manila. Jerax has been another standout player on Liquid often times out farming enemy cores while having ridiculous kill participation. With those two alongside Kuroky, Matumbaman, and Fata we have seen many glimpses of an all-star team prepped to win TI. Liquid will need to shake off their loss at the Major and come into Frankfurt with a plan if they hope to reverse the score against OG should they meet again, and for the sake of the viewers who enjoy good DotA we hope they do.

Alliance has had a rough time since 2013, often times the brunt of jokes and accused of being a patch team with a shallow hero pool (although it should be said this wasn't the case even back during TI3). They performed decently in their group at the Major, managing to take a game off Liquid, beating VG.R, and losing 2-1 to Fnatic. In the loser's bracket they pulled off a huge comeback vs Mineski in the best-of-one stage giving Alliance fans everywhere a hopeful bout of nostalgia. Ultimately, they lost to Na'Vi in the next round in another close series which gave the impression that Alliance can go toe to toe with almost anybody but still seriously lacks the consistency to win on a regular basis. If Alliance can fix the chink in their armor and always play to their full potential we could see a lot of those 2-1 losses flip the other way into deep run from Alliance in the future.

Vega is the only real unknown commodity coming into this tournament. With only three significant tournament appearances in 2016 there isn't a whole lot for other teams to look at. Vega is an incredibly talented squad who have narrowly missed victory in their two most recent showings. After taking second to EG and MVP Phoenix in Captains Draft 3.0 and WePlay respectively, it is more likely that Vega's slow start to 2016 says more about the difficulty of European qualifiers than anything else. The role should be a familiar one for Vega Squadron as they qualified for ESL One New York under the radar and put on a clinic eliminating EG, iG and Secret in three straight series. At the time, many analysts pointed to the lack of film on Vega as a big advantage and at this year's ESL One Frankfurt Vega is in an identical situation. To escape their group Vega will likely have to take out Alliance or Fnatic and may need to even take a game off Group A's favorite Team Liquid to do so. In a region not known for team stability, Vega is nearly identical to that Cinderella run in New York. Having only swapped one player, with fn taking over the carry role from 9pashaebashu, the CIS wildcard could definitely shake up the story line at ESL once again.

A resurgence from Na'Vi has put them back on the map as a strong run at Starladder saw them place second giving hope to fans around the world going into the Manila Major. Na'Vi managed to top their group but had the unfortunate honor of facing OG in the winner's bracket and Liquid in the lower bracket sealing their fate. The return of Artstyle and addition of General along with Ditya-ra has brought life back into Na'Vi and with it the stellar cooperation during team fights we have always expected from Na'Vi. We have also seen some unique drafts out of Artstyle as well showing Na'Vi is not just a one trick pony. Given a little bit more time and practice against the best in the world they might be ready for a run at TI6 that many would have thought impossible mere months ago. ESL One Frankfurt will be critical for Na'Vi to push their limits further and make up for going out early in the Manila Major. It's experience they sorely need in order to further themselves both as players and as a team hoping for a direct invite to TI.

Complexity struggled at the Major only winning a single game against Wings in the lower bracket's first round. Normally a very consistent team, Complexity has often placed top eight at international events, sometimes upsetting teams and often losing to the eventual finalists of the tournament. Complexity will need to prove that the Manila Major was an outlier in their performance especially with TI invites right around the corner. It's possible that a good placement at Frankfurt might get coL a direct invite with a weakened NA scene and makes their performance at Frankfurt all the more important. Complexity has been one of the leaders in innovative strategies during the new patch as many will still remember their Wyvern / Axe dual jungle that not only worked but did so fantastically. Complexity is a well led team with one of the best minds in DotA driving them to succeed. If Complexity can manage to get out of their group it's quite possible we will see them in the grand finals of ESL One Frankfurt.

Fnatic recently made a change to remove Net from their roster and bring back Mushi after his brief stint away from the team. We were unsure of how this would impact Fnatic but if the Manila Major is any indicator it is safe to say Fnatic is an extremely strong team with Mushi's return. Fnatic comes into the Major with a bit of a chip on their shoulder one would imagine after having a fantastic run suddenly stopped cold by Liquid in the lower bracket where they ended up placing 5th/6th. They find themselves in the same group as Liquid at ESL One Frankfurt and will definitely be hoping to pay Liquid back in kind by beating them during the group stage and potentially knocking them out of the tournament. Fnatic's decision to continue to use their sub player 343 as support seems to be working out for them though it sometimes feels like he is left to the wolves often having the lowest net worth in the game. We look forward to seeing how Fnatic will do and expect them to at the very least make top four in Frankfurt.

VP come into ESL One Frankfurt as a replacement team to LGD. VP placed third in the qualifiers for this tournament barely losing in the winner's bracket finals to Vega Squadron 3-2 and then losing to Na'Vi 3-0 in the match for the last qualifier spot. VP has seen a bit of a shake up in recent months that involves AlohaDance back on carry and Yoky finally making his return to the offlane. This change has come with mixed results as VP finished 3rd at Dreamleague Season 5, qualified for The Summit 5 but was DQ'd for using an improper stand-in during the final series against Ad Finem, and won the qualifier for SL I-league season 2. VP's problems on LAN however continue to be a potential issue as seen at Epicenter where they lost in the first round and were beat by EG twice during the group stage. We're unsure of how VP will perform at ESL One Frankfurt but with Yoky back in the offlane, Alohadance on carry and G almost always delivering in mid, VP definitely have the ability to win games.
The Groups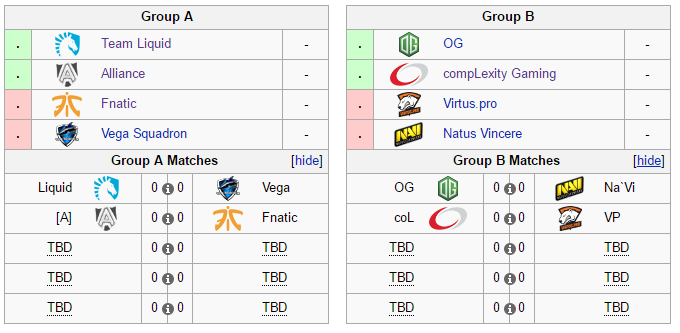 View all the information on Liquipedia