Focus Mode Off
TheManila
Major
Day 2 - Farewell Sweden
While the first upset filled day of brackets in Manila turned the Dota scene on its head, the second day seems to have restored some sense of order. As the lower bracket moved past the volatile best-of-1 rounds, the better teams were able to rise to the top. Even so, we witnessed some amazing games being played, so make sure you catch up on the action in the recommended games section
Upper Bracket
Before the teams in the Lower Bracket could continue their Manila major in the economy class, the upper bracket teams fought to stay in the business section of the tournament. Today viewers saw the two top Chinese teams after groups, Newbee and LGD Gaming, enter the bracket stage as they took on DC and Fnatic respectively. For Newbee the trip onwards will continue as they, contrary to what the score might indicate, fairly simply dismissed DC despite a sloppy game 2. Newbee are now 21 - 1 in the Manila Major, counting their qualifier games, so hats off to DC for managing to beat the monster team in even one game.
The other game upper bracket series, featuring LGD vs. Fnatic, started out in a similar fashion to that of Newbee vs. DC. LGD surgically dismantled Fnatic in just over an hour, making it look like they were ready to join Newbee in the UB semi-finals especially after a strong 30 minutes of game 2. Apparently Fnatic didn't get that email. Instead of laying down and accepting their fate the hope of Malaysia rose up and delivered three mighty blows to LGD in quick succession felling the Chinese super team. Fnatic went from being 10,000 networth behind to winning the game in less than 10 minutes. An amazing feat, but one they would have to repeat again in game 3. We won't get into too much detail regarding game 3, for the simple reason that you have to watch it yourself, but know that if the comeback in game 2 was impressive, this game 3 was nothing short of insane. Fnatic are the true comeback kids of this tournament, no one can say anything else after these two games.
Lower Bracket
Today was a sad day for Swedish Dota. Both Alliance and compLexity dropped out of the competition saying good bye to 8 players from the once proud Dota nation. CompLexity struggled the most in their series against Liquid, losing in two straight games, but still showed the crowd some amazing plays. Many fans of Team Liquid likely breathed a sigh of relief after game one of the series. There was almost a feeling of déjà vu in the air to the first game against MVP.P the previous day, as the two teams battled back and forth with compLexity seemingly always getting out of the fights a tiny bit ahead. Unlike yesterday however, Liquid managed to fight back thanks to the Naix bombing of Matumbaman and Mind_Control. Once Liquid reached critical mass, there was nothing compLexity could do to stop them and Matumba even managed to end the game with a rampage. In game 2 coL tried out a pocket strat as they gave Limmp the Legion Commander for the midlane but it wasn't enough. The Liquid train had started rolling again and their next round opponents, NaVi, should be very worried.
For NaVi the road to the third round of the lower bracket wasn't quite as smooth as Liquid. NaVi, like Liquid, had gotten to this point by losing 0-2 in the upper bracket. This meant that they now found themselves facing up against Alliance in the first relevant "El Clasico" in ages. Unlike Liquid, NaVi's derailing looked almost inevitable after the first game as Alliance shocked them a little bit with an unexpected draft. In game 2, NaVi brought the series back by showing Alliance that they're not the only ones who can pick out of meta heroes and win. It was time for what every battle between these teams have been famous for; the deciding game in a BoX series. After a strong early game from Alliance, NaVi found themselves trailing the Swedes and to make things worse NaVi lost a drawn out fight for control of the Roshan area. Alliance moved in and took the aegis for themselves. Where the NaVi of old might have crumbled this revitalized squad showed brilliant patience; eventually grinding down the remains of Alliance.
Bracket Post Day 2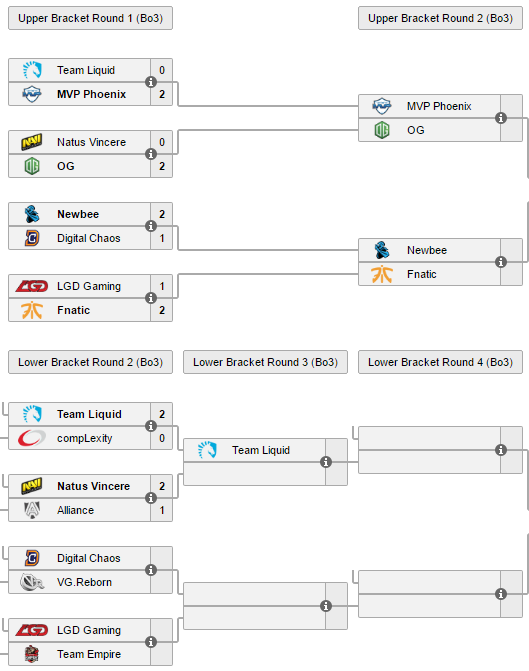 Day 2 Games
Thursday, Jun 09 2:00am GMT (GMT+00:00)

vs


vs


vs


vs

Recommended Games