As June, and with it, the Manila Major steadily approaches, there is one more stop on the Dota 2 circuit before we head to the Philippines. While DreamLeague's Season 5 Finals, a studio LAN instead of a full-fledged event, pale in comparison to the just concluded EPICENTER in Moscow, there is still plenty at stake here. Every team has a vested interest (besides the cool amount of $50,000 for 1st place) in placing well at Stockholm. No Diggity and Virtus.pro will be extremely hungry to prove themselves before they are forced back to spectating after failing to make the cut for Manila. With The International looming on the horizon, there is no such thing as too much exposure. For OG and Na`Vi, DreamLeague is their last chance to experiment and work out kinks in their play before they are thrown into the "main event," but against these opponents it will not be easy. Get ready for some quality dota as some of Europe's best duke it out over the weekend!
Games begin in
The Teams

Just like last season, OG enter Stockholm as the overwhelming favorites. Coming fresh off their 3rd place finish at EPICENTER in Moscow, where their only losses came against Team Liquid and Newbee, it is hard to see any of the other teams at Dreamleague as a serious threat to their title ambitions. While none of the attending teams are pushovers, if OG play like they did in their extremely competitive series against Newbee and Liquid, there is little stopping them from taking back-to-back championships in Stockholm. However, that does not mean that OG can take this tournament for granted. Underestimating their opponents could prove to be fatal to their recent return to form; on a good day, every team at this tournament is capable of taking games off OG.
The fan-favorites will be more than determined to continue their upward trend and use Stockholm as a stepping stone for the title in Manila.

Na`Vi might just be the biggest question mark in the lead up to Manila. Elevating their play to new levels in the fading days of 6.86, Na`Vi earned themselves an invite to Manila, seemingly rising above the mediocrity of a sea of European Tier 2 teams. Since 6.87, however, Na`Vi have only played 6 maps and posted a disappointing 2-4 record. We can be sure that ArtStyle has been whipping his squad into form to prevent a repeat of their quick elimination from WePlay. As disheartening as their losses in Kiev must have been, they were during a time when the 6.87 meta was in flux. Na`Vi still have a chance to convert their prowess during the later stages of 6.86 to this new meta.
Should they find success in transitioning, the boys in yellow will be sure to make a splash and give OG a run for their money in Stockholm.

After having had one of the most stable CIS-based lineups in Dota 2, Virtus.pro have now fallen on hard times. On top of (or perhaps due to) the confusion of multiple lineup and position changes, VP failed to qualify for Manila and will be forced to watch from the sidelines. However, their recent performance at EPICENTER showed that the bear might just be on the road to a full recovery. As they mauled an ailing Secret during the group stage, we were gifted a glimpse of what this team might be able to achieve with the sheer talent assembled on it. With rumors of more position changes coming (yoky to offlane, Fng to support and ALOHADANCE to carry), this spark of hope might have dimmed again, but it might just be the change they needed to finally find stability and success. In their current state, VP are quite the box of surprises and how well they will perform will be difficult to say.
One thing we can be sure of, however, is that you should never count them out; you might just get hurt by an angry bear.

Since No Diggity formed, they have been on a steady rise, as they delivered unexpectedly strong performances again and again. More recently, however, they have had difficulty breaking out onto the forefront of the scene. Their failure to qualify for the major and elimination during the wildcard stage at EPICENTER have brought this team back down a notch. While they are certainly not outclassed and are more than capable of competing with the big guns, they seem to lack the ability to make a breakthrough happen. This makes DreamLeague a key tournament for them. To truly establish themselves as contenders, No Diggity need to do more than just qualify and finish in the lower half of a LAN event. If they can repeat their strong showings against Manila-bound teams (such as their 2-1 defeat of Fnatic at EPICENTER) their meteoric rise might just continue all the way to TI; but, should they prove to be unable to take this last step, No Diggity could just fizzle out, with their potential remaining unfulfilled.
The Format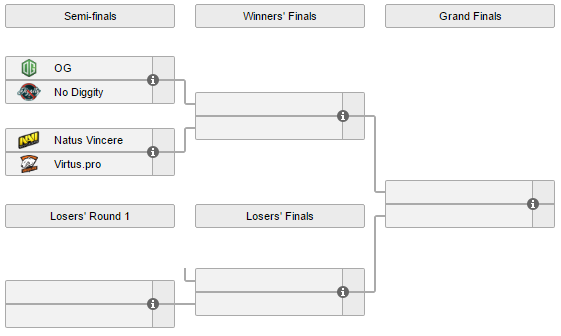 View bracket results on Liquipedia