We were lucky enough to trick convince Mind_Control to sit down and talk with us about his background in dota, the pressures he has to face, and what it's like to be playing for Liquid. Speaking with him we found a player who strives to better himself for his team and who accepts his share of the burdens that come from losing. We were more than happy to delve into his mind and see how he felt about certain tournaments from a players perspective and how he feels to be playing at the top of competitive dota.

---
Joining me today is Liquid's offlaner, Ivan Ivanov, better known as Mind Control. Thank you for joining me. How does it feel to be back from the major and have time to get some rest?
It feels good. I don't have any officials, Hey everybody.
We'll talk about the major shortly, but I'd like to start by talking about something we touched about briefly the other day which was your journey that eventually led you to being on Liquid. Correct me if I'm wrong but you started playing on Vast Cast which turned into Aftershock, how did you start playing Professional Dota?
I think I got into professional dota randomly actually. When I won some FPL games and won some official games against Tier 1 players they started noticing me, so yeah I got some credit from FPL. Thanks to FPL.
What were your goals at the time when you joined Aftershock and you played with Jellopy and who else?
Jellopy and Kefka and I don't remember the other members
Magoma I think right?
Yeah Magoma and I don't remember the last one, he was a random guy. I mean I wanted to go to TI that was my goal, but with those guys at that time it wasn't possible. But now Kefka and Jellopy are playing for London Conspiracy and they're really good now. They've improved.
Aftershock's LAN win, Mind_Control 2nd from the right
Even when you were on aftershock you won a lan, and a couple of other online cups. One other thing happened on Aftershock that I wanted to talk to you about and it was why you changed the team name to Basically Unknown.
I don't know really. You can flame Kefka for that.
I think it had something to do with you having decent results but not getting recognition for it. You had been beating decent teams at the time for a group of players that nobody knew.
We were beating teams like Empire for example, we qualified for one event in Russia that got cancelled. It was an unlucky situation.
You beat Empire during Starladder group stage right?
Uhh I'm not sure but we beat Alliance in starladder during the group stage when they were a bit weaker about a year ago. But its nothing special to be honest it's just a group stage. Just an online group stage so it doesn't matter as much.
How did you go from Basically Unknown to 5Jungz?
I don't think Basically Unknown mattered much honestly. FPL and playing for Burden United for a bit where I won some small tournaments right after TI5, and I won 2 FPL seasons and pro's wanted to see some new stars and so they offered me some spots. It was Kuro and SingSing I think. I don't remember the third but yeah.
Did you find it difficult to get yourself out there as a new player and get noticed by professionals or did FPL really help a lot for that?
I didn't expect it actually. I just played and I just wanted to win some money from FPL and I don't know I won some money and they recognized me. I don't know, I was a good player and it just happened. Luckily it just happened. I'm just a lucky guy.
How do you motivate yourself through losses to keep playing and keep practicing.
hm... I motivate myself by playing like 10 pubs and I lose them and I want to win. And that's my motivation daily really. I want to win.
Through losing, for example during the Frankfurt Major where you lost to Alliance and...
I think we lost to OG in the upper bracket 2-0 and it was complete ownage and then we went to the losers bracket to face Alliance and they won the first game if I'm not mistaken, we won the 2nd game and the third game was a total disaster because I played clockwerk and my clockwerk back then was really bad. Like super bad clockwerk and we lost because of this and yeah we didn't qualify.
So how difficult was that because there was a lot of pressure I'd imagine from just getting onto liquid and having expectations placed upon you. How difficult was it losing that qualifier?
It was really hard for everyone, not only for me. Everyone is pressured. I guess Kuro wasn't as much because he's experienced. but the rest of us were so pressured to play those games because one loss and you're out and we were scared of elimination.
Right after during the Defense Season 5 you beat OG, did that help with the pressure you felt after you won that tournament?
Yeah it definitely helped me as a player. Individually. because we beat the champions. OG was the best in the world at that time and it felt like I could beat anyone. So we beat the champions and I felt really free.
That was the second tournament you had won right? What was the first?
Well the first one was D2CL probably and it was an online tournament and I don't really count it.
Defense
was my first big LAN win.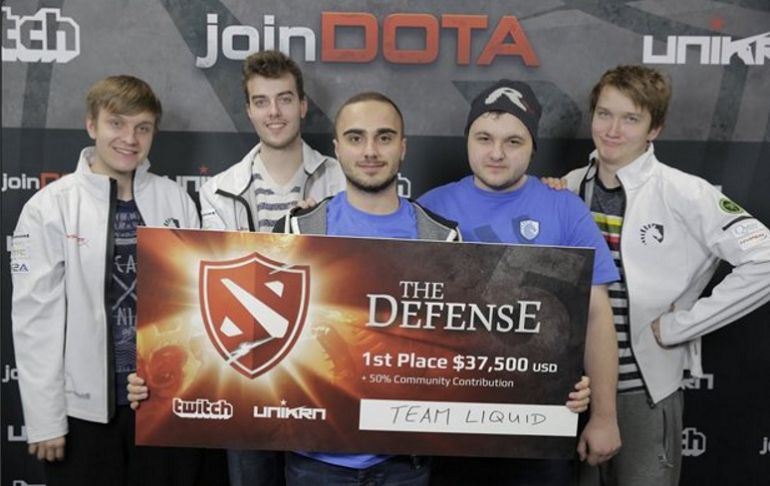 Mind_Control with the rest of Liquid` after winning The Defense
Does playing on LAN change the way you play? People always mention players first big lan tournaments and how it can change the way you play. How different is it playing in front of a live audience compared to playing an online tournament.
It's not really different. It's just up to your mentality for how you perform. It doesn't matter if you play in front of 30,000 people or if you're playing at home. It doesn't matter.
You've played at Nanyang, WCA, and Shanghai Major as far as Chinese lans are concerned. All three of those were known to have some pretty bad production issues but how were they for you as a player?
The only tournament I had issues with was WCA because it was a pretty shitty organization. We had to wait literally 4 hours every day to go to the practice rooms like it was really bad. really bad. I don't know why. But every other tournament was really fine, the organization was really good. Even Shanghai Major I don't know people were complaining but I had no problems.
Even the booths?
Yeah, well we had one problem with the booth with sound for like 1 hour, the first game of ours we had a problem with the sound and we had to wait an hour but they fixed it so I don't see it as a big problem.
In terms of other tournaments you took part in the captains draft tournament, how does that game mode compare to regular competitive matches?
It's actually almost the same it's just the draft is very crucial. You can get out drafted very easily but you can't do anything about it because you only have like 20 heroes. 20 or 24 but you can get easily out drafted because of this. The mode was very interesting.
It seemed like you were trying different heroes and drafts trying to see exactly how comfortable you were with other strategies was that a conscious decision or because of the game mode?
It was just the game mode. We weren't testing anything. We just played the mode, we were trying, we weren't trying anything new. I actually had one problem with the tournament when we played vs EG we played bo3 and all the games were on NA servers and I had big ping so it was hard for me to play but it's fine.
Did you ever have to deal with cross server ping when you first started out for EU/NA qualifiers mixed together?
No I didn't play back then. I started in like 2013/2014 and didn't play in a lot of qualifiers.
Lucky that you missed that eh?
Yeah I'm a lucky guy.
For the shanghai Qualifier because you didn't make it through the Frankfurt qualifier, how did it feel when you beat Empire and Team Spirit to qualify for the Shanghai Major?
It felt really good because we really wanted to get into that major and win it. It was a big boost in motivation for us and beating team spirit, they were really strong, they were beating everyone and nobody beat them so we were really scared of them during the qualifier but we managed to 2-0 them and it was a huge boost in motivation and so after we beat them we were feeling good.
How did you prepare for Team Spirit?
We watched the replays, we figure out their weakness and then we abuse it.
As many know now you came in second in the Shanghai Major after arguably being the underdog in the groups as people thought VP was going to beat you in the groups and then in nearly every main bracket match, looking back at it are you satisfied with coming 2nd?
Yeah I'm good with getting 2nd, but we really wanted 1st place, but yeah. We didn't meet our expectations but it's still good. 2nd isn't bad at all.
Did you feel like you were an underdog or did you go in with the feeling that you could take the whole tournament?
We knew we were going to take the tournament, but we just choked in the finals, at least me, I don't know about my team.
Well at the same time your furion in particular in almost every match, alliance, MVP, especially game 1 vs EG when you got team wiped and as you respawned you went top and took rax before EG realized what was happening.
Yeah I was AdmiralBulldog I just tp'd and took the rax, It worked out.
How quickly did you make that decision?
You just go, I just go, cause you have to do it. You have to go for it because there's nothing else. You can't be scared to do it. So I did it and I took the rax.
You've said you don't really feel too different between playing lan or playing online but you really seemed to hit your stride during the main stage of the tournament. Was that a case of you becoming more comfortable with your surroundings or getting more into the tournament itself?
I think I get more motivated from the fans, when they start screaming when I do some play I get more motivated. It's something new to me and it feels really good.
How many people would you say were in the arena?
It was full during the finals. like 10k 20k I'm not sure I can't count. So many people!
In terms of the offlane specifically how have the changes to the offlane camp and jungle changed the way you have to play in the offlane?
Offlaners are now very farm dependent, like admiralbulldog style. The farming offlaners who don't want to make plays have been buffed, like last patch the play making offlaners like in the last patch Tusk, EarthShaker, Clock they were the best ones. they're all nerfed now. Even if they make a play and they are successful it doesn't do much but if you play LD and get some farm and get your radiance midas, you can actually carry the game now so the way of playing offlane has changed because of the changes. You have many options.
Would you say that the offlane has become more of a core role now?
Yeah it's much more farm dependent where you can become the 2nd carry on the team.
Are there any heroes that you've played in pubs that you would like to play but don't really get to in competitive?
I was spamming LD but I'm really bad at microing the bear I don't want to play with it in tournaments. I would play it if I was good enough with the bear but I'm really bad on LD, I'm really bad on that hero. I wanted to play Broodmother in the finals of the major.
You also touched on how you used to play FPL and a lot of pubs and there used to be a split on opinion for how important pub games are for practice but now that MVP has won in Split and performed so well at the Major while making it known that they play a lot of pubs and play dota for I think they said something like 13 hours every day for a month to prepare do you think pubs are better practice than people thought?
Yeah they are cause when you play all day, you play pubs all day you actually improve on a hero. Like if you spam prophet like 10 games every day you'll get better at prophet. Same with all other heroes. Now with ranked today everybody wants to win as well, everybody is serious, like at least in Europe everybody is tryharding like I'm actually amazed by the pub players they all try so hard.
Is it also because you get to experience so many different scenario's by playing a hero a lot in pubs?
Yeah that as well, every role, every hero you play you always learn something, even in all-random you'll still learn something. It's never useless.
Have you ever tried out new item builds in pubs that you ended up using in competitive matches?
Yeah, I learned my item builds from prophet that way. I found out Maelstrom into Mek or the other way around from pubs. I didn't copy it from anybody else because I hadn't seen anybody else do it that way. I started to do it in pubs and then used it in the major.
We're just about done but I'd like to test you to see how well you know the heroes you play, are you ready to see how you do?
Ok let's see.
What is the move speed of Natures Prophet's Treants?
oh... I think it's something like.. 325? I actually don't know.
Yeah that's it exactly 325.
Oh man I'm so good.
What is the starting Armor for BeastMaster at lvl 1?
I think it's 5. In fact I know it's 5
It's actually 4. (after checking in game where it does say 4 I noticed it's actually 4.52 and I think it's supposed to round up so he was right on this one as well)
Oh man gg.
Last one, how large is the range on Voids Time Dilation?
It's really big like 1000?
It's 725 so you got the first one and you were close enough on the 2nd. Pretty good overall.

Alright, that just about does it do you have any shout outs?
I'd like to give a shout out to Liquid the organization, to Victor, to all of our fans, and to my fans.
Thank you for taking the time to talk to me today I really appreciate it.
Thank's for taking the time to interview me.