A combination of bring-your-own-computer LAN and big esports tournament, Dreamhack is somewhat of a remnant of the past in the esports scene; a reminder of where we came from. Started as a local lan in a cellar in the small town of Malung, Sweden, Dreamhack has since seen staggering growth and was, for many years, the esports event to win on the western scene. Teams from all over Europe, and the US, traveled to the small town of Jönköping to prove their worth. How the times have changed.
Dreamhack is by no means an insignificant event on the dota 2 scene but it's glory days have passed. After trying out a longer format last year that included a 2 week long offline league-style playoff, a lot of non European teams choose not to participate. While Dreamhack had about the same prizepool as it's competitors, the big time commitment dissuaded premier teams like EG. Dreamhack has now chosen to focus mainly on the European scene.
But even if we won't see the biggest teams from the US and China in the tournament, Dreamhack always had a special aura surrounding the event. The byoc lan helps fill the seats and the recent resurgence of alliance should help the crowd get fired up. So this weekend, make some time and watch an event that never fails to entertain.
Games begin in:
The Bracket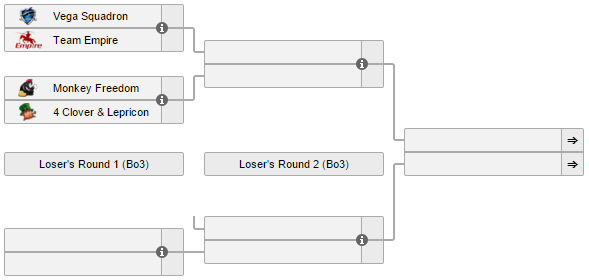 The bracket is divided into two parts. The two teams winning this, first bracket, qualify for the second where Alliance and OG will join the tournament
The Teams
OG
---
After their incredible performance in Frankfurt just a week ago, there is no doubt that OG are the favorites to win this tournament. For those of you who live under a rock, Offensive Geeks are coming off one of the most amazing runs in dota history at the Frankfurt Major. Starting off in the lower bracket Ordinary Guys went through the toughest opposition the dota scene has to offer and ended up besting team secret to win the event. So for Oompaloompa Gaming this should be as close as you can come to "easy money" in today's Dota scene.
Team Empire
---
Outside of OG most teams in this year's Dreamleague finals have struggled a lot lately. Empire is not exempt from that rule. After failing to qualify for the Frankfurt major the team decided to re-add talented offlaner Resolut1on to their roster. It is still unclear if the Empire roster, which features three players who have played together for an uncommonly long time, will manage to "make things interesting" in their return to Jönköping. With the recent decline of the CIS scene we sure hope they can get their act together.
Alliance
---
A year can change much in Dota. This time last year Alliance was a team in distress. S4 had just left, they had kicked EGM, and AdmiralBulldog was on a break. The team tried, but ultimately failed, to qualify for the LAN finals in Jönköping, even after getting a last minute invite to the offline groups. This year Alliance managed to finish 2nd in the group stage, qualifying for the 2nd bracket right away. Even though they admittedly had somewhat of a dip in performance in Frankfurt, Alliance is on their way back.
Vega Squadron
---
We don't know about you but we were definitely excited about seeing what kind of damage Vega could do in the Frankfurt Major. And our level of excitement didn't really decrease after they managed to finish 2nd in their group, qualifying for the upper bracket. But that was the end of the road for Vega. They dropped straight out of the tournament from there (lost 2-1 vs. EG and 2-0 vs. EHOME). So Vega comes to Jönköping with somewhat of a chip on their shoulder. They need to prove, to themselves and the world, that ESL One wasn't just a one time thing.
Monkey Freedom Fighters
---
MFF is a team that has risen from the dead. After failing to qualify for the Frankfurt Major, YapzOr reported that they were going to disband. Turns out they pulled a Na´Vi-style disband. Left on the roster, from the Frankfurt qualifiers, are SingSing and YapzOr. In addition, they picked up Ar1se, Demon, and Kebap; three players who definitely have the skills it takes to compete at the top level but also have fatal flaws, be it attitude issues or a tendency to choke, hindering them from reaching their true potential. MFF is still more of a pubstack than a professional team and if we're to be honest we don't expect them to have too big of an impact. But that's what we said about OG...
4 Clover & Lepricon
---
Even though 4CL, just like MFF, failed miserably in the Frankfurt open qualifiers they surprisingly decided not to disband. Instead they only made one smaller roster change, removing swiftending and adding Niqua. It's still unclear if the roster change had the desired effect, which must have been increasing the level the team plays at. In fact, it's unclear if the change has had any effect at all. Ever since adding Niqua the team has performed just as before; consistently beating unknown teams, even taking a game or two off T1/T2 teams on occasion, but ultimately failing to win those series. For 4CL Dreamhack is more about proving themselves than about winning a tournament.
CREDITS
Writer: Julmust
Editor: Sn0_Man
Graphics: Nixer