In
Part 1
, we concluded that the meta of TI5 was heavily tilted towards early aggression, both in and immediately following the laning stage. Teams were more willing to run aggressive duo and trilanes than in any other major in Dota history, and hero selection as a whole was tilted heavily in favor of heroes that would be able to withstand a permanent state of warfare for the first twenty minutes of the game.
But while farming as a strategy was significantly weaker than it was at the Dota Asia Championships during patch 6.83, teams didn't completely neglect investing in carries. Instead, they sought a balance between investment and aggression to create a "heads I win, tails you lose" environment, where either they crush you early or the early game is a draw and from there they simply outscale you.
---
CDEC, Masters of the Meta
Of course finding that balance is easier said than done, but one of the strongest operators of this strategy was 2nd place finishers CDEC. Very few expected this wild card runner up team to place highly, much less make it to the finals, but CDEC outperformed their more experienced competition by finding a set of heroes perfectly adept at maintaining relentless aggression throughout the entire game while also having the scaling to win games that go late. They successfully rode this strategy to a 6-0 record in the upper bracket of the playoffs, so let's breakdown how it worked and also how EG ultimately derailed it.
I mentioned in my previous article that there were two approaches to investment in TI5. The first was to go heavy on semi-carries. My favorite example of this sort of draft is
Game 1 of MVP Phoenix vs Empire
with that dramatic moment where MVP's Templar Assassin erased the opposing Storm Spirit in a blink of the eye.
CDEC did resort to a lineup like this once in their 6-game streak,
a Templar Assassin/Ember Spirit duo w/ Tusk in the offlane against EG in the Winner's Finals,
and again vs EG (QoP, Leshrac, Brood) in their only win of the grand finals, but in general CDEC preferred not to run this style of lineup too heavily. A heavy semi-carry lineup can have a lot of potency, but it can also carry a lot of risk. There's no better example of this than EG's run in the Winner's bracket. They
closed the EHOME series
using an unconventional core lineup of Razor/ Windrunner/Dark Seer. While the game wasn't especially quick, it never was a close one, with EHOME trailing in GPM at all points in the game. However, similar lineups went 0-2 in the Winner's Finals vs CDEC, particularly the game two lineup of Razor/Queen of Pain/Dark Seer. Needless to say, EG changed things up drastically in the Grand Finals, but that's getting ahead of ourselves.
CDEC's preferred lineup in their Upper Bracket run revolved around the pairing of Phantom Lancer as their primary carry and Lina as their solo mid. They went with this combo in 4 out of the 6 games, and the other unmentioned game was the conceptually similar Gyrocopter/Lina combo. The synergy here isn't a mechanical one, but one of tempo and map control. Essentially, Lina runs a posse through the post laning phase, particularly the 15-20 minute range, where CDEC looks to force the kind of large, early teamfights that their lineups specialized in. This roaming presence buys Phantom Lancer the time to farm up a basic stats item and a ~20 minute Diffusal Blade, at which point he adds a disjointed contribution to the fights through his mana burning illusions.
One quick way to visualize this is through datDota's new Teamfight tool. CDEC's games during this streak are exceptionally weighted towards large teamfights during the 10-20 minute range. CDEC is almost always the net benefactors of these teamfights, and at the same time Aggressif's farm on Phantom Lancer or Gyrocopter goes relatively undisturbed. (Some examples from DatDota can be found
here
and
here
, or in this
spreadsheet
)
But the actual key to this strategy lies in CDEC's supports. They repeatedly balance their support draft with one strong early fighter and one utility pick, which gives Lina the backup she needs to control this phase of the game. The best illustration of this is to look at another team using the same core lineup of Phantom Lancer/Lina/Dark Seer with a very different support philosophy:
VG's final game of the tournament vs LGD in the LB semifinals.
(Note: datDota considers this game part of the LB finals, but I want to distinguish this from EG vs LGD which I would consider the actual LB finals.)
VG goes with a very VG support combo of Rubick and Ancient Apparition. It's a competent combo for the mid gank rotations that Fenrir and fy are famous for, and both heroes provide a potential for a game-changing ultimate in teamfights, but it's a very weak combo for the kind of heads-on aggression that CDEC looks to get out of a Phantom Lancer/Lina lineup.
It's important to point out that LGD's going for a relatively investment heavy lineup here with both a Shadow Fiend and Gyrocopter as well as a support Visage that needs to get to 6 for Familiars as quickly as possible. Nevertheless, LGD is almost exclusively the aggressor at all points in the game. To put it in stark terms, VG only manages two successful ganks in the entire game, and all 17 other encounters are Net Worth positive for LGD.
Now you might try to pin VG's problems on Dark Seer's three early deaths, but it's important to keep in mind that this was a very rough game for our solo offlaners. LGD's Tusk had to abandon his lane early, and despite the deaths, Dark Seer had a sizable XPM and GPM advantage at 15 minutes. What I'd really pin this on is that unlike CDEC, VG didn't have the resources to either initiate or survive the kind of early teamfights that were prevalent at TI5, so all LGD had to do is press their advantage. And since their lineups are otherwise identical, you have to suspect that support selection was a big part of this.
Going into the Grand Finals, you might take a look at the opposing team's hero selections so far through the tournament. Here's what EG would have seen if they pulled up the data for CDEC's more fighting-oriented support Garder:
| Name | Games | W | L | Win % |
| --- | --- | --- | --- | --- |
| Bounty Hunter | 6 | 5 | 1 | 0.83 |
| Tusk | 5 | 4 | 1 | 0.80 |
| Undying | 4 | 3 | 1 | 0.75 |
| Earthshaker | 2 | 0 | 2 | 0 |
| Lina | 2 | 2 | 0 | 1.00 |
| Rubick | 1 | 1 | 0 | 1.00 |
EG banned Bounty Hunter in all four games of the Grand Finals, and Tusk in three of the four. The one game that Garder got to play Tusk was the game that CDEC won, and EG immediately rectified their mistake in the next game by elevating Tusk to a first round ban instead of Dark Seer. Garder's aggressive support play was the linchpin to CDEC's success, but it was heavily dependent on having Bounty Hunter or Tusk available. Without those heroes available, CDEC would be forced into either the strong but not versatile Undying pick, taking Shiki's favorite hero Lina away from him, or trying something thus far unproven with the entire tournament riding on the outcome. None of these were likely to give CDEC the dominant post-laning presence that they had depended on throughout the upper bracket.
The other half to this gambit was EG's decision to let both Leshrac and Gyrocopter go through unbanned. With CDEC pinned into banning Naga and Techies, EG had full control over Leshrac and Gyrocopter's ban status, and by letting both heroes go through EG guarantees themselves one very strong hero to build around, which helps them to avoid the awkward drafts they had in the Winner's Bracket Finals. Despite CDEC's exciting run, EG was still the stronger technical team by a large margin, so as long as EG drafts into their own comfort zone they have the advantage, meaning that a Gyrocopter for Leshrac trade will be in EG's benefit regardless of whichever CDEC selects.
In any case, it needs to be said that EG owes a huge portion of its success to ppd's drafting. He's indisputably the best right now at making mid-tournament adjustments against specific teams. His draft openings neutered Secret at DAC, and he repeats the feat here in the TI5 Grand Finals.
VG, Rebelling against the meta
If there's one part of TI5 that broke out of this mold of hyper-aggressive compositions built around a steady cast of characters, it would be the opening games of the lower bracket playoffs. It's no surprise that teams who struggled in the group stages would prefer to risk going out on their own terms rather than to mimic a play style that they weren't confident in. But there was one outlier in this group, Vici Gaming, who turned around a dismal group stage performance into a long run of lower bracket victories and eventual fourth place finish. What's more, they made this run partially on the back of some very unusual hero picks:
Was VG onto something meta-breaking with these picks or was this streak simply a case of a more experienced team being able to out-skill their opponents, composition be damned?
First let's address what we mean by 'meta,' because it is a word with a lot of baggage that I don't want to commit to. The basic idea is that in a game with as much environmental variance as Dota, character viability has to correspond to the kind of environment you expect to face. This is why a hero like Omniknight can have
the highest pub win rate for a patch
at the same time he's going virtually unpicked with an 0-2 record at TI5. Conversely, a hero like Lina can be the most picked hero at TI5 with a solid 53.8% win percentage at the same her pub win rate is a mediocre 47.5%. It's not merely a result of personal skill differences. TI5-caliber teams work together to put Lina in the kind of environment where she will reliably thrive, and Omniknight's skillset is simultaneously well-suited for an average pub environment while still undesirable against the typical TI5 composition.
And there's nothing mystical about popularity shifts; you're essentially playing a sport where the league commissioner can fiddle with the force of gravity between seasons. But this doesn't mean that a meta should be "build your teams only around these six to eight characters and no one else." A good patch will have a very fuzzy hierarchy where even strong picks can be exposed by unorthodox selections. A great example of this was in my favorite series of the year in the semi-finals of the Dota Asia Championships where
EG responded to an early Medusa pick from Secret with a last-pick Tinker.
Medusa, at the time, was a relatively strong hero that was well suited for the 6.83 environment; Tinker, on the other hand, wasn't having a great patch and was only picked four times total at DAC. Despite this, EG's strategy worked because Tinker along with Lycan were well suited at exposing the weak points of Secret's lineup.
With that in mind, let's shift back to
VG's Spectre pick against C9
. If you buy the theory I advanced in part 1, Spectre is in no way well-suited for success in 6.84: she's a weak laner, she takes a long time to truly come online, and she has a powerful teamfight ultimate that has the weakness of a fairly long cooldown that contributes to much of her teamfight strength. The question then is whether Spectre was a clever reaction to C9's lineup or if VG just got lucky that she went unpunished.
There's some evidence in favor of it being a calculated move. Like in the EG example, Spectre was VG's last pick, so they had a strong idea of what they were up against and likely believed that Spectre could handle it. More specifically, C9 revealed that they were going with a Io lineup, which typically means a defensive laning phase that would benefit Spectre. The pick could also be a very specific reaction to Io, with the hope that Spectre's Haunt would cause trouble for C9 during Relocate attempts.
And once in game, Spectre gets off to a good start against the terrifying might of an Io trilane. VG's advantage doesn't last long however, as the Shadow Fiend-Gyro pairing take over past the laning phase and quickly take down a lane of barracks. Things aren't looking great for our oddball pick and then well...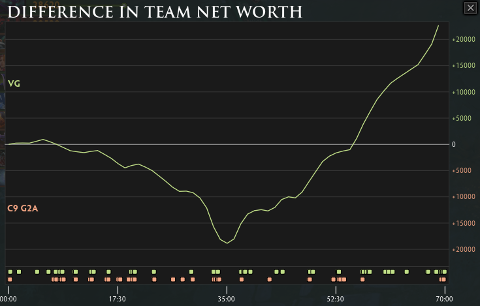 One could make the argument that Spectre as a hero is a likely candidate to create this sort of comeback, but I can't imagine this was a confidence-building experience for VG. Spectre, as you'd expect, struggled to accomplish enough in that vital 15-30 minute phase that has come to define TI5, and only got back in the game off the erosion of a nearly 20k gold lead. That isn't to say that VG's comeback was all luck, only that you creating comebacks of that magnitude is not something you should ever treat as reliable.
And ultimately, unreliable is the verdict you have to give VG's unconventional selections. They worked enough to get VG to 4th, but it's impossible to attribute those victories to the hero picks and not merely the talent differential between VG and the other lower bracket teams. The biggest indictment of these experiments is that VG themselves abandoned them the further into the playoffs they made it, increasingly resorting to semi-carry focused lineups like the Queen of Pain/Razor/Clockwerk comp they ran in
their only win against LGD
or the bog standard Lina/Phantom Lancer pairing I talked about earlier. To their credit, VG did everything they could to make it as far as they did, but ultimately this just wasn't a patch they were comfortable in, and unfortunately, none of their drafts represented a reliable threat to the status quo.
The Secret Collapse
For a while there, 6.84 looked like Secret's patch.
The team had placed first in every tournament they entered,
with the exception of an early drop out in Dota Pit 3
"to focus on The International."
They also had the best patch record by far among all of the TI5 teams:
| Team | Games | W | L | Win % |
| --- | --- | --- | --- | --- |
| Secret | 45 | 36 | 9 | 0.800 |
| LGD.cn | 72 | 52 | 20 | 0.722 |
| VP | 60 | 37 | 23 | 0.617 |
| Empire | 52 | 32 | 20 | 0.615 |
| EHOME | 54 | 33 | 21 | 0.611 |
| CDEC | 84 | 51 | 33 | 0.607 |
| VG | 63 | 38 | 25 | 0.603 |
| EG | 40 | 24 | 16 | 0.600 |
| Nb | 39 | 23 | 16 | 0.590 |
| NaVi | 48 | 27 | 21 | 0.563 |
| C9 | 38 | 20 | 18 | 0.526 |
| iG | 60 | 31 | 29 | 0.517 |
| Fnatic.MY | 34 | 17 | 17 | 0.500 |
Secret's 6.84 results:
| Tournament | Date | Location | Place | Winnings |
| --- | --- | --- | --- | --- |
| Dota Pit League 3 | 7/12/2015 | Online | 5th (tied) | 10600 |
| ESL One Frankfurt 2015 | 6/21/2015 | Germany | 1st | 118500 |
| MarsTV 2015 Finals | 6/7/2015 | China | 1st | 100200 |
| The Summit 3 Finals | 5/17/2015 | USA | 1st | 115500 |
| Red Bull Battle Grounds Finals | 5/10/2015 | USA | 1st | 38500 |
When you do a win rate comparison like this, an important factor to keep in mind is strength of schedule. For instance, I didn't include compLexity due to the the fact that their 13-3 was exclusively against weaker opponents in the TI5 America Qualifier.
The same does not apply to Secret. With the exception of a single game against Alliance at ESL 1 Frankfurt, every recorded match for Secret was against a future TI5 competitor. Many of the other teams on that list benefited from playing against weaker competition. LGD, for example, went 24-0 against non-TI5 teams such as
Vici Gaming Potential
,
Team Braveheart
, and
Energy Pacemaker gaming,
which I'm just going to pretend is the most amazing product sponsorship in all of esports. Anyway, what I'm getting at here is that the above table understates the gulf between Secret and everyone else going into TI5.
The story of Secret's TI5 collapse comes down to two heroes:
Queen of Pain and Shadow Fiend
. Even back in 6.83 these heroes formed the backbone of Secret's drafting strategy in a way that differentiated them from the standard 6.83 meta. They were Secret's top two picks for the patch with a combined record of 36-10.
Once 6.84 finally rolled around, Secret didn't have to change a thing. Their oddball 6.83 approach seemed to simply be ahead of its time, and QoP and SF's combined record improved to a staggering 20-1.
But as I pointed out previously, TI5 was not a good tournament for either hero, and an even worse tournament for them in the hands of Secret. Their modest combined record of 6-7 hides the fact that in the playoff stage of TI5, the part that really matters, S4's Queen of Pain and Arteezy's Shadow Fiend went 0-6, including
an appearance by both in Secret's final match of the tournament
and also
Secret's only loss with the pair in eight games in 6.84.
6.83
6.84
TI5
Group Stage
Playoff Stage
QoP
15-4 (.789)
10-0 (1.000)
5-1 (.833)
0-2 (.000)
SF
21-6 (.778)
10-1 (.909)
1-0 (1.000)
0-4 (.000)
Through these two heroes we have the perfect story of a team that accidentally predicted the meta shift between 6.83 and 6.84 and were so successful at exploiting it that they became unaware of the fact that a number of their TI5 competitors had caught up, and caught up in a way that exposed vulnerabilities that had been hidden by previous dominance. But let's start at the beginning by looking at the unusual way in which Secret approached 6.83.
With a Pick/Ban rate of 46.4%, Queen of Pain wasn't exactly a rarity in 6.83, but Secret was one of the few major teams to embrace her as a regular pick and was the most successful by far.
| Player | Games | W | L | Win % | Team Win % |
| --- | --- | --- | --- | --- | --- |
| Ferrari_430 | 18 | 11 | 7 | 0.611 | 0.656 |
| s4 | 15 | 12 | 3 | 0.800 | 0.725 |
| ShiKi | 13 | 6 | 7 | 0.462 | 0.537 |
| Super | 10 | 6 | 4 | 0.600 | 0.718 |
| Dendi | 10 | 4 | 6 | 0.400 | 0.490 |
Not only does S4 have the best QoP record of these players, he was also the only one to put up a better win rate with Queen of Pain than his team's baseline win rate. This is reflected if you look at the Dota 2 Asia Championships, the biggest tournament of 6.83. S4 went 5-0 with QoP at DAC. Every other team combined went 9-12, and only TongFu's MrLiukeAL put up more than a single win. On the biggest stage of the entire patch, only Secret had the confidence to go with QoP.
By contrast Arteezy's 6.83 Shadow Fiend was a bit more in-line with the rest of the competition in terms of win rate, but there's an oddity when you look at
who
he is competing with.
| Player | Games | W | L | Win % |
| --- | --- | --- | --- | --- |
| Ferrari_430 | 28 | 20 | 8 | 0.714 |
| Maybe | 24 | 14 | 10 | 0.583 |
| Arteezy | 23 | 19 | 4 | 0.826 |
| Resolut1on | 22 | 15 | 7 | 0.682 |
| Super | 21 | 18 | 3 | 0.857 |
| Dendi | 20 | 10 | 10 | 0.500 |
| G | 17 | 8 | 9 | 0.471 |
| Sumail | 15 | 9 | 6 | 0.600 |
| Mu | 13 | 5 | 8 | 0.385 |
| xiao8 | 11 | 8 | 3 | 0.727 |
| ShiKi | 10 | 6 | 4 | 0.600 |
What you have here is a list of mids and Arteezy. Secret was unique in running Shadow Fiend exclusively as their one position carry. Every other team is almost universal in their preference to run SF in dual-core lineups.
And despite being an oddity, it worked for Secret. At DAC, Arteezy had the most games played with the Shadow Fiend at 11 with the next closest 7 by xiao8. He was one of only four players to have a better than .500 record, and his 9-2 performance was second in win rate to the somewhat flukish 4-0 put up by HellRaiser's Afoninje.
Arteezy's predilection for Shadow Fiend isn't so odd when you take into account that he's a former mid player converted to the main carry role, but this quirk made Secret a very unusual team to draft against as they eschewed a lot of the standard picks of the patch. Juggernaut, for instance, was the most common carry at DAC and the second-most picked hero overall; Secret only used the hero twice and both times by Zai as a solo hard lane. Troll Warlord was the third most picked carry; Secret only picked him once for S4 in a loss. Sniper and Medusa were two other popular picks; Secret didn't use either until EG targeted Arteezy with their opening bans in the semifinals. Secret lost both games.
Arteezy's hero list for DAC was dominated by Shadow Fiend and Lycan. Together they accounted for 21 of the 28 games he played. Both heroes inclined Secret towards an aggressive playstyle, as they both perform far better in early (15 to 25 minute) teamfights than the common opposing carry picks but don't scale quite as well into the late game. Secret preferred to establish map dominance through aggression in that post-laning phase, which was at odds with 6.83's reputation of a late game carry dominated patch. But it worked for them, and they honestly looked a bit lost when forced to play outside of this comfort zone like in the previously mentioned series with EG.
Then 6.84 came along and did a number on investment strategies as I pointed out in part one. This meant a shift towards aggression, and Secret was perfectly prepared to take advantage of that. Aggressive picks like Shadow Fiend and Queen of Pain were already working for Secret in 6.83, and 6.84 seemed to only further weaken the opposition.
But a lot can change over the course of a patch as teams gradually begin to catch on to the new normal. The Summit 3 back in may was the first significant tournament of 6.84, and it's pretty striking to see how pick/ban rates have changed between then and TI5.
| | Summit 3 | TI5 | Change |
| --- | --- | --- | --- |
| Tusk | 13.5 | 87.1 | 73.6 |
| Leshrac | 29.7 | 100 | 70.3 |
| Naga Siren | 10.8 | 76.7 | 65.9 |
| Bloodseeker | 0 | 55.2 | 55.2 |
| Winter Wyvern | 0 | 55.8 | 55.8 |
| Bounty Hunter | 29.7 | 82.2 | 52.5 |
| Dazzle | 32.4 | 78.5 | 46.1 |
| Earthshaker | 27.0 | 68.1 | 41.1 |
| Lina | 45.9 | 82.8 | 36.9 |
| Undying | 43.2 | 75.5 | 32.3 |
Once again, you have heroes like Tusk, Naga, Bounty Hunter, Lina, and Undying underrepresented relative to their TI5 popularity, which suggests that teams hadn't begun to build compositions around the idea of taking early fights in the same way we saw at TI5. This left Secret as the most aggressive team on the block, and they accordingly swept all the major competitions.
But at TI5, teams had finally shifted to more resilient early-game lineups. This left Secret's favorite heroes in an awkward position. Queen of Pain is strong at preying on exposed teams, but teams were increasingly looking for fights rather than avoiding them. And unlike CDEC's Lina from earlier, Secret's supports weren't strong fight contributors as they instead grabbed utility pairs, typically Dazzle plus a hero like Bane, Witch Doctor, or Rubick. Essentially conservative support play more in line with what we saw from VG.
You can see QoP's struggle pretty clearly in the final two games of Secret's elimination series versus VP.
In game 2
, S4 has a dominant performance only to have the rest of Secret's ill-advised long CD ultimate team fail to get anything going at all.
In game 3
, S4 has arguably his worst QoP performance of the patch, featuring both his lowest GPM with the hero as well as only one of two games with a sub 1 KDA. Here he's going up against a team with a lot of early damage and burst potential with no real backing from a relatively passive Rubick/Dazzle/Dark Seer trio.
And VP is under absolutely no pressure to force things because of the other half of Secret's dilemma: a hero like Shadow Fiend isn't going to reliably carry from a weaker position at this level of play. Secret would run into situations like their first game against EHOME where
a sizable gold lead would just evaporate
as Secret's Viper and Spiritbreaker pressure stalled out. Alternatively, there were games like the aforementioned VP game 3, where despite QoP's struggles Secret is still in the game almost entirely off of
Shadow Fiend's gold lead
, which, unfortunately for Secret, was a gold lead that became less and less relevant every time Lina's Laguna Blade helps evaporate Shadow Fiend out of existence.
If CDEC struck an ideal balance between aggression and investment for this patch, then Secret was their inverse. In the games that mattered they rarely had the raw power to dictate the early game, and they never had the tools to carry the late game. One has to wonder if their pre-TI5 dominance led to a certain degree of complacency that turned to panic once their patch standards had begun to fail them. Certainly their playoff stretch was marked by a series of strange decisions such as their refusal to either ban or pick Gyrocopter in both games of the EHOME series and first game of the iG series, their sudden and unprecedented love for Luna (which, to be fair, mostly worked out for them), and their absolutely bizarre VP game 2 lineup. Had Secret had the confidence to continually reinvent their old strengths like they did
in game 1 of the VP series
we might have seen them survive at least a little longer. Instead we're left with the irony that the team to first define the 6.84 meta was also the only team to abandon it.
CREDITS
Writer: phantasmal
Editor: Rabidch, Sn0_Man, tehh4ck3r
Graphics: Ninjan, FO-nTTaX